I'm a self-confessed pickle head.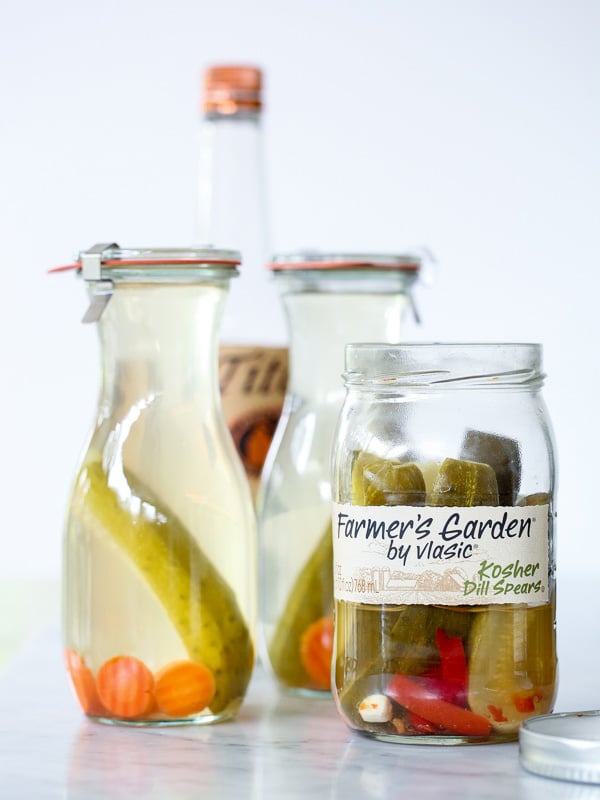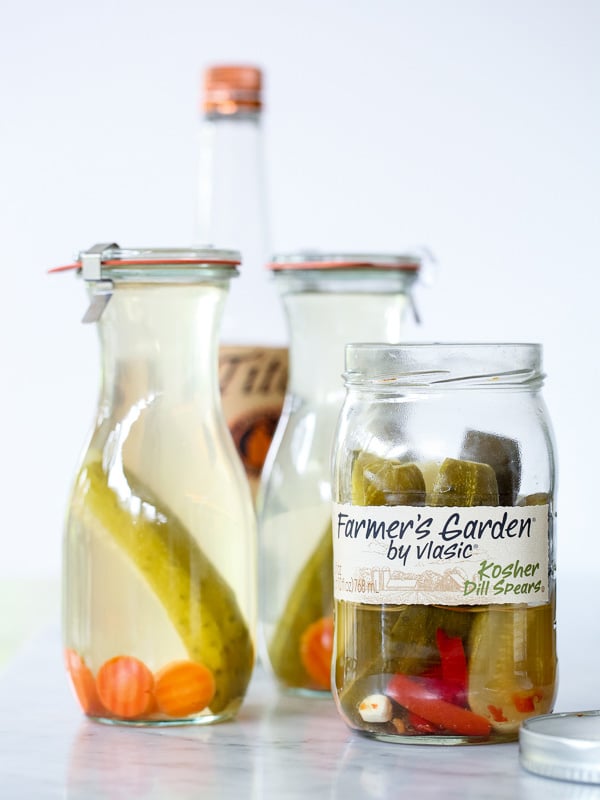 Kosher dill. Bread and butter. Garlic spiked. It really makes no difference to me, I love 'em all.
Summer eats at my house are always accompanied by pickles. Sandwiches, burgers and macaroni salad all require the briny spear and are popular ways for just about everyone to partake. But pickled vodka? That might be a new one for you.
Today I bring you the recipe for Pickle Infused Vodka.
Tomorrow, I'll be sharing my recipe for The Best Bloody Mary EVER and how to create a bloody mary bar for summer funning with friends and family.
And you can bet bacon, and Pickled Vodka, will be included.
One of my favorite summer things is putting up pickles. And one of my least favorite things about summer is putting up pickles. I mean, once it's done, I'm always glad I went through the process, but sometimes the thought of dragging out all my brining gear gives me a case of the dreads.
My mom's been buying Vlasic Kosher Dills literally for years, and so I buy them too. But when I went to the grocery store a few months ago to refill my kosher dill coffers, I discovered the new look of Vlasic and their Farmer's Garden pickles.
I was definitely intrigued thanks to a few things I immediately took note of.
a. First off, I'm all about packaging, and I think as part of a big company, Farmer's Garden found a way to make their packaging feel artisanal. Somebody was smart when they had the brainchild to put these guys up in real-style mason jars. And I like that I can reuse the glass jar for other stuff.
b. Just looking at the pickle jar I immediately got the message that these pickles are different. Just look at all of the extra veggies loaded into each jar. Carrots, red bell pepper, whole garlic cloves and of course, cucumbers. It's like there's a salad going on in there. That alone makes my mouth water.
c. These pickles are made the old-fashioned way with all natural ingredients and they're packed by hand instead of by machine. The same way Joseph Vlasic pickled his pickles 70 years ago.
It shows in the very first bite.
Let's Get Pickled
My husband and I have been making infused vodkas lately. It's incredibly easy to do and fun to experiment with different flavors. He's a big fan of our cucumber vodka, so we thought Pickle Infused Vodka would be a perfect cucumber extension to add to the liquor cabinet.
You don't want to use the cheapo vodka when you're infusing with flavors because then you're concoction will taste cheapo too. I really like Tito's Handmade Vodka , because it's super clean in flavor and easy to enjoy. Plus, they started vodka for dog people, I mean, how much more can I like a company who loves dogs while making delicious sips?
Farmer's Garden pickles make for a fun presentation in the bottle, because adding the extra pickled veggies to the mix gives an extra dose of color and flavor.
If you're a dirty martini fan like me, Pickle Infused Vodka on the rocks is your game. If you're a fan of Sunday brunch, Pickle Infused Vodka adds some real flavor to your boozy bloody mary.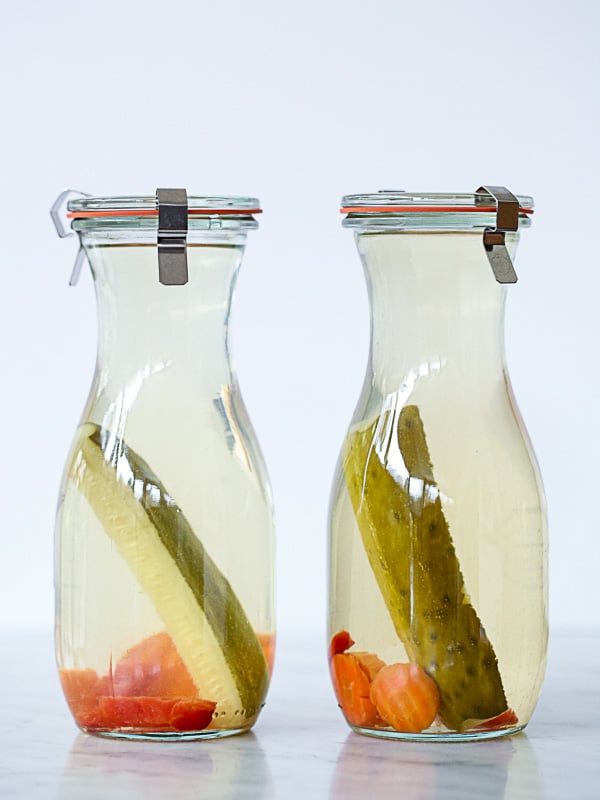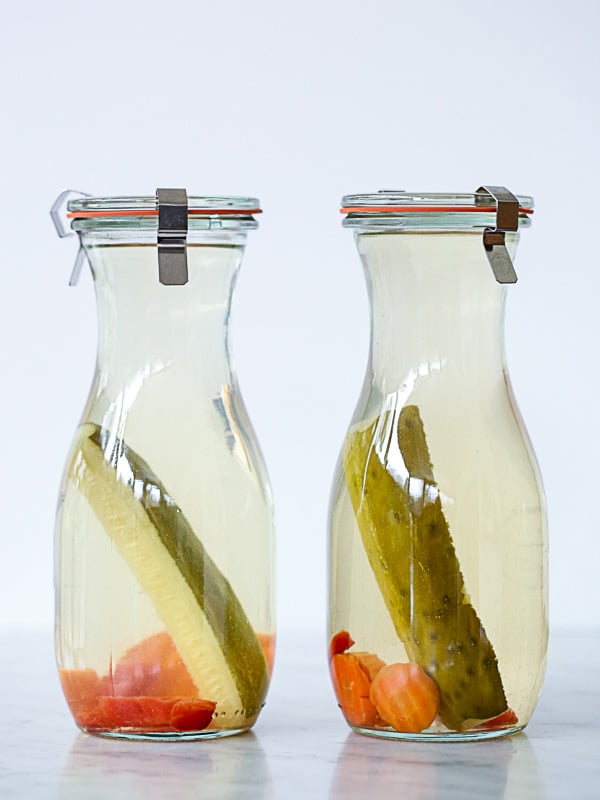 Print
Pickle Infused Vodka
Ingredients
3

parts vodka

I used 1 ½ cups

1

part Farmer's Garden by Vlasic Kosher Dill Spears pickle juice

I used ½ cup

reserved pickle spears and vegetables
Instructions
Add 3 parts vodka to 1 part kosher dill pickle juice to a measuring cup. Add one pickle spear and some of the reserved vegetables from the Farmer's Garden pickles to a glass juice jar with a lid or a mason jar.

Seal the jar with the lid and store in a cool, dark place or the refrigerator for about 3 days.
Remember to come back by tomorrow to see how I put this Pickled Vodka to work in my Best Bloody Mary Ever and find out how you can create your own bloody mary bar. And yes, yes, I won't forget the bacon.
This post is sponsored by Farmer's Garden by Vlasic. As always, thank you for reading and supporting companies I partner with, which allows me to create more unique content and recipes for you. This post contains affiliate links. As always, all opinions are my own.  
Are you following me on Instagram, Twitter, Facebook and Pinterest? Thanks for reading and  subscribe to FoodieCrush to have each post delivered straight to your e-mail box.