This simple Montreal steak seasoning marinade tenderizes any cut of meat thanks to a soak in red wine vinegar and oil with a blend of salt, spices, red pepper, paprika, garlic, and more for a bell pepper-packed steak kebab (or kabob) worthy of any summer barbecue or potluck party.
This recipe is brought to you by McCormick Spices
If you were to ask my husband what he craves for dinner most any night of the week, his first answer has been and always will be "steak!" He's for sure the master of the BBQ but typically cooks filets on the stove with plenty of butter, or his favorite ribeye cut over the coals. But man, those delicious cuts can get a bit spendy. So lately we've been on a skewered-kebab mixed with watching-the-budget-kick which calls for more fiscally-aware cuts of meat (how P.C. does that sound?) that do best when marinated and tenderized for flavor. And nothing makes it easier than a simple mix of Grill Mates® Montreal Steak® Marinade, especially when you're cooking for a crowd on the 4th of July.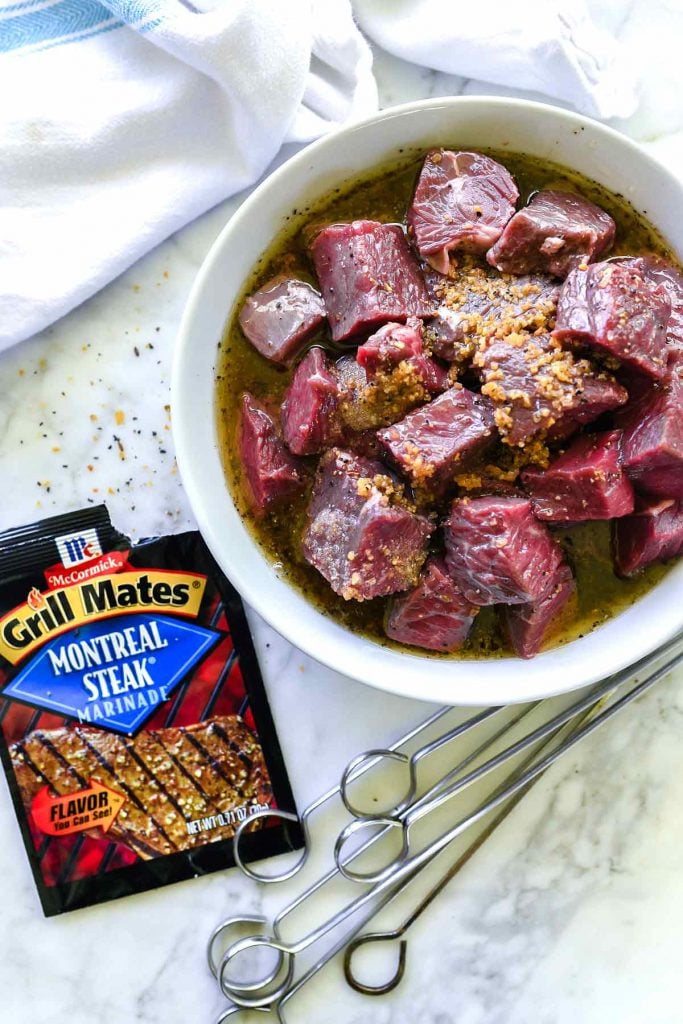 When McCormick asked me to try out their Grill Mates® Montreal Steak® Marinade, I knew right away the perfect recipe to try it out on. This summer is all about grilling our best, and with these kebabs aka kabobs, oh baby, we're sticking it to 'em with tender steak and layers of sweet bell peppers.
How to Tenderize Steak for Killer Kebabs
There are a few tricks and techniques that are guaranteed to grill up a tender steak kebab or skewer.
If your budget isn't an issue, choose a high-quality cut of beef like the aforementioned filet mignon or ribeye. Look for meat that has marbling because fat = flavor = tender bites. For the rest of us who might be a bit more cost-conscious, choose a quality cut of sirloin cut into cubes and ready to be dunked in the flavor that comes with trick #2. Strip, flap, or round steak works well too.
Marinating your kebabs helps break down the meat and tenderize it while adding flavor at the same time. My packet of Grill Mates® Montreal Steak® Marinade suggested using red wine vinegar or plain old drinkable red wine in the marinade, with either choice providing the acid needed to tenderize the meat. Combined with the garlic, pepper, and salts in the marinade, it's a quick fix for lots of flavors that will help you grill up your best. If you're not up for marinating, you can also get the garlic and pepper flavor with McCormick's 

Montreal Steak Seasoning.

This recipe is great for weekend get-togethers, but even better for meal prep and planning for the week. The steak doesn't have to marinate for long, so it's easy to pull together the night you eat it, or, prepare it the night before to sit in the fridge and add flavor all day long. I've found that marinating for at least an hour or overnight is best.
How to Skewer Your Kebabs or Kabobs
While you can certainly use bamboo skewers for kebabs, I find for beef it's easiest to use metal skewers like these thanks to their strength, and plus, there's no need for soaking them in water like bamboo so they don't burn. I used a variety of bell peppers for these killer kebabs because I love their sweet bites once they're cooked, and the rainbow of nutrients is hard to beat. Of course, you could also use sweet mini peppers if you'd like. I pack my skewers tightly, alternating cubes of Montreal marinated beef with the peppers in a rainbow of colors. Any leftover peppers are threaded onto the extra skewers with other veggies I have in the fridge adding more healthful bites for dinner. If using your marinade for basting, be sure to reserve and set aside ¼ cup or so before adding the marinade to the meat. Rule of thumb: Never baste with used marinade for fear of bacteria.
What to Serve with Steak Kebabs
If you make this recipe, please let me know! Leave a ⭐️⭐️⭐️⭐️⭐️ rating on this recipe below and leave a comment, take a photo and tag me on Instagram with #foodiecrusheats.
Print
Montreal Steak and Peppers Kebabs
Use a variety of peppers in every color, or choose your favorite to layer between the chunks of marinated steak.
Ingredients
2

pounds

sirloin steak

¼

cup

water

2

tablespoons

red wine vinegar

3-4

bell peppers of various colors

seeded
Instructions
Trim the steak and cut into 1-inch cubes. In a small bowl, whisk the marinade mix with the oil, water and vinegar. Reserve ¼ cup of the marinade for basting later. Place the meat in a large bowl or resealable gallon freezer bag and add the marinade, tossing to coat well.

Refrigerate for 30 minutes up to overnight. Remove the meat from the marinade and discard the leftover marinade.

Cut the bell peppers into 1-inch pieces. Thread the steak with the peppers, alternating the steak with the peppers in a rainbow of colors.

Grill over medium high heat, turning once or twice and basting with the reserved marinade with each turn.
More Kebab Recipes You'll Love
This post is in partnership with Grill Mates. As always, thank you for reading and supporting companies I partner with, which allows me to create more unique content and recipes for you. All opinions are always my own. Thanks for reading and subscribe to FoodieCrush to have each post delivered straight to your e-mail box. Learn more about my printed day-planner Nourished Planner here, and sign up for free, emailed weekly meal plans. Follow me on Instagram, Facebook, Pinterest and Twitter for more FoodieCrush inspiration.