This easy chicken kebab recipe is especially flavorful thanks to a simple soy and orange marmalade marinade and it is sure to become a family favorite.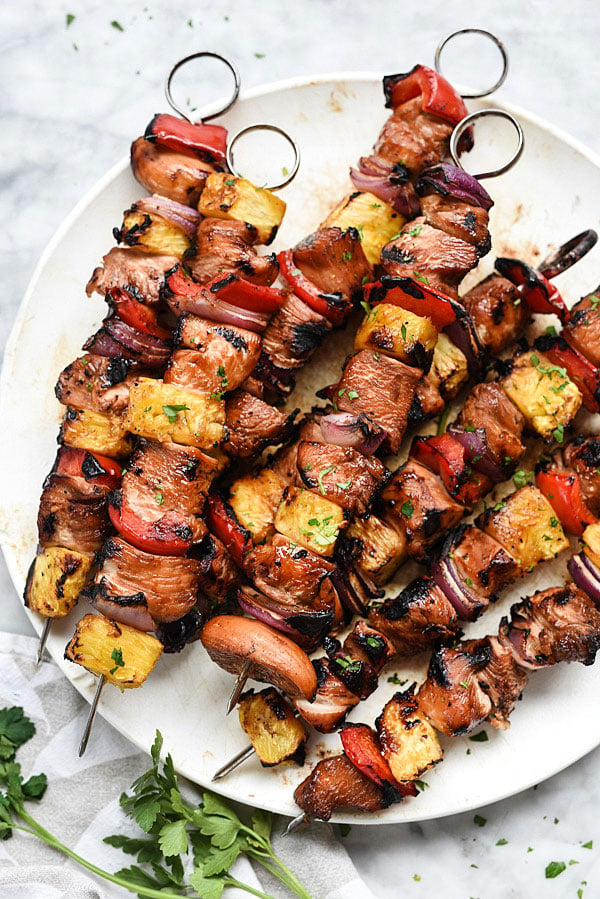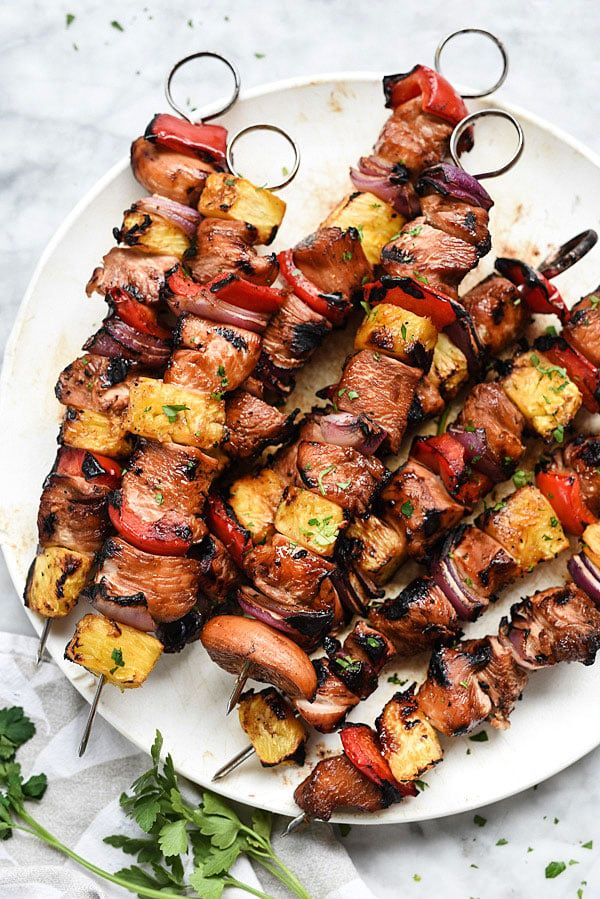 Like many other food bloggers out there, Shawn Syphus has no formal culinary training. Instead, a series of happy kitchen accidents, and some one-on-one lessons with her mother-in-law helped shape her into the cook she is today.
The food obsessed mom of four has been cooking and writing for her blog I Wash You Dry since 2010, creating quick and easy recipes that require minimal clean up —  and obviously by the name of her blog, she's not so fond of dishes!
Shawn's first cookbook, Express Lane Cooking includes 80 quick and easy recipes with five ingredients. We love that Shawn's cooking style is fuss-free and to the point. Her recipes are simple and approachable, fast and delicious.
Having fewer dishes to wash and recipes like these Hawaiian Chicken Skewers that you'll find at the end of this post also makes us weak in the knees!
"I've always been a cookbook junkie, so holding my very own cookbook that I created, was always a dream of mine," says Shawn. "But when I first got the offer to write this book, I almost turned it down. It was a super busy time of the year for me (four kids out of school for the summer), but my husband and kids reassured me it would be ok to follow that dream. So I did!"
"The most challenging part of the whole process was the writing," admits Shawn. "I would sneak away night after night to a local coffee shop where I would sit in a corner and type away. Of course I would eat donuts and drink hot cocoa too. It helps the creative writing juices flow."
Hey, whatever it takes, right?
"You would think holding my book in my hands for the first time would be the most rewarding aspect, but watching my friends and family flip through the pages and hearing from many about how much they love the recipes really makes it all worth it."
And Now, the List of 10 Q's for Shawn
1. Describe your blog in 3 words:
Easy, kid-friendly, simple.
2. If you could be one blogger other than yourself, who would you be?
Oh my, I would want to be Amanda from KevinandAmanda.com. She does a lot of traveling to fun places, and she is super smart with technical stuff!
3. Which 3 blogs do you follow/are obsessed with/can't live a day without?
Confessions of a Cookbook Queen – hilarious and delicious.
Dine and Dish – inspirational and delicious.
Foodness Gracious – gorgeous photography and delicious.
4. What is the one kitchen tool you could never give up?
My knife.
5. What dish are you obsessed with mastering that you just can't get quite right?
Baking, especially cakes. For some reason it takes me at least three tries before I can get a cake just the way I want it. One day I'll figure it out!
6. What did you have for dinner last night?
My husband and I went out to sushi.
7. What's one secret talent outside of the kitchen nobody knows about you?
I'm a really good swimmer! I swam 11 years competitively, and even competed in a Division One College (University of Houston). I'm actually getting ready to join a swim team again. I love it so much.
8. You're happiest when cooking/eating: 
Mexican or Asian. I love the spicy and bold flavors of dishes like Kung Pao Chicken and Fire Roasted Chicken Enchiladas.
9. The one secret to your success is?
Perseverance. It has taken lots of hours of work and dedication to get me where I am today.
10. What's next for you? Do you see another cookbook in your future?
As for now, I am refocusing on the blog with a few appearances here and there for the cookbook. I do have an idea for my second book, but probably won't attempt another one for a while.
Thank you Shawn for being one of our favorite foodie crushes.
And now, let's get to that skewers recipe!
The secret sauce to Shawn's cookbook Express Lane Cooking is efficiency. How many times do you find yourself at the grocery store buying the mega pack of chicken breasts for a recipe that calls for just two?
Or opening a whole can of chipotle peppers when your recipe calls for just a tablespoon of the adobo sauce?
With the plethora of recipe creating inspiration that can easily be found online, in magazines and on TV, home cooks can easily be swayed from one of the very basic fundamentals of cooking: cook with the ingredients you already have on hand.
The thing that makes this cookbook special is how Shawn shares techniques and ideas for creating 3 recipes that use the same 5 basic ingredients. It's how every budget minded cook prepares meals, but one that so many of us simply don't follow because we don't want to eat the same chicken dinner again tonight.
Variety is key to happy eating and Shawn has figured out this secret and is happy to share her meal planning secret to success.
When I was choosing a recipe to make from her cookbook I seriously had a hard time deciding. Shawn has meal planning recipes for all the basic proteins, pastas and poultry. Even dessert gets a meal planning hand.
Given that I was the one who had just bought a mega pack of chicken breasts from the grocery store and I had a few bell peppers about to expire rattling around the crisper, these Hawaiian Chicken Skewers were about to become dinner.
This recipe is one of the three that use the same 5  ingredients I normally have in my fridge or on hand: Chicken, soy sauce, purple onions, bell pepper and that jar of orange marmalade that can be found lollying around in the depths of my fridge
About the Recipe
Because I have a mega pack of chicken breasts, the recipes for Orange Chicken Stir-Fry and Broiled Asian Chicken Thighs (pictured above) use the same ingredients, giving me three different options.
Shawn suggests using chicken thighs in her skewers, but I'm sure she'd be proud of me for using what I had in the fridge instead of going out and buying something new. Cut your chicken into pieces that are the same size so they cook evenly on the grill.
Like all of the recipes that require a marinade, I use gallon freezer bags to marinade my meat in and never re-use the marinade after the chicken (or other meat) has set in it.
Shawn's original recipe for these skewers doesn't call for pineapple but I feel like it's a natural here. And since I buy one each and every week, it too was already on hand.
A tip from Shawn is substituting pineapple juice for the chicken broth for an extra Hawaiian flavor.
I like the way she thinks.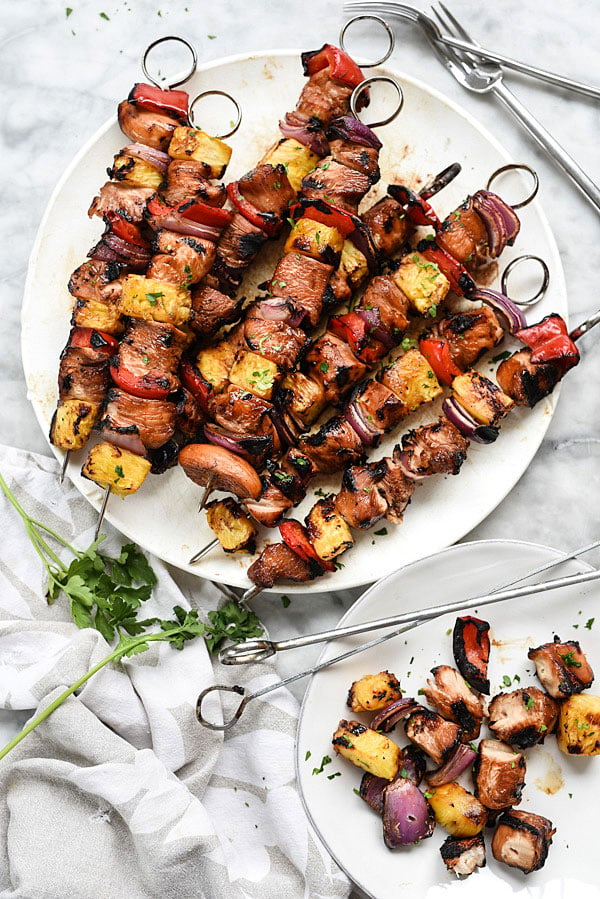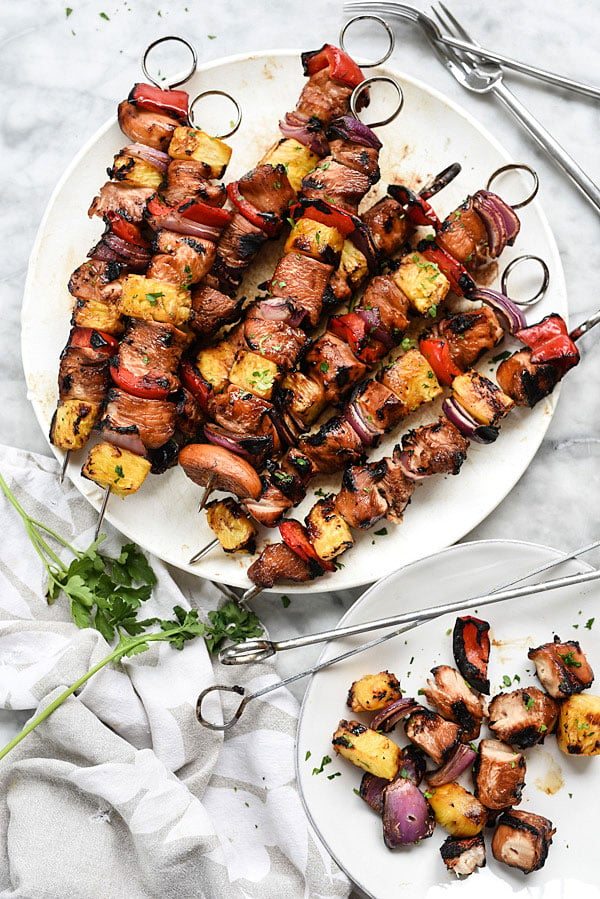 If you try this recipe, please let me know! Leave a comment below, or take a photo and tag it on Instagram with #foodiecrusheats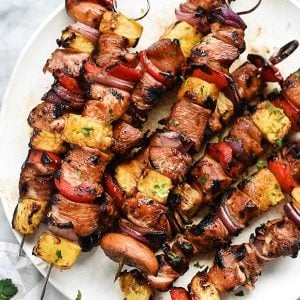 Print
Hawaiian Chicken Skewers With I Wash You Dry
This easy chicken kebab recipe is especially flavorful thanks to an easy soy and orange marmalade marinade and is sure to become e family favorite.
Ingredients
3

skinless chicken breasts

, cut into 1-inch chunks

½

cup

chicken broth

3

tablespoons

orange marmalade

1

cup

soy sauce

½

teaspoon

ground ginger

½

teaspoon

garlic powder

12

skewers

, (if wooden, soak in water for 20 minutes)

1

purple onion

, cut into 1-inch pieces

1

red bell pepper

, cut into 1-inch pieces

½

fresh pineapple

, cut into 1-inch pieces

Olive oil

1

tablespoon

fresh cilantro

, chopped
Instructions
In a gallon freezer bag, add the chicken breasts. In a small bowl, mx the chicken broth, orange marmalade, soy sauce, ginger and garlic powder. Pour into the freezer bag with the chicken. Marinade in the fridge for 2-4 hours.

Prepare a grill to medium high heat. Thread the chicken pieces alternating with the onion, red bell pepper and pineapple. Brush the grill lightly with olive oil and place the skewers on the grill. Cook turning occasionally until the chicken is cooked through, about 8-10 minutes.

Sprinkle with cilantro and serve with rice or noodles if desired.
Recipe very slightly adapted from Express Lane Cooking.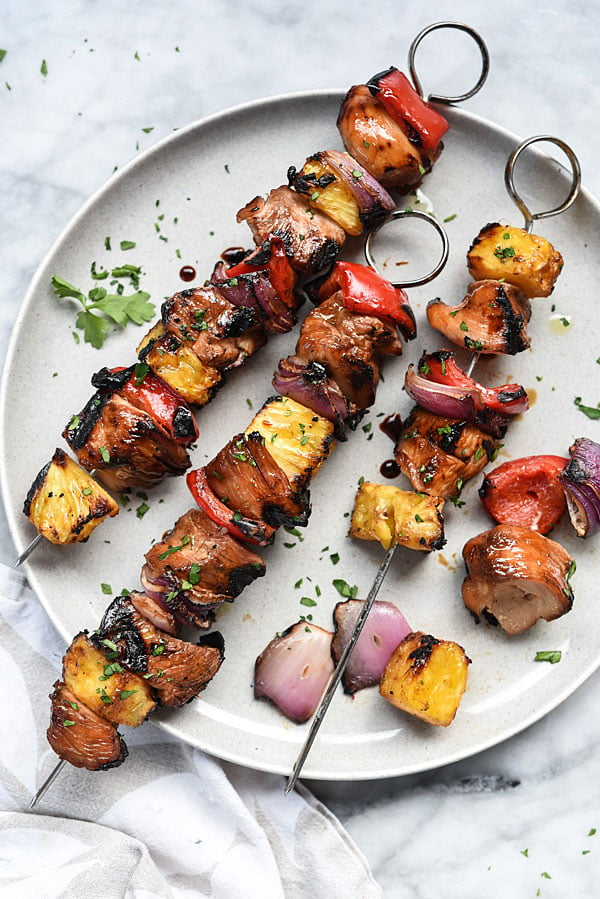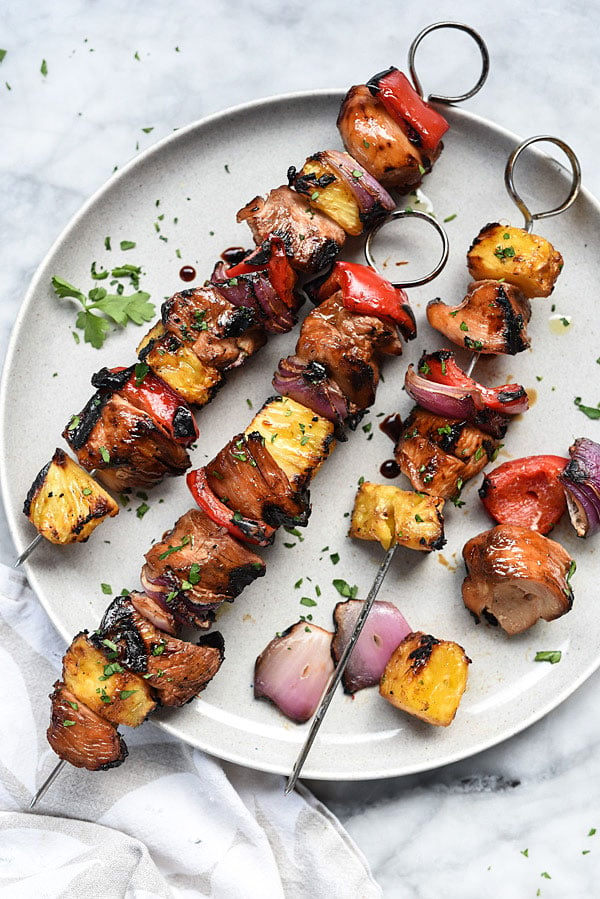 Visit Shawn and her blog at I Wash You Dry.
Purchase her book Express Lane Cooking: 80 Quick-Shop Meals Using 5 Ingredients, here.
This post was compiled by Heidi and FoodieCrush contributor Hayley Putnam. FollowHayley and her foodie tastes and other flights of fancy on Pinterest and Instagram.

As always, thank you for reading and for supporting companies I partner with, which allows me to create more unique content and recipes for you. All opinions are always my own.  
Are you following me on Instagram, Twitter, Facebook and Pinterest? 
Thanks for reading and subscribe to FoodieCrush to have each post delivered straight to your e-mail box.