Fresh spinach and sliced mushrooms are sautéd and cooked with egg whites then topped with salty parmesan cheese for a quick and healthy one serving breakfast.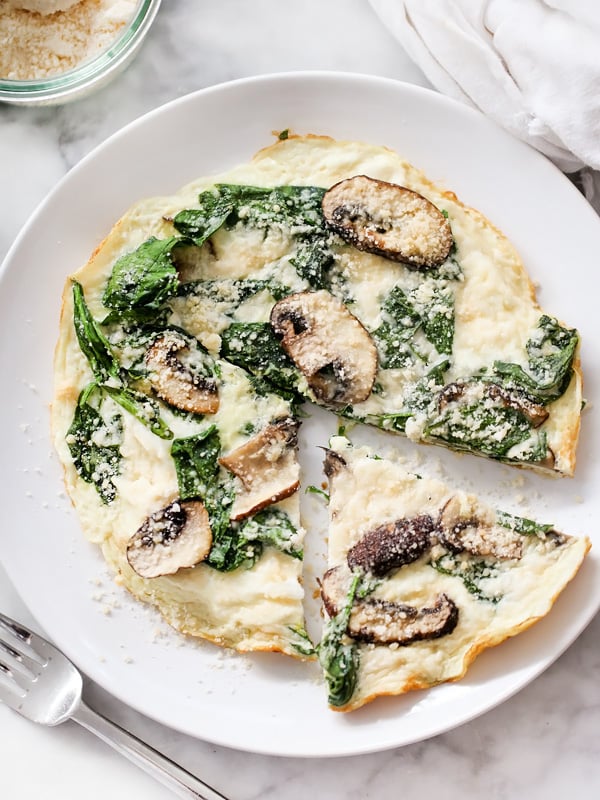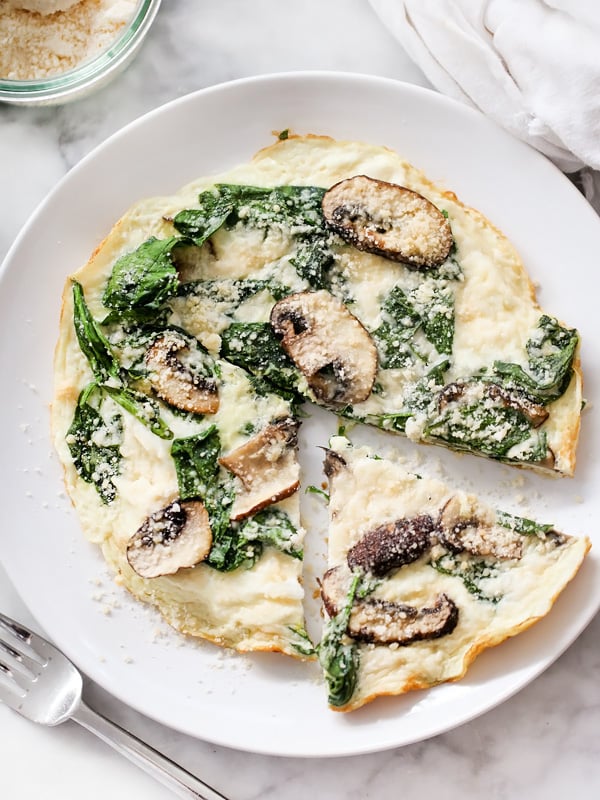 There are days where I really over think things. Like is the word "over think."  Is it one word, or two? Overthink. Over think.
Such was the case with this healthy breakfast treat.
Actually, I wasn't overthinking, I wasn't even thinking at all. I was simply going about my morning routine of scavenging the fridge, looking for breakfast inspiration, and out popped this dish like a magic rabbit out of a hat.
I love it when recipes happen this way. When they happen naturally, due to my cravings, to my mood and what hasn't yet expired or gone funky in the fridge. There's not much worse than a funky fridge.
Eggs for breakfast are a staple at our house. Smudge prefers hers scrambled and then loaded on top of buttery toast, with !GAH! a squirt of ketchup. *yuck*
My husband prefers his over-easy atop a warmed flour tortilla with green salsa, hot sauce and sour cream. *yum*
And I like my eggs minus the yolks—but only when I'm doing my best to be a half smidge healthier—and scrambled with a bunch of spinach wilted down to get in that extra bit of veg-heavy nutrients this strong body of mine so richly deserves.
But on this day I added mushrooms to my standard spinach and didn't stir my scrambles quickly enough, probably due to the usual distraction of Smudge saying, "Mom! Watch this!" as she showed me her latest 10 year old leap through the air for no reason except for that she's 10. I really don't like a hard scrambled egg so I went the frittata route instead.
I was all done with the cooking and just about ready to dive in when I realized, hot damn! There are probably other souls out there who might like a breakfast recipe for one.
But then I did my usual over thinking/overthinking bit.
"I didn't plan this one out, I didn't obsess over the recipe."
"I don't know, is this recipe even blog worthy?"
"It's just what I'm eating for breakfast, will anyone else think it looks good?"
So I asked you. And you said it was. And so here it is. Because it's important for us bloggers to #blogwhatwereallyeat.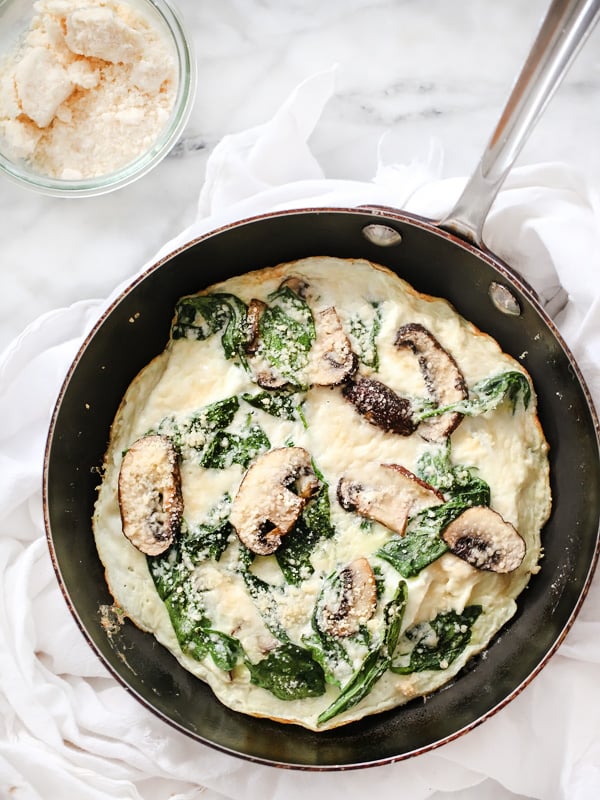 About the Recipe
This is a single serving recipe, unless you're not much of an eater then you could share. If you want to cook for you and a friend, double the recipe and use a bigger pan. I'm putting my 4th grade math skills to work here folks.
After recently discovering the quality of Kroger brand private label products, and the fact that they're less expensive but just as good as name brand, I now use their egg whites in the carton. Sometimes when I know I'm going to be on an egg white kick, I'll buy the Crystal Farms Liquid Egg Whites at Costco in bulk instead. There's really not much need to crack and divide eggs for this quick breakfast.
A non-stick pan is pretty much essential for this recipe. This one is my favorite and makes a perfect omelette too. And a generous spray of cooking spray to keep the egg from sticking, but be sure to do so BEFORE you put it over a gas stove flame. You need your eyelashes people.
I used spinach and mushroom but this would be equally good with red bell peppers, finely chopped broccoli or asparagus. I like sautéing the veggies first to soften them. And finally, the piece of the puzzle that brings it all together: Parmesan cheese. It adds so much flavor for just a tiny bit of fat. It's my favorite addition to eggs these days.
I used my toaster oven to finish this dish off the stove. It saves time and is more efficient than warming up the big oven for one little pan.
If You Liked This Recipe, You'll Like These:
If you make this recipe, please let me know! Leave a comment below or take a photo and tag me on Instagram or Twitter with #foodiecrusheats.  
Print
Spinach and Mushroom Egg White Frittata
You only need a few ingredients to make this super healthy and easy egg white frittata with spinach, mushrooms and parmesan!
Ingredients
2-3

brown mushrooms

sliced

handful of fresh spinach

1

cup

egg whites

kosher salt

2

tablespoons

grated parmesan cheese

hot sauce if desired
Instructions
Preheat the oven or toaster oven to broil.

Spray a 7-inch non-stick fry pan with cooking spray and heat on medium heat. Add the sliced mushrooms and cook for 2-3 minutes, turning once or twice. Add the fresh spinach and cook for 1-2 minutes or until the spinach has wilted.

Whisk the egg whites in a bowl until light and frothy, add a pinch of kosher salt and pour into the mushroom and spinach mixture. Sprinkle with 1 tablespoon of the parmesan. Let the eggs cook undisturbed until the edges of the egg whites start to cook through and turn a more solid white. Gently lift the edges of the egg whites and tilt the pan so the uncooked egg runs under the cooked part and cook for another minute.

Transfer the fry pan to the oven and broil for 2-3 minutes or until the eggs have puffed and have cooked through. Remove from the oven and sprinkle with the remaining parmesan cheese. Cut into wedges and serve with hot sauce if desired.
Thanks for stopping by and visiting FoodieCrush. Have something to say? I'd love to hear from you. Let me know in the comments below.
Make it a great day and cook something good.
As always, thank you for reading and for supporting companies I partner with, which allows me to create more unique content and recipes for you. All opinions are always my own.  
Are you following me on Instagram, Twitter, Facebook and Pinterest? 
Thanks for reading and  subscribe to FoodieCrush to have each post delivered straight to your e-mail box.
SaveSave