There are all kinds of salads. Dinner salads. Main-meal chef salads. Caeser salads. Caprese salads. Fruit salads. Seafood cobb salads. A list of salads you may never have enough days to make. Holy crap, does the salad train ever end??
I for one hope not. Because I am a salad QUEEN!
Thanks tp growing up with my mom's nightly dinnertime routine, dinner simply can't start without a crunchy green salad to get it all started with. Mom, you raised these tastebuds right!!!
And for lunch? If you ask me my druthers between a salad, a sandwich, or a burger? I'll take the salad every.single.time.
Why? Because they're easy to pull together, super fresh and super delicious, and when you make 'em right like this baby here, they just taste so good. And, they're perfectly primed to make you summer time swimsuit ready in no time.
And this salad is exactly one of those salads I have for lunch more often than not. It's one of those that doesn't take much planning and you can really just pull together depending on what's in the fridge. In fact, that's how this salad was born.
If you've heard anything about the Mediterranean Diet, you'd know that vegetables and good fats are at its core, with leafy greens, tomatoes, and cucumbers all playing a part and avocados taking center stage.
And I ask, when did avocaodos EVER not take center stage?
The Mediterranean diet, Weight Watchers, and so many more nutrition programs promote the obvious health benefits of  proteins that come from fresh fish and protein-packed-veggie-sourced proteins like chickpeas, a staple ingredient in my lunch time salad routine.
That's why this salad has been—and still is—a staple in my lunch time routine.
And one of the reasons I love it so is there's no dressing involved, just lemon-flavored olive oil (or olive oil with a squeeze of lemon) and an herby quick marination of the chickpeas with dried dill, garlic, the olive oil (and lemon) for some serious flavor.
If you make this recipe, please let me know! Bookmark this recipe and leave a comment below, or take a photo and tag me on Instagram with #foodiecrusheats.
Print
Crunchy Green Salad with Dilly Chickpeas and Avocado
I use a lemon-infused olive oil for the dressing on this salad, or instead, you can use extra-virgin olive oil with the juice of ½ lemon.
Ingredients
1

cup

canned chickpeas

drained and rinsed

2

tablespoons

lemon-flavored olive oil

or regular olive oil with the zest and juice of ½ lemon

1

tablespoon

dried dill

½

clove

garlic

pressed

⅛

teaspoon

kosher salt

⅛

teaspoon

freshly ground black pepper

3

cups

chopped lettuce like red leaf or romaine

½

cucumber

peeled and sliced

Handful of cherry tomatoes

sliced

½

avocado

cut into chunks

Sliced shallot or red onion

Feta cheese

Fresh basil leaves
Instructions
In a small bowl, mix the chickpeas with the olive oil, dried dill, garlic, and kosher salt and pepper, adjust the seasonings to taste, and set aside.

In a serving bowl, layer the lettuce, chickpeas, tomato, cucumber, avocado, shallot, and feta cheese. Drizzle with more lemon flavored olive oil and season with more salt and pepper and a few torn fresh basil leave and enjoy.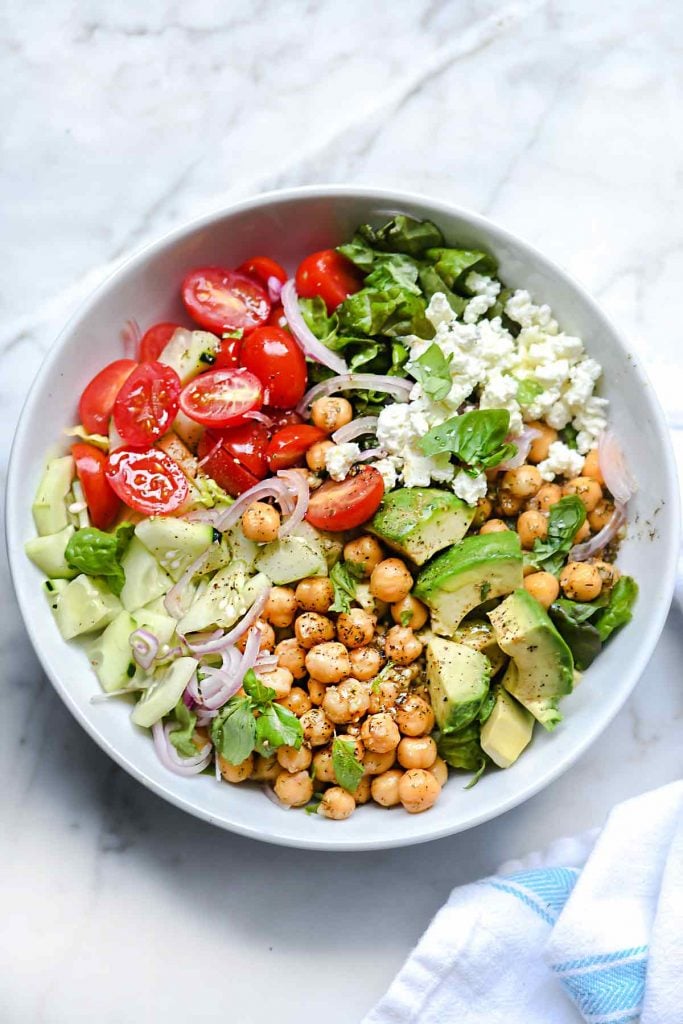 More Salads That Make a Meal
As always, thank you for reading and supporting companies I partner with, which allows me to create more unique content and recipes for you. All opinions are always my own.
Thanks for reading and subscribe to FoodieCrush to have each post delivered straight to your e-mail box.
Learn more about my printed day-planner Nourished Planner here, and sign up for free, emailed weekly meal plans.
Follow me on Instagram, Facebook, Pinterest and Twitter for more FoodieCrush inspiration.