This classic tabbouleh recipe gets a boost of protein thanks to healthy quinoa, for a nutritious and refreshing Mediterranean salad that's great for a meal or as a side dish.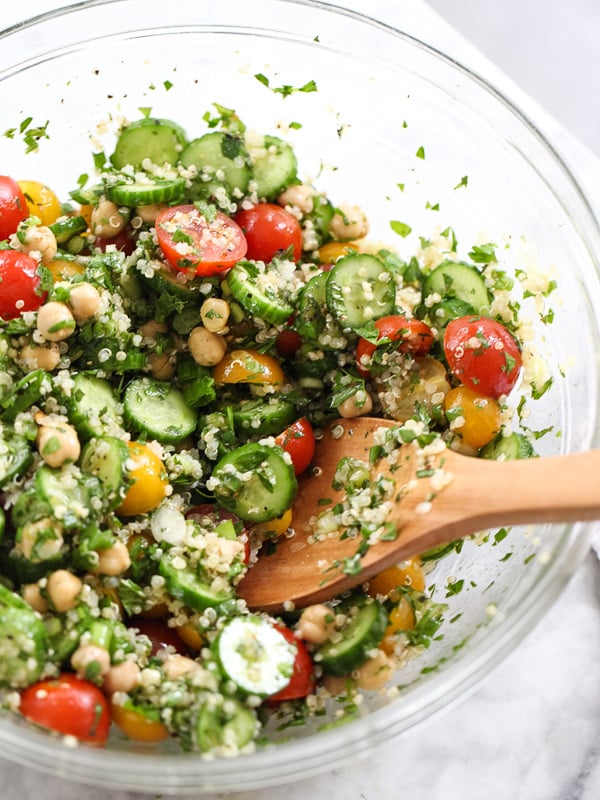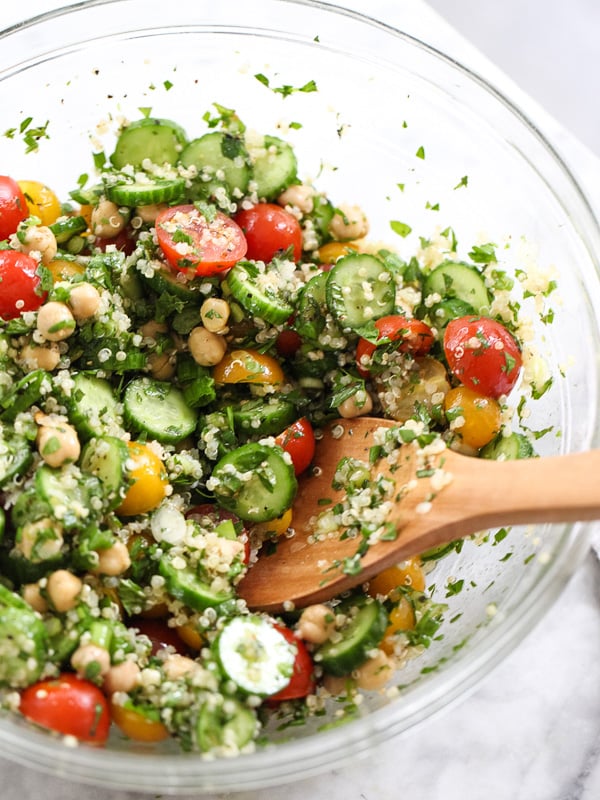 We've spent a small fortune on cutlery in our home. We've tried lots of different brands and every various style. Chefs knives, carving knives, vegetable cleavers and santoku knives. They each have their place in the sun. But only if they're sharp and only if you know how to use them.
Because Smudge had a hankering to help me cook in the kitchen and because this recipe for Quinoa Tabbouleh with Chickpeas requires a lot of chopping, I took advantage of the need-for-knife-education situation and put my girl to school. Let's kill two birds with one stone, am I right?
Smudge has proven her place in our kitchen. She's seen what cooking means to her mom and dad and she's ready to graduate from cracking eggs and spreading butter on toast to wielding her way with the most savored utility in the kitchen. The home cook's trusty sword. The extension of her right arm, or left if that's your preference.
As Smudge comes around to her 10th birthday in 4 weeks (YIKES!) she's ready to get into the good stuff, to graduate to the big guns. The knives that do damage. So before she does, she's going to be schooled by the pros. And that's where this lesson begins.
This is my first post of several you'll see throughout the coming year with Craftsy, the online teaching site with hundreds of classes and the world's best instructors who teach us the rights from the oh-so-not-good-wrongs. From quilting to cake decorating to photography and cooking, they pretty much school it all.
After perusing the site, I decided Craftsy's Free Complete Knife Skills with Chicago's Chef Brendan McDermott (where New York Magazine named his Knife Skills Class at Brooklyn Kitchen "Best Cooking Class") would definitely fit our first knife chopping lesson's bill.
Not to mention that years of sharpening blindly have rendered our kitchen implements impotent.
We needed a lesson.
Having my husband sit in on the knife sharpening portion of the class just may have saved our investment in top-quality knives that have been over and under sharpened due to the 437 different sharpening instruments (and wrong angles we soon discovered thanks to Chef Brendan) that we've acquired over the years.
And then, wa-la! After learning the right angle, our knives cut through both tomatoes and paper with razor sharp precision. Paper knife cutting. Watch out Edward Scissorhands.
The course consists of four components and takes just over an hour and 45 minutes to complete.
Plus, an unexpected bonus! Chef Brendan shows how to open a beer bottle with a knife. My husband is in heaven right about now.
Enlisting Smudge to watch the free video showed her she needs to cup her fingers inside and tucked in (as if we haven't touted this a ton of times she hasn't listened to until a pro said so) keep your hand nice and relaxed and cut with a circular rotation. Not to mention getting versed up on the four different types of chopping (low cut, high cut, horizontal cut and pull cut.)
Did you know you should cut at the same angle as you type with? Whoda thunk?
This Quinoa Tabbouleh with Chickpeas recipe was the perfect practice session for a novice knife slayer. Lots of veggies for slicing. Lots of herbs for chopping. Lots of practice wielding the most treasured kitchen instrument in all the land.
Fresh herbs are key. Lucky for us, our mint and Italian parsley have sprung in the garden so adding bunches was no big sweat. Chopping into a fine dice gives every single bite a subtle but flavorful punch.
Quinoa and chickpeas add a dose of vegetarian and gluten-free protein to the package. Superfoods in abundance. It's how we like them.
The dressing is supremely simple. Two lemons yield between ¼ cup and ⅓ cup, depending on the size. Match the olive oil to the amount of lemon juice and your dressing will be spot on.
While traditional tabbouleh dices the fresh cucumber and tomato, we cut them in a larger slice for a fuller mouthful.
That's my man's request. He's a cucumber fiend.
If you make this recipe, please let me know! Leave a ⭐️⭐️⭐️⭐️⭐️ rating on this recipe below and leave a comment, take a photo and tag me on Instagram with #foodiecrusheats.
Print
Quinoa Tabbouleh with Chickpeas Recipe
Classic tabbouleh salad gets a boost of protein thanks to healthy quinoa, for a nutritious and refreshing Mediterranean salad that's great for a meal or as a side dish.
Ingredients
1

cup

cooked quinoa

1

can chickpeas

, garbanzo beans, drained and rinsed

½

pound

Persian cucumbers or 2 hothouse cucumbers

, (if using hothouse, seed the cucumbers first), sliced

2

cups

cherry tomatoes

, halved

1

cup

finely chopped green onion

, white and green parts

1

cup

chopped fresh Italian flat-leaf parsley leaves

1

cup

chopped mint leaves

⅓

cup

fresh squeezed lemon juice

, (from about 2 large lemons)

⅓

cup

extra virgin olive oil

kosher salt and freshly ground black pepper
Instructions
Place the cooked quinoa in a large bowl. Add the chickpeas, Persian cucumbers, cherry tomatoes, green onion, parsley and mint and toss. In a small bowl whisk the lemon juice with the olive oil and season with kosher salt and freshly ground black pepper. Pour over the ingredients in the large bowl and mix well. Season with more kosher salt and freshly ground pepper to taste. Serve immediately or put in the fridge for flavors to meld.
Nutrition
Calories:
131
kcal
|
Carbohydrates:
10
g
|
Protein:
2
g
|
Fat:
10
g
|
Saturated Fat:
1
g
|
Polyunsaturated Fat:
1
g
|
Monounsaturated Fat:
7
g
|
Sodium:
15
mg
|
Potassium:
281
mg
|
Fiber:
2
g
|
Sugar:
2
g
|
Vitamin A:
1209
IU
|
Vitamin C:
27
mg
|
Calcium:
46
mg
|
Iron:
2
mg
Sign up for your own opportunity to sign up for Craftsy's Free Complete Knife Skills online class and become a  become a kitchen knife ninja slayer that's a force to be reckoned with in your own kitchen.
This post is sponsored by Craftsy. As always, thank you for reading and supporting companies I partner with, which allows me to create more unique content and recipes for you. This post contains affiliate links. As always, all opinions are my own.  
We send good emails. Subscribe to FoodieCrush and have each post plus exclusive content only for our subscribers delivered straight to your e-mail box.
Follow me on Instagram, Facebook, Pinterest and Twitter for more FoodieCrush inspiration.
As always, thank you for reading and supporting companies I partner with, which allows me to create more unique content and recipes for you. There are affiliate links in this post of which I receive a small commission. All opinions are always my own.