Making a salad for a crowd doesn't get any easier than adding all the antipasto toppings like olives, pickled veggies, artichokes, pepperoncini, salami, salumi, prosciutto, pasta, and mozzarella balls to a big pile of lettuce for an Italian salad everyone will love.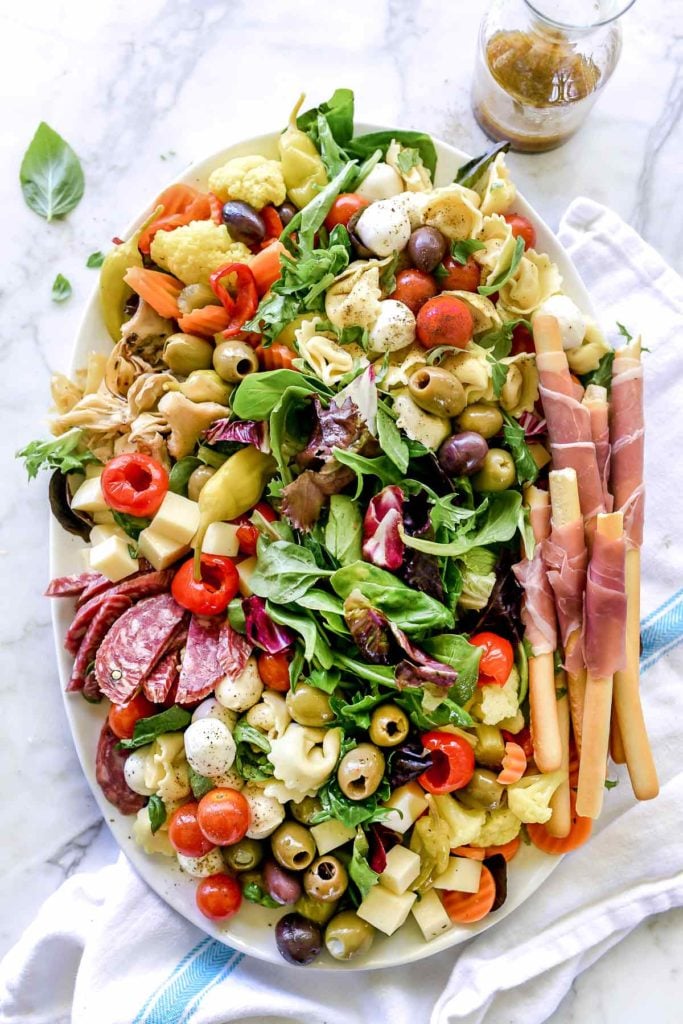 This recipe is in partnership with DeLallo Foods
Antipasto is known as the first course of the Italian meal. It's the time to get a nibble of olives and pickled peppers or a bite of cured meats and cheeses, and to prepare your belly for the feast about to come.
What I love about this Antipasto Salad Platter is it bridges the gap between that appetizer course and the salad course, for a more relaxed vibe that mixes all my favorite tastes together, and can easily be made into a meal all its own.
And when you serve this salad family-style in the middle of the table, everyone can add "just a little more" to suit their taste and their appetite, creating a more festively communal way to share.
How to Make an Antipasto Salad Platter Everyone Will Dig Into
This salad platter is less of a recipe and more an assemblage of toppings that share tastes in the Mediterranean or Italian cuisine and DeLallo Foods makes it easy to do with their antipasto building blocks.
DeLallo has loads of different Italian-style ingredients to add to your salad platter, but I started my flavor profile off by continuing the theme of their ready-to-serve anitpasto packs that I find in the deli section of the grocery store.
Start off with a base of leafy greens. I like a simple spring mix or even chopped romaine. I like to make a big pile of it in the middle of the platter and then build the rest of the ingredients around it.
Layer pickled flavors with salty and savory for variety. I start layering on the goodies, like:
Add pasta — because everyone loves pasta. Choose a short pasta like penne or rotelle, or add a stuffed pasta like DeLallo's three-cheese tortellini so you can get a pasta with every bite.
Add some crunch. I wrapped DeLallo breadsticks with thin layers of salty prosciutto. Or, add crisped crostini crackers in plain or sesame flavors.
Top it with cheese. Chunks of provolone or balls of mozzarella add a creamy bite to the salad, or you can always add chunks of Parmesan for a spunkier bite—and so good when you do!
Dress that salad like you mean it! A simple balsamic dressing served on the side lets everyone sauce their salad the way they like. But my VERY favorite dressing is a simple drizzle of olive oil and DeLallo Modenacrem Balsamic Glaze that's velvety rich and sweet.
The Secret Shortcut to Building a Salad Platter
So while you can always build your platter out with individual ingredients, if you want to make it super simple, order a DeLallo gourmet gift box as your base with already curated ingredients that work wonderfully together.
Next thing you know you'll have a platter on the table before your guests can say, "molto bene!"
More Platter Recipe Ideas that Make Entertaining Easy
If you make this recipe, please let me know! Leave a ⭐️⭐️⭐️⭐️⭐️ rating on this recipe below and leave a comment, take a photo and tag me on Instagram with #foodiecrusheats.
This post is in partnership with DeLallo Foods. As always, thank you for reading and supporting companies I partner with, which allows me to create more unique content and recipes for you. All opinions are always my own.
We send good emails. Subscribe to FoodieCrush and have each post plus exclusive content only for our subscribers delivered straight to your e-mail box.
Follow me on Instagram, Facebook, Pinterest and Twitter for more FoodieCrush inspiration.
As always, thank you for reading and supporting companies I partner with, which allows me to create more unique content and recipes for you. There are affiliate links in this post of which I receive a small commission. All opinions are always my own.