Caramelized onions and a spread of Dijon mustard make this rustic summer vegetable pie a favorite for an easy lunch, a light dinner or impressive appetizer.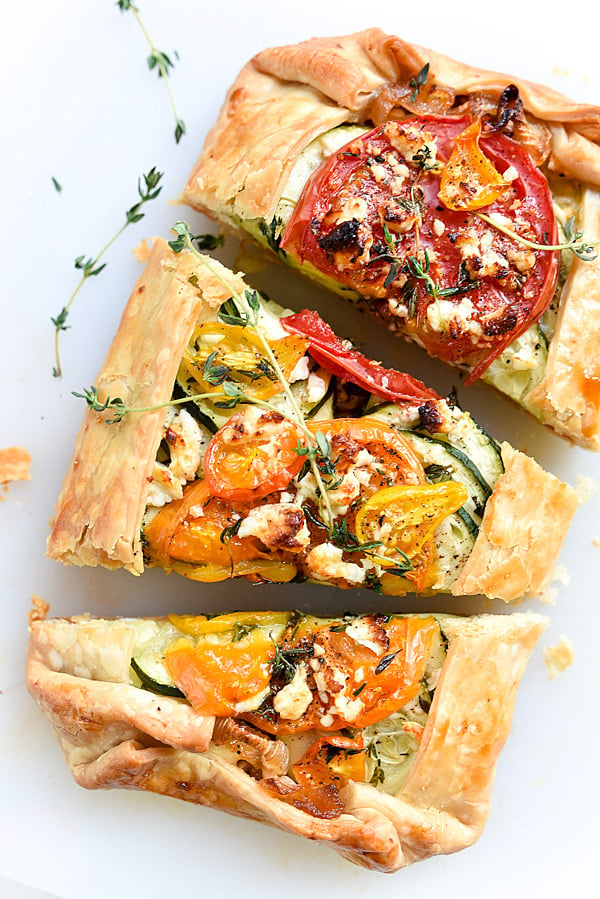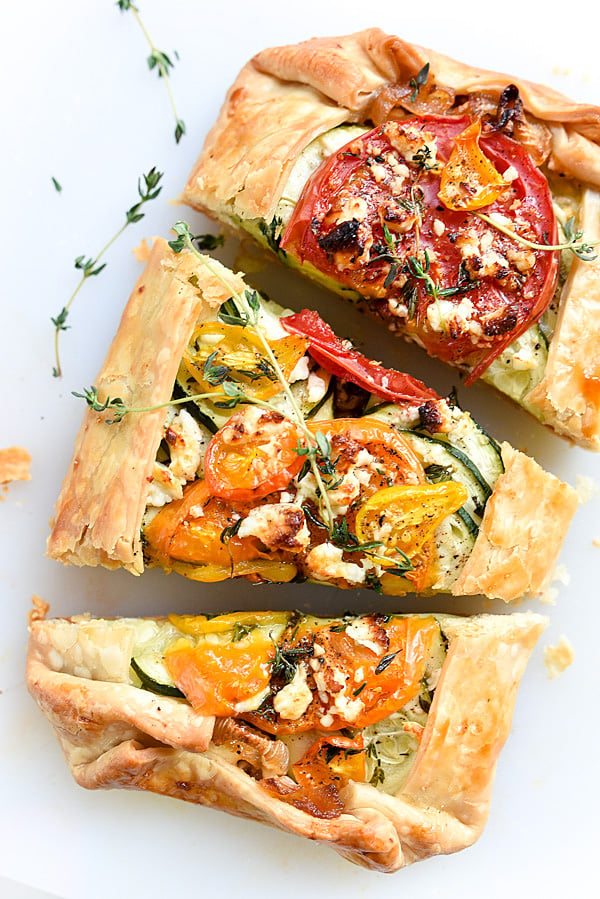 Welcome, lazy dog days of summer. I've been waiting for you to show up.
The time of year I wish I was one of my favorite four-legged furry friends so that it would be perfectly acceptable to lie about the house and languish in the long shadows of the evening as the air conditioner kicks on and off before I wander down the hall to have someone else prepare my dinner, feed me and even get a little scratch on the old belly. And of course since I wouldn't have thumbs, how could I possibly be expected to do the dishes?
It sounds pretty good. Except I wouldn't want to eat dog food. No. Not at all. But rustic tarts loaded with summer veggies? That I will do. And friends, it is a FAR cry from dog food.


We've been making our way to the farmers market each weekend this season to pick up our weekly veggie and fruit fare. This time around I made it before all of the heirloom tomatoes had been snatched up.
Lucky me—for sure!—and lucky you too.
Because now I present this veggie laden galette.
A galette is simply a rustic pie with a fancier name and they're terribly simple to make. If you can fold a napkin, you can make a galette.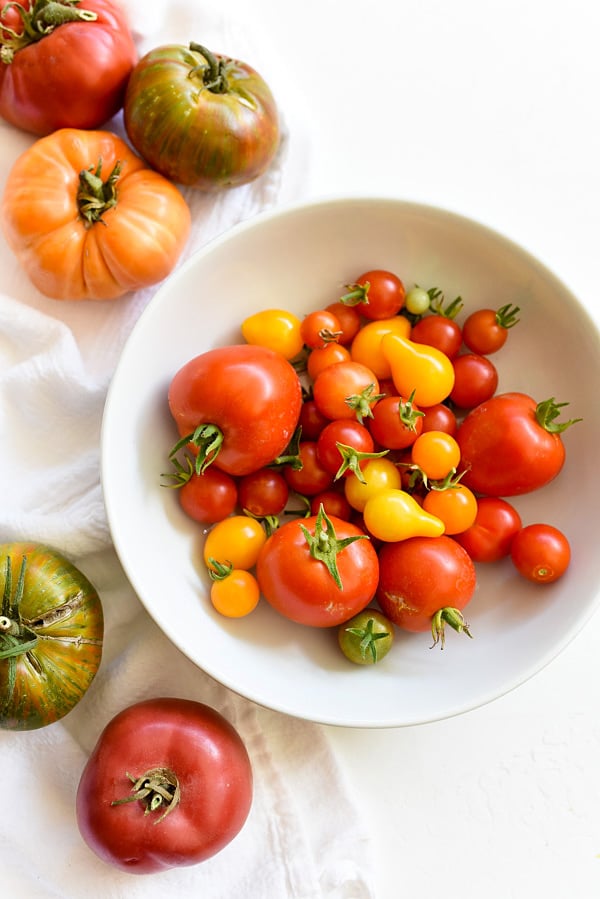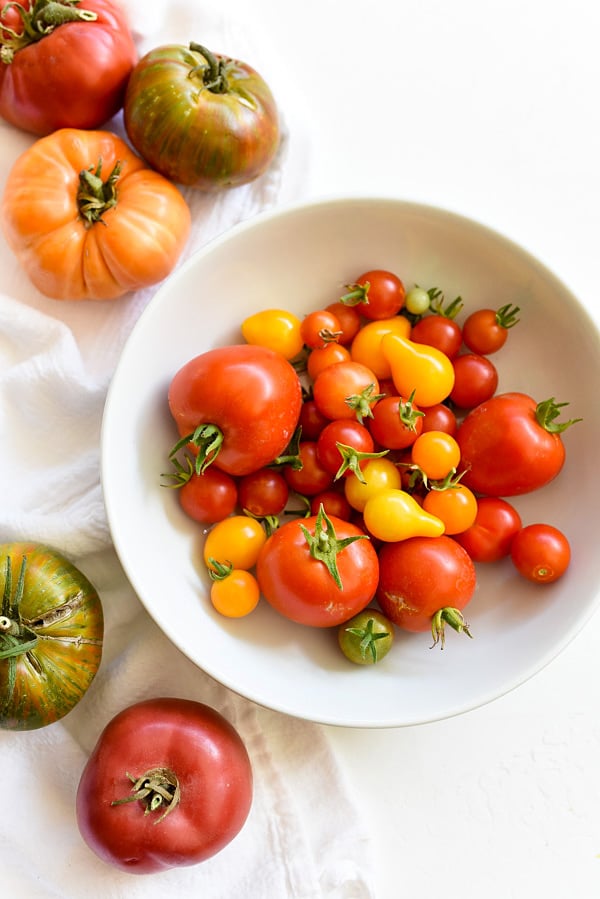 This recipe is another in the monthly #eatseasonal round-up of recipes my friend Becky of The Vintage Mixer has inspired thanks to her Seasonal Produce Guide. I'm truly not sure if there is another recipe I could have imagined that would be more seasonal, right now, right here, than this one.
Local heirloom tomatoes mixed with a few baby 'mates from my garden (finally! they're ripening!) resting comfortably on fresh zucchini and caramelized onions then wrapped in a flaky crust. That's store bought.
Because we have better things to do with our waning days of summer.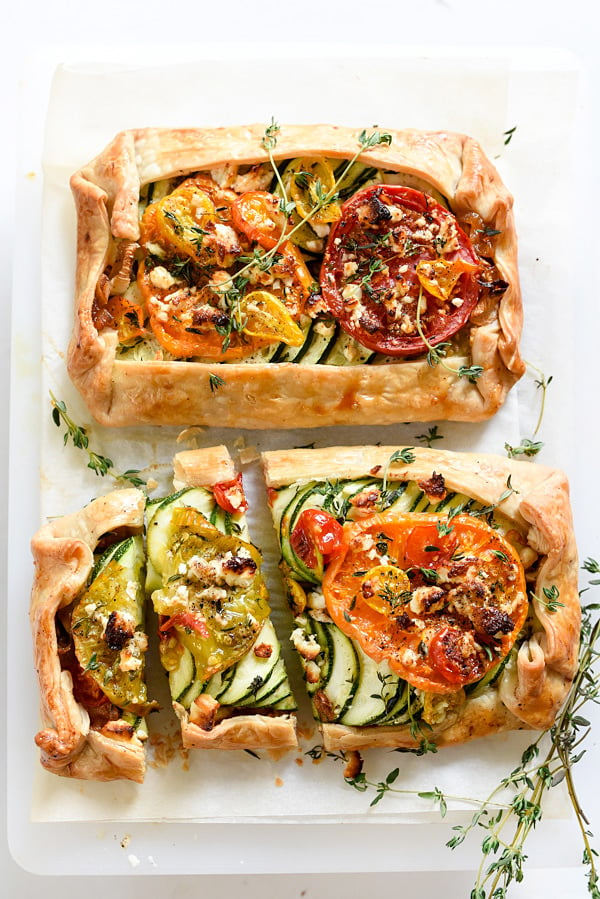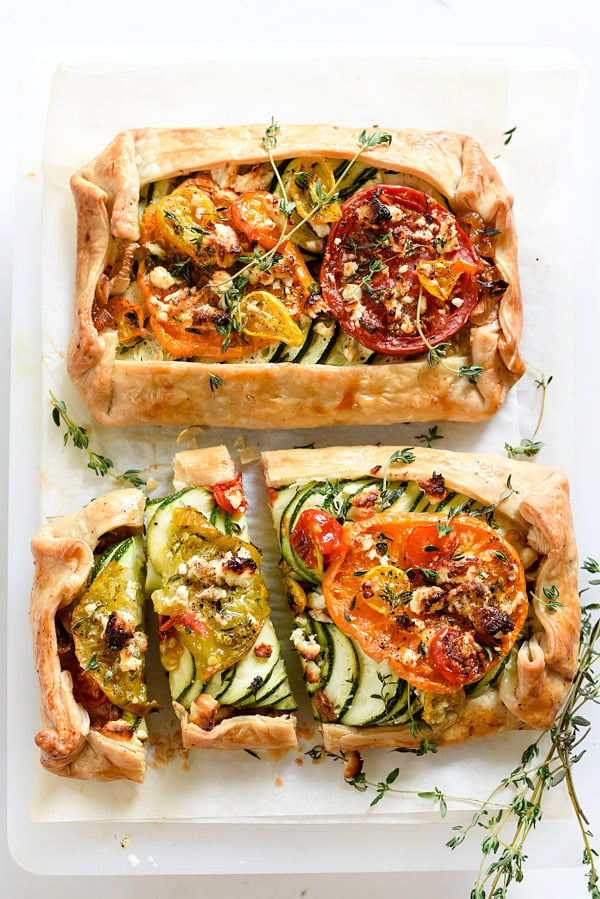 About the Recipe
Sure. I am a big fan of making my own pie crust, but let's get real. Sometimes store-bought crust just really seals the deal. This recipe takes one box and creates two galettes. Perfect for a light dinner or cut it in slices for a totally seasonal appetizer.
This recipe could be a bit drab with just layers of veggies, so to give it some zing, I slathered a bit of Dijon mustard to the bottom of the galette before layering on the veggies. My advice? Do not skip this step, it really adds to the flavor.
Caramelized onions. What more can you say about their sweetness? The only thing I can add is that you have to take them low and slow. Be patient. It's their virtue.
I topped this with feta and thyme. You however could use goat cheese and basil, or gorgonzola and tarragon. It's totally adaptable. But I think this combo is pretty well perfect.
To get the zucchini cut in uniformed slices I used my OXO handheld mandoline. It's one of my favorite kitchen tools, and you should make it one of yours too.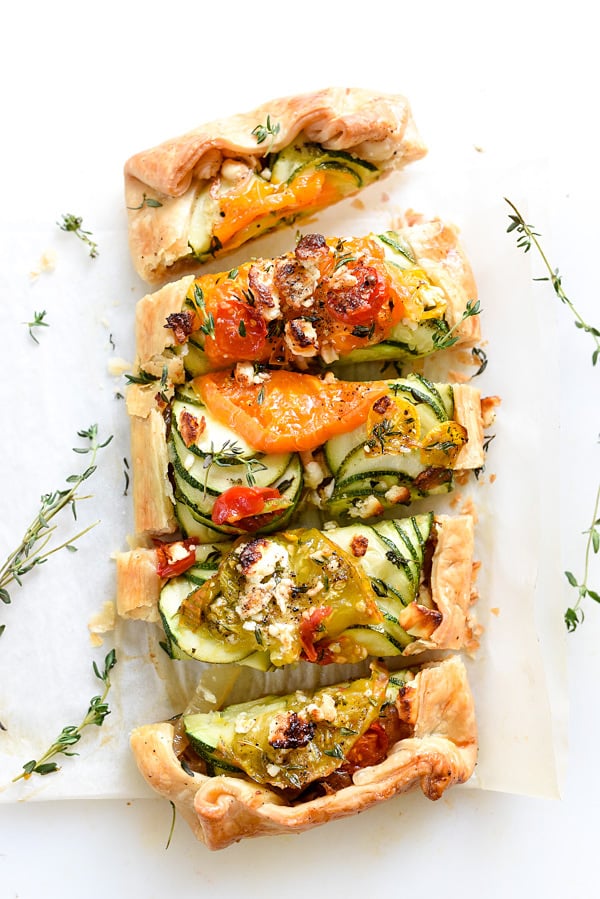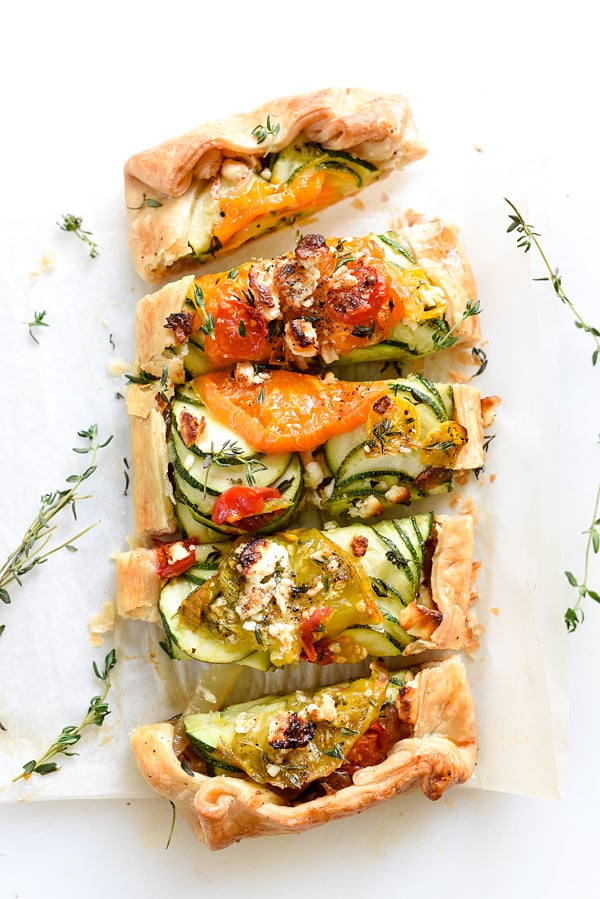 If you make this recipe, please let me know! Leave a comment below or take a photo and tag me on Instagram or Twitter with #foodiecrusheats.  
Print
Heirloom Tomato, Zucchini, Caramelized Onion and Feta Galette
Caramelized onions and a spread of Dijon mustard make this rustic vegetable pie a favorite for an easy lunch, a light dinner or impressive appetizer.
Ingredients
2

yellow onions

, peeled and sliced

1

tablespoon

extra-virgin olive oil

, plus more for drizzling

2

tablespoons

butter

2

refrigerator pie crusts

, 1 box

1

egg white

, beaten

2

tablespoons

Dijon mustard

2

heirloom tomatoes

, sliced

2

zucchini

, thinly sliced

½

cup

feta cheese

, crumbled

Sprigs of fresh thyme leaves

Kosher salt and freshly ground black pepper
Instructions
Preheat a large sauté pan over medium heat and melt the butter and olive oil together. Add the sliced onions, season with salt and pepper and reduce the heat to simmer and slowly cook the onions for about 40-45 minutes, stirring occasionally until the onions are soft and caramelized. Set aside to cool.

Cut one of the refrigerator pie crusts into a roughly 7 X 9-inch square, so that you trim the rounded edges from the crust and discard or save for another use. Place the pie dough on one half of a large baking sheet lined with parchment paper. Lightly brush the bottom of the crust with the beaten egg white. Spread 1 tablespoon of the Dijon mustard on the crust, leaving a 1-inch border of plain pie crust all the way around the edge. Scatter half of the caramelized onions on the mustard then layer 2 rows of zucchini slices down the middle of the crust. Top with slices of tomato and sprinkle with thyme leaves and half of the feta cheese then drizzle with a little additional olive oil. Season with salt and pepper. Fold the long edges of the pie crust over and then the short edges over the zucchini slices. Repeat the process with the other crust.

Preheat the oven to 400 degrees F. Bake the galettes for 15 minutes or until the crust is golden and the vegetables are softened.

Slice and serve warm or at room temperature.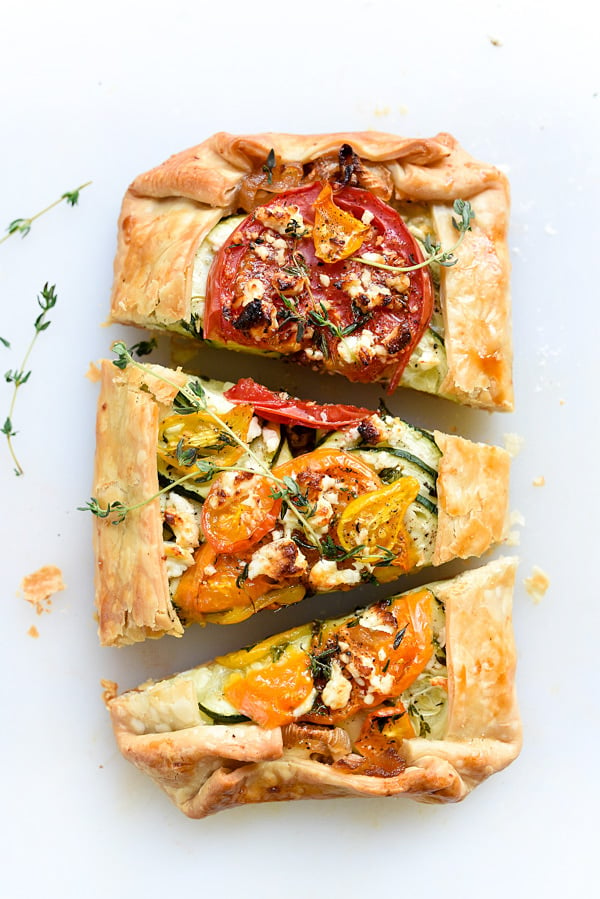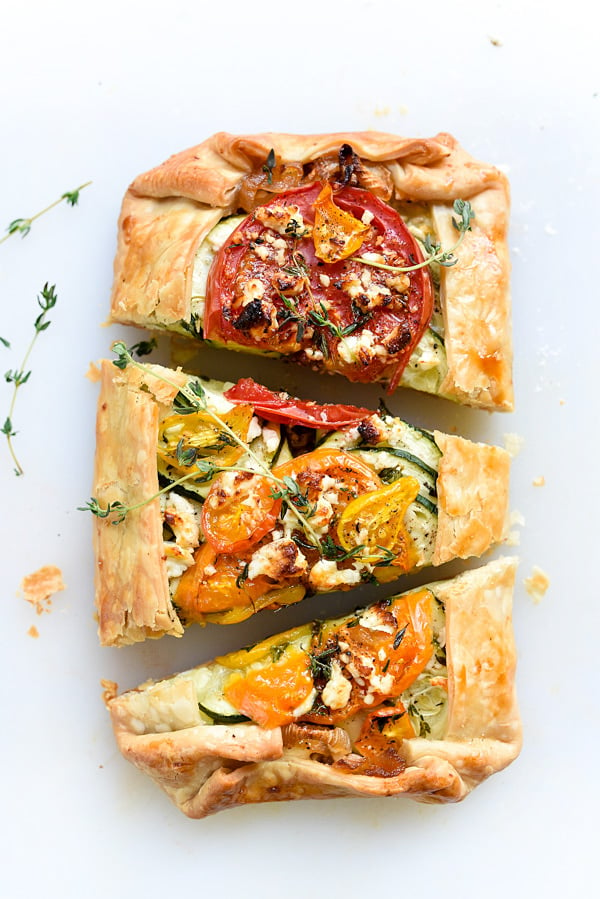 #EatSeasonal August
As we have for the past few months, Becky has amassed a group of us who are posting #eatseasonal recipes today. Some are some are sweet, some are savory and they're all in season now. They're all good and they're all seasonal and are listed below. Follow the #eatseasonal hashtag on Instagram, Twitter and Facebook to discover more seasonal eats.
Healthy Whole Grain Zucchini Bread Pancakes by Bless This Mess
Raspberry Swirl Frozen Yogurt Pie by Cookin' Canuck
Savory Summer Squash Custard by Vintage Mixer
Zucchini and Yellow Squash Noodles with Turkey Sausage Bolognese by Flavor the Moments
Potato and Egg Breakfast Boats by From Gate to Plate
Zucchini and Green Bean Sauté by The Lemon Bowl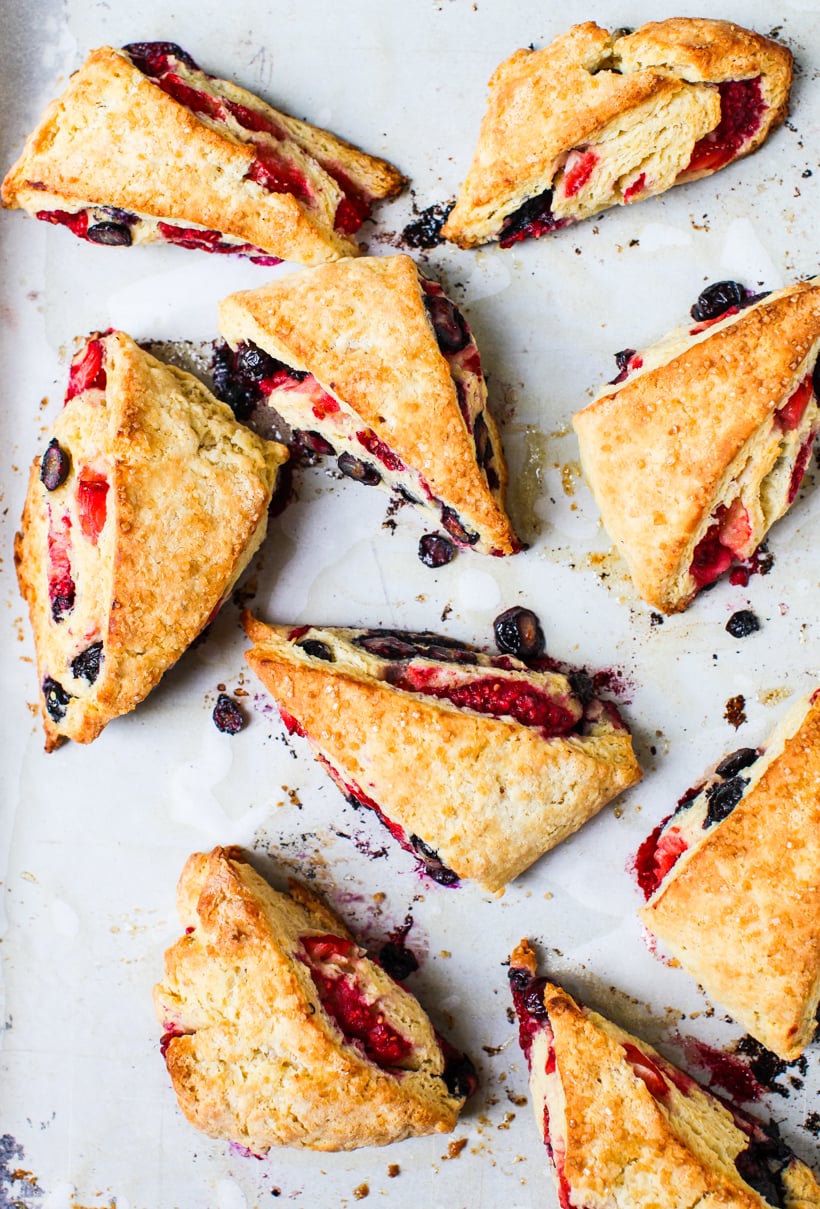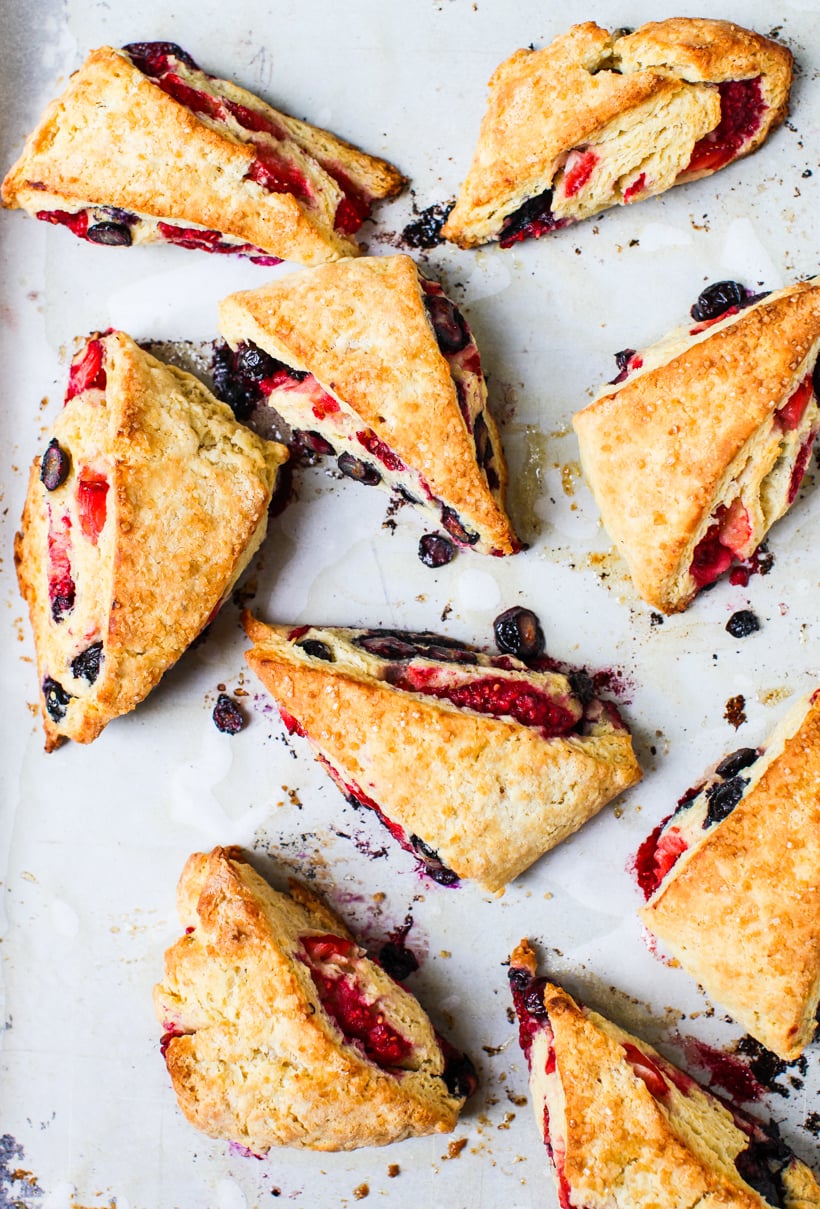 Triple Berry Scones by Simple Bites
Grilled Summer Squash with Sun-Dried Tomatoes and Basil Ghee by Project Domestication
Zucchini, Corn and Pesto Flatbreads by Kitchen Confidante
Blackberry Buckle by Mountain Mama Cooks
Raspberry and Brown Sugar Bourbon Fizz by Floating Kitchen
Happy cooking friends!
As always, thank you for reading and for supporting companies I partner with, which allows me to create more unique content and recipes for you. All opinions are always my own.  
Are you following me on Instagram, Twitter, Facebook and Pinterest? 
Thanks for reading and subscribe to FoodieCrush to have each post delivered straight to your e-mail box.