Tart lemons and briny capers give this sauce its signature taste over lightly fried, boneless pork cutlets for an easy Italian dinner that's on the table in just 30 minutes.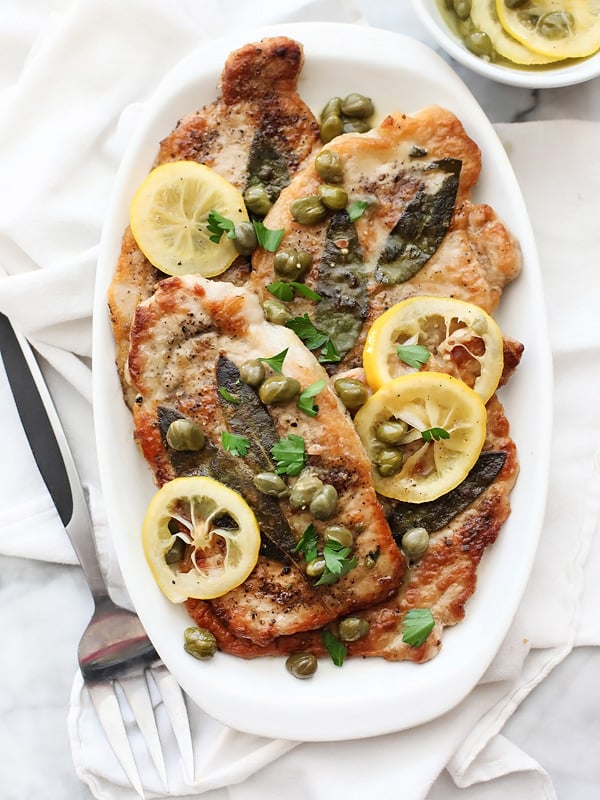 Sometimes you just need to work out your aggressions instead of act on them.
We all have those days. But rather than taking it out on the poor soul who cut you off in traffic as they dove across lanes to duck into Starbucks (hey, they obviously NEEDED their coffee) let's take it to the kitchen and do some damage that does some good.
Let's pound some meat.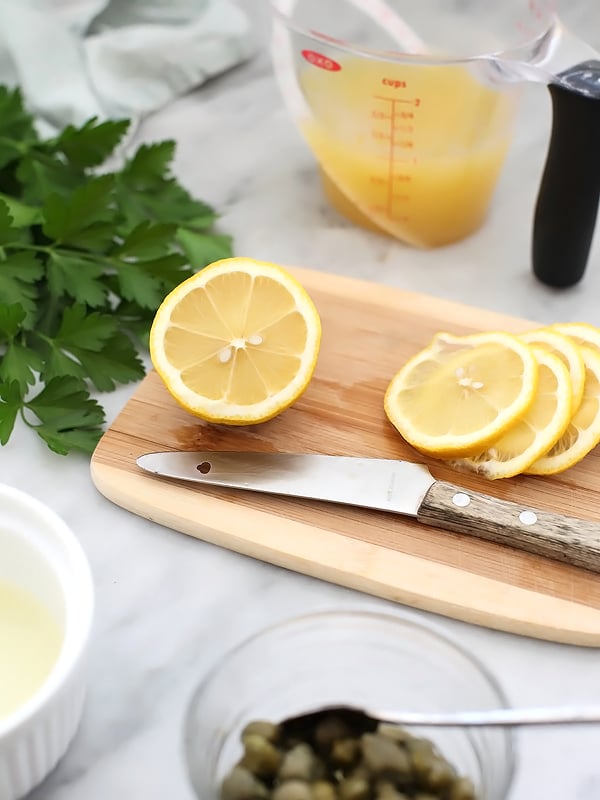 You'll find one variation or another of scallopini on nearly every menu of every classic Italian restaurant. Each time I even say the word "scallopini", my mind's eye sees those funky, amber colored, bubbled glass candle holders sitting alongside stainless topped parmesan cheese shakers and the classic red checkered table cloth on a cozy corner table in that dimly lit neighborhood Italian restaurant.
These flavors could be my most favorite of all time. Briny capers with tart lemons. I've mastered the combination with my Sautéed Chicken with Olives, Capers and Onions. They're a feast to be reckoned with in my Chicken Piccata Pasta with Capers and Mushrooms. And now I'm giving thinly cut pork chops a show.
Unless you're Italian, it's likely you don't have a scallopini recipe in your repertoire.
But that is about to change. Right here, right now. And in just 30 minutes. Ready, set your timers, GO!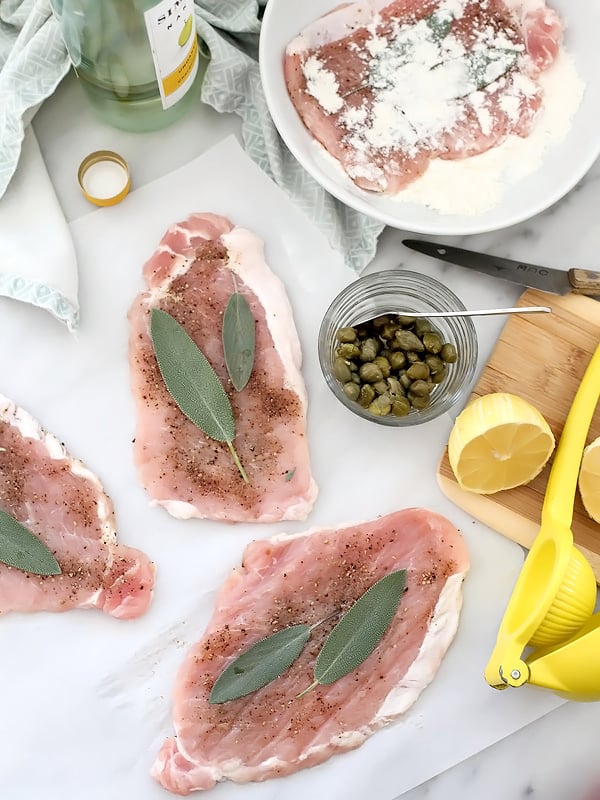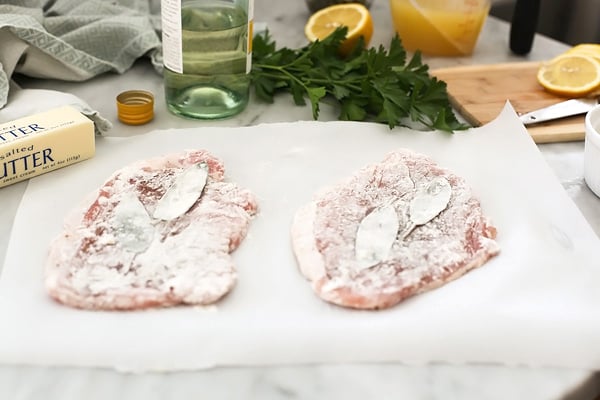 About the Recipe
Thin cut, boneless pork chops are the main player here. The boneless part of the lean-cut tenderloin is pounded thin between two sheets of plastic wrap or parchment paper. Use short even stokes with a meat pounder, from the middle of the cutlet to the edges, for best flattening. If pork isn't your thing, thin cuts of veal, chicken or even turkey could easily be substituted.
Pounding the pork cutlets thin makes for even cooking and results in a mere few minutes of stovetop frying time. I've found I get the prettiest browning of the pork when I use a combination of butter with just a little addition of oil. With everything cooked up in one pan, this dinner gets brownie points for it's quick and easy clean up, too.
A few leaves of sage are pressed right into the pork, then both are lightly floured and put into the pan for a quick fry. I said this was a 30 minute meal, so let's keep it moving.
The tart lemons and briny capers give this sauce its signature taste after it's been thickened with a bit of Real®Seal butter for a bit of lushness. The combo is the perfect pucker upper.
I serve this with a side of my Easy Lemon Orzo Faux Risotto or Easy Parmesan Buttered Noodles. I'm sensing a trend. Ease is the key for this home cook.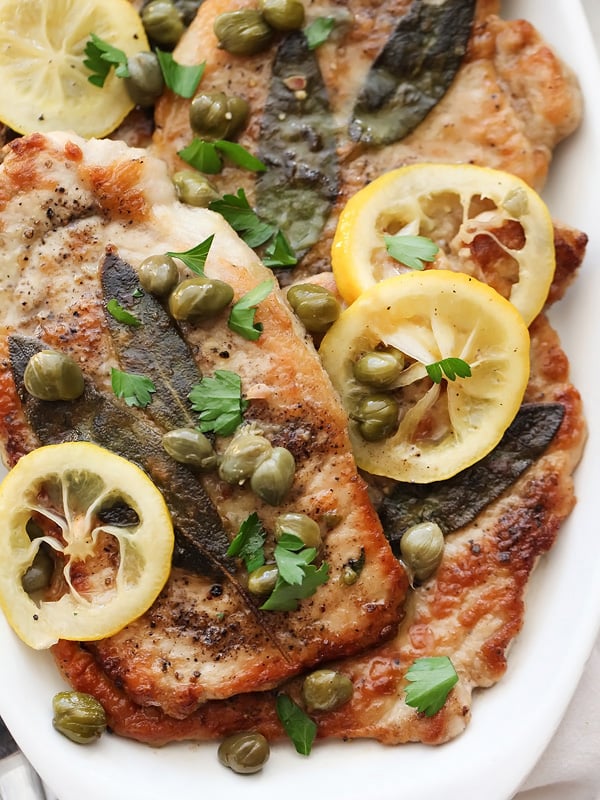 If you make this recipe, please let me know! Leave a comment below or take a photo and tag me on Instagram or Twitter with #foodiecrusheats.  
Get my Pork Scallopini recipe and see the rest of my Go Bold with Butter recipes here.
Print
30 Minute Pork Scallopini With Lemons and Capers
Tart lemons and briny capers give this sauce its signature taste over lightly fried, boneless pork cutlets for an easy Italian dinner that's on the table in just 30 minutes.
Ingredients
4

thin

boneless pork chops

8

fresh sage leaves

1/4

cup

all-purpose flour

kosher salt and freshly ground black pepper

4

tablespoons

butter

divided

1

tablespoon

vegetable oil

1/2

cup

white wine

1/4

cup

capers

1

cup

chicken stock

2

lemons

juiced

1

lemon

sliced thinly

2

tablespoons

Italian flat leaf parsley

chopped
Instructions
Pound out the pork chops to 1/4 inch thickness. Press 2 sage leaves into one side of each each of the pork chops. Mix the flour, kosher salt and ground black pepper in a large, shallow bowl or plate. Add the pork chops to the flour, one at a time, and flour each pork chop, gently turning on each side so the sage leaves stay on the pork chop. Gently tap off the excess flour.

Heat a large skillet on medium high. Melt 1 tablespoon of butter with 1/2 tablespoon of the oil. Place 2 of the pork chops in the skillet and cook for 3-5 minutes on each side, or until golden browned. Remove from the pan and set aside. Add 1 more tablespoon of butter and the remaining oil. Cook the remaining 2 pork chops and place with the other two cooked pork chops.

Wipe out any burned or really crispy bits out of the pan. Melt 1 tablespoon of the butter in the pan over medium high heat. Add the wine and capers and cook until reduced by half. Add the chicken stock, lemon juice and a few lemon slices and bring to a boil then add the remaining tablespoon of butter and stir, cooking for 2-3 minutes or until sauce thickens slightly. Add the pork back to the pan and warm in the sauce. Garnish with chopped parsley.
Hey, thanks for stopping by and visiting FoodieCrush. Have something to say? I'd love to hear from you. Let me know in the comments below.
Make it a great day, friends and cook something seasonal and good.
This recipe was created in partnership with Go Bold With Butter. As always, thank you for reading and for supporting companies I partner with, which allows me to create more unique content and recipes for you. All opinions are always my own.  Are you following me on Instagram,  Twitter,  Facebook  and  Pinterest? 
Thanks for reading and subscribe to FoodieCrush to have each post delivered straight to your e-mail box.  
SaveSave