In this stuffed pork chops recipe, boneless and brined pork chops make the perfect vessel for leftover stuffing for an easy weeknight or weekend dinner that will impress.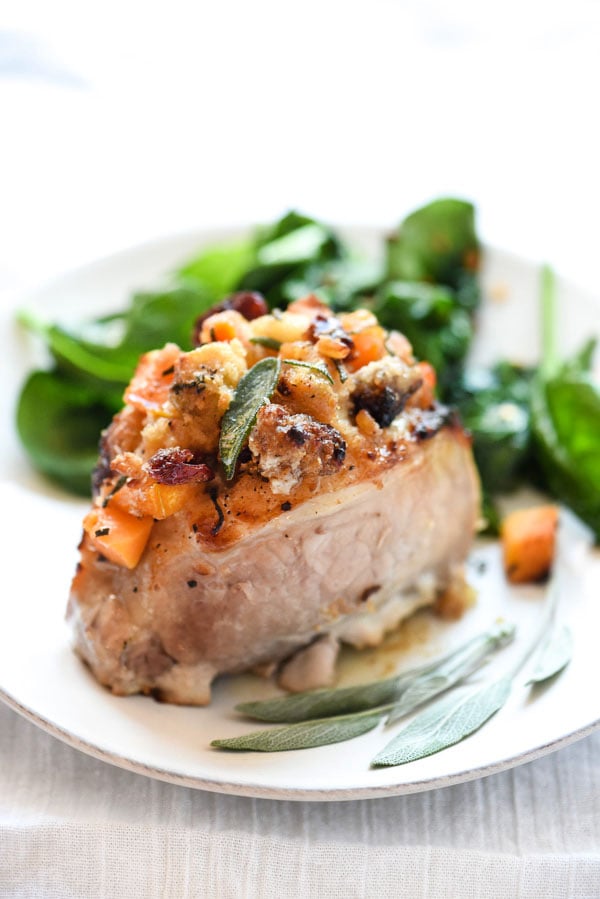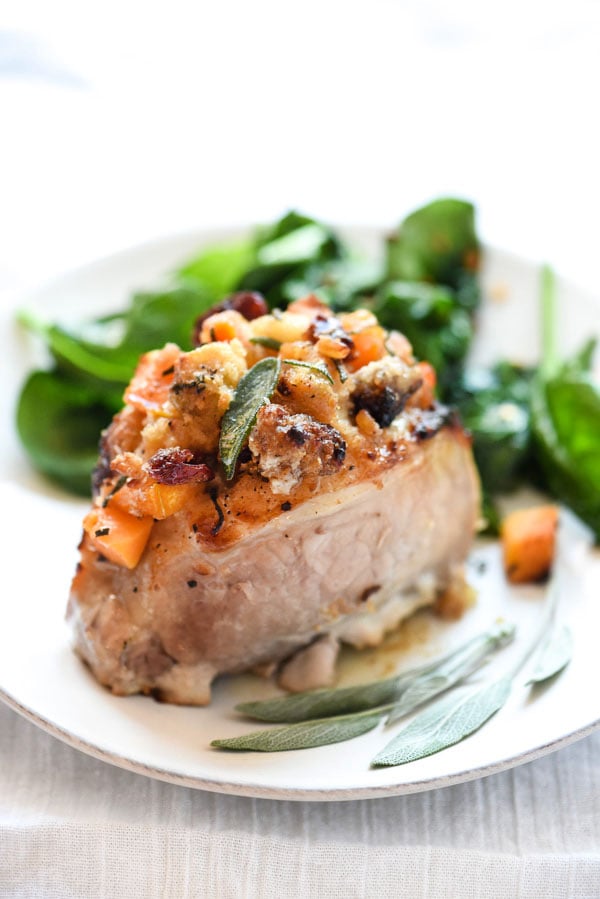 You know the drill.
It's Thanksgiving. There's a bounty of everything. And I always tend to over-provide.
Therefore, this is what I often hear from my mom this time of year. "Oh my word!!! There's enough food here for the Spanish marines!"
After hearing this saying since the beginning of time—aka third grade when I wore blonde braids and culottes (hey! they're back!)—I'm still not sure who the Spanish marines are, but apparently, there were a LOT of them.
My favorite turkey side dish known to me as stuffing and to some as dressing, is known for being plentiful. And then leftovers. What to do with all that stuffing besides stuffing more stuffing in your ever expanding mouth?
Save it. Freeze it. And make more out of what you have. That's why I'm maximizing my leftovers by starting with this stuffed pork chop recipe and sharing more recipe links at the end of this post to cover your ever-loving-leftover-stuffing desires.
Hit it, marine!
I most recently shared my Farro, Butternut Squash, Sausage and Dried Cherries Stuffing with you here on le bloggity blog and true to form, our stuffing runneth over.
I'm the first one to say that I LOVE LEFTOVERS. But like everything, one must know when to say, "Enough is enough."
Instead of distributing to neighbors or sending home with family, I popped my leftover stuffing in a freezer bag and froze it until I was ready for my stuffing cravings to resume. Stuffing will stay good in the freezer for about 3 months, so I was feeling pretty good about it.
Alas, I didn't have to wait nearly that long.
What's in These Stuffed Pork Chops?
Based on their borderline professional appearance, you may think these baked stuffed pork chops require a lot of ingredients. Thankfully, you couldn't be more wrong. Here's all you'll need to make this stuffed pork chop recipe:
Boneless, thick-cut pork chops
Spiced apple cider
Bay leaves
Leftover stuffing (I love this cranberry walnut version)
Chicken broth
Fresh sage
Olive oil
How to Make Stuffed Pork Chops
You'll first need to brine the pork chops. To do so, simply pop them into a gallon-sized bag along with the bay leaves and apple cider and let the chops chill out in the fridge for at least an hour.
Once they've had time to brine, drain the chops and pat them dry. Slice the center of each pork chop to make a large pocket, then fill them with half the stuffing.
Sear the semi-stuffed pork chops on both sides in a hot skillet, then fill them with the remaining stuffing and bake until cooked through. Keep an eye on your stuffing as the pork bakes. If you see things getting a little roasty, tent the pan with a piece of aluminum foil.
How Long to Cook Stuffed Pork Chops?
You'll first need to sear the pork chops in a hot skillet for 4 to 5 minutes total, then finish them off in a 425 degree F oven for roughly 7 to 10 minutes. In total, these stuffed pork chops need to cook for about 15 minutes.
Depending on how thick your pork chops are, you may need to bake them for more or less time than indicted in the recipe card below. You'll know the chops are finished when they reach an internal temperature of 160 degrees F.
Do I Have to Sear the Pork Chops Before Baking Them?
No, you don't have to. You could simply bake these pork chops without browning them first by baking them at 375 degrees F for about 30-40 minutes.
However, when using that method the pork chops won't brown much on the sides and the tops of your stuffing might get a little toasty. Instead, I prefer filling them halfway with stuffing then giving them a quick sear in the pan before topping them off with a generous stuffing mound and putting them in the oven to finish off baking at a higher 425 degrees F for a shorter amount of time.
Can I Use Bone-In Pork Chops?
You might be able to, but they'll be more difficult to stuff. If possible, get your hands on thick-cut boneless chops for best results.
Tips for Making Stuffed Pork Chops
Whenever we make a pork dish, especially when they're a thicker cut of pork chop, we always first start with a brine. Instead of making a homemade brine like in my Stuffed Pork Chops with Roasted Grapes (thanks, Tyler Florence!), I took the easy way out and used Trader Joe's Spiced Apple Cider for the brine. If you can't find a spiced apple cider, simply take a regular apple cider and spunk it up with cloves, allspice and bay leaves.
I usually brine my pork chops at least overnight. These ended up brining for 2 days. They were all the better for it.
To stuff these pork chops I cut a pocket in the fatty side of the pork chop so the rendered fat would seep down into the meat as it cooked. They sit up and alert if you make them this way. Like a Spanish marine would.
If your stuffing is a little dry after coming out of the freezer, drizzle with a little chicken broth and fluff to bring it back to life. Moisture is good.
More Pork Dinner Recipes We Love
If you make this recipe, please let me know! Leave a comment below or take a photo and tag me on Instagram or Twitter with #foodiecrusheats.
Print
Stuffed Pork Chops
In this stuffed pork chops recipe, boneless and brined pork chops make the perfect vessel for leftover stuffing for an easy weeknight or weekend dinner that will impress.
Ingredients
4

boneless thick-cut pork chops

4-5

cups

spiced apple cider

(or regular apple cider with 10 cloves and 1 tablespoon allspice)

3-4

bay leaves

½

cup

chicken broth

(optional)

Fresh sage leaves

thinly sliced

Extra virgin olive oil
Instructions
Add the pork chops to a large freezer bag with the spiced apple cider and bay leaves and refrigerate for 1 hour or overnight.

When ready to cook, preheat the oven to 425 degrees F.

Drain the pork chops and pat dry. Make a slice in the center of each pork chop to make a large pocket. If the stuffing seems dry, drizzle with chicken broth and stir to liven it up. Stuff each chop with about ½ cup of the leftover stuffing.

Heat a large cast iron skillets over medium-high heat and add 1 tablespoon of olive oil. Gently add 2 chops to the skillet and cook for 4 to 5 minutes, gently flipping the chops in the pan. Transfer the chops to a plate and tent with foil. Repeat with the other two chops.

Add all of the chops to the pan with the stuffing side up and top each chop with another ½ cup of stuffing. Sprinkle with fresh chopped sage and drizzle with olive oil.

Roast in the oven for 7-10 minutes depending on thickness or to 160 degrees. Remove the chops and serve.
Nutrition
Calories:
672
kcal
|
Carbohydrates:
70
g
|
Protein:
36
g
|
Fat:
27
g
|
Saturated Fat:
7
g
|
Cholesterol:
90
mg
|
Sodium:
1139
mg
|
Potassium:
910
mg
|
Fiber:
6
g
|
Sugar:
27
g
|
Vitamin A:
626
IU
|
Vitamin C:
4
mg
|
Calcium:
92
mg
|
Iron:
3
mg
More Recipes That'll Have You Stuffing Your Stuffing
There's not only a bounty of stuffing this time of year, but also a bunch of ways to enjoy it not just on its own. Here are 10 recipe links for ideas on how to use up your leftovers. If you have any, that is.
Open-faced Turkey Burger with Apple Bourbon Gravy
It's always the gravy that makes it.
Get the recipe | Climbing Grier Mountain
Crispy Stuffing Cakes with Quail Eggs
Potato patties? Corn bread patties? Forget that. We have stuffing patties!
Get the recipe | I Am a Food Blog
Turkey Leek Pot Pie with Sage and Walnut Studded Pastry
Her suggestion to add leftover stuffing to this already stunning pie? Brilliant!
Get the recipe | Port and Fin
Stuffed Mushrooms
Only 4 ingredients? You bet your stuffing I'm in.
Get the recipe | A Pumpkin and a Princess
Bourbon Apple Cider Glazed Stuffed Roasted Pork Loin and Sweet Potatoes
Just in case you're running low on the stuffing, Heather gives you a recipe to keep the stuff-in' flowing.
Get the recipe | Heather Christo Cooks
Sausage Sour Dough Stuffing Filled Pretzel Rolls
Anything baked in dough is a 10 on my scorecard.
Get the recipe | Wanna Be a Country Cleaver
Cheese Stuffed Meatballs
Stuffed with cheese and then stuffed with stuffing. They're double stuffed!
Get the recipe | Sprinkled Side Up
Holiday Burger
Every time of year is the right time for a Thanksgiving stuffed burger.
Get the recipe | Cherry On My Sundae

Bacon-Wrapped Stuffed Pork Sausages
And just because it's pork on pork on pork on pork and stuffing…whoa.
Get the recipe | Weekitchen
Enjoy your stuffing friends! And get into the kitchen and stuff something good.
Craving more life balance, less stress, and better health? Check out my Nourished Planner, the daily planner to help create simplicity and under-schedule your life.
We send good emails. Subscribe to FoodieCrush and have each post plus exclusive content only for our subscribers delivered straight to your e-mail box.
Follow me on Instagram, Facebook, Pinterest and Twitter for more FoodieCrush inspiration.
As always, thank you for reading and supporting companies I partner with, which allows me to create more unique content and recipes for you. There are affiliate links in this post of which I receive a small commission. All opinions are always my own.