This incredibly easy but incredibly flavorful recipe for one of the most popular Chinese dishes can easily be made gluten-free or traditional style.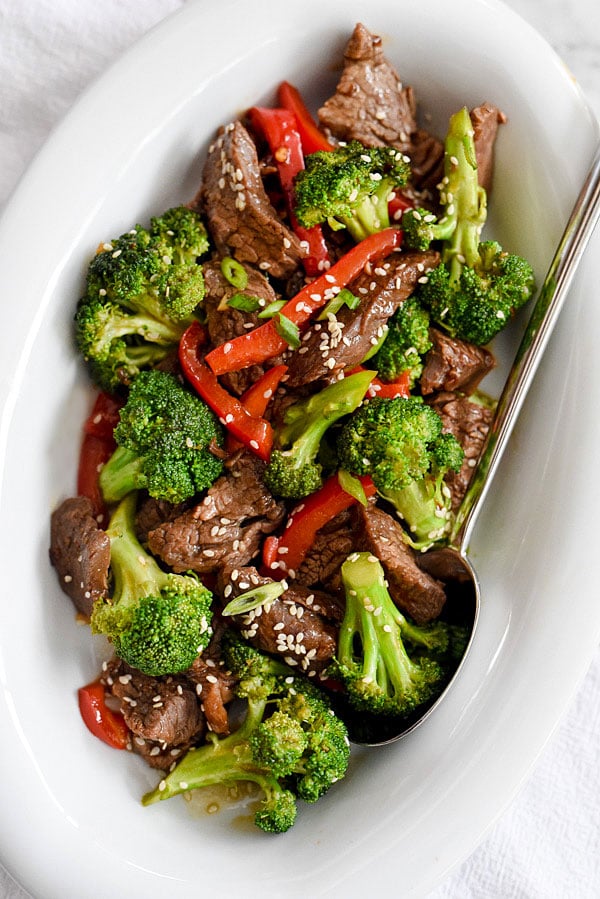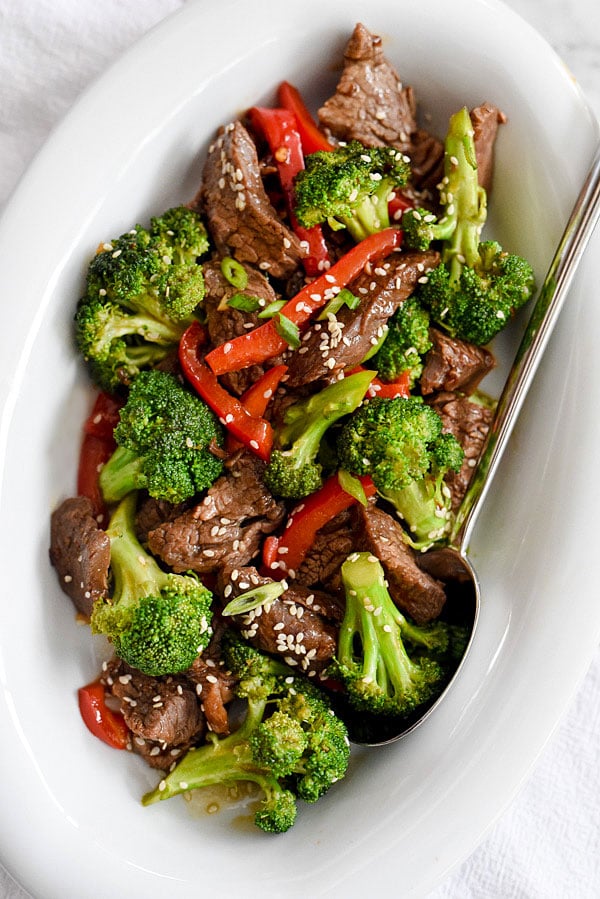 Kristin Porter has been entertaining us with healthy, easy recipes, motivational workout routines, travel tales, and more, since the birth of her blog, Iowa Girl Eats six years ago.
Suffice it to say, when she contacted me about creating an e-book about helping others go gluten-free by sharing her own story and personal struggles, I knew she had a winning formula and signed on right away. Her new e-cookbook and beginners guide, Gluten-Free for Beginners: 30 Day Meal Plan and Guide for Gluten-Free Success, is so much more than an e-book. It spells out everything one needs to lead a healthy, vibrant life by embracing their dietary needs. 
First, contributor Hayley Putnam interviewed Kristin to find out more about her journey, where she's been and the success she's found now. Later in this post you'll find one of the recipes from Kristin's e-cookbook, Gluten-free Beef With Broccoli. Take it away Hayley. 
A couple years ago Kristin was diagnosed with Celiac Disease, which she learned was likely triggered by the tough labor and delivery of her son. Once she shared her diagnosis on her blog, she received an influx of emails from others recently diagnosed with Celiac Disease, or gluten sensitivity. Feeling inspired to do something that would help others struggling with the same situation, Kristin decided to write her book.
"When I was diagnosed with Celiac Disease my doctor told me to eat gluten-free…and that was pretty much it. Unfortunately it's a lot more complicated than that," she says. "I had a lot of fails trying to go gluten-free, and was sick for a long time after my diagnosis, and just didn't want anyone else to go through what I had. I basically wrote the gluten-free resource guide I wished I'd had from day one."
Transitioning to a gluten-free diet wasn't easy for Kristin. "The biggest struggle has probably been mental. Getting "glutened" is the absolute worst, and it can sometimes take weeks before I feel good again after unknowingly eating something with gluten in it, but saying goodbye to some of my favorite foods, and especially not being able to just pick up the phone and order a pizza, or check out the new restaurant in town on a whim has been really difficult. But, I try to remind myself that I have a disease that can be managed by diet. I don't have to take any drugs, etc. – I just have to eat gluten-free. Not many people with a disease can say that!"
Gluten-Free for Beginners and Beyond
If you are new to gluten-free eating, or already eat gluten-free and are looking for some fresh perspective, Gluten-Free for Beginners: 30 Day Meal Plan and Guide for Gluten-Free Success is a must-have addition to your eating regimen.
Kristin's eBook is first and foremost a comprehensive resource and "how-to" guide for going gluten-free, and features her favorite gluten-free ingredients (with photos and links to each one), a four-month meal planning guide and 10 new recipes.
"My favorites are Beef and Broccoli (recipe below), which my husband now requests weekly, and No-Bake Chocolate Peanut Butter Energy Bites, which I can't keep in the house for longer than a day or two. They're great for getting over that 2pm hump, or to pair with a glass of wine after dinner!"
She admits writing the book was a challenging process, but because it was a topic she's so passionate about, it was also fun and fulfilling. "The most rewarding aspect was seeing the words I'd written come to life via Heidi's gorgeous design and layout."
Because of so many requests by her readers, Kristin has updated some of the older recipes on her blog as well, to make them healthier and gluten-free friendly, and even after six years of blogging, she's still in love.
"I think any food blogger will tell you it's the absolute best feeling when a reader leaves a comment that says something along the lines of, I just made this dish for my husband and he said I was the best cook in the world. Thanks for making me look like a rock star in the kitchen! Helping people become comfortable, succeed, and love being in the kitchen is what I love most about blogging."
And Now, the List of 10 Q's for Kristin
1. Describe your blog in 3 words:
Approachable – meaning the recipes I share aren't intimidating and you won't need to go to three different stores to buy all the ingredients.
Helpful – I love showing process shots to help make sure the dish turns out the same way in my reader's kitchen as it does in mine.
Informative – before I got Celiac Disease I kind of rolled my eyes about the whole gluten-free phenomenon. I had no idea some people have no choice but to eat gluten-free! I hope I can educate my readers about the reasons why people eat gluten-free, and that it's really not so different from not eating gluten-free.
2. If you could be one blogger other than yourself, who would you be?
Probably the Pioneer Woman. I just want to know how she does. it. all. (And looks so great doing it!)
3. Which 3 blogs do you follow/are obsessed with/can't live a day without?
Ooo good question. I'm more of an Instagram girl, where I can catch up with my favorite bloggers and brands whenever I have a free moment. That said, my favorite accounts to keep up with are @eahoneymoons because they feature the most incredible travel destinations, @thekitchn for always having the best content and ideas, and @dad_beets for coming up with the most ridiculously awesome food that will make you say, "why didn't I think of that?!"
4. What is the one kitchen tool you could never give up?
My Cuisinart 14-Cup Food Processor. There is nothing that baby can't do and I use it at least twice a week. Runner up is my $2 IKEA garlic press. Best $2 I ever spent!
5. What dish are you obsessed with mastering that you just can't get quite right?
A really good gluten-free buttermilk biscuit would be a game changer! My husband's favorite breakfast is Biscuits and Gravy so I'd love to be able to enjoy that together again. That and a great gluten-free pizza crust. I had the most unbelievable GF crust at a pizza shop in NYC last spring and I still think about it regularly. You would have no idea it was gluten-free!
6. What did you have for dinner last night?
Bacon Brown-Sugar Pork Tenderloin. For some reason I always thought pork tenderloin took forever to cook and that it was a Sunday supper kind of thing. Totally not the case! It's become one of my favorite quick-cooking meats for weeknight dinners over the past year or so. I didn't have all the ingredients on hand so I improvised and it turned into a Bacon Brown-Sugar Asian-y Glaze-ish Pork Tenderloin. Served with sauteed garlic mushrooms — it was great!
7. What's one secret talent outside of the kitchen nobody knows about you?
You mean besides my self-proclaimed expert sommelier status? Kidding! Hmmm, I'm very handy – I get it from my Mom and Grandpa. I have assembled 99% of my son's toys over the past two years, which doesn't sound very impressive, but I swear some of these things nearly require an engineering degree to assemble!
8. You're happiest when cooking/eating: 
Oh this is so embarrassing. I'm happiest when I'm eating, like, summer sausage and Colby Jack cheese squares. So gourmet, don't you think? I'm happiest when cooking something super healthy for my two year-old son and he has no idea. ;) Packing his smoothies full of spinach, swapping half the ground beef in his spaghetti sauce for minced mushrooms, etc. I love filling his little belly with healthy foods and creating healthy food habits early on.
9. The one secret to your success is?
Understanding that there is no secret to success! I have worked harder building my blog and brand than I have on anything in my entire life, every single day for over six years. There will always be a recipe or post that goes viral, but when the buzz eventually dies down it's good to remember that slow and steady wins the race.
10. What's next for you? Do you see another cookbook in your future?
Definitely! I would love to write add-ons for the Gluten-Free for Beginners: 30 Day Meal Plan and Guide for Gluten-Free Success eBook — meal plans specifically written for the fall, winter, spring, and summer, gluten-free holiday survival guides, etc. Now that I know what it takes to write an eBook, and the groundwork has been laid, I feel more confident and would love to keep writing more!
Thank you Kristin for being one of our favorite foodie crushes.
And thank you Hayley for that interview. And now, that recipe…
Gluten-Free (or not) Beef with Broccoli
If there's one style of recipes I think of when I think of Iowa Girl Eats, it's family-favorite, wholesome food. While this Beef and Broccoli may be Kristin's husband's favorite recipe, I'm just here to say it's now one of ours too. This recipe is straight from Kristin's Gluten-Free for Beginners: 30 Day Meal Plan and Guide for Gluten-Free Success. Lucky for me, I have the original copy :).
This is just about one of the easiest Asian recipes to grace our dinner table. My husband flipped for it, too. And now, it's your turn.
About the Recipe
The beef in this dinner might be one of the most flavorful I've had in a long, long time. The marinade only takes 20 minutes to work into the flank steak and with a quick sear in my wok (this is my favorite), the beef still holds tons of flavor and is a really tender bite.
When I went to the grocery store I just about choked when I saw how much flank steak had gone up in price. If you're cooking on a budget, a hanger steak would be a good—and cheaper— substitution.
Because none of us in my family are gluten-free, I used regular soy sauce instead of gluten-free tamari, regular flour instead of rice flour and regular chicken stock because it's what was in the fridge. However, I've kept the recipe below gluten-free in its ingredients, the same as Kristin shares in her e-cookbook. Make the substitutions or not to fit your dietary needs.
The only thing I changed with her recipe is adding red bell pepper. I just always lean toward a colorful plate. Plus, red bell pepper has 300 times the Vitamin C as a regular orange and is another layer of antioxidant we can all put to work for us.
I served this with nutty brown rice. I love having these brown rice bowls around and get them from Costco in packs of six. Easy to keep on hand in the pantry for occasions just like this.
If you make this recipe, please let me know! Leave a comment below or take a photo and tag me on Instagram with #foodiecrusheats.  
Print
Beef with Broccoli
This incredibly easy but incredibly flavorful recipe for one of the most popular Chinese dishes can easily be made gluten-free or traditional style.
Ingredients
1-

¼ pound flank or sirloin steak

, cut very thin against the grain

1/

2 cup + 2 tablespoons reduced sodium gluten-free Tamari

, divided

2-

½ tablespoons Bob's Red Mill Gluten-Free Sweet Rice Flour

, divided

3/

4 cup gluten-free chicken broth

1/

4 cup brown sugar

1

tablespoon

rice vinegar

1

teaspoon

sesame oil

3

cloves

garlic

, minced

1/

2 teaspoon ground ginger

1/

2 teaspoon red chili pepper flakes

, or more or less

4

cups

broccoli florets

1

red bell pepper

, seeded and sliced

¼

cup

water

2

tablespoons grapeseed or vegetable oil

, divided

Cooked rice

, for serving

Sesame seeds for garnish

Green onion

, chopped for garnish
Instructions
Add steak, 2 tablespoons gluten-free Tamari, and 1 tablespoon Sweet Rice Flour to a large Ziplock bag then seal and squish to evenly coat. Place bag into the refrigerator to marinate for 20 minutes.

Meanwhile, add remaining ½ cup gluten-free Tamari, remaining 1-½ tablespoons Sweet Rice Flour, chicken broth, brown sugar, rice vinegar, sesame oil, garlic, ground ginger, and red chili pepper flakes to a bowl then whisk to combine and set aside.

Heat a large wok or non-stick skillet over high heat then add water and broccoli. Stir fry until broccoli is crisp tender, 2-3 minutes, then remove to a plate and set aside. Repeat the process with the red bell pepper.

Heat 1 tablespoon grapeseed oil in wok then add ½ the marinated beef in one layer. Let sit undisturbed until seared, 30 seconds, then stir fry until just barely cooked through (some pink still showing is ok.) Remove to plate with broccoli then cook remaining beef in remaining 1 Tablespoon oil, and then add to plate.

Add sauce to wok then simmer until slightly thickened, 2-3 minutes. Add cooked broccoli and beef back into wok then stir to combine. Garnish with sesame seeds and green onion. Serve over cooked rice.
Thank you again Kristin, for sharing your many talents and delicious eats.
Visit Kristin and her blog at Iowa Girl Eats.
Purchase her ebook Gluten-Free for Beginners: 30 Day Meal Plan and Guide for Gluten-Free Success eBook, here. 



This post was compiled by FoodieCrush contributor Hayley Putnam. Follow Hayley and her foodie tastes and other flights of fancy on Pinterest and Instagram.


As always, thank you for reading and for supporting companies I partner with, which allows me to create more unique content and recipes for you. All opinions are always my own.  
Are you following me on Instagram, Twitter, Facebook and Pinterest? 
Thanks for reading and subscribe to FoodieCrush to have each post delivered straight to your e-mail box.