Layered with rice, cucumbers, avocado, seaweed salad, the chunks of cubed ahi tuna in a simple shoyu poke sauce of soy sauce, sesame oil, rice vinegar, and sesame seeds is the star of this shoyu ahi poke bowl.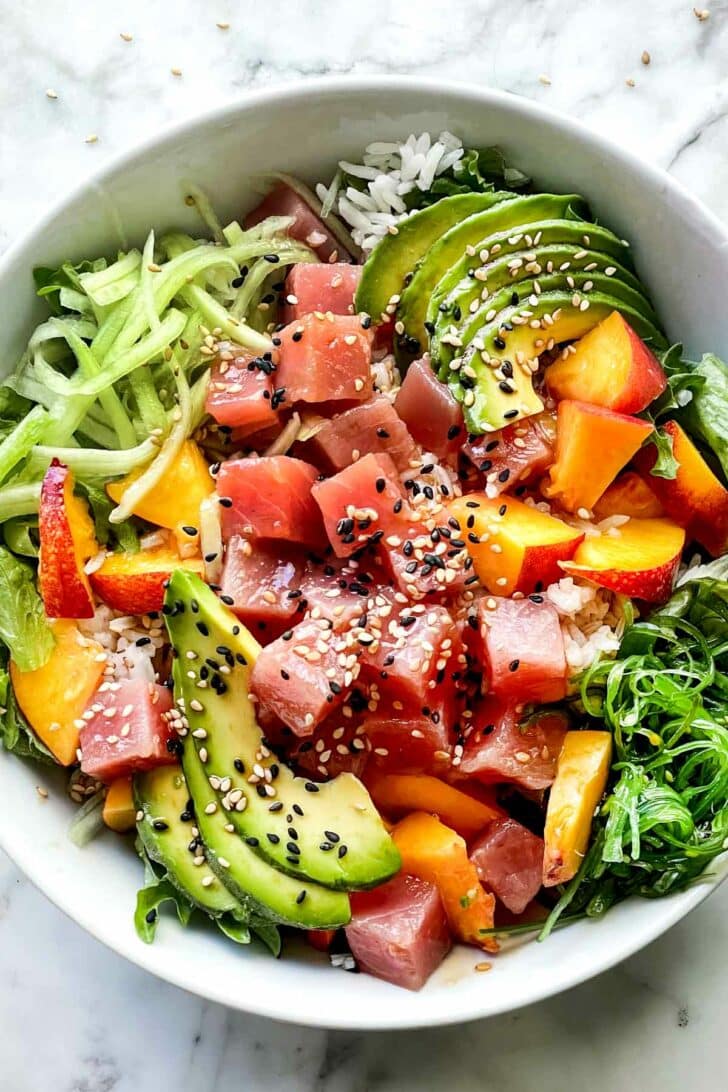 One of my favorite travel destinations is Hawaii. The sun, the sand, the surf, and the food—because the food is as mesmerizing as the swaying palm trees Hawaii is known for. Whenever we visit, it's my mission to eat some version of a poke bowl every single day. From the best restaurants to taco trucks, poke is everywhere. But to find some of the top-rated poke in Maui, simply head to the grocery store (yaaasss Foodland!) or Tamura's Fine Liquor. I will stand in line with pleasure because if you're a fan of sushi, you're a fan of poke bowls.
Here at home, you can find me craving either my Ahi Tuna Poke Salad with Mango or putting my own spin on the traditional shoyu ahi poke bowl. Even in land-locked areas, you can find frozen sushi-grade tuna for a decent price. My bowls most always include a scoop of leftover white rice as the base for the cubed ahi tuna pre-marinated with soy sauce (shoyu), sesame oil, rice vinegar, sesame seeds, and a pinch of red pepper flakes. Avocado is pretty much always essential and slivered cucumber too. After that, each of my poke bowls is different depending on the ingredients I have on hand. Lettuce, sliced juicy stone fruit or mangoes, seaweed salad, edamame, onion, sprouts, a squeeze of sriracha mayo … There's so much you can mix into these bowl babies to make them your own.
What is Usually in a Poke Bowl
Poke bowls (pronounced PO-kay) are a traditional Hawaiian specialty with Japanese influences (aka sushi and sashimi). Poke was first made by native Polynesians during pre-colonial times. Historians say it wasn't until the 60s that the dish was given the name "poke." It literally translates to "to cut crosswise into pieces."
Poke is typically made of cubes of sushi-grade ahi tuna, white fish, or octopus that have been marinated but not cooked with heat. Like ceviche, the acids in the soy-based shoyu sauce lightly pre-marinate the seafood. At true poke shop in Hawaii, you'll be amazed at all the different combinations: poke with kimchee, onions, furikake. There's a stunning variety of different types of seafood combinations and sauces.
What's in These Shoyu Ahi Poke Bowls
My poke bowls are not traditional poke bowls, but like many recipes, can be flexible depending on what you like. While I realize it's also not authentic, I like adding a sweet element. Fruits like sliced nectarines, peaches, or mangoes go in my bowl as a delicious counter to the bowl's savory components.
Sushi grade ahi tuna—you can find it at many Asian grocery stores or now I can find it in the freezer section of many regular grocery stores
White rice—I cook a batch of jasmine rice as meal prep for the week and pull it from the fridge when ready
Lettuce—I like to add a handful of spring mix or sliced romaine to give the bowl more texture and body
Seaweed salad—you can find this in the sushi department of many grocery stores
Cucumber
Avocado
Nectarine—or other sweet stone fruit like peaches or try a mango
Sesame seeds—buy the toasted version, they have more flavor
Shoyu sauce that's made with soy sauce, sesame oil, rice vinegar, and a pinch of red pepper flakes
How to Make These Ahi Tuna Poke Bowls
If you don't have sushi-grade fresh tuna, thaw sushi-grade frozen tuna, then cut in cubes. When we lived in Los Angeles, our friend Jim would go fishing off the coast. If he had a good day, he'd bring back huge slabs of tuna. And that's when we'd eat sushi the same night he caught it. If you have that luxury, go for the ultra-fresh tuna. If not, thaw sushi-grade tuna for about 30 minutes on the counter. A quick thaw trick is to submerge the packaged tuna in barely warm water to help move the process along.
Season the tuna with soy sauce, toasted sesame oil, seasoned rice vinegar, sesame seeds, and a pinch of red pepper flakes. Start with the amounts I provide, taste, and add more if you'd like.
Shred, slice, and dice the veggies and fruit if using. I use one of my favorite kitchen grater gadgets to get ultra-thin slivers of cucumber. That way there's a combo of flavors in every bite.
If your rice is extra cold and firm, give it a quick 15-30 second time out in the microwave. Nobody likes cold, stiff rice.
Layer the ingredients over the rice and drizzle with the sauce and sprinkle with my favorite Hawaiian sea salts. I add extra sesame seeds for flavor and crunch. Sometimes I add another drizzle of sesame oil because it's just so good. And don't skip the pink Hawaiian sea salt. It adds THE BEST touch to the whole dish.
Are Poke Bowls Healthy?
Poke bowls are definitely a healthy dish to eat. They're loaded with healthy veggies like seaweed, cucumber, and avocado. Plus fish that's full of Omega-3 fatty acids and other health benefits.
Additional Ingredient Ideas to Add to Shoyu Poke Bowls
While not always traditional, some of these additions are just plain good:
Try brown rice instead of white rice
Add chopped nuts like macadamia or crushed kukui nuts (a Hawaiian nut)
Add sliced Maui onion, slivered red onion, or chopped green onion
Edamame adds more protein
Kimchi gives bowls a fermented zing
Masago (fish roe) for bursts of salty flavor
If you make this recipe, please let me know! Leave a ⭐️⭐️⭐️⭐️⭐️ rating on this recipe below and leave a comment, take a photo and tag me on Instagram with #foodiecrusheats.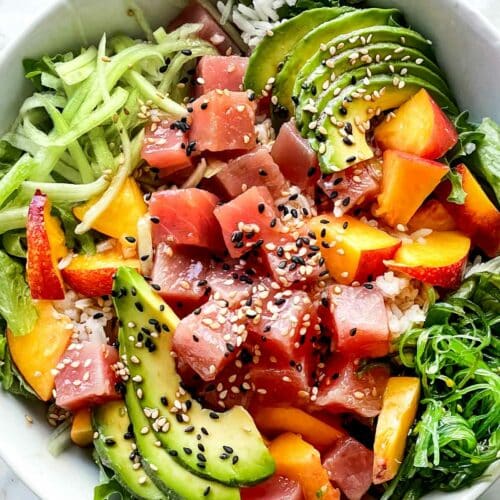 Print
Shoyu Ahi Poke Bowl
Layered with rice, cucumbers, avocado, seaweed salad, the chunks of cubed ahi tuna in a simple shoyu poke sauce of soy sauce, sesame oil, rice vinegar, and sesame seeds is the star of this shoyu ahi poke bowl.
Ingredients
1

pound

sushi grade ahi tuna

2

tablespoons

soy sauce

1

tablespoon

toasted sesame oil

1

tablespoon

seasoned rice vinegar

½

teaspoon

toasted sesame seeds

, plus more for plating

pinch

red pepper flakes

1

cup

white rice

1

cup

chopped lettuce or spring mix

1

small

cucumber or 2 Persian cucumbers

1

avocado

, peeled, pitted and sliced

½

nectarine

, optional, pitted and sliced

½

cup

seaweed salad

pinch

pink Hawaiian sea salt
Instructions
If frozen, thaw the ahi tuna. Slice the tuna into ½-inch cubes and place in a medium bowl. Drizzle the tuna with the soy sauce, sesame oil, rice vinegar, sesame seeds, and red pepper flakes. Lightly toss to coat and set aside.

Divide the rest of the ingredients between two large bowls, adding the white rice, lettuce, cucumber, avocado, nectarine (if using), and seaweed salad. Spoon half of the tuna poke into each bowl. Sprinkle with more sesame seeds and the pink Hawaiian sea salt. Before eating, add more soy sauce or rice vinegar if desired. If made ahead for lunch or dinner, the bowls can be refrigerated for up to 8 hours.
Notes
The tuna poke can be made up to 8 hours in advance of serving. 
Nutrition
Calories:
845
kcal
|
Carbohydrates:
84
g
|
Protein:
63
g
|
Fat:
27
g
|
Saturated Fat:
5
g
|
Polyunsaturated Fat:
7
g
|
Monounsaturated Fat:
12
g
|
Cholesterol:
86
mg
|
Sodium:
1108
mg
|
Potassium:
1116
mg
|
Fiber:
6
g
|
Sugar:
5
g
|
Vitamin A:
5199
IU
|
Vitamin C:
9
mg
|
Calcium:
71
mg
|
Iron:
4
mg
More Fresh and Healthy Bowls You'll Love
We send good emails. Subscribe to FoodieCrush and have each post plus exclusive content only for our subscribers delivered straight to your e-mail box.
Follow me on Instagram, Facebook, Pinterest and Twitter for more FoodieCrush inspiration.
As always, thank you for reading and for supporting companies I partner with, which allows me to create more unique content and recipes for you. All opinions are always my own.