Ramen noodles aren't just for soup anymore. Here's how to hack every college student's favorite noodle recipe and give it an instant upgrade by turning it into an easy and healthy weeknight meal ready in just 30 minutes or less.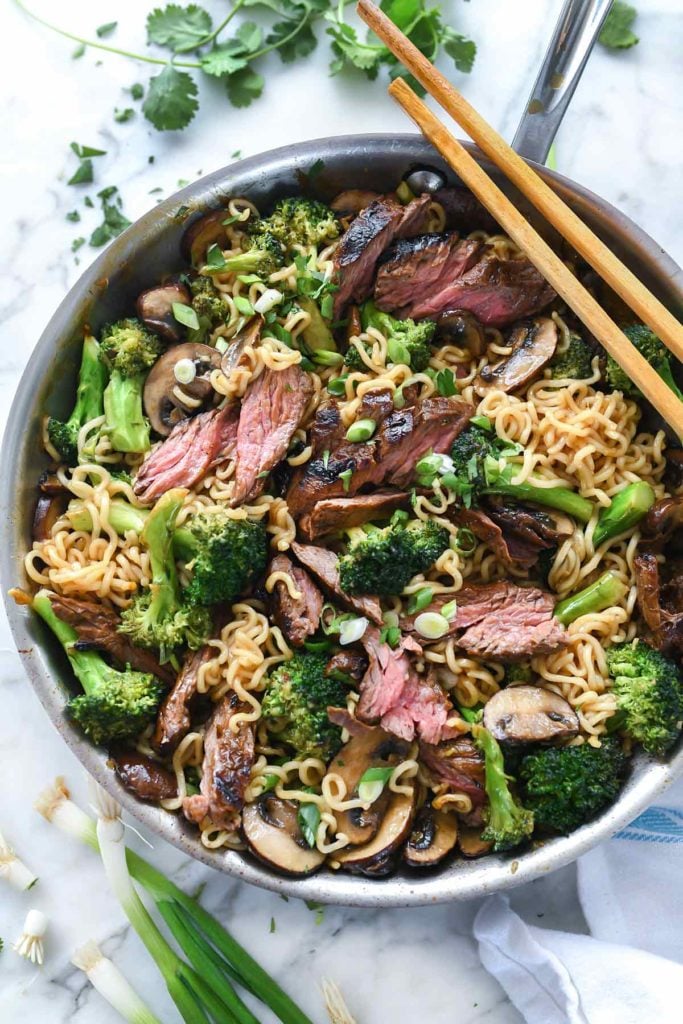 If you're looking for a soupy ramen recipe with that rich, tonkotsu or miso broth with slow-roasted pork belly and jammy eggs, this isn't it.
But if you're looking for an incredibly easy, time-saving, totally-flavorful, make-most-of-it-ahead-of-time meal? THIS IS YOUR DINNER, BABY!
I've had a version of this recipe written down in my old-fashioned recipe binder for years. Literally, years, and yes! Handwritten recipe files do still exist! Take THAT Pinterest! I don't remember where the original recipe came from, maybe an old issue of Cooking Light?
Regardless, I've doctored it up and made it into a make-ahead weeknight meal that is in and out of the skillet and ready to devour in under 30 minutes.
And if you're lucky? Yep. Leftovers for lunch the next day.

So what's my secret? A little planning ahead, some light meal prep vegetable chop chop, and a super easy master marinade that does double-time as the sauce, too.
Easy peasy because that just the way I do!
How to Give Ramen Noodles an Instant Upgrade
This noodle recipe calls for good, old fashioned, cheap-o grocery store ramen noodles. But you won't be needing that seasoning packet they come with because this dish gets its flavor from a recipe I posted earlier this week, my master Asian marinade master sauce.
Now, this isn't just any sauce. It's like the Swiss army knife of sauces. It's a sauce, it's a marinade, it's a dressing, it's a flavoring, it's Superman!
In this ramen recipe, I made a double batch of the sauce and used half for the steak marinade and the rest as the sauce for the noodles, broccoli, and mushrooms. With all that flavor there's not much need to add anything more, unless you really love extra heat, and then a drizzle of Sriracha or a dollop of chili garlic sauce never hurt anyone.
How to Boost Your Bounty With Batch Cooking Basics
This is why I love this recipe, because the concept behind it is the gift that just keeps giving.
This simple way of cooking is the heart of our Batch Cooking Basics way to meal prep, in fact my Asian master sauce recipe is straight from the digital pages where we share our method for making weeknight cooking so easy.
Simply batch cook  five Batch Cooking Basics master recipes for a foundation of meal-prepped basics to layer, then mix and match for lunches or dinner throughout the week.
When you think about it, this style of meal prep is a lot like creating your favorite outfit of the day:
Choose your favorite basics: your shirt and pants = your protein and vegetable
Layer with other essentials: your sweater and shoes = your salad and grain
Accessorize the look by adding flavor: your necklace, earrings, a scarf, hat or coat = your master sauce that acts as a marinade, sauce or dressing plus garnishes of fresh herbs, nuts or other flavor sprinkles.
And that's how you make delicious, budget-minded meals to eat throughout the week that don't taste like the same old thing every day.
Get your download of Batch Cooking Basics here.
How to Meal Prep This Ramen Noodle Recipe
Doing a little easy prep makes this recipe a 20-minute meal. And if you leave it all to do on one day, you're still only looking at about 30 minutes. Here's how:
Prepare your Asian master marinade sauce and keep in the fridge for up to 3 weeks.
Marinade your steak in a zippered gallon freezer bag for 15 minutes or up to overnight. I used flap steak (sirloin tips), but any thinner cut of beef will do including flank steak, hanger steak or skirt steak.
Slice the mushrooms and trim the broccoli.
Boil the noodles and store until ready to use. Although the noodles are so quick to cook you could leave this until the day you make it.
Ingredients You Can Add to This Ramen Noodle Recipe
This time around I used steak as my main protein, but you could certainly use chicken, beef or pork and marinade for the same amount of time. If using shrimp or tofu, a shorter marination of 15 minutes max is best.
I used my favorite grill pan to prepare the meat, but you could just as easily pan-fry it in a cast iron pan or skillet.
Instead of broccoli and mushrooms, consider using these veg instead:
carrots
zucchini
cabbage
spinach
onion (white, red, green onion)
snap peas
snow peas
green beans
bok choy
water chestnuts
asparagus
cauliflower
If you make this recipe, please let me know! Bookmark this recipe and leave a comment below, or take a photo and tag me on Instagram with #foodiecrusheats.
Print
Ramen Noodles with Marinated Steak and Broccoli
If you use beef in this recipe, you can heat the reserved marinade to a boil and then use as more sauce for the noodles if you'd like. However if using chicken, be sure to discard the sauce after marinating.
Ingredients
1 ½

pounds

hanger

flap, or flank steak

Double recipe of my Asian Master Sauce to make 1 ½ cup

2

tablespoons

canola oil

3

packages ramen noodles

seasoning packets saved for another use

4

cups

broccoli

cut into florets

6

ounces

brown mushrooms

sliced

1

tablespoon

cornstarch

Chopped green onion or cilantro

or both
Instructions
Add the steak to a zippered gallon freezer bag with ¾ cup of the marinade and let sit for at least 15 minutes up to overnight in the fridge. Heat a grill pan or large skillet over medium high heat with 1 tablespoon of the oil until shimmering. Take the steak from the bag and pour off the marinade then add the steak to the pan and cook, turning once, until browned on both sides and cooked to medium rare, about 8-12 minutes. Transfer the steak to a cutting board to rest and wipe out any burned bits from the pan, then reserve.

Meanwhile, cook the ramen noodles (minus the seasoning packet) according to the package directions, drain and set aside.

In the reserved skillet (or if you used a grill pan, use a new skillet) warm the remaining tablespoon of oil over medium high heat and add the mushrooms, then stir and cook for 3-4 minutes until they begin to soften. Add the broccoli with ½ cup of the master sauce and cook for about more 3-4 minutes. Mix the cornstarch in the remaining master sauce and add to the broccoli and mushrooms, cooking until the sauce thickens and the broccoli turns bright green.

Remove from the heat and add the ramen noodles, tossing to coat. Slice the hanger steak into thin slices against the grain and add to the noodles and veg. Garnish with the green onion and cilantro and serve.
As always, thank you for reading and supporting companies I partner with, which allows me to create more unique content and recipes for you. All opinions are always my own.
Thanks for reading and subscribe to FoodieCrush to have each post delivered straight to your e-mail box.
Learn more about my printed day-planner Nourished Planner here, and sign up for free, emailed weekly meal plans.
Follow me on Instagram, Facebook, Pinterest and Twitter for more FoodieCrush inspiration.