This easy 5-ingredient couscous recipe combines the Mediterranean flavors of sun-dried tomatoes, green onion, toasted pine nuts and feta cheese for a healthy 10-minute side dish.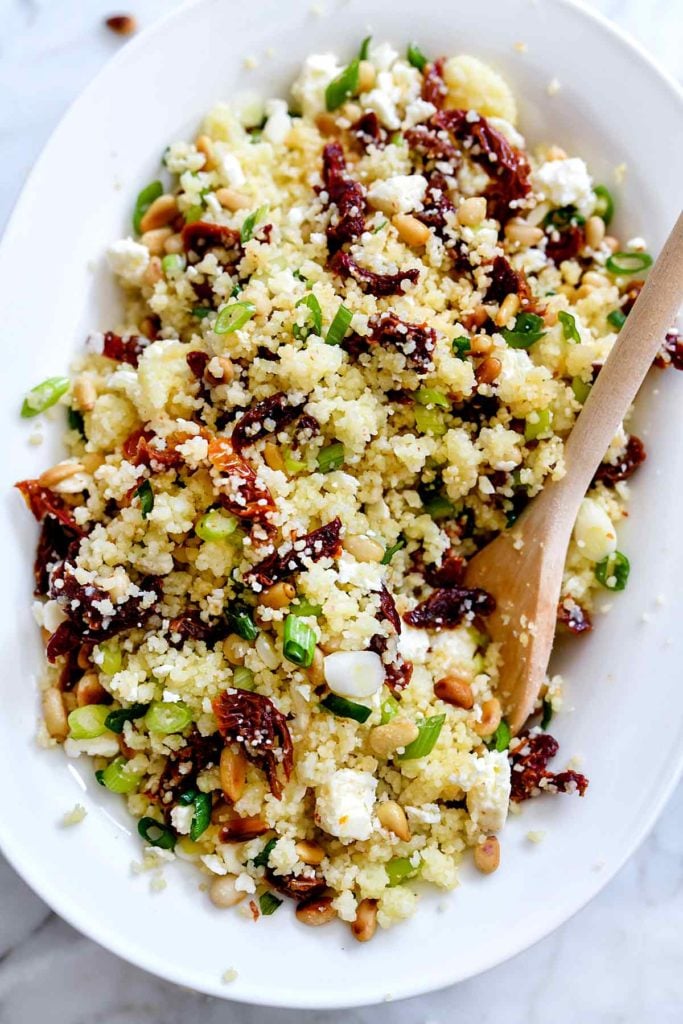 This recipe is brought to you by Universal Pictures Home Entertainment
Mamma Mia! Here we go again! Literally.
We don't need many excuses to eat good Greek or Mediterranean food at our house, but when we can make a themed night of it, it's even that much more fun.
So when I was asked to create a recipe that ties into the DVD release of Mamma Mia! Here We Go Again Sing-Along Edition (yes! more Abba to sing along to while I cook!) it was just another reason to get the party started.
We missed seeing Mamma Mia! Here We Go Again in the theater, but now we can watch it at home because it's now available on Digital, and on Blu-ray & DVD on October 23, 2019.
I'm anticipating this movie is going to be another movie classic we'll watch on weekends, for sleepovers, over the holidays, and any time we need down time. And this mom doesn't need any more reasons than that.
Recipes Ideas to Serve With This Couscous to Make It a Mamma Mia Meal-In
Greek and Mediterranean food is the perfect compliment to this easy couscous recipe. Here are a few recipe ideas to go with it to make dinner an easy food festival. Mamma Mia!
What Grain is Couscous?
A well-stocked pantry should always contain couscous. It's a pantry staple that works well in any season and pairs well with ingredients of every type of cuisine to make as a salad, side dish, or to be eaten with savory stews, soups, or main courses, just as you would rice, pasta, or quinoa.
Couscous is considered neither a pasta nor a grain, and while it isn't nutritionally dense compared to brown rice or quinoa, couscous is lower in calories making it diet-friendly.
You'll find couscous in three sizes:
Moroccan couscous is the size of cornmeal and the same I used in this recipe. It's a bit drier and fluffier when cooked.
Israeli or pearl couscous is larger and has a texture closer to small pasta. I love it in this Autumn Couscous Salad.
Lebanese couscous is the size of a pea and takes the longest to cook and tends to be the creamier of the three once cooked.
see more: 10 Good for You Grains + 30 Recipes You Should Be Cooking Right Now
How to Cook Couscous
Couscous is a super simple dish to make, and only takes 10 minutes or even less. Unlike rice or pasta, you don't boil couscous in water, but simply add it to boiled water, then remove it from the heat and let it steam for a few minutes.
I've been making this easy couscous side dish for years. Okay, maybe not as long as Cher and Abba have been singing, but since my husband and I were first married for sure.
This couscous started out as a recipe I made from a box that came with a little flavor packet. But I always ended up doctoring up the ingredients, so as I got more comfortable with developing my own taste for flavors, the box went away and I made it from scratch. This is truly the key to moving from cooking boxed food, to cooking real good, real food, instead.
You can add additional ingredients to the water to flavor the couscous (chicken stock, garlic, ginger, onion, herbs) or stir them in afterward like I do here. I used what I had on hand: sun-dried tomatoes, chopped green onion, toasted pine nuts and chunks of salty feta cheese.
see more: 31 Quick And Healthy Veggie Side Dishes In 30 Minutes Or Less
How to Customize Your Couscous Recipe
Instead of adding a lot of herbs to this recipe like that boxed flavor packet did, I let the flavors of my stirred-in ingredients take the lead instead.
You can simply adapt this couscous to any cuisine with ingredient additions like these ideas below:
Olives: kalamata, green, black, capers
Vegetables: green, white, red onion; sun-dried or fresh tomatoes; peas, carrots, broccoli, cauliflower, bell pepper, butternut squash, zucchini, roasted eggplant, green beans, chopped bok choy, mushrooms
Fruit: fresh chopped apples or whole blueberries; dried cranberries, cherries, apricots
Beans: garbanzo beans, black beans, Great Northern beans
Herbs: dried or fresh parsley, tarragon, mint, basil, oregano, sage
Aromatics: ginger, garlic, curry, bouillon cubes, stock or broth instead of water (or a portion of)
Dry cheese and toasted nuts: Parmesan, romano, feta, cotija, and pine nuts, pecans, macadamia, walnuts, pistachios
If you make this recipe, please let me know! Bookmark this recipe and leave a comment below, or take a photo and tag me on Instagram with #foodiecrusheats.
Print
Couscous with Sun-Dried Tomato and Feta
This easy couscous recipe works well served warm or at room temperature.
Ingredients
⅓

cup

shelled pine nuts

1

tablespoon

olive oil

½

teaspoon

kosher salt

1 ½

cup

couscous

⅓

cup

sun-dried tomatoes in oil, drained and diced

⅓

cup

crumbled feta cheese

¼

cup

chopped green onion
Instructions
In a dry, non-stick fry pan over medium-high heat, toast the pine nuts, tossing often, until golden brown, about 3-4 minutes. Be sure to watch them closely as they can burn quickly once they get hot. Set aside.

In a medium saucepan, bring 1 ¼ cup water to a boil. Stir in the couscous, olive oil and kosher salt, cover, and remove from the heat. Let stand for 5 minutes.

Fluff the couscous with a fork and stir in the sun dried tomatoes, feta cheese, chopped green onion, and pine nuts. This dish can be served warm or at room temperature.
More Easy Side Dishes You'll Want to Make Too
Are you a couscous lover or a newbie and just now giving it a try? If you have any questions about this recipe, or would like to tell me what you'd like to see more of, email me at [email protected] and let me know. I'd love to hear from you. Cheers!
This post is sponsored by Universal Pictures Home Entertainment. As always, thank you for reading and supporting companies I partner with, which allows me to create more unique content and recipes for you. All opinions are always my own. 
Thanks for reading and subscribe to FoodieCrush to have each post delivered straight to your e-mail box.
Follow me on Instagram, Facebook, Pinterest and Twitter for more FoodieCrush inspiration.