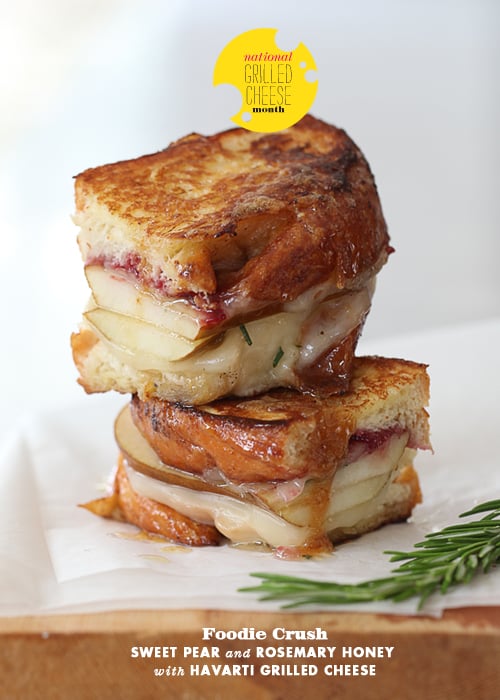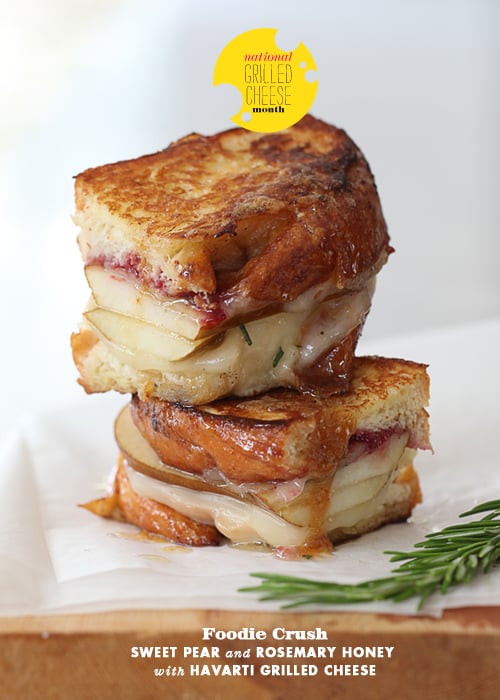 Grilled Cheese Sandwiches. They're not just for lunch anymore…and National Grilled Cheese Month continues.
This past weekend was a rainy one, where the clouds hugged the mountains and raindrops fell in sideways sheaths thanks to the whipping wind and fast moving storm. There is pretty much nothing I like better than a rainstorm, except for a thunderstorm. Or an epic snowstorm. Cocooning. That's my idea of a good day.
With Smudge's soccer game cancelled we had an unexpected opportunity to slow down from our regular weekend schedule filled with postponed errands, playdates and soccer games. Yep, the life of a parent is rarely your own. But its pretty damn awesome.
It was too wet to wander out for brunch, so we were definitely eating at home. And what did Smudge request? Grilled cheese. I don't know why I was surprised—what kid doesn't request grilled cheese as their go-to meal? But for breakfast?
I thought I'd challenge her one-mindedness and throw her taste buds for a loop by making her a sweetened griller. I pulled out some challah I'd bought in hopes of making a baked french toast that never happened (why does this seem to happen more often than not?) sliced it thick and layered raspberry jam and a rosemary honey for tang. Add to that a few fresh slices of pear—of which few were left thanks to my snacking Smudge—and layered it with creamy Havarti cheese slices.
Oh but that's not all. Then it was time for dipping. As in monte cristo style. Dip it in egg, fry it up in a pan and wham bam, grilled cheese you'll thank me ma'am.
Happily she munched, contentedly I sat and watched. That was my sweet treat and I couldn't have been more happy she'd requested another grilled cheese sandwich.
If you make this recipe, please let me know! Leave a comment below or take a photo and tag me on Instagram with #foodiecrusheats.
Print
Sweet Pear and Rosemary Honey with Havarti Grilled Cheese
Grilled Cheese sandwiches have a sweet side too. Try tangy white cheddar with fresh pears and rosemary honey on sweet challah or brioche bread.
Ingredients
3

tablespoons

butter

⅓

cup

honey

1

tablespoon

fresh rosemary

chopped

8

slices

challah bread or brioche

2

tablespoons

raspberry or strawberry jam

8

slices

fresh pear

16

slices

Havarti cheese

1

egg

whisked

1

tablespoon

milk
Instructions
In a small saucepan over medium heat, melt 1 tablespoon of butter. Add honey and rosemary and stir until blended. Reduce heat to low and simmer for about 30 minutes. Remove from heat.

On each slice of 4 slices of bread layer ½ tablespoon raspberry jam, 1 slice of cheese and 2 slices pear. Drizzle with honey and top with 1 more slice of cheese and remaining bread slices.

Heat a skillet on medium and melt 1 tablespoon of butter. In a shallow bowl, whisk egg and milk together. Dip composed sandwiches in egg mixture, add to skillet two sandwiches at a time and cook for about 3-4 minutes or until bread becomes golden and cheese starts to melt. Flip sandwich once and cook until cheese melts and bread becomes golden, another 3-4 minutes. Repeat with additional sandwiches. Cut in half and serve hot.
Craving grilled cheese lunch, dinner or anytime? Do yourself a favor and try one of my other Grilled Cheese Month creations. Gooalicious.
Related posts:
5 New Takes on the Classic Caprese Sandwich
Slow Roasted Pork Belly Sliders
A Tale of Two Egg Salad Sandwiches
One Pot Recipes for Sloppy Joes