There are few meals in my life that once I light upon them become an obsession. The humble grilled cheese is that sandwich.
No matter what form, no matter what level of haute- or low-brow cuisine, the cheese a la grillé is a magnet that won't let me go. And I am totally okay with that.
The beauty of any grilled cheese is the multitude of limitless combinations to create gooeywiches. Any kind of cheese from stinky French milks to hard aged cheddars will match with humble potato bread or artisan sourdoughs. Throw in an infinite number of add-ins and there you have an enviable sandwich.
National Grilled Cheese month gives us all the opportunity to branch out of the mild cheddar cheese and white bread mode and go a little crazy, get a little wild with what goes on between the slices. And those slices, they could use a little freedom too. Different sorts of bread are always welcome.
This week we're going to the sweet side with the combination of smokey ham and mild provolone topped with sweet fig spread and stuffed between slices of walnut raisin bread. Oh yes, freedom, did I mention the freedom?
Did you miss week one of my ode to National Grilled Cheese Month? Well scoot on over and check out my Turkey and White Cheddar with Caramelized Onion & Grape Grilled Cheese.
Next week we'll talk about what makes the perfect grilled cheese. But today, let's just eat.
Print
Honey Smoked Ham with Fig Spread Grilled Cheese
Grilled cheese sandwiches can have a touch of sweet. Enjoy just that with Smoked Ham with Fig Spread and Provolone Grilled Cheese Sandwich
Ingredients
2

tablespoons

butter

8

slices

walnut raisin bread

4

tablespoons

fig spread

1

pound

honey smoked ham deli meat

shaved

16

slices

provolone cheese
Instructions
Heat a skillet on medium. Butter one side of each piece of bread. On unbuttered side of 4 slices of bread layer 1 tablespoon fig spread, 1 slice of cheese, ¼ portion of turkey, 1 more slice of cheese. Place slice of bread on top, buttered side up, and grill in skillet until bread becomes golden. Flip sandwich once and cook until cheese melts and bread becomes golden. Cut in half and serve hot.
And check out these delicious cheese ideas. Good gravy, get yourself into the kitchen stat.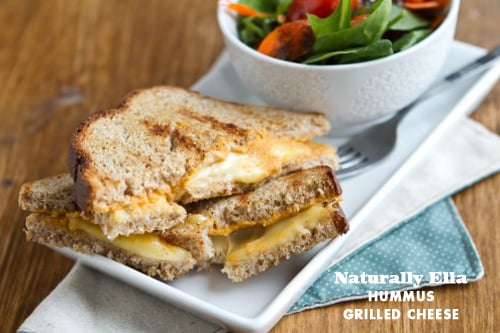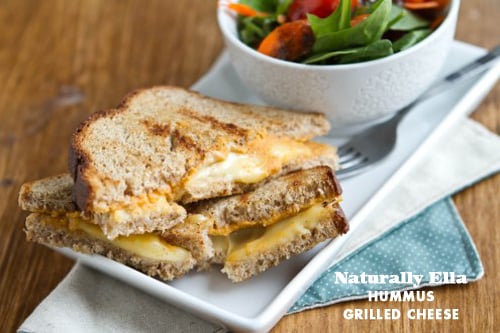 Erin throws a healthy wrench in the grilled cheese round up with Naturally Ella's Hummus and Grilled Cheese Sandwich
Sweetly sautéed Swiss Chard sandwiched between a few slices of nutty Gruyere make Spouted Kitchen's Sauteed Chard and Gruyere Grilled Cheese a favorite at the Forte household.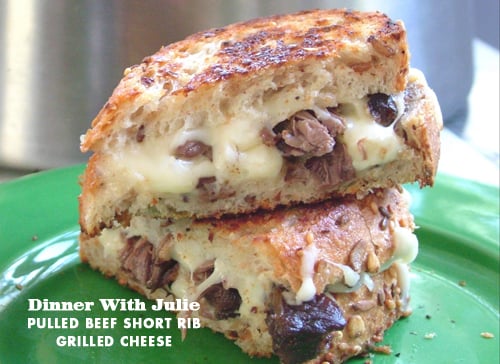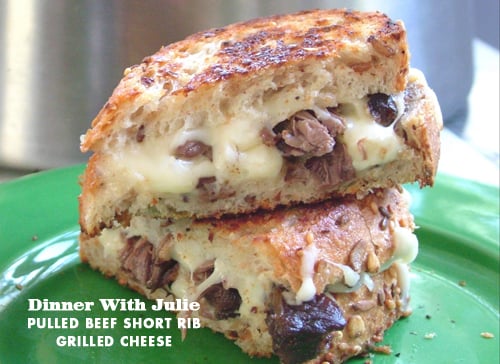 Julie pairs braised pork with gooey gouda layered between sourdough to create the mouth watering Dinner With Julie's Grilled Cheese with Pulled Short Ribs