Right now. It's happening. And there's no better time to take advantage of it—of every single, last, bit(e).
There's truly no better—and easier—time of year to eat seasonal. Fresh fruit is literally falling from the trees and the bounty of the summer harvest is at full throttle, artfully displayed in droves at farmer's markets in small towns and big cities alike. Even grocery store produce tastes fresher and looks better. It's here for one and all to savor.
Again this month, my friend Becky of the Vintage Mixer has posted her Seasonal Produce Guide featuring all of the stars of September produce (you can find it here.)
Her inspiring list is so plentiful this month! It's a true testament to just how lucky we are to live in a country where food is fresh, ample and readily available. It's time to take advantage of it, and linger a little longer as you say thanks with each and every joyful bite.
I for one am bound and determined to get my fill. I've made it my mantra to eat more fruits and veg this summer and to truly eat fresh and eat seasonal, relishing each taste at it's peak.
I'm eating plums and nectarines like potato chips. I pop cherry tomatoes in my mouth like they're pieces of red licorice. And just about every night there's some sort of squash, cucumber or pepper holding court at our dinner table.
This past week at the farmer's market the tomatillos were looking stellar, and I had a batch of Hatch chiles that had been hand delivered to me by my friend Amanda, all the way from New Mexico where they're namesaked. Now that's service!
For today's recipe I put 1 + 1 together to come up with this super fresh, salsa verde. Not only does it make an epic appetizer all on it's own, and is sure to make it's way to my husband's over easy eggs during the week, it's also the base for another recipe (think spicy!) I'll be sharing on Thursday. And tomorrow I'll show you my shortcut for roasting Hatch chiles for optimal flavor with ease.
About the recipe:
This salsa verde gets it's depth of flavor from roasting the veggies to a light char to develop their inherent sweetness. Roasting the tomatillos also mellows the tartness or bitterness some folks find in these little cousins to the gooseberry.
If Hatch chiles aren't readily available, substitute 1 or 2 jalapeños for the chiles, depending on your desire for heat. Unlike the Hatch chiles, you can go ahead and roast the jalapeños alongside the onion and garlic and simply remove the stem, leaving the skin intact, before blending with the other ingredients. For Hatch chiles, roasting and stripping the skin makes for a smoother, richer flavor that blends best for salsa.
With only 5 main ingredients in this salsa, make sure your tomatillos are firm, but not hard. The papery husks should be easy to pull apart from the fruit, so if the husk is gluey and stuck to the tomatillo making it difficult to remove, take that as a not-so-fresh warning sign.
Print
How to Make Salsa Verde
Ingredients
2

pounds

tomatillos

husked and rinsed

1

medium yellow onion

peeled and quartered

4

cloves

garlic

peeled and smashed

2-4

roasted hatch chiles

or one fresh jalapeño, stemmed

1/3

cup

loosely packed cilantro leaves

1

teaspoon

kosher salt

Cotija cheese for garnish
Instructions
Preheat the oven to 450 degrees F.

Spray a baking sheet with cooking spray and place the tomatillos, quartered onion and garlic cloves on the baking tray. If using a jalapeño, add it to the baking tray with the other vegetables.

Roast the vegetables for 20 minutes flipping the vegetables at the 10 minute mark. The tomatillos should be lightly charred and the onion beginning to brown.

Transfer the roasted vegetables and roasted Hatch chiles (or jalapeño) and any remaining juice on the baking sheet to a food processor or blender. Blend until almost smooth. Add the cilantro leaves and kosher salt and pulse a few more times until mixed.

Serve the salsa topped with cotija cheese if desired and yellow or white corn tortilla chips for dipping.
#EatSeasonal September
As we have for the past few months, Becky has amassed a group of us who are posting #eatseasonal recipes today. Some are ooey and gooey, some arensweet and simple. They're all good and they're all seasonal and are listed below. Follow the #eatseasonal hashtag on Instagram, Twitter and Facebook to discover more seasonal eats.  
Honey-Sweetened Peach Lemonade from Simple Bites, recipe here. 
Apple Fritter Waffle Doughnuts from Completely Delicious, recipe here. 
Crispy Eggplant Tacos with Cilantro Sauce from Mountain Mama Cooks, recipe here. 
Pumpkin Cake and Semifreddo Push Pops from My Name is Yeh, recipe here. 
Quinoa Pizza with Stone Fruit, Chiles, and Queso Fresco from Café Johnsonia, recipe here. 
Coconut Macaroon Filled Peaches from Vintage Mixer, recipe here. 
Baked Ziti with Roasted Eggplant and Peppers from Kitchen Confidante, recipe here. 
Best Ever Caramel Apple Cinnamon Rolls from Lauren's Latest, recipe here.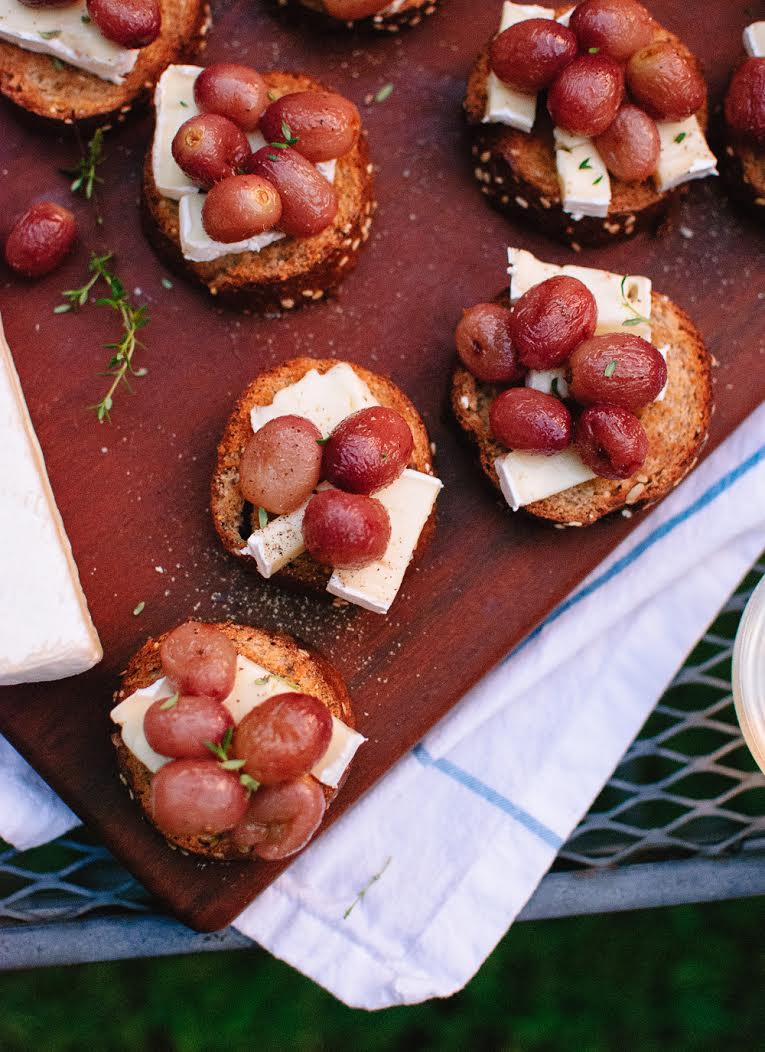 Roasted Grape Crostini with Brie and Thyme from Cookie & Kate, recipe here.
Thai-Glazed Skillet Corn with Cotija Cheese from Climbing Grier Mountain, recipe here. 
Green Onion & Chive Yogurt Dip from Project Domestication, recipe here.  
Thank you for reading and supporting companies I partner with, which allows me to create more  unique content and recipes for you. As always, all opinions are my own. 
Are you following me on Instagram, Twitter, Facebook and Pinterest? Thanks for reading and  subscribe to FoodieCrush to have each post delivered straight to your e-mail box.