How many times have you heard it? You know the phrase, the not-so-very-much-original one we all say because it's just so perfectly descriptive.
You know it. Come on, say it with me. Think it. Live it: "Hoooooooly Guacamole."
Okay it's a little trite, but so true. Guacamole is the ultimate dipper, topper, finger licker. Cinco de Mayo by now is in the holiday back seat but with summer's festivities on the bright lights horizon, there's so many more reasons to kick back and "dip-toe through the tortilla chips." Okay, that was a stretch but let's just roll with it.
photo via Garlic Girl's Instagram
My recipe for Roasted Garlic and Jalapeño Guacamole is a riff on a recipe created at this spring's Big Traveling Potluck by Jodi of Garlic Girl, Des of Life's Ambrosia and Melba of Out a Thyme, the ladies who stole the show and won the Best Tasting Recipe award at the Guacamole Challenge we all competed in. It was a friendly competition. That said, there may have been some tears shed when the winner was announced and my team didn't win.
We were CONVINCED we were shoe-ins with mango and bacon in our version of guacamole. We were wrong.
My bacon and mango guacamole dream team : Kelley : Mountain Mama Cooks //  Jaime : Green Beans & Grapefruit //  Lori : Recipe Girl // Dara : Cookin' Canuck // Our cute Kerrygold Cheese representative
You'll notice I'm not showcasing THAT losing recipe here, even if it did have bacon in it. Because even though it was in the holy-guacamole realm, THAT recipe isn't the one I left the conference craving, deconstructing in my mind as I sat on the plane ride home. THAT recipe is THIS recipe, based on the stolen tastes from those guacamole garlic and jalapeño winners.
One stolen taste, and then another, and another. I knew my team didn't stand a chance.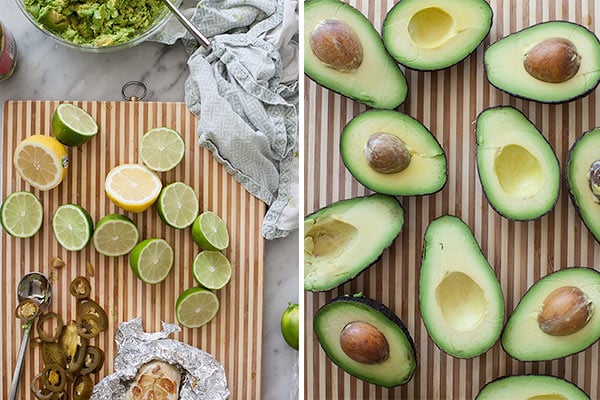 While this isn't the exact recipe, it's as close as I could replicate based on my slightly limey margarita-affected memory and the lingering avocado tastebuds after a sunny Cali weekend. The basics of the recipe are: a mellow tang of roasted garlic (with a blog called Garlic Girl, Jodi certainly knows her stuff, plus she makes the cutest earrings) and the piquant pucker of pickled jalapeños (I love this recipe for pickled jalapeños and always have a jar on hand) that threw a punch of heat at the back of the tongue. Toss in a little cheese and pepitas? These guacamole recipe creators had it going alllll going on.
Why did we even bother with bacon? Okay I'll say it one more time, but this is it…Holy guacamole, this stuff is the winner.
A few recipe notes:
Mashing avocados can be a bit of a pain depending on their ripeness. But I found a little trick in my utensil drawer that does the job just right. I use my pastry blender. It keeps the avocados chunky and mashes super quick. Give it a try and I'd love to hear your secrets masher tips.
I'm betting you've done your fair share of time in the produce department groping hard, not-yet-ripe green orbs, desperately in search of an avocado ready to eat tonight. If it's just not in your cards to find an already ripe fruit, one of my tricks is to place the avocado in a paper sack with a few bananas. The gasses given off of the bananas will speed the ripening process so you'll be in guac city before you know it.
Feel free to add more roasted garlic if you feel like an earthier, more roasted flavor. If you're shy about plopping your garlic in the oven, here's a simple recipe for roasted garlic.
The pickled jalapeño juice really adds to the flavor of this guacamole and you might be tempted to add more. If so, just be careful of making the guac too liquified. I personally prefer a chunkier guac but if you're into a creamier version, add more liquid to your own preference.
Print
Roasted Garlic and Jalapeño Guacamole
Ingredients
1

head roasted garlic

cooled

6

avocados

peeled and pitted

2

limes

juiced

½

lemon

juiced

2

tablespoons

pickled jalapeño juice

8

ounces

pickled jalapeños

chopped

kosher salt

2

tablespoons

cilantro

chopped

¼

cup

cotija cheese

2

tablespoons

pepitas

pumpkin seeds
Instructions
Mash cooled roasted garlic in a medium size bowl until the consistency of a rough paste. Add the avocados and mash with a pastry blender or fork until chunky. Stir in the lime, lemon and pickled jalapeño juice then add the chopped jalapeños and stir to combine. Season with kosher salt to taste. Garnish with cilantro and cotija cheese and top with pepitas. Serve with tortilla chips and enjoy.
Thanks for reading and please keep in touch by subscribing to FoodieCrush and follow me on Twitter, Facebook, Pinterest. This site includes affiliate shopping links of which I receive a small percentage of sales to allow me to create new and special content like this for my readers, so thank you for your support. All opinions are my own.