Do you know what happens mere moments after the Easter Bunny silently scampers away from the scene of the crime? When mom and dad survey the scene of multi-colored egg bombs that litter the yard?
The elephant in the room appears and asks, "How much egg salad are we going to have to eat this year?"
Easter is funny that way. Traditional always, with flavors like ham, carrots and scalloped potatoes. Scalloped potatoes are a flavor in my book. And of course there's a spring berry something for dessert.
And eggs. Let us not ignore the eggs.
I for one take my egg salad very, very seriously, and very, very happily. But sometimes you just have to throw your hands in the air and let the world know that enough is simply enough with the egg salad.
That's when it's time to double down and try something new. Like biscuits and eggs. Still a sandwich, but different enough.
Homemade biscuits give this drive-thru classic it's start and make a very handy and portable device to chomp down upon while steering the wheel with your knees. Breakfast in hand is always a bonus when morning comes way too early. And remember, no texting while driving, please.
No need for extra mayo or that scant teaspoon of mustard. No arguments over mayo vs. Miracle Whip. No fork mashing to get the egg mix just right.
Sliced hard-boiled eggs and bacon that's ready and waiting in the fridge is sandwiched into warm-out-of-the-oven biscuits and topped with a slice of melty cheese.
If you're a planner of your morning meal aka like to sleep in 10 minutes longer, bake the biscuits the night before, assemble the sandwiches and keep in the fridge. Then simply heat up the whole shebang in the microwave before you hustle out the door.
Print
Bacon Egg and Cheese Biscuit Sandwiches
Servings
12
makes 12 sandwiches
Ingredients
For the biscuits
4

tablespoons

butter

, cut into small pieces but still very cold (½ stick), plus 1 tablespoon for the pan

2 ¾

cup

all-purpose flour

4

tablespoons

baking powder

1

teaspoon

kosher salt

1

cup

buttermilk
For the sandwiches
12

biscuits

12

thin slices Cheddar cheese

6

hard-boiled eggs

, peeled and sliced

6-8

slices

warm

, cooked bacon
Instructions
To make biscuits
Preheat the oven to 450°F.

Prepare 9-inch straight sided cake pan with butter and set aside.

In large bowl, whisk together flour, baking powder and kosher salt. Add small pieces of butter and work into flour mixture with fingers until texture resembles coarse crumbs.

Stir buttermilk into flour mixture until it just comes together and dough is a little shaggy looking. Knead dough a few times in bowl then turn out onto lightly floured surface. Pat dough into a ½-inch thick shape.

Cut biscuits out with 2-inch biscuit cutter dipped in flour. Place biscuits in the prepared pan. Fold remaining dough over itself and pat into another ½-inch thick shape and continue to cut biscuits until you've used all the dough. You should have about 12 biscuits.

Bake 15 minutes or until biscuits are golden brown. Remove from oven and turn out into towel, cover and let rest while preparing sandwiches.
To prepare sandwiches
Separate warm biscuits into top and bottom halves and place 1 slice of Cheddar cheese on the bottom, top with 4-5 slices of hard-boiled egg, a few slices of bacon and top biscuit half.

Repeat with remaining biscuits.

If biscuits have cooled and cheese doesn't melt, place composed sandwiches on plate and place in turned off but still warm oven for 5 minutes or so for cheese to melt. Or, microwave on high for 30 seconds.
Nutrition
Calories:
251
kcal
|
Carbohydrates:
31
g
|
Protein:
8
g
|
Fat:
11
g
|
Saturated Fat:
5
g
|
Polyunsaturated Fat:
1
g
|
Monounsaturated Fat:
4
g
|
Trans Fat:
1
g
|
Cholesterol:
109
mg
|
Sodium:
343
mg
|
Potassium:
505
mg
|
Fiber:
1
g
|
Sugar:
3
g
|
Vitamin A:
298
IU
|
Calcium:
225
mg
|
Iron:
2
mg
Looks like a few other bloggers have sliced egg salads on their menu too. Here's some favorites I found around the www.
Chivito Steak Sandwich
Ham. Steak. Eggs. It's all here for the snacking, but only for the seriously hungry sandwich lovers. Because this is one serious sandwich.
Recipe here. 
Ricotta, Smashed Pea and Hard Boiled Egg Toast
Move over avocado, there's a new smashed veggie in town who's ready to roll into your parking spot at the top of the smashed sandwich list thanks to a blend with ricotta, garlic and olive oil.
Recipe here.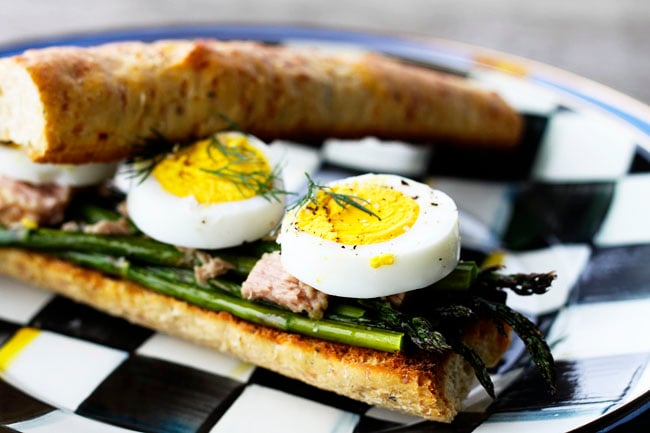 French Roasted Asparagus, Tuna and Hardboiled Egg Sandwiches
This may be a sandwich, but it's hearty enough, flavorful enough and tasty enough not just for lunch, but for dinner too, making #meatlessmeal time perfect any day of the week. It's like a Nicoise Salad on bread. But totally portable. I love that.
Recipe here. 
Make Ahead Egg Wrap
The goal at the school lunch table is to make all of the other chitlins at the table cry with jealousy at the glory that is your bring from home lunch. Done and done here ma'am.
Recipe here. 
Scuttlebutt Sandwich with Pickled Beets and Hard Boiled Egg
Once the firing squad has been assembled, this very well could be the sandwich I'll order as my last meal. It has some of my top 10 fixins': pickled beets, mustard, capers and feta. I'll die a happy girl.
Recipe here. 
Here's to the egg.
This recipe was created in partnership with Go Bold With Butter where I am a paid contributor to their website. As always, all opinions are my own. Thanks for supporting companies I partner with, which allows me to create more unique content and recipes for you.  
Are you following me on Instagram, Twitter, Facebook and Pinterest? Thanks for reading and  subscribe to FoodieCrush to have each post delivered straight to your e-mail box.