Maybe it was all of that tropical sun beating on my brain while I celebrated Thanksgiving  at the equator. Or maybe it's just my die hard love of coco-nut—Almond Joys have always been my weak in the knees sweet treat.
Either way, these Coconut Waffles with Pomegranate Syrup just hit the top of my koo-koo for coco-nut list. And it's all a part of Gold Medal Flour's Virtual Bake Day.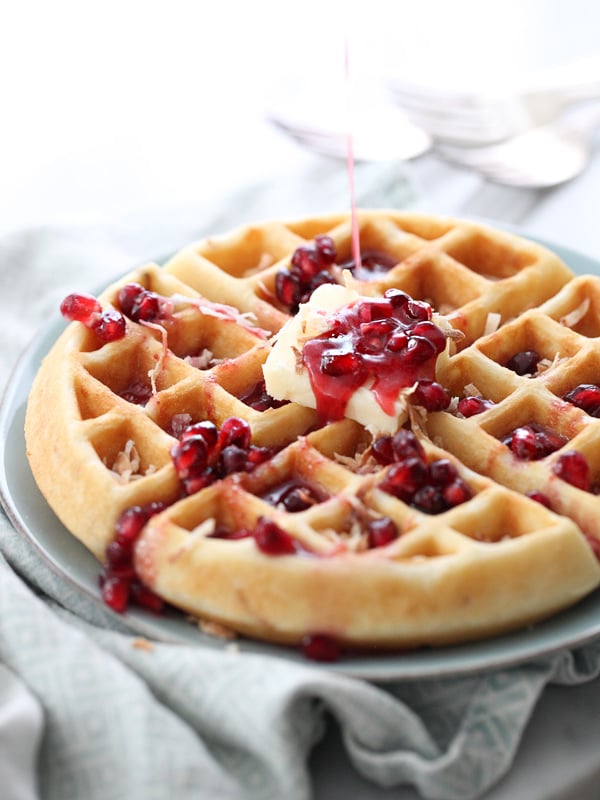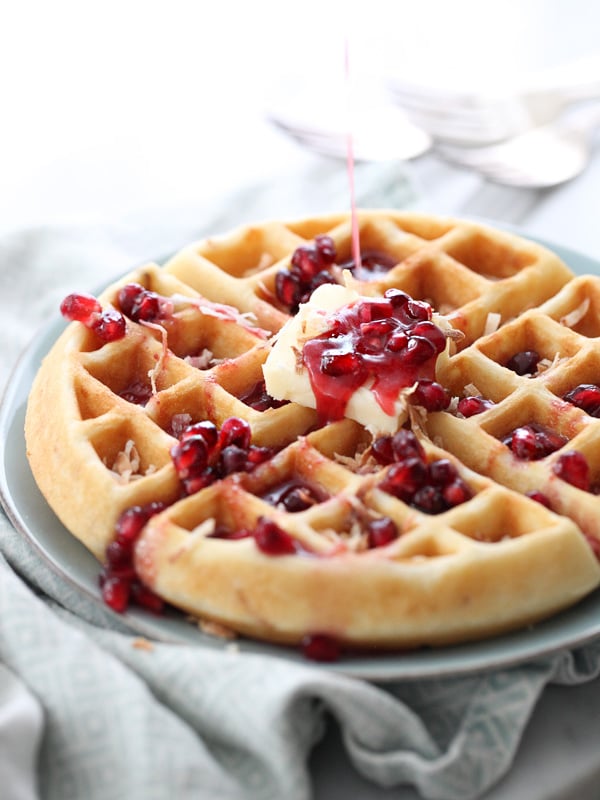 Breakfast. It's the meal that can sometimes get overshadowed by the big guns with tons of variety in the lunch and dinner time menus. I say, rise up breakfast! Let your flavor buds show their flair!
And let's add coconut to waffles.
Like most red-blooded Americans I spent Thanksgiving with my family. Unlike most red-blooded Americans I spent it in the British West Indies sucking down Mango Mambos, fresh from the sea Conch salad and digging my toes in the sand while my girl savored every second of cousin time.
Meal times were just about the only thing that kept us in touch with the time of day. Breakfast > beach > lunch > beach > 4:00 rainbow > cocktail on beach > dinner > bed. Then up to do it all again the next day.
Oh what a glorious groundhog day we were in.
So when during one of our many conversations that centered around food, my sister revealed to me she recently made coconut waffles. What? My sister is becoming a culinary cooking adventurer? I took to her idea as quickly as you can say Rum Punch. And I did say Rum Punch. Several times, please and thank you. But back to the waffles…
After drilling my lil' sis on her coconuty ways, she happily shared that the secret to her flavor filled, dimpled breakfast was subbing out the butter in her recipe with melted coconut oil.
Being her older sister, of course it is my duty to one-up her. Or in this case three-up her. Because if one layer of flavor is good, three is definitely better.
Which led adding some coconut oil.
And swapping out regular milk for coconut milk.
And how could we not toss in a big handful of toasted coconut? With a generous sprinkle on top.
For breakfast this waffle tastes great with a big old pat of delicious butter and a tropicalized fruity syrup, so how about pomegranate to perk up yet another layer of sweet.
A few recipe notes:
I used Gold Medal self-rising flour in this recipe which means no baking powder or extra leavening agents are needed. If you want to use all-purpose flour, just add 1 tablespoon baking powder to the mix.
Cornstarch. Why put it in waffles? Waffle irons tend to steam when they cook, which can produce a limp biscuit instead of a crispy disc. Adding cornstarch makes them crispy on the outside, perfectly moist on the inside.
About the coconut oil. They aren't all created equal. I've found that if you're looking for the coconut flavor and aroma, the extra pressed version just don't deliver. This brand is the one I use, and it's half the price online as in the store. I use it moisturizing my cracked hands during the winter and taming my dull winter hair thanks to a good coconut conditioning.
This is the hard fact: Your waffles will only turn out as good as your waffle iron. Some of the oldest stand-bys make amazing waffles—my grandmother had her waffle iron for eons and it spurted out perfectly toasted wedges every time. I use a KitchenAid Waffle Baker, where you can make 2 sets of waffles at a time. It's definitely changed our waffle making habits thanks to it's crispy baked treats.
The batter will be pretty thick, similar to a cake batter. Don't be alarmed, it's supposed to be that way. And if like cake batter you take a big sampling swipe of the finger, I won't be one to judge.
Of course this recipe can be adapted with multiple flavor additions. Some other favorites to add in: sliced banana, chocolate chips or pineapple spiked with ginger all pair well with coconut. For me? I tried a pomegranate syrupy thing to top it all off with. It's almost as divine as ice cream and chocolate syrup.
Print
Coconut Waffles with Pomegranate Syrup
Ingredients
1 ½

cups

Gold Medal self-rising flour

¼

cup

cornstarch

¼

cup

sugar

¼

teaspoon

salt

½

cup

milk

1 13.5

ounce

can of coconut milk

about 1 cup coconut milk

2

eggs

½

cup

virgin coconut oil

melted and slightly cooled

1 ½

cup

shredded coconut

lightly toasted, plus more for garnish
Pomegranate Syrup
½-¾

cup

pomegranate seeds

2

cups

pomegranate juice

such as POM

¼

cup

granulated sugar

1

tablespoon

butter
Instructions
Mix the Gold Medal self-rising flour, cornstarch, sugar and salt in a large bowl. In a medium size bowl, whisk the milk, coconut milk, coconut oil and eggs until combined. Mix the wet ingredients into the dry ingredients with ¾ cup toasted coconut, careful not to overmix.

Let mix rest for 10 minutes while the waffle iron is heating up.

Spray a waffle iron with cooking spray and heat until the waffle iron is hot. Cook the waffles in batches until golden brown. Top with additional toasted coconut and serve with Pomegranate Syrup.
Pomegranate Syrup
Melt butter in a pot over medium heat and add pomegranate seeds, pomegranate juice and sugar. Stir until sugar dissolves and cook until reduced by half. Add 1 tablespoon of butter. Serve over hot waffles.
Okay, so can you possibly take any more one upping?
Here's one more.
A certain 9 year old Smudge concocted her own recipe and created a Coconut Waffle Hot Fudge Sundae, with Lindsey's amazing Chocolate Peanut Butter Hot Fudge Sauce.
My girl, she's a smart waffle maker, that one.
Okay, I lied. 9 more one-uppers are on the horizon. And all in a very good way.
As I mentioned at the top of the hour, this Coconut Waffle recipe is part of the Gold Medal Flour Virtual Bake Day, featuring 9 other bloggers who've baked up some extra delicious goods for you.
Please hop over and visit their blogs to take a gander at what they have waiting for you to put into your ovens.
Soft Baked Peppermint White Chocolate Cookies from Eat Live Run
Coconut and Raspberry Financiers from Bakers Royale
Peppermint Cookie Brownies from What's Gaby Cooking
Chocolate Turtle Pie from Sugar Plum Blog
Chocolate Peanut Butter Cupcakes from Gimme Some Oven
Eggnog Snickerdoodle Cookies from Wanna Be A Country Cleaver
Brown Sugar Topped Cinnamon Sugar Coffee Cake from Averie Cooks
Cranberry Lemon and Ginger Muffins from Texan Erin
Cranberry Orange Breakfast Knots from Completely Delicious
Happy baking, and as always, with a cherry on top.
This Virtual Bake Sale was sponsored by Gold Medal Flour.
Follow Gold Medal Flour on Facebook // Twitter // Instagram // YouTube // or Pinterest  to check out how-to recipes, videos, and tips on baking.
As always, all opinions are my own. Thanks for supporting companies I partner with, which allows me to create more unique content and recipes for you. This post contains affiliate links.
Are you following me on Instagram, Twitter, Facebook and Pinterest? Thanks for reading and  subscribe to FoodieCrush to have each post delivered straight to your e-mail box.