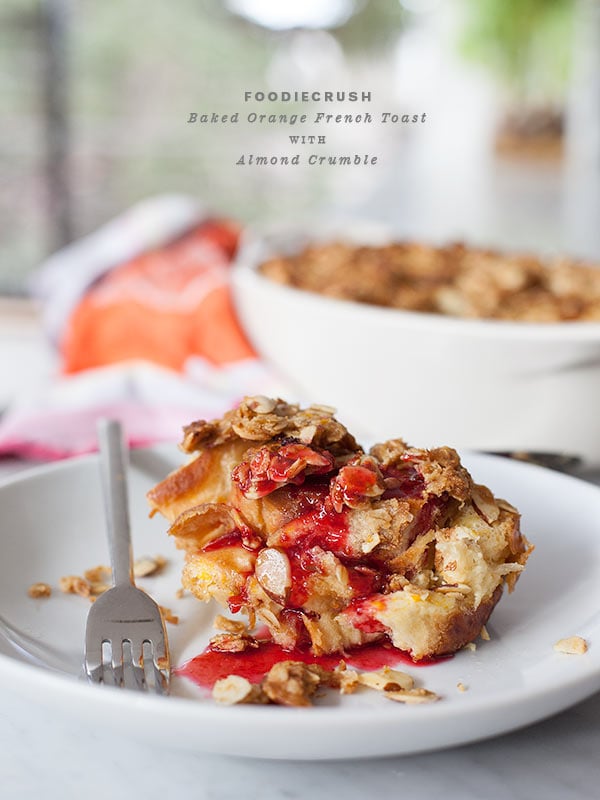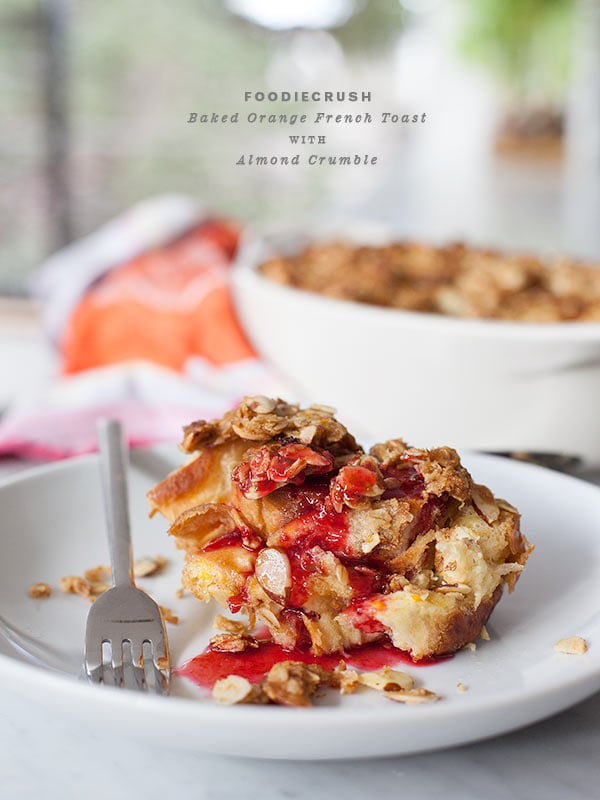 I have a friend who abhors anything citrus. The smell alone puts her into a tailspin and the gag reflexes start. Peeling an orange in the same office with her was always a sensitive affair, but being the ever polite and gracious co-worker she would simply step out and never complain when any one of us would forget about her unfortunate dislike.
I feel sad for her. Citrus is so good! Thank goodness we've both moved onto new jobs where inconsiderate co-workers are a thing of the past.
Smudge is obsessed with clementines, and she will argue with me, "Moooom, they're called "Cuties" not clemmmmentinnnnes." She doesn't quite get the branding thing yet. And that's perfectly fine with me. As long as she's getting her vitamin C and eating oranges.
So when I was noodling around thinking of recipes where I could add some orange flavor, one of my favorite dishes made its way to the front and center. French toast made easy: baked in the oven.
Oranges and almonds are a great flavor combination. But would I layer the almonds with the bread? Add in almond extract? Sure, I bet that would work, but I went for the streusel idea I became a big fan of in my Banana and Chocolate Chip Baked French Toast but this time added orange essence and almond crunch.
Jewish braided Challah bread is my favorite bread to use in this recipe because it's a little bit sweet and has the perfect texture for french toast thanks to the egg based dough. It was a little hard for me to find it locally since we don't have a big Jewish community where I live until the past year or two when some of our local bakeries finally caught on and started baking it. So depending on what you can find, choose an egg-flavored bread like brioche as a substitute and if that isn't in your bakery, try a Texas Toast-style loaf instead.
This is a baked french toast, not a bread pudding, so if you find you'd like a more custardy center ala bread pudding, double the egg mixture and fill your baking dish ¾ full, but not over the top of the bread or the eggs will boil over.
Not a fan of cooking with booze? That's okay too. Omit the Cointreau or orange liqueur and add another tablespoon of orange zest for that ultimate citrus flavor.
If you just can't wait for overnight, you can always bake it right away, it just might not be as gooey.
Print
Baked Orange French Toast with Almond Crumble
Ingredients
1

loaf challah bread

4

eggs

1

cup

half and half or whole milk

2

tablespoons

sugar

1

teaspoon

vanilla

2

tablespoons

Cointreau or other orange liqueur

1

tablespoon

orange zest
for almond crumble
½

cup

brown sugar

4

tablespoons

butter

½

cup

slivered almonds

½

cup

oats

1

tablespoon

orange zest
Instructions
Slice challah bread in ¾" thick slices and set aside. Whisk eggs in a

4 cup Pyrex measuring cup

and then add half and half, sugar, vanilla, Cointreau and orange zest and whisk well.

Butter a

2 quart baking dish

and layer 5-6 slices of bread in the bottom so the bread fits together tightly without much gap. Evenly drizzle half of the egg mixture onto the bottom layer of bread and then add another layer of bread on top and drizzle the remaining mixture.

Add the brown sugar, butter, almonds, oats and orange zest to a small bowl and mix ingredients together with fingers until well incorporated. Sprinkle on top of the bread, cover with plastic wrap and refrigerated for 4 hours or overnight.

To bake, preheat oven to 350 degrees. Remove casserole from refrigerator and bring to room temperature, about a half an hour. Bake uncovered for 35-40 minutes or until top is golden. Remove and let set for 5 minutes and serve with maple or

raspberry syrup

.
Thanks for reading and please keep in touch by subscribing to FoodieCrush and follow me on Twitter, Facebook, Pinterest. This post includes affiliate shopping links of which I receive a small percentage of sales to allow me to create new and special content like this for my readers, so thank you for your support. All opinions are my own.