And another one bites the dust. As in years. As in last week was my birthday.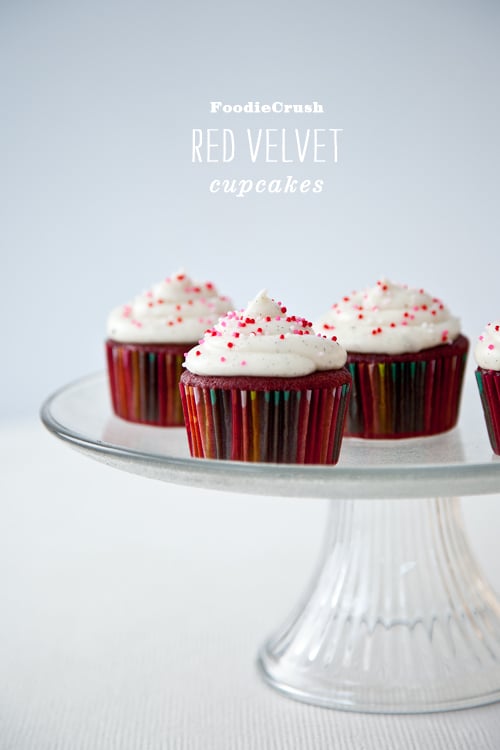 It was a whirlwind week, filled with workin' the day job, my once-a-week teaching gig and hitting SLC's Grand America hotel for my second foray attending the Altitude Design Summit, or more fondly know as "Alt". I met some incredible bloggers, soaked in generously-shared knowledge, worked my Twitter and Instagram accounts to the bone and gawked admirably at the uber-fashionable fashionistas attending. Stay tuned for some Alt highlights and what I learned in my next post.
And then Saturday arrived, my BIG day. It was my birthday.
This wasn't an ordinary birthday, it was one of those "milestones" that we all dread, and no I'm not talking the big 30. Sneaking into the crevices of my well-worn brain was a phrase I'd heard the day before from Alt's keynote speaker Gretchen Rubin, author of the NY Times Bestseller The Happiness Project, "The days are long, the years are short." Yep, that's pretty much life in a nutshell.
Birthdays are a good life-check. As in, it's time to live your life. And so that's what I'm going to do. Live my life, la vida loca. Bring it old man time, I'll show you!
My Smudge and my man hatched a plan to surprise me on my bday morning, and that they did.
With trills of giggles, a rustling flurry of pre-dawn activity and a calamity happening over my slumbering head—a sound resembling bowling balls hitting strikes against those ever persnickety pins—I opened my eyes to see our entire bedroom ceiling filled with helium balloons. A birthday serenade, then breakfast in bed and lots of good snuggles. It was a good day.
After a mandatory photo shoot with my somewhat non-willing Smudge, it was time to bake. The husband isn't a baker, so this was all on me and a great way to spend my day.
We all have our favorite cakes. Mine is German Chocolate Cake, hence my love of Almond Joys and anything coconut. But this year I went for something different and totally out of my norm: Red Velvet Cupcakes.
I first made this recipe back in December at the request of my Smudge. And I'm just going to lay it on the line, and tell you how it is. These cupcakes are hands down, the best cupcakes I HAVE EVER MADE. Light. Fluffy. The most delicate crumb. Maybe due to the 6 eggs whipped into the batter?
My discovery of the recipe was all thanks to a Tweet, my request for anyone to share a good recipe. And then I received this from Marie of Cocina Marie, who then wrote a post about it, for lil' ol' me.
So thanks to her fortitude and diligence, I made them in her honor again for my birthday. Again, hands down, BEST CUPCAKES EVER.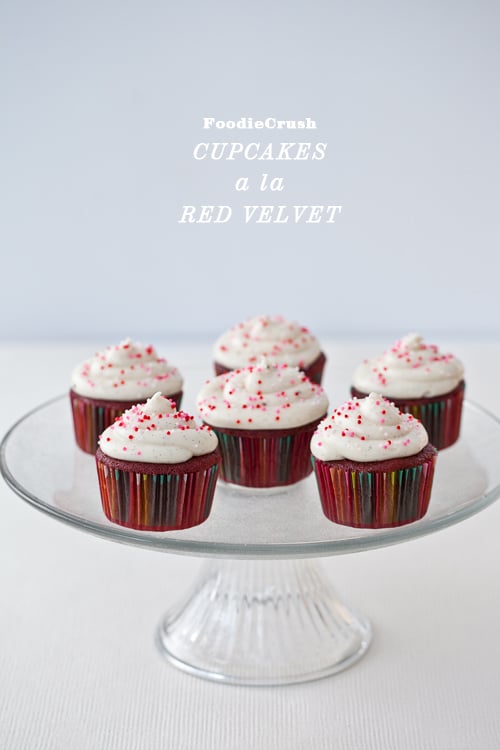 A couple of tips:
1. I doubled the frosting recipe, it didn't seem to go as far as the recipe indicated, probably because I'm a frosting nut. I also used real vanilla beans, hence the speckled look.
2. A 1/4 cup measuring cup or a #24 cookie scoop is just the right size for measuring your batter into standard cupcake liners and pans.
3. Don't overfill or you're cupcakes will look like a 35-year-old trying to fit into her 10 pounds and 10 year later jeans ala muffin top. And don't pretend you don't know what THAT looks like.
And if you're looking for some original takes on the traditional Red Velvet, try any one of these recipes on for size. Don't they look deeevine??? I would take ANY of these for my birthday candle blowout (yes, definitely the onion rings.)
Red Velvet Cheesecake Cake photo and recipe from Une Deux Senses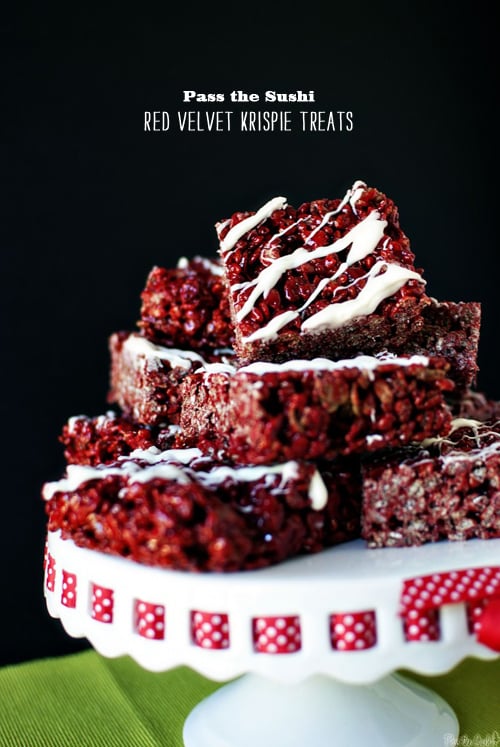 Red Velvet Krispie Treats photo and recipe from Pass the Sushi
Red Velvet Cake Ice Cream photo and recipe from My Kitchen Addiction
Red Velvet Whoopie Pies photo and recipe from Sweetcakes Bakeshop
Red Velvet Battered Onion Rings  photo and recipe from  The Food In My Beard
Baked Red Velvet Donuts photo and recipe from Taste and Tell
Red Velvet Pancakes photo and recipe from I am Baker
Red Velvet Cheesecake Cookies photo and recipe from Two Peas and Their Pod
Red Velvet Cupcakes in a Jar photo and recipe from Not Martha
Thanks for reading. Keep in touch, please subscribe to FoodieCrush and follow me on Twitter, Facebook and Pinterest and check out FoodieCrush magazine.