With everyone taking care to follow the rules of social distancing, people are staying at home and cooking. Here's a shopping list for the best, most useful pantry staples, plus recipes to put them to work when you're stuck at home.
Authorities and the media are covering the hard-core facts we all need to know about the spread of the COVID-19 virus. That's something I am 100% not an authority on so I'll leave it to the pros.
But where I can help is providing good-for-you, easy recipe ideas and suggestions on pantry staple foods to stock up on—it's advised you have about 2 weeks worth—in case of quarantine, or heaven forbid, you or a loved one should fall ill.
These are uncertain times. The unknown is scary. And when we feel we have no control, it's human nature to take control of the few things we can, like stocking our shelves.
Staying healthy starts with eating healthy, and that's why resiliency should be one of our top goals. So, now what?
5 Tips for Stocking Up On Food
First off, don't panic.
We've all seen the photos, and have witnessed for ourselves, the stripped-bare grocery store shelves. But rest assured, here in the U.S. we are not at the stage where any of us should immediately go into flight or fright mode, thinking we'll all be eating fried Spam and a tin can of pork and beans for dinner. Far from it.
Here's a few things to consider while thinking about cooking and stocking your pantry:
Initially, shop and eat as you normally do. As of now, resist the feelings that dried pasta and beans are your only meal time options. We're not there yet. While the stores have inventory and quarantines are not in effect, stock your kitchen and fridge first with fresh vegetables, fruits, bakery goods, fish and meats, and go ahead and eat them now. Build up your immunity and health now for potentially darker days later.
Have healthful foods on hand. Eating nutritious foods is the key to keeping healthy. Freeze vegetables, fruits, and meats before they go bad if you don't eat them right away.
Stock up but don't eat up. Save the stockpiles of freezer items, dried, and canned goods for times you can't get to the store or if they do experience shortages later.
Fill your pantry and fridge with the building blocks. Buy ingredients to make meals that will last for a few days, or can be melded and stretched into other meals (turn my mom's spaghetti with meat sauce into spaghetti tacos and save half the spaghetti sauce for sloppy joe sandwiches).
Don't go off the grid. Stick with the basics and buy foods you usually like to eat and will look forward to enjoying when you stare at the cupboards wondering what to eat.
What to Stock In Your Fridge, Freezer, and Pantry
Following is a list of basic items to have on hand in your pantry, fridge, and freezer to make a well-stocked kitchen pantry.
Fresh Foods to Stock Up On Now
Long-lasting fruits like apples and citrus. Bananas are a good option too, and can be peeled and frozen to use later along with fresh berries.
Long-lasting vegetables like squashes, white and sweet potatoes, carrots, beets, cauliflower, Brussels sprouts, bell peppers and broccoli. Store in a dry, cool place.
Hardy greens like kale or collard greens. If choosing lettuce, romaine is the longest lasting.
Hard cheeses like cheddar, Parmesan, provolone. When storing, remove the plastic packaging and wrap tightly with plastic wrap, parchment paper, or wax paper.
Hardy herbs like rosemary and thyme you can dry during their last days. Fresh ginger lasts well in the refrigerator and adds flavor. Buy potted herbs like basil, parsley, and mint you can leave on the counter and use fresh.
Eggs, which will last for at least 3 weeks, for breakfast, lunch, snacks, or dinner.
Milk and butter. Look for unflavored, shelf-stable milk made for lunch boxes for using in a pinch. Shelf stable almond milk is also a good item to have on hand for oatmeal and smoothies. Freeze extra butter for up to 4 months.
Bread to eat fresh, or slice and freeze for up to 4 months.
Dried Foods to Stock Up On Now
Whether it's canned beans or bags that need to be cooked, beans are the super heroes of plant proteins and used in just about every style of cooking. My favorites are chickpeas, white beans, pinto beans and black beans.
Canned vegetables and tomato sauces for making whole meals, serving on the side.
Rice and grains like quinoa, farro, and couscous are obvious side and main dish staples.
Pasta and noodles. Italian style pastas work wonders in simple main meals and soups, but don't forget Asian noodles like ramen, soba, and vermicelli to add loads of shelf-stable variety.
Coffee. No need to say more.
Coconut milk is a fantastic ingredient for Thai and Indian flavored dishes.
Powdered and evaporated milk to use in macaroni and cheese, in these chocolate chip cookies, or where you need that creamy consistency like instead of half and half for your coffee.
Canned tuna and chicken to make as sandwiches, serve with crackers, or tossed with pasta or rice.
Baking essentials like sugar, flour, baking soda, yeast, and chocolate chips because stress baking is real.
Cereal and oats that can be served wet or dry as breakfasts or a sweet treat or snack.
Nuts for healthy snacking and added crunch.
Peanut butter and other nut butters.
Dried fruit for a sweet extra bite in salads or snacks.
Chicken, vegetable and beef broth. Buy bouillon cubes if storage space is an issue.
Hot sauce, vinegars, oils, and dried herbs for flavor.
Condiments like mayonnaise, mustard, ketchup, soy sauce, chili sauce, or salad dressings that double as marinades.
Packaged cookies, candies and chocolates. Treats can be sanity-savers and rewards for getting through the day.
Diet Coke, beer, wine, booze, and shelf stable juices. Stay hydrated friends.
Freezer Foods to Stock Up Now
Frozen proteins such as chicken, beef, pork, or shrimp. Buy bags of frozen chicken or shrimp or freeze fresh. Choose ground beef, ground turkey or chicken to use in tacos, meatballs, or soups, or choose pork or beef roasts for braising or Crock Pot cooking.
Frozen vegetables and fruit that offer just as much nutrition as their fresh counterparts.
Frozen beef/turkey/veggie burgers or frozen entrees
Pantry Staples to Stock Up On Now
Laundry detergent, cleanser, and dish soap are items you don't want to run out of.
Bottled water if you're in an area where tap water isn't deemed safe to drink.
Pet food and cat litter. 
Cold and flu medicine, plus thermometers. 
Toilet paper. The craze that started it all.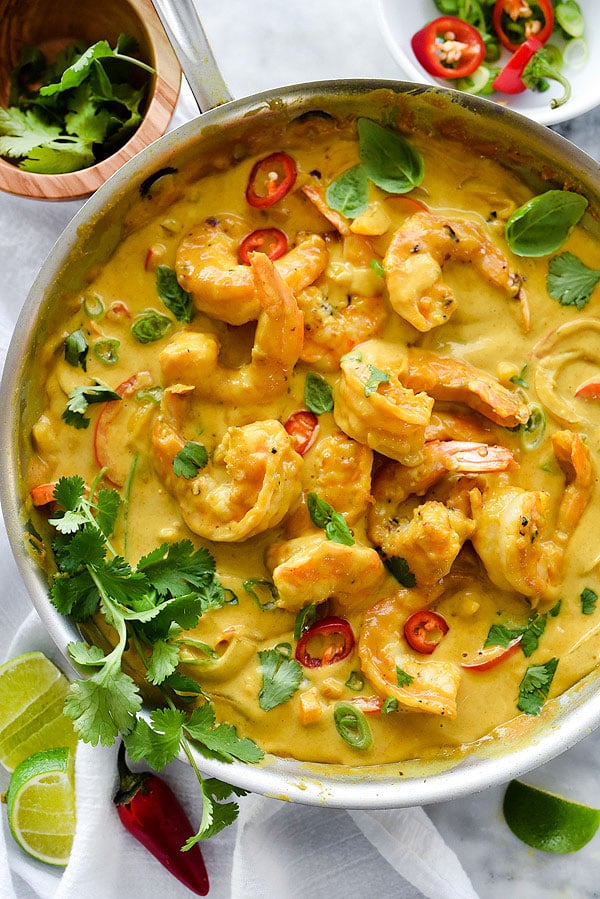 10 Well-Stocked Pantry Recipes
While some of these recipes call for fresh, substitute frozen or jarred ingredients instead.
Plus! Try These Recipes Made with Staple Ingredients
Lastly, Don't Want to Cook? Order In!
Support your local restaurants/delis/small batch food makers by ordering in and eating at home. Local businesses must stay afloat for our economy to swiftly recover once this crisis is over. Your favorite restaurant will be very grateful you did.
Do you have any suggestions for coping now? Share your ideas in the comments below.
And if you're looking for a recipe with a specific ingredient, or a type of meal, use the search bar or go to the archives via the dropdown navigation at the top of the page.
Be safe everyone! And keep on cooking.
XO, Heidi
We send good emails. Subscribe to FoodieCrush and have each post plus exclusive content only for our subscribers delivered straight to your e-mail box.
Follow me on Instagram, Facebook, Pinterest and Twitter for more FoodieCrush inspiration.
As always, thank you for reading and supporting companies I partner with, which allows me to create more unique content and recipes for you. There may be affiliate links in this post of which I receive a small commission. All opinions are always my own.