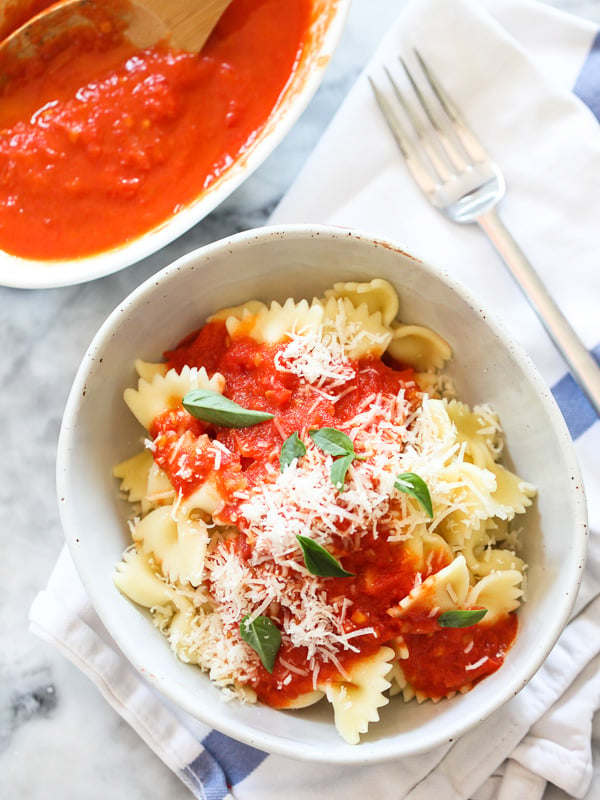 If you're like me, cooking is simply part of life's continuing education. Just when I think, "I've got this down pat," or "There's no possible way this could taste any better," I get schooled once again.
Take for example the basic, elemental pasta sauce. The one that is so simple it works as the foundation for so many tomato-based recipes where other ingredients do the glitzy red-carpet-look-at-me-I'm-the-star work and the tomato sauce simply shines in the background.
I thought I knew this recipe just by intuition and from following recipes handed down to me from family or ones I'd learned from my hoarder's collection of magazines.
But I have just discovered, I was doing it all wrong.
This post is another in my partnership with Craftsy, the online teaching site by leading authorities who teach what they know best via online videos. It's pretty much the epicenter for cooking, DIY, crafting and so much more.
The best part of the Craftsy online classes, besides the secrets, is the flexibility. I set up my laptop or iPad in the kitchen and watch the videos while I'm doing the dishes, so I can preview the recipes to know what to expect. It's like reading a recipe before you actually make it. You do that, right? I don't always either…
Then, I can rewatch it, pause it, rewind or whatever I need because the videos can be viewed anytime, anywhere, and as many times as you please. In the words of Ina, how easy is that?
Given it's tomato season and also that I'm once again craving comfort food, this month I checked out the Classic Italian Pasta Sauces, Meat and Tomato class from award-winning Italian cooking expert, Giuliano Hazan.
The Craftsy class shows step-by-step, in real time, how to prepare ALL of the recipes listed below:
Easy Tomato Pasta Sauce OR Mother's Butter, Tomato and Onion Pasta Sauce (get the FREE recipe here)
Spaghetti al Pomodoro e Basilico OR Spaghetti with Fresh Tomato, Olive Oil, Garlic & Basil
Bucatini all'Amatriciana OR Spicy Tomato Sauce with Pancetta
Puttanesca OR Tomatoes, Capers, Olives and Anchovies
Bolognese Meat Sauce
Ragù Marchigiano
Spaghetti alla Checca OR Spaghetti with Raw Tomatoes, Herbs and Mozzarella
Spaghetti al Sugo Crudo di Peperoni OR Spaghetti With Raw Peppers and Tomato
Pasta Carbonara
I feel like I've become a pretty good pasta saucier, but after watching even the first recipe being made, I realized I really didn't know the half of it.
Giuliano had some great tips and I used just a few of them in remaking his mother's famous Butter, Tomato and Onion Sauce.
Oh, this pasta sauce. It is DIVINE!
It is so incredibly bright, so fresh and so simple. And totally opposite of how I've been making my basic sauce. There's no garlic. There's no olive oil. There's not even any herbs. Just 4 simple ingredients and some time on the stovetop to create all this flavor.
This is totally going to become my new tomato sauce base for everything. Of course I'll top it on hot pasta (my Smudge took the leftovers to school in her lunchbag COLD and still raved!), but I'm also going to use it on top of or with:
As the glue for football season's meatball sandwiches
Nestle chicken breasts or thighs in the sauce, maybe with a slice of mozz on top
As the moist addition to Stuffed Peppers
Ladled over grilled or sautéed vegetables
And of course, lasagna, manicotti and gnocchi. And a shaving of Parmigiano-Reggiano, of course.
A few tips I took home from the Craftsy class video about how to make this very versatile aka EASY pasta sauce:
This recipe can be made using either canned or fresh tomatoes. Giuliano used canned whole  peeled tomatoes in his version, I opted for 2 pounds of fresh tomatoes from the farmer's market. The canned tomatoes give a more earthy flavor, and the fresh give a brighter and sweeter taste. I loved the fresh.
If you're using fresh tomatoes, peel them first. In the past I've blanched my tomatoes to skin them, but never again! Giuliano shows the secret to peeling the tomatoes that I've never seen before but will totally be doing from here on out.
Does smashing your garlic cloves with the blade of the knife freak you out? It does for Giuliano. So he uses the handle to smash the cloves, instead. Smart!
Giuliano uses butter in this recipe instead of olive oil. And there's no mincing of the onion. And I used a few specs of basil leaves for garnish because I'm crazy that way, but otherwise, it's all tomato flavor, baby.
** Note: This recipe didn't have garlic in it, but Giuliano shared that when you cook garlic you should add it to a cold pan with cold oil or butter so it comes up to heat with the fat and you don't end up frying it, becoming bitter. I'm taking that one to the bank. I tell you, he has a LOT of tips.
Print
Easy Tomato Pasta Sauce Recipe
Ingredients
2

pounds

fresh tomatoes

, 5-6 large or 3 cups canned whole peeled tomatoes in their juice (31 ounces)

5

tablespoons

butter

, ½ stick

1 ¼

teaspoon

salt

1

medium sweet yellow onion

Cooked pasta

⅓

cup

grated Parmigiano-Reggiano cheese
Instructions
If using fresh tomatoes peel them and coarsely chop them. If using canned, coarsely chop them. Trim both ends of the onion, peel it and cut it half lengthwise.

Put the tomatoes, butter, onion, and salt in a 4-to-5-quart saucepan and place over medium heat. When the tomatoes begin to bubble, lower the heat to a slow but steady simmer. Cook, stirring every 10 to 15 minutes until the tomatoes are no longer watery and the sauce has reduced, about 45 minutes, depending on the size and shape of the pot.

When the sauce is done the butter will have separated from the tomatoes and there should not be any liquid left. When you toss the pasta with the sauce, add freshly grated Parmigiano-Reggiano.
Get the recipe here for this Easy Tomato Pasta Sauce Recipe or as Giuliano calls it, Mother's Butter, Tomato and Onion Pasta Sauce and sign up for any of the online Craftsy cooking classes.
This post is sponsored by Craftsy. As always, thank you for reading and supporting companies I partner with, which allows me to create more unique content and recipes for you. This post contains affiliate links. As always, all opinions are my own.  
Are you following me on Instagram, Twitter, Facebook and Pinterest? Thanks for reading and  subscribe to FoodieCrush to have each post delivered straight to your e-mail box.