Chicken thighs are nestled in Spanish-flavored rice with Spanish chorizo, green olives, and garbanzo beans for the ultimate one-pot meal.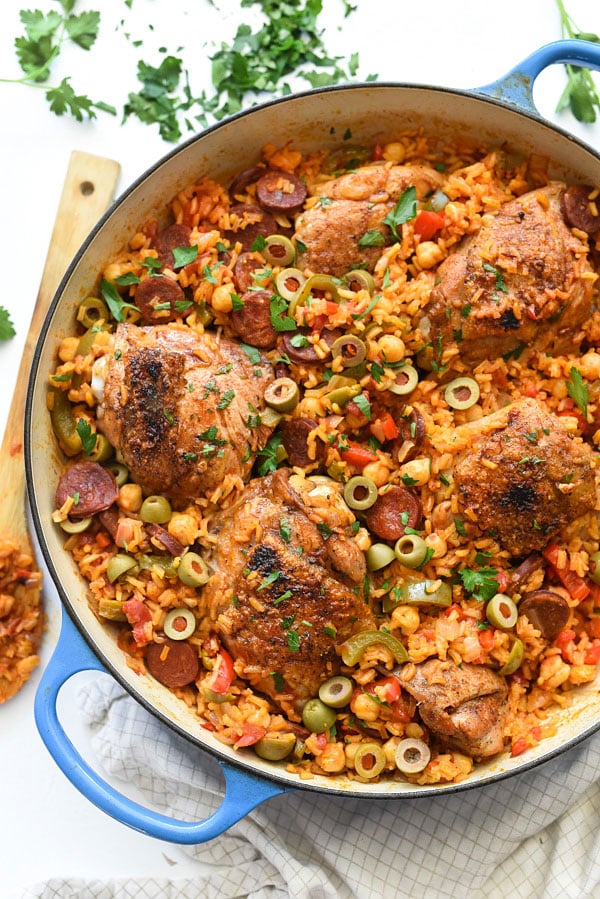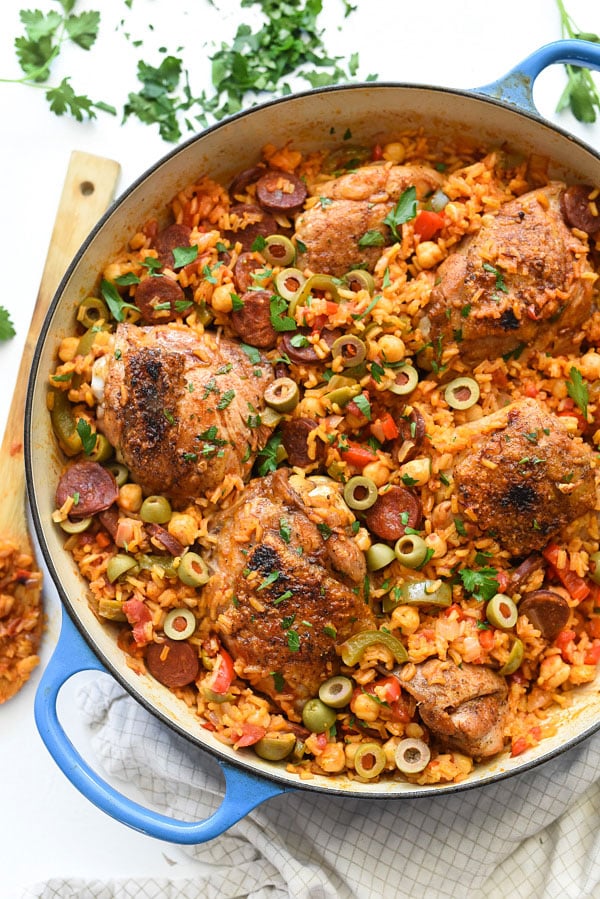 I pretty much live at my local Smith's Marketplace.
It's where I shop for groceries for the blog, and for my family's dinner. It's where I buy all of the little green seedlings for my garden. It's where I shop for hooks and screws, birdseed, my daughter's never ending supply of footie golf socks, and fingernail polish.
I even fill up my car there. I mean, there's no way I'm turning away that extra gas discount I get points for whenever I go through the checkout. Not to mention it's only 1 mile away from my house. Cha-ching.
That's why this year I'm beyond thrilled to be a Kroger blogging ambassador, where I will be creating and sharing recipes featuring all sorts of products from Kroger grocery stores for my family, and for yours.
We're starting our year-long partnership off with a mega dose of Spanish-cha-cha flavor, and routing ourselves to the cuisine of Spain to celebrate Kroger's Taste of Spain event beginning April 3. I'm sharing my version of Spanish Chicken with Rice, traditionally called Arroz con Pollo, dosed up with the tang of authentic Spanish chorizo, saffron and green olives.
Spanish dancer emoji approved! 💃💃💃💃💃
About the Recipe
This recipe is one of my favorite types of recipes. It's a one pan cooker.
I hate doing dishes. That's why I love recipes like this. And why I love eliciting my husband's talents in the kitchen. He wanted to create. I gave him the keys. And this is his recipe. Thighs and all.
In this recipe we used bone-in, skin-on chicken thighs. If you prefer the boneless and skinless variety, go ahead and use them instead. The difference is mainly only in presentation. Sauté the chicken thighs in the pan to create a nice fond. What the heck is a fond? It's the browned deliciousness left in the bottom of the pan after you've seared your meat. The stuff you pick at and eat because it's ALL THE FLAVOR. Hold onto your fond. Hold tight. And deglaze.
Next we add even more flavor builders to the pan, the usual savory suspects: bell peppers. onions. garlic.
Rice is lightly browned in the pan before being doused with wine, chicken broth and diced tomatoes. I shopped my Kroger aisles for a selection of their Kroger brand and Simple Truth® brand for my mix.
What gives this dish it's distinctly Spanish flavor are smoked paprika and saffron. Saffron can be a spendy ingredient but it also lasts for a really, really long time. I have a small box a friend's father brought back to me from Spain over 12 years ago that we're just now finishing up. That's not a bad return on investment.
Everything is combined in my dutch oven to keep that one-pot ju-ju going.
We added garbanzo beans and Spanish chorizo, sliced into coins. Spanish chorizo is a dry cured sausage with a flavorful kick. I most often find Mexican chorizo available but the difference lies in Spanish chorizo is more like a salami and Mexican chorizo is more like a loose sausage.
Look for the Spanish version of chorizo sausage for this recipe. During Kroger's Taste of Spain event you'll be able to find the authentic Spanish chorizo and other Spanish products in their stores for that authentic savory flavor.
Sauté the flavors. Add the seasonings. And then nestle those chicken thighs back in the mix and bake.
That's when everything comes together in a perfect Spanish symphony.
The final step is adding green olives for pucker and fresh parsley for, well, freshness.
It's a party in a pan.
You did see the Spanish dancing emoji, didn't you???
Recipe Ideas to Serve With Your Chicken and Rice
This chicken and rice is certainly filling enough, but sometimes you just need a drink, salad and that extra somethin' somethin' to complete the meal.
If you try this recipe, please let me know! Leave a comment below, or take a photo and tag it on Instagram with #foodiecrusheats.
Print
Spanish Chicken and Rice Recipe
Chicken thighs are nestled in Spanish-flavored rice with Spanish chorizo, green olives, and garbanzo beans for the ultimate one-pot meal.
Ingredients
6

chicken thighs

, skin-on and bone-in, about 4 pounds

3

teaspoons

kosher salt

, divided

1

teaspoon

freshly ground black pepper

, divided

2

tablespoons

extra virgin olive oil

1

red bell pepper

, seeded and chopped

1

green bell pepper seeded and sliced

1

medium yellow onion

, peeled and chopped

5

cloves

garlic

, minced

2

cups

Kroger long grain rice

1 ½

cups

white wine

1 ½

cups

Simply Organic chicken broth

1 15-

ounce

can Kroger garbanzo beans

, drained

1 15-

ounce

can Kroger diced tomatoes

2

teaspoons

smoked paprika

1

teaspoon

saffron threads

, crushed

1

bay leaf

8

ounces

Spanish chorizo

, sliced into ¼" thick coins

½

cup

green olives

, halved

¼

cup

Italian flat leaf parsley

, chopped
Instructions
Preheat the oven to 365 degrees F.

Season the chicken thighs with 1 teaspoon kosher salt and ½ teaspoon black pepper. Heat a dutch oven over medium high heat. When pan is hot, add the olive oil. Brown the chicken until golden brown, about 5 minutes on each side. Transfer the chicken to a platter and cover with foil to rest.

Add the red and green bell pepper and onion to the pan and cook for 4-5 minutes or until the vegetables soften, stirring occasionally. Add the garlic and cook for 1 minute or until fragrant, stirring so the garlic doesn't burn and become bitter. Add the rice and cook for 3-4 minutes, stirring occasionally. Add the wine, chicken broth, garbanzo beans, diced tomatoes, smoked paprika, and the bay leaf. Stir in the saffron threads and the sliced chorizo and place the chicken back into the dutch oven, nestling the chicken pieces into the rice. Cover with a lid and bake in the oven for 25-30 minutes or until the chicken registers 165 degrees F and the rice has absorbed all of the liquid.

Stir in the green olives and garnish with flat leaf parsley. Serve and enjoy.
This post is in partnership with Kroger. As always, thank you for reading and for supporting companies I partner with, which allows me to create more unique content and recipes for you. All opinions are always my own.  
Are you following me on Instagram, Twitter, Facebook and Pinterest? 
Thanks for reading and subscribe to FoodieCrush to have each post delivered straight to your e-mail box.