Canned beans are one of those pantry staples we always have on hand. They're cheap, easy, fuss-free, and filling, and their versatility makes them an awesome standby for tacos, salads, soups, enchiladas, and more. To get more meal prep inspiration from your pantry, check out this list of favorite dinners made with all different types of beans.
No matter how depressingly barren our pantries may get, we can always find at least one can of beans lurking in there somewhere. Beans are the cornerstone of a well-stocked pantry.
Canned beans have saved our meal making when we've lapsed on the grocery shopping, meal planning, and budgeting. They're inexpensive and efficient, and they give us protein and fiber. And beans are the building block to so many recipes, where you can get a lot of mileage out of beans as a main or co-starring ingredients,  incorporating them into soups and chilis, enchiladas and burritos, stuffed peppers, casseroles, salads, and more.
Check out this of meals to make with a can of beans below, and use your bean!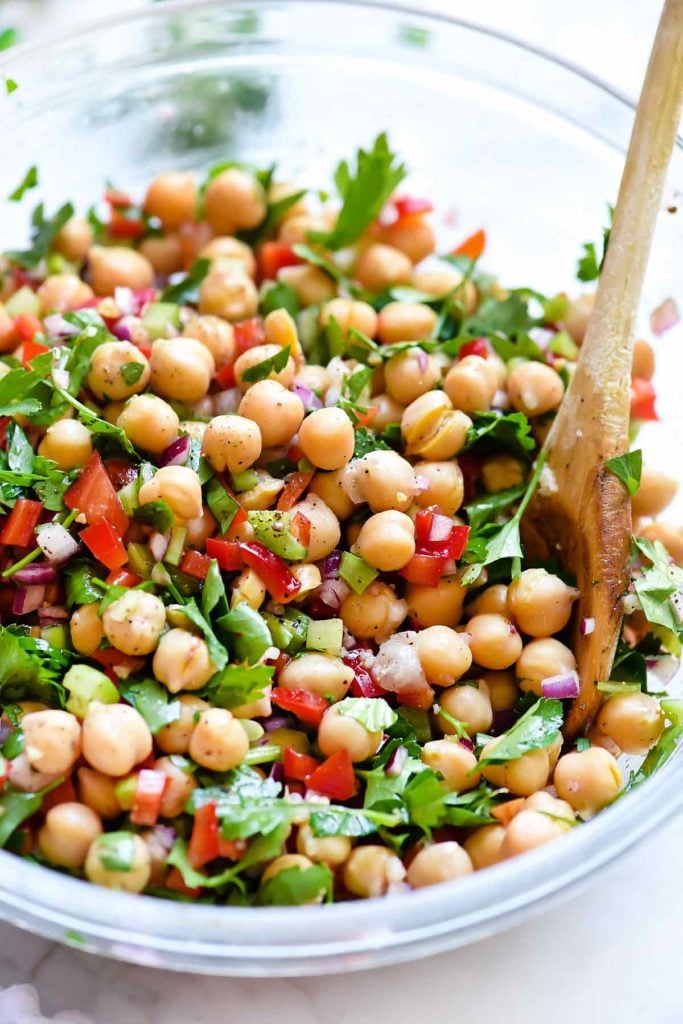 This easy Mediterranean chickpea salad is infused with flavor thanks to a heaping helping of fresh herbs with a garlicky lemon dressing that ups the crunch from red bell pepper, celery and red onion for a simple side dish or topping for greens from FoodieCrush.
Soups are the star of most of our cooler weather meals, though this one's good enough to eat all year-round. With roasted cauliflower and chickpeas, it's deliciously velvety, nutty, and hearty from Floating Kitchen.
Roasted veggies, black beans, and a homemade chipotle-spiked enchilada sauce make this incredibly easy, healthy vegetarian casserole a weeknight winner from Ambitious Kitchen.
Mac and cheese + chili = comfort food bliss in this ridiculously easy one pot meal that also comes together in just 20 minutes from RecipeTin Eats. Seriously, what's not to love?
Classic Southwestern flavors, corn, rice, black beans, and lean ground beef make these rainbow of stuffed bell peppers a favorite, healthy dinner that comes mostly from the pantry that your whole family will enjoy.
Confession: We're obsessed with soups that have pasta in them and this one boasts chickpeas and whole wheat shells in a garlicky, tomato broth with lots of Parmesan (fuhgettaboutit) from How Sweet Eats.
This Tuscan tuna salad with white beans makes a quick and easy-to-make lunch or even a light dinner, and puts high protein front and center with chunks of albacore tuna and white beans tossed with arugula and more Mediterranean flavors coming from FoodieCrush.
Fragrant spices, butternut squash, and chickpeas make up this Moroccan stew made easy in the slow cooker from Simply Quinoa.
Skillet meals are our saving grace on weeknights when we don't feel like cooking. This one features cannellini beans, salmon, and cherry tomatoes, and gets a boost of of smoky flavor from charred lemons from Bev Cooks.
Whether you're vegetarian or just taking a night off from meat, these sweet potato taco bowls hit the spot. They're loaded up with spicy roasted sweet potatoes, black beans, fire-roasted corn, cilantro lime quinoa, and are full of awesome flavor from Chelsea's Messy Apron.
They say chicken soup soothes the soul, but we're pretty sure this rustic Italian soup made with leafy kale, cannellini beans, lots of veggies, and chunks of sourdough bread gives it a run for its money from A Couple Cooks.
All you need are 5 ingredients to make this comforting sweet potato turkey chili studded with black beans from Pinch of Yum.
Using a store-bought rotisserie chicken makes these creamy white bean and salsa verde enchiladas a breeze any night of the week from Skinnytaste.
Coconut milk, chickpeas, and tons of aromatic spices make for an irresistible vegan curry that easily beats any takeout version from Jessica in the Kitchen.
Chicken breasts, butternut squash, and red onion all get roasted on one sheet pan and then served up in a bowl, with black beans, rice, and guacamole in this healthy, easy weeknight dinner from FoodieCrush.
More Building Block Ingredient Recipes to Try Now
Thanks for stopping by and visiting FoodieCrush. Have something to say or a recipe round-up request to make your dinnertime meal making easier? I'd love to hear from you. Email me at [email protected] or let me know in the comments below.
We send good emails. Subscribe to FoodieCrush and have each post plus exclusive content only for our subscribers delivered straight to your e-mail box.
Follow me on Instagram, Facebook, Pinterest and Twitter for more FoodieCrush inspiration.
As always, thank you for reading and supporting companies I partner with, which allows me to create more unique content and recipes for you. There are affiliate links in this post of which I receive a small commission. All opinions are always my own.