This post is sponsored by Tabasco as part of its 10-Ingredient Challenge. Thanks for supporting companies I believe in, which allows me to create more unique content and recipes for you.
When most of us think of chicken stewy soup-ish meal, what usually comes to mind is a chicken broth version with chunks of carrots and celery maybe with rice, maybe with potatoes. But in my opinion, It's time to broaden our horizons, and this Tabasco Braised Chicken with Chickpeas and Kale is the reason why.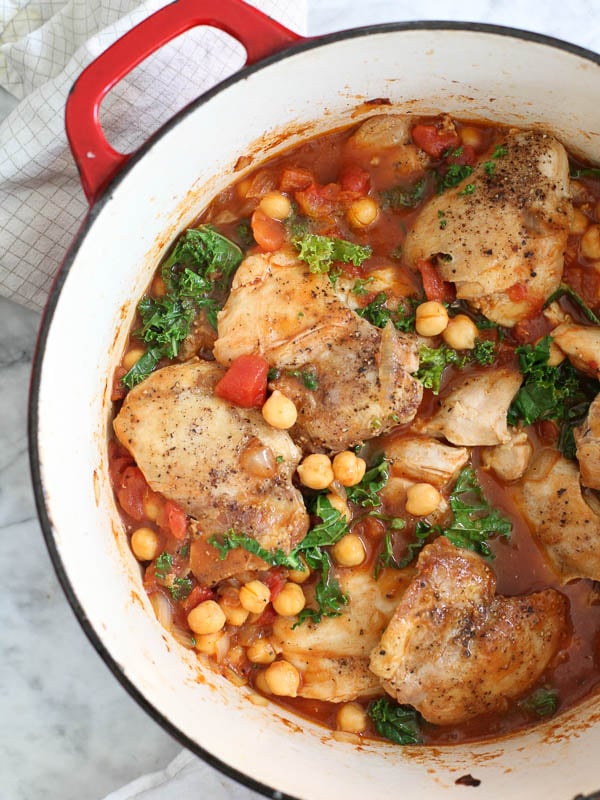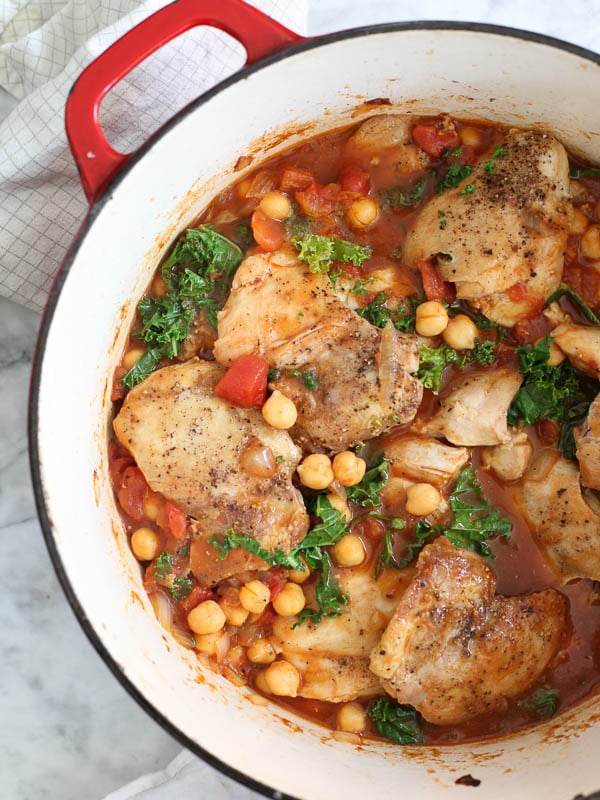 Lately I've been hearing a lot of requests for quicker, easier weeknight dinners. Yes, that was me you heard pleading for divine intervention under my breath, or maybe I was screaming it out loud.
Regardless, it's what's needed now, with high fives and knuckle bumps when you can make it all in one pot.
My Tabasco Braised Chicken with Chickpeas and Kale is my fourth recipe for the Tabasco 10-Ingredient Challenge that started with Tabasco Brined Spicy Drumsticks and Tabasco Chicken Meatballs in a Spicy Tomato and Apricot Sauce. This time around we're gathering at the table for a little comfort eating.
So what is it that makes this recipe so special that I made it twice in one week? Yep, twice in one week. Not even for recipe testing but just because it was so dang good.
The answer is simple, and in 10 ingredients or less. Tomatoes, onions and a dose of spicy Tabasco build a rich and flavor-filled tomato-based broth as the home for chunks of chicken thighs, chickpeas aka garbanzo beans and kale.
This recipe is a one pot meal that calls for a darker meat like chicken thighs, meat that won't dry out or get stringy. A braise is defined as cooking low and slow. Sometimes it can become an all day affair, but this is a quicker version, and perfect for weeknights.
Chicken thighs are the no-frills, often overlooked portion of the chicken. They're the mousy, shy girl in the corner. And just like that mousy shy girl in the corner, chicken thighs have a yet to become the popular kid, but just waiting for that shining personality to be coaxed out.
Thighs are cheaper than chicken breasts and aren't as lean a cut, which lends huge flavor to its culinary profile. If there's one thing you should learn about cooking, it's that fat equals flavor. Most often dark meat has more fat, or at least isn't as lean, and will make all the difference in the flavor of your dinner. And we all know flavor is good. Which makes me, and you, and everyone taking a bite very happy.
Generously seasoned with salt and pepper and then a quick dunk into a poof of flour, the chicken thighs are browned in a lightly oiled pot to create a ton of flavor that's released from the bottom of the pot once the juicy veggies are added.
Tabasco is the only spice that's needed in the melding of this one pot full of flavors, with it's spicy kick mellowing with the cooking time. It creates a flavor much more complex than one would imagine with just  a few shakes from a bottle of hot sauce.
It's the key to an eye-opening dining experience.
Print
Tabasco Braised Chicken with Chickpeas and Kale
Ingredients
1 ½

pounds

skinless chicken thighs

2

tablespoons

all-purpose flour

kosher salt and freshly ground black pepper

2

tablespoons

canola oil

1

white onion

diced

2 15

ounce

cans diced tomatoes

including juice

2 15

ounce

cans garbanzo beans

2

cups

kale

1

tablespoon

Tabasco

½

cup

water
Instructions
Season the chicken thighs with salt and black pepper. Heat 1 tablespoon of oil over medium high heat in a large dutch oven or 8 quart stockpot. Cook one half of the chicken for 5-7 minutes per side or until nicely browned. Remove from pan and set aside. Add the remaining oil to the pan and cook the other half of the chicken, remove from pan and add to the reserved chicken.

Reduce the heat to medium and add the onion to the pot. Cook for 4-5 minutes or until onion becomes tender. Add tomatoes with juice, garbanzo beans with juice, kale, Tabasco and water and stir making sure to scrape the bits off the bottom of the pot. Nestle the chicken thighs with their juices in the tomato mixture, bring to a boil and reduce to simmer, and cook for 25-30 minutes or until flavors have melded. Serve over rice, quinoa or egg noodles.
One more recipe is on its way tomorrow. Check in to see what spicy vegetable focused meal is in store. Did I mention there will be bacon?
Thank you for supporting me and my partners which allows me to create new and special content for my readers. As always, all opinions are my own. 
Are you following me on Instagram, Twitter, Facebook and Pinterest? Thanks for reading and  subscribe to FoodieCrush to have each post delivered straight to your e-mail box.