From vegetable to chicken, creamy to brothy, this list of 30 best comfort soups shows why there's nothing more comforting than a bowl of healthy, easy soup on a chilly day.
Soup season is here, and like so many of you, I am raising my spoon with glee at the idea of being in the kitchen and cooking a pot (or 30) of my slurp-able favorites. From vegetarian to soup recipes with chicken, from brothy to creamy, healthy to hearty, and stove top to Crockpot, this list of 30 best soup recipes is sure to wrap any eater up like a warm hug, and cure any cold weather blues.
Crockpot & Instant Pot Soups
These delicious soups are made super easy in the Crockpot or Instant Pot and are perfect for busy weeknights.
from FoodieCrush
Steve said: "
Absolutely amazing flavor. I used real cream for the extra richness. Glad I did. Will make it again and again."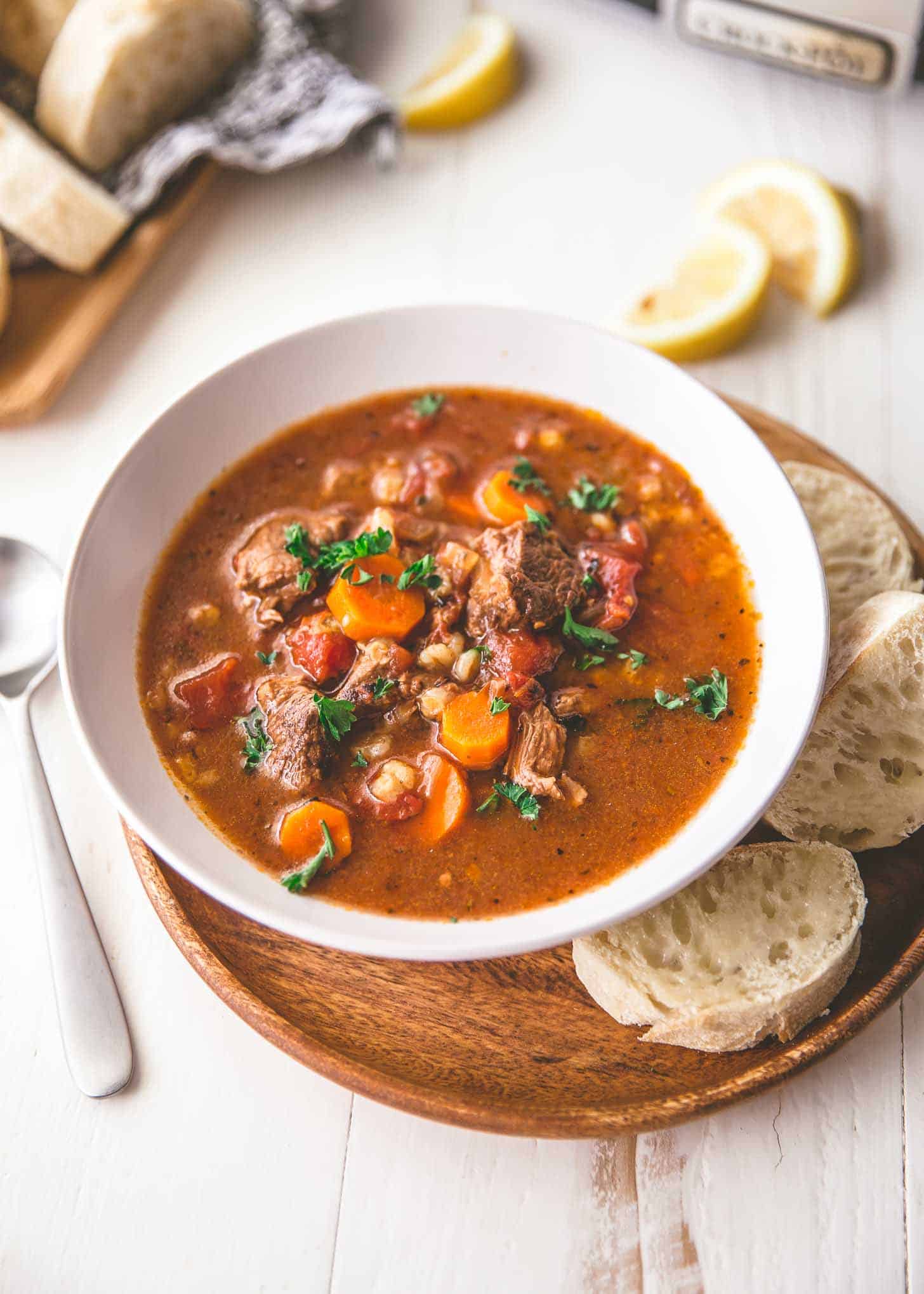 from Inquiring Chef
David said: "
Photos 5 stars, few ingredients always makes me happy, ten minutes prep! Wow. Your posts are so organized! Thank you."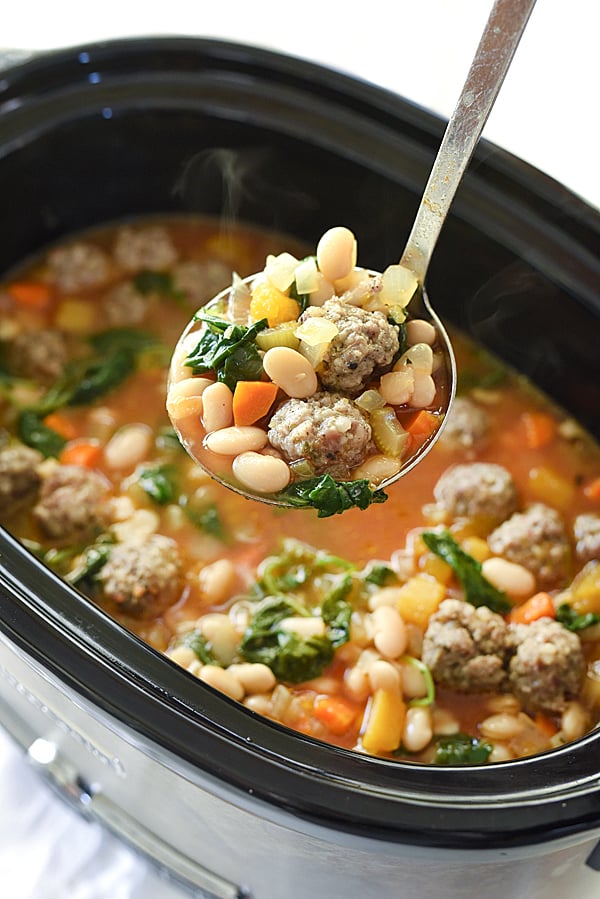 from FoodieCrush
Ronnie said: "
The Tuscan White Bean and Sausage Soup is one of the best soups I've ever eaten, more less made. The only change I made in the recipe was using spinach instead of kale…. I will be making another BIG pot soon….."
from FoodieCrush
Christopher said: "
I made this on a Sunday afternoon a couple weeks ago and it was absolutely delicious! My wife and I both loved it and enjoyed every sip of leftovers for the rest of the week. Thank you!"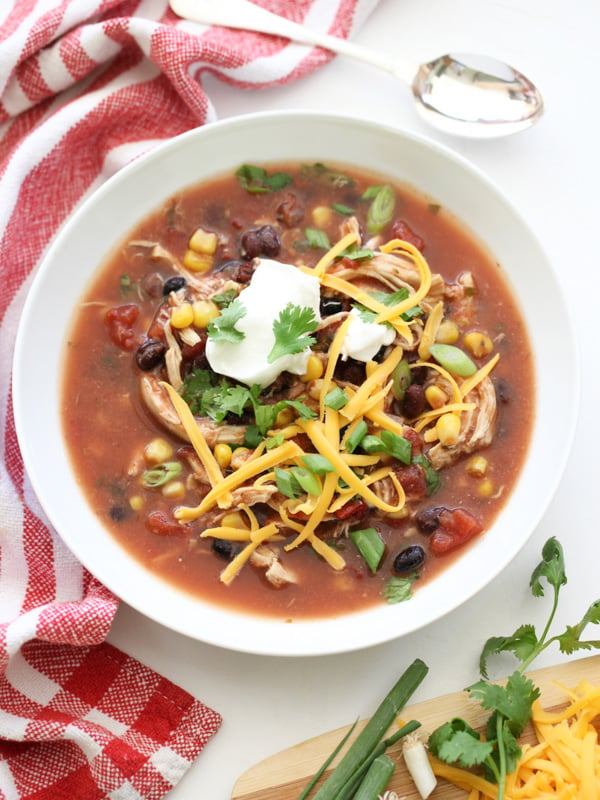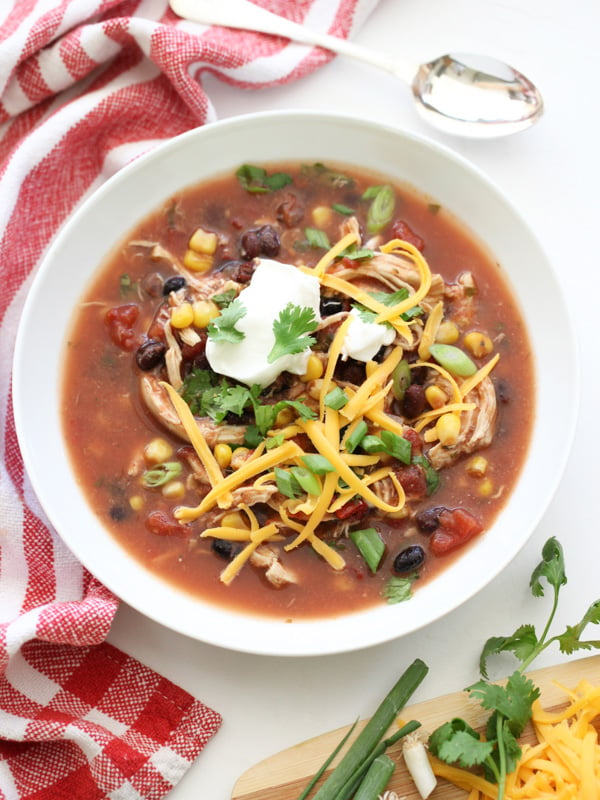 from FoodieCrush
Vanessa said: "That chicken enchilada soup looks amazing! And I think we can all relate to needing to change our eating habits as we've gotten older."
from FoodieCrush
Gina said: "I just made this last night. It is absolutely delish!!!! My husband and I devoured the entire pot. I used lean spicy turkey sausage instead of sweet ( we love spicy) and it was simply yummy!!!!"
from FoodieCrush
Malissa said: "
This is so quick and easy to make. Especially for all of you working mom's with school age children! My family Loved it!"
Vegetarian
Don't be fooled. These soups may be entirely vegetarian, but they are wonderfully savory and filling.
from FoodieCrush
Anthony said: "
I've made this half a dozen times or more now and we love it!! My kids love it even though they are not vegan like we are. Thank you for this recipe! ❤️
from FoodieCrush
Heather said: "
Fabulous spices and thank you for including instantpot directions!!"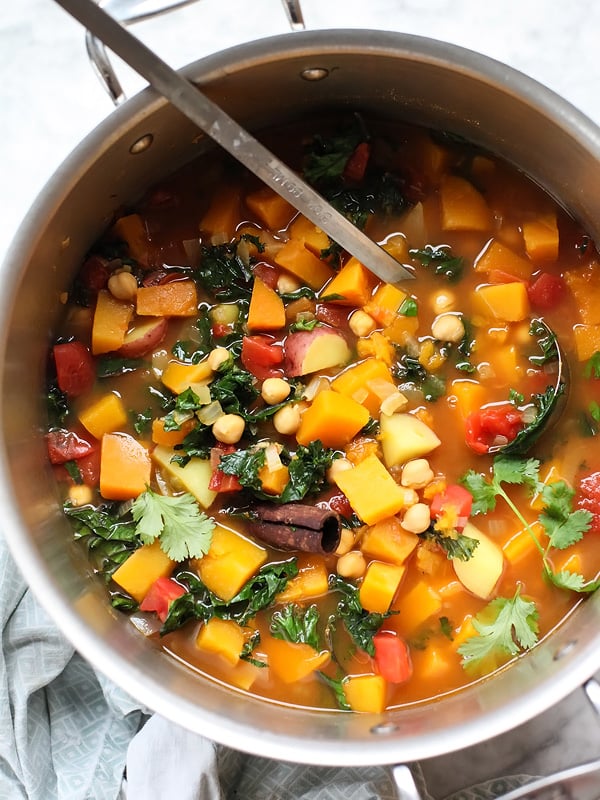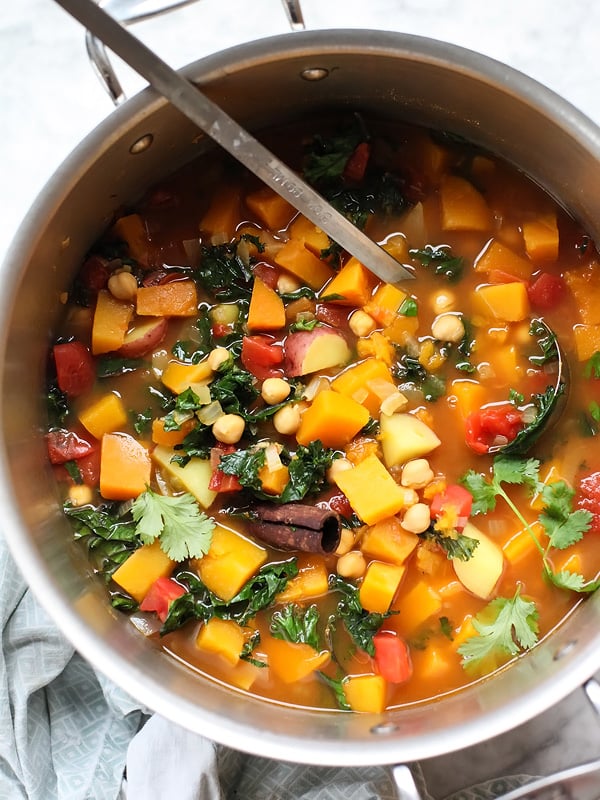 from FoodieCrush
Marie said: "
Just made this recipe from veggies fresh from the farm. It is incredible. The colors are amazing. Seriously yum. And my first time ever cooking with saffron."
from How Sweet Eats
Leslea said: "So delicious! Made it tonight and even my picky 3 year old had a bowl! Will definitely be making this again."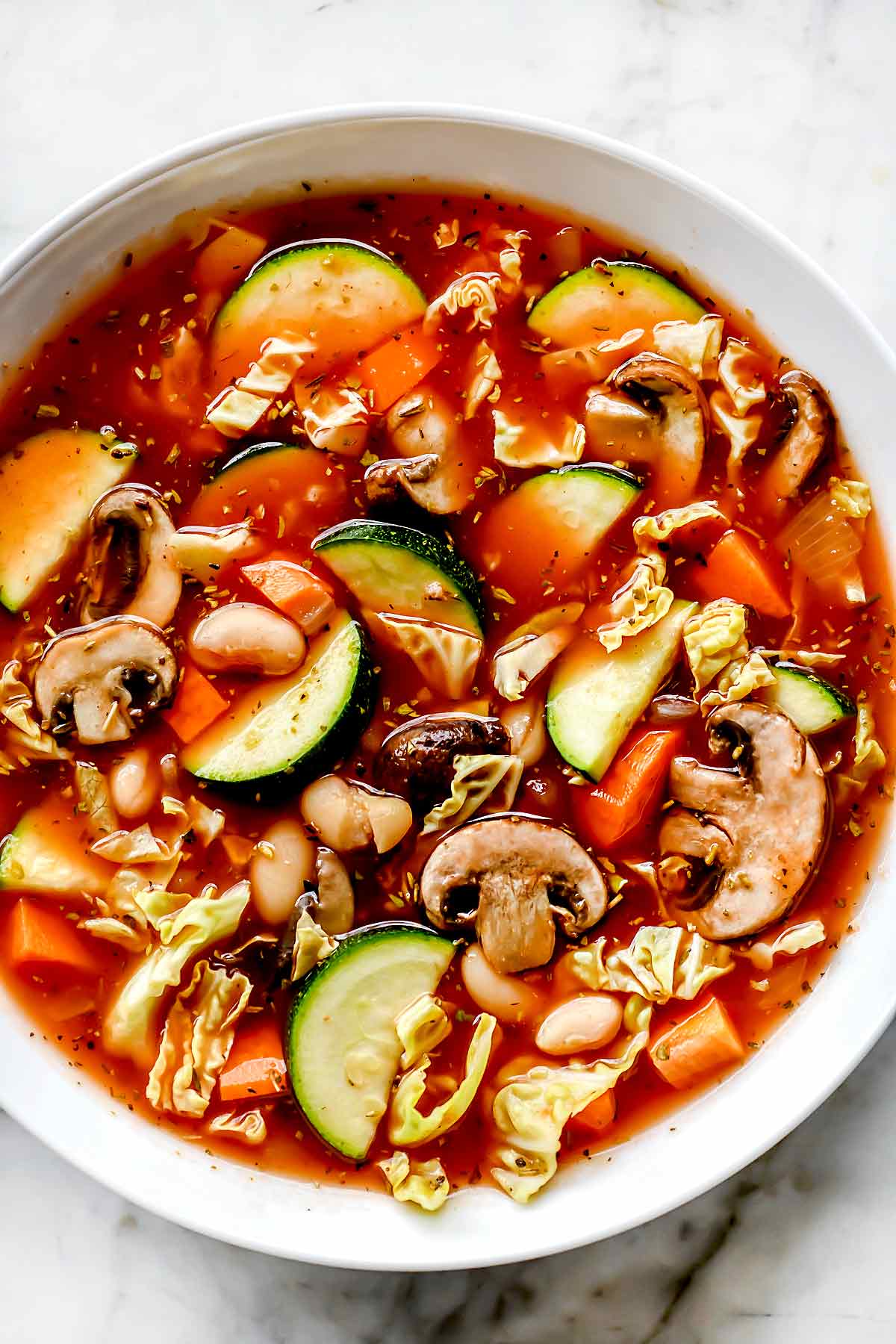 from FoodieCrush
Melissa said: "
This is the best vegetable soup!! I've made it three times already and have the ingredients to make it again this week!"
from FoodieCrush
Olivia said: "Great recipe! I only needed 4 ingredients because I didn't use the chili pepper garnish since I was only making it for myself. Added chicken and served it over quinoa seasoned with curry powder. Absolutely simple and delicious! Thanks for the recipe!"
Stick to Your Ribs Soups
These recipes toe the line between soups and stews, with their hearty elements that keep your belly warm, full and happy.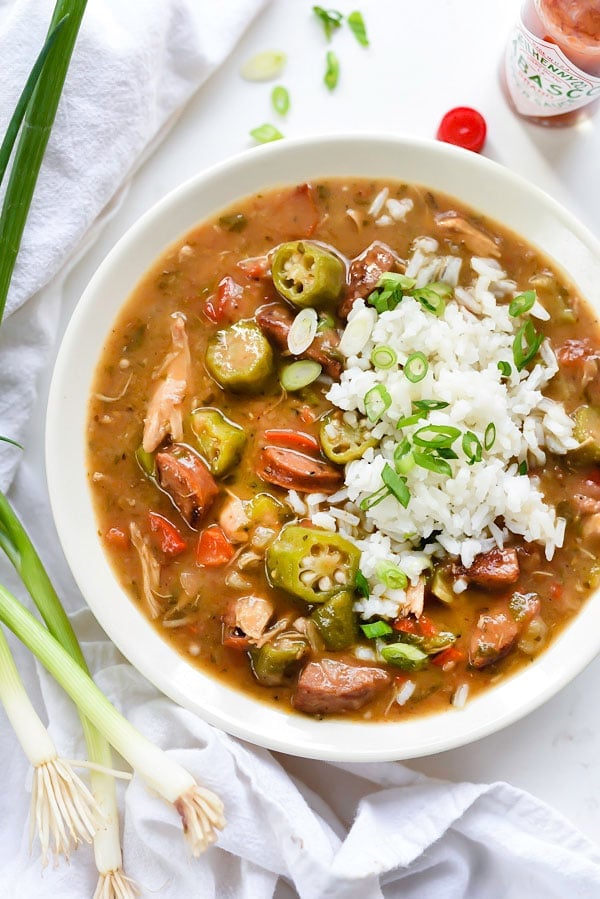 from FoodieCrush
LD Kay says: "Sept 30 2017, it has rained and hailed all day. Decided this would be the prefect diner. Roux takes a while, always, but I got it to a wonderful milk chocolate color. From there, the recipe was easy to follow. Definitely use the lemon juice, it made all the difference. I added 1 T gumbo filet. My husband was thrilled! Ate two bowls. Really really great recipe.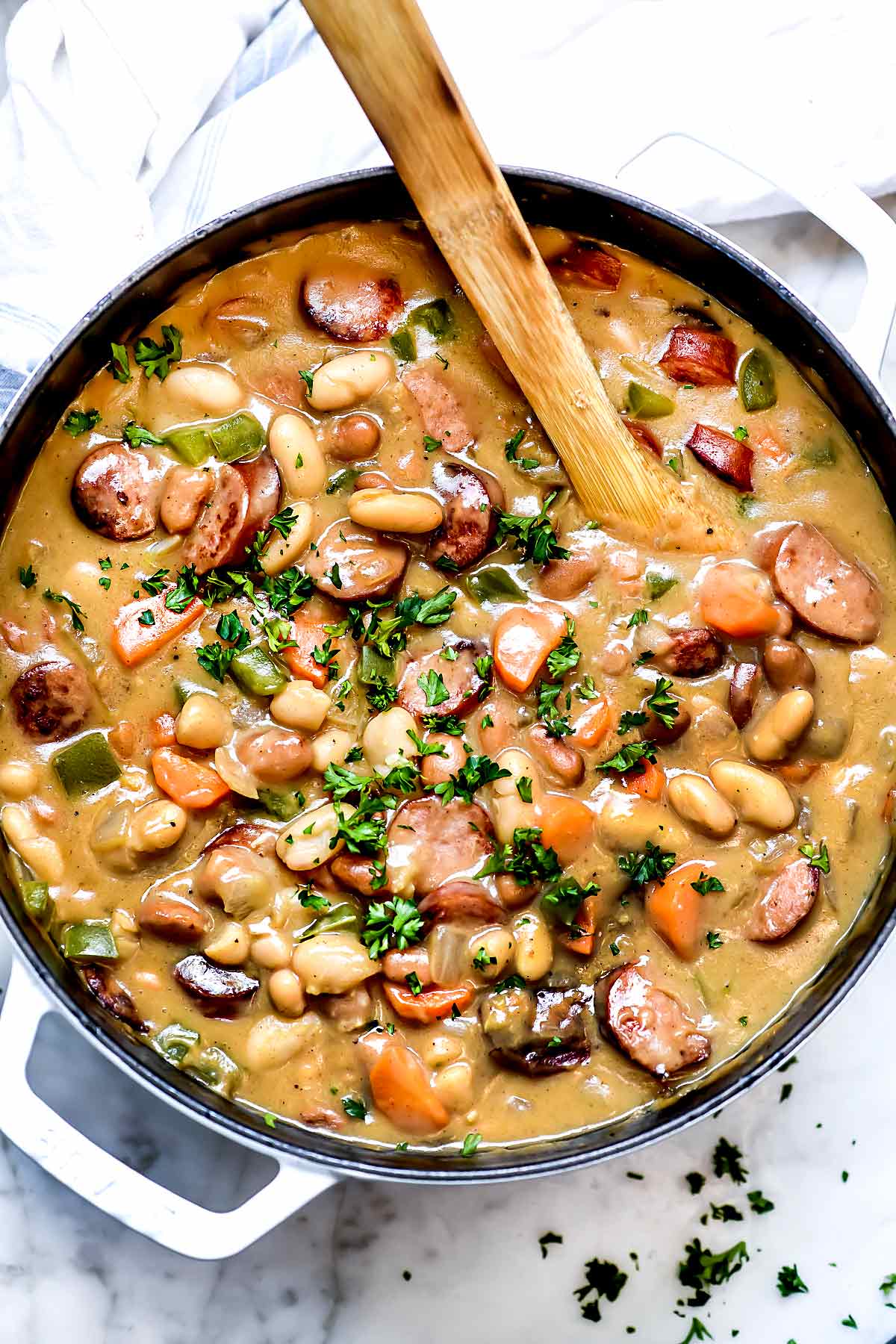 from FoodieCrush
OraAnna says: "
One of my all-time favorite soups. I've made this several times and really dialed in my favorite version. I leave out the green pepper, use 2 cups of milk and 2 cups of chicken stock, and double the garlic. The last time I made this I used a can of tri-blend beans (red kidney, pinto, black beans) in place of just kidney beans and it was glorious! I'll eat this for every meal, 3 days in a row."
from FoodieCrush
Kathy said: "
Even though I am a small household, cooking a large pot of soup works really well because my 23-year-old son lives with me, and we benefit from having leftovers available. Thank you for this one!"
from FoodieCrush
Nikki says: "
2nd time making this so easy and delicious !! My family has declared the soup of the fall/winter season
from FoodieCrush
Susan says: "
It tastes amazing and I have made it for family dinner for about three times and my family has loved it every time."
Classic Comfort Favorites
The soups you know and love, because you can't go wrong with the classics.
from FoodieCrush
Darrah said: "
I followed this recipe almost exactly maybe a few extra crushed chillies and it was amazing. Here in Copperton, the seafood cost me close to eighty bucks though. I would totally make this again, this fed three and everyone loved it. Served it with rye grain bread."
from Gimme Some Oven
LC said: "My son and I both love egg drop soup so I doubled the recipe and I'm SO glad I did! We love it! and now we have leftovers. Thanks for sharing this wonderful and easy recipe!"
from FoodieCrush
Laura says: "I make this soup at least twice a month. The whole family loves it – it is a cherished family recipe. Thank you!!"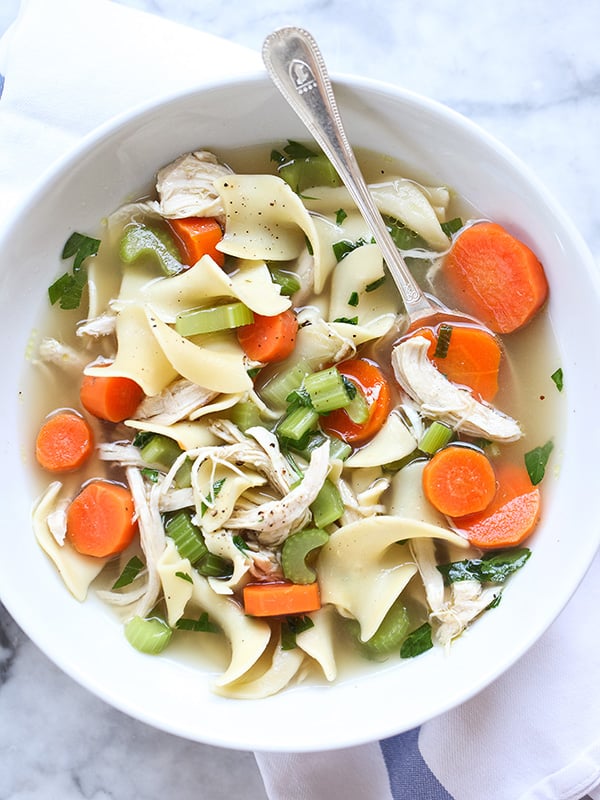 from FoodieCrush
Georgia said:"
This was my first time making soup. This recipe is delicious and easy to follow. My family loved it! Your site is my go-to recipe book when I need to find a good recipe quick and I know it's going to be good. Thank you for sharing!"
from FoodieCrush
Pam said: "
I wanted a really good minestrone soup. Did as you suggested with the homemade beef stock. Was wonderful . Thank you."
from FoodieCrush
Becky said: "Delicious! I used frozen carrots and peas and a large russet potato since that's what I had on hand. Excellent use of leftover turkey. My kids especially loved making the pie cutouts. Thanks for the recipe."
from FoodieCrush
MaryAnn said: "
Onion soup is one of my favorites Heidi! My mother always made it when I was growing up. It was such a special treat! Your fantastic recipe is bringing back some great memories!"
from FoodieCrush
Brooke said: "I always enjoy your photos… and recipes! One of the best things I have ever done in my kitchen is going that extra step in making my own chicken broth, nothin' like it."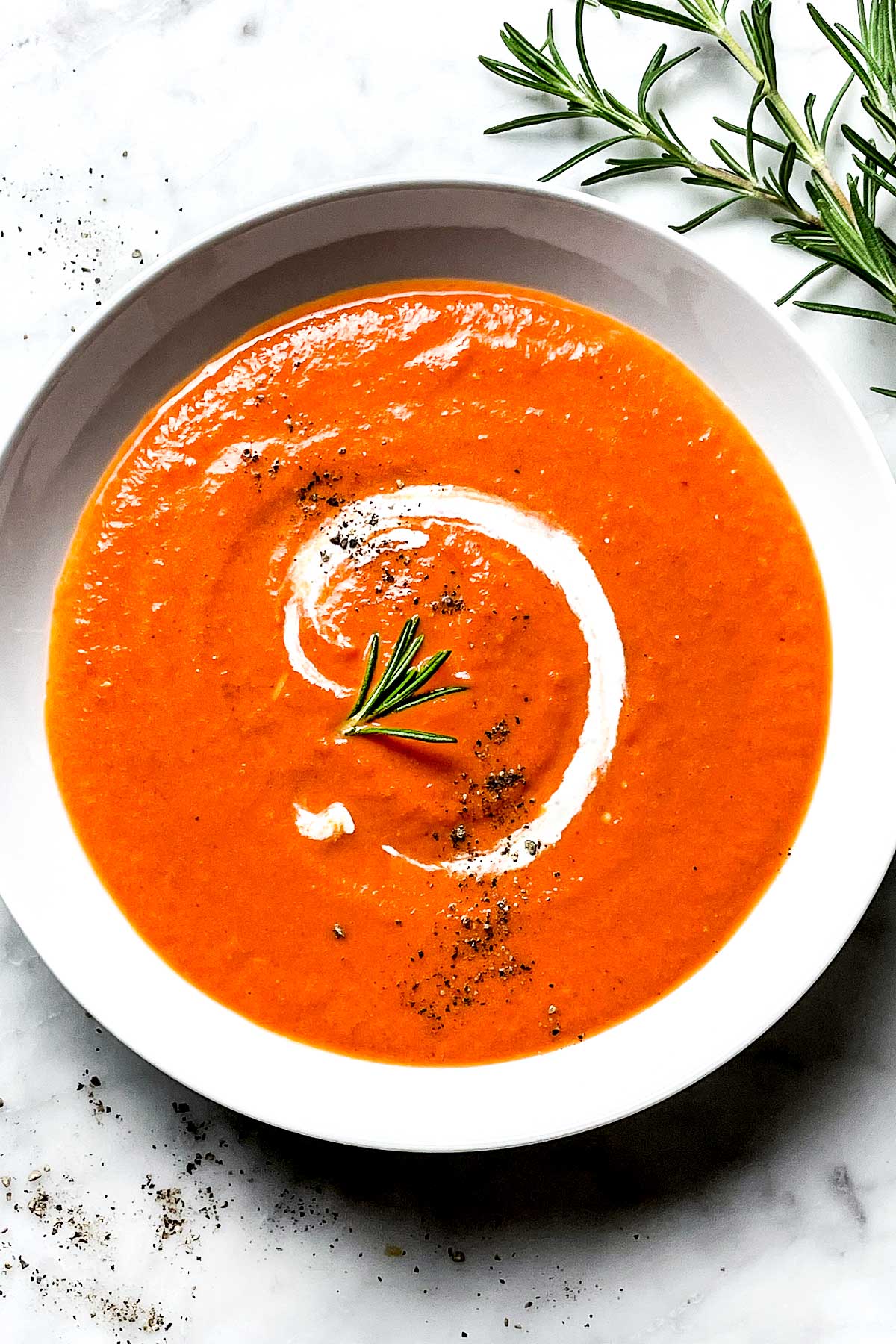 from FoodieCrush
Creamy tomato and roasted red pepper soup made with roasted fresh tomatoes and red peppers is a silky comfort food soup at its simple best.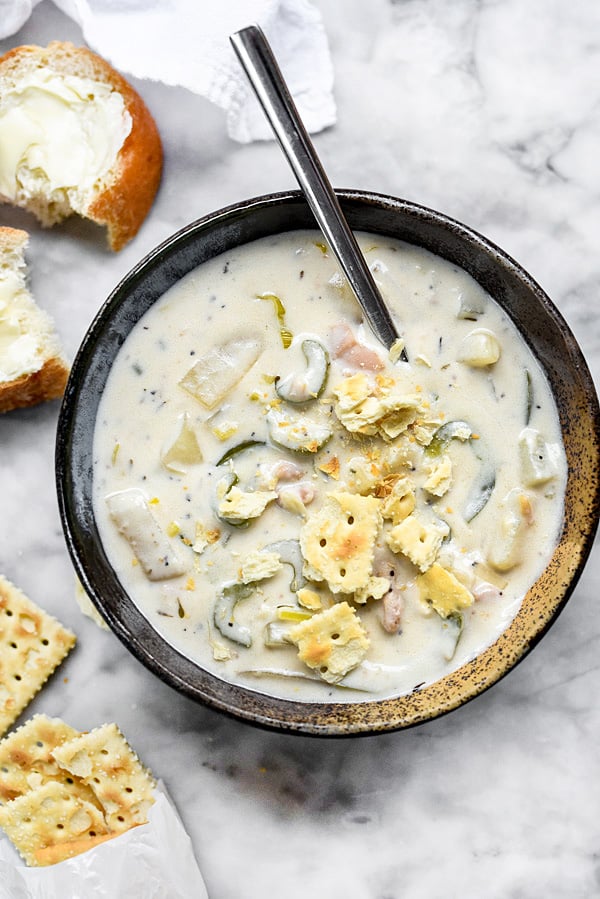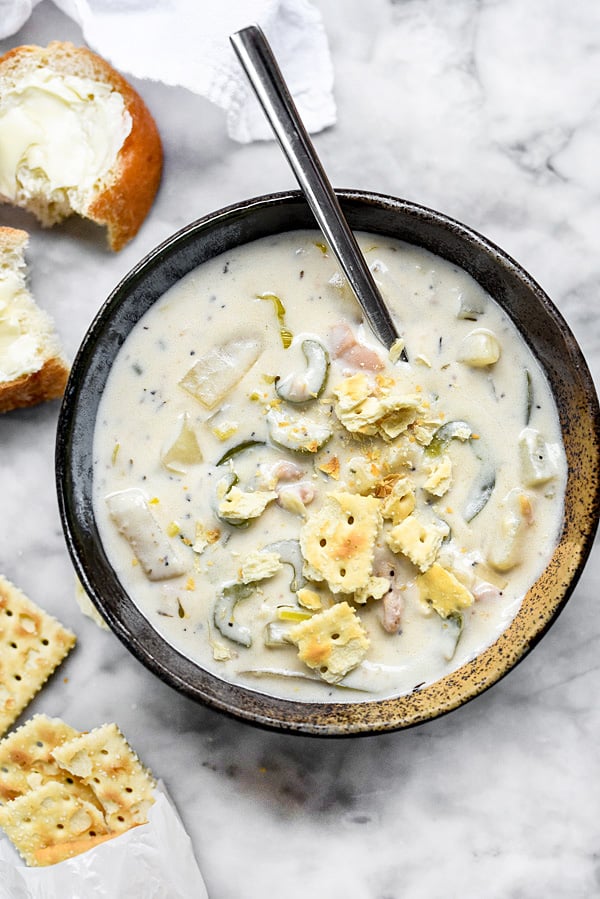 from FoodieCrush
Chris said: "Oh my goodness – this recipe must have been created in heaven! Creamy deliciousness with a nice amount of heat. I thought it was even better the next day.. and the next. This is a keeper. I can imagine it with lobster instead of clams. Thank you for sharing."
from FoodieCrush
Kayel said: "5 STARS! I added a tad bit of bacon grease and some bacon to this recipe and it was hands down the best soup I've ever had. Super excited fall is coming and I can make this soup again. Great recipe with baguettes."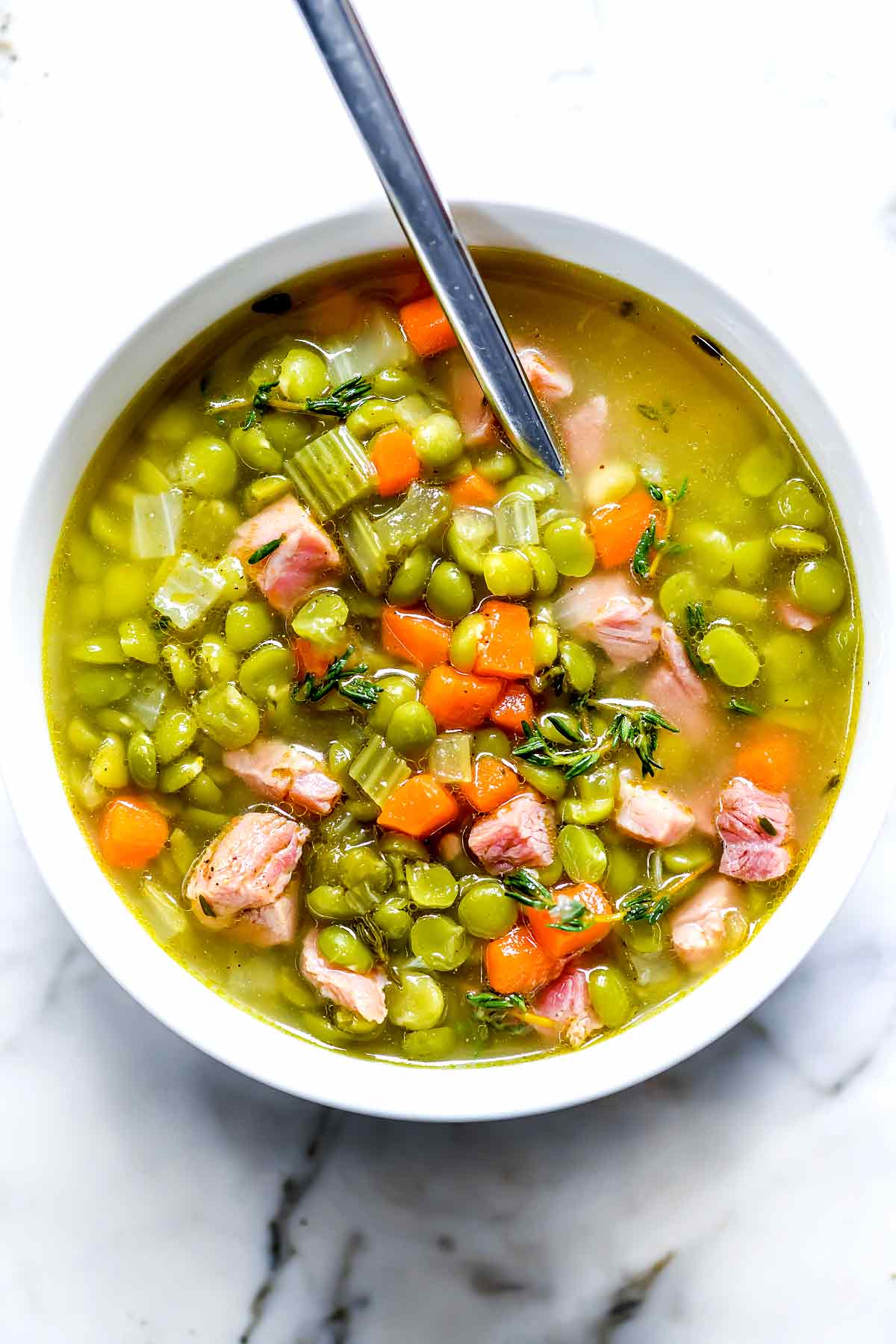 from FoodieCrush
This easy split pea soup gets its depth of flavor from sautéed carrots, onion, and celery cooked in a simple broth with smoky ham.
If you make this recipe, please let me know! Leave a ⭐️⭐️⭐️⭐️⭐️ rating on this recipe below and leave a comment, take a photo and tag me on Instagram with #foodiecrusheats.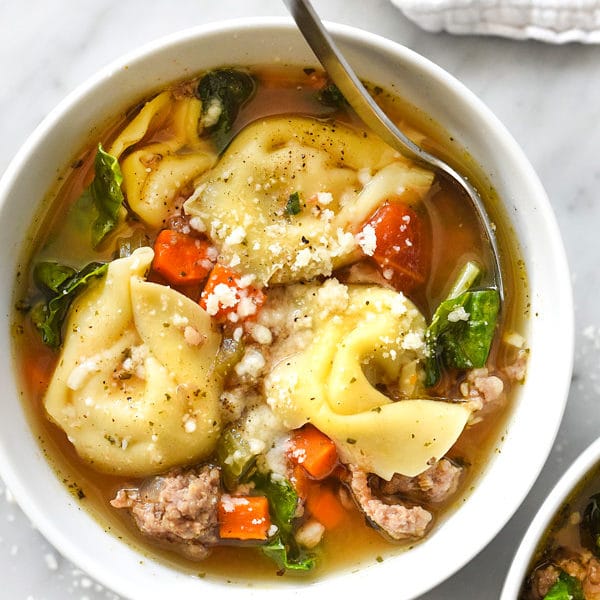 Print
30 Best Comfort Soups | Slow Cooker Tortellini Soup with Sausage and Kale
A clean, herb-infused broth makes this slow cooker tortellini soup with Italian sausage a favorite to keep in your weekly meal plans.
Ingredients
1

pound

ground sweet Italian sausage

1

onion diced

2

stalks celery diced

4

cloves

garlic pressed or minced

1

teaspoon

kosher salt

1

teaspoon

freshly ground black pepper

⅓

cup

sherry or dry white wine

2

carrots diced

1 15-

ounce

can diced tomatoes

8

cups

chicken stock

1

teaspoon

dried basil

1

teaspoon

dried oregano

½

teaspoon

dried parsley

3

cups

chopped lacinato dinosaur kale

veins removed

1

pound

fresh 3-cheese tortellini

Grated Parmesan cheese for garnish
Instructions
Preheat a large skillet over medium-high heat. Add the sausage and cook stirring occasionally until browned. Add the onion and celery and cook for 3-4 minutes then stir in the minced garlic, season with the kosher salt and freshly ground black pepper and cook for another 2-3 minutes. Add the sherry or white wine and scrape up any fond or bits on the bottom of the pan, cooking until it evaporates.

Transfer the sausage and vegetables to the insert of the slow cooker. Add the carrots, diced tomatoes, and chicken broth. Grind in the basil, oregano and parsley and stir. Cover with the lid and set the cooker to low and cook for 3 hours.

Add the tortellini and the kale to the slow cooker and cook for 30 minutes.

Ladle into bowls and sprinkle with parmesan cheese.
Notes
To make this tortellini soup in an Instant Pot, first brown the meat and vegetables using the browning setting. Then cook the soup using the slow cooker setting.
Nutrition
Calories:
506
kcal
|
Carbohydrates:
42
g
|
Protein:
25
g
|
Fat:
26
g
|
Saturated Fat:
9
g
|
Cholesterol:
72
mg
|
Sodium:
1405
mg
|
Potassium:
733
mg
|
Fiber:
4
g
|
Sugar:
8
g
|
Vitamin A:
5176
IU
|
Vitamin C:
40
mg
|
Calcium:
172
mg
|
Iron:
4
mg
More Comfort Food Recipes to Try
We send good emails. Subscribe to FoodieCrush and have each post plus exclusive content only for our subscribers delivered straight to your e-mail box.
Follow me on Instagram, Facebook, Pinterest and Twitter for more FoodieCrush inspiration.
As always, thank you for reading and supporting companies I partner with, which allows me to create more unique content and recipes for you. There may be affiliate links in this post of which I receive a small commission. All opinions are always my own.