This hearty vegetarian soup of chickpeas, kale, butternut squash and potatoes gets it's exotic flair from the vibrant Moroccan spices of saffron, cumin and cinnamon and is so easy to make.
Happy to the new, to the year, to you!
Let's start off the new year exactly where we should, with a big, fat THANK YOU to all of you readers. Cheers to your eyeballs, graciously deep bows for your desires to peruse this blog, and high fives for making recipes that are featured here. I wouldn't be here without you, and, why would I want to be? It would be mighty lonely around here if you weren't in it here with me.
Whiz, bang, boom. 2014 seems to have come and gone in the wink of an eye. Or was it just that jolly old man in the red and white suit? Either way, 2015 is already shaping up to be fit for a king.
But wait? Who wants to be some old, rolly-polly bully who sloths about his castle draped in old furs while wielding turkey legs and brandishing silver goblets of the most expensive wine as servants attend to his every whim.
Maybe I'm painting too rosy a picture here because that actually doesn't sound half bad.
But no! This year we're going to keep things balanced. We're going to rely on our instincts, on our guts, and make the most of every bite of fresh, ultra-flavorful food to nourish our bellies and our souls.
Let's Simply Start Small
This year I will be sharing a variety of different ingredients, recipes, ideas and strategies to help me, and you, make the small changes that add up to big differences. Or at least make you feel like you're making SOME progress in the always evolving game of taking life one step at a time.
But don't be feared. We aren't totally taking the wheels off the cart that sits before the horse. There will still be a healthy dose of butter, cheese and of course, carbs. I'm a living, breathing human being afterall!
Eating 'light', 'healthy' or even 'skinny' doesn't mean going without flavor. In fact, flavor is the secret ingredient no matter what the calorie count. Flavor follows suit whenever cooking is fresh, seasonal and delicious.
And that's the name of the game in this eater's book.
About the Recipe
This recipe is based on one I've had bookmarked forever (make that 2001) from a dog-eared issue of Bon Appetit. I mean, you rarely go wrong with Bon Appetit which is why I tend to keep them around.
There aren't many additions or subtractions to the original rendition of this recipe, mainly just more of the suggested amounts of spices and the addition of ground coriander for an even bolder flavor note. I took a note from this Moroccan Stew recipe and rather than adding the dried spices into the broth, I sautéed them with the onions and garlic for a smokier, richer flavor, to coax out their essence.
I don't use saffron too often in my cooking, mainly because I treasure a box of it I received from one of my dear friends whose father was a pilot and brought it back to me from one of his travels (here's looking at you Laila!) But why hold onto something just to save it and never enjoy it? Use it or lose it is my new mantra.
For extra nutrients and a little green (because I love the colors of the rainbow in every dish) I added chopped kale to the soup. Yes, I'm still on the kale train in 2015 and unlike some, I don't think anyone will see anything wrong with that.
If you make this recipe, please let me know! Leave a comment below or tag take a photo and tag me on Instagram or Twitter with #foodiecrush.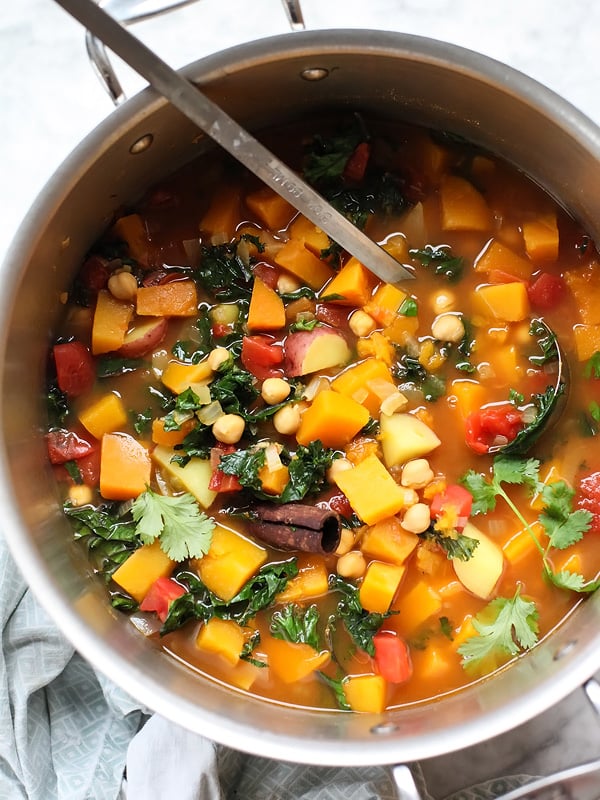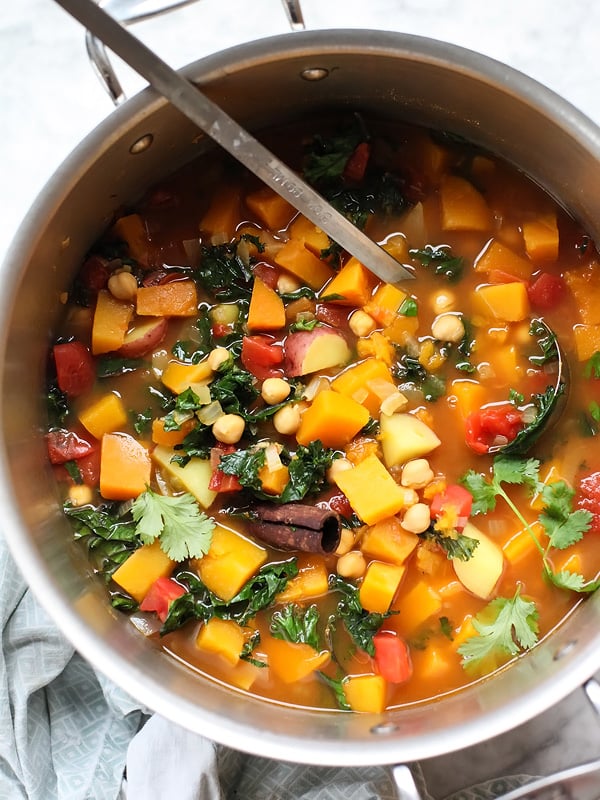 Print
Moroccan Soup with Kale and Chickpeas
This hearty vegetarian soup of chickpeas, kale, butternut squash and potatoes gets it's exotic flair from the vibrant Moroccan spices of saffron, cumin and cinnamon and is a breeze to make.
Ingredients
1

tablespoon

extra virgin olive oil

1

medium onion

, chopped

2

garlic cloves

, minced

1

teaspoon

saffron threads

2

cinnamon sticks

2

teaspoons

ground coriander

3

teaspoon

ground cumin

1 28-

ounce

can diced fire-roasted tomatoes in their juice

5

cups

vegetable broth

4

cups

butternut squash

, peeled and cut into ½ inch pieces

2

cups

russet potato

, peeled and cut into ½ inch pieces

1 ½

teaspoons

kosher salt

2 15-

ounce

cans garbanzo beans

, drained

4

cups

chopped kale

, stems removed

½

cup

chopped fresh cilantro
Instructions
Heat the oil in a large, heavy bottomed pot over medium heat. Add the onion and garlic and sauté for about 5 minutes or until tender. Stir in the saffron, cinnamon sticks, coriander and ground cumin and cook for 2-3 minutes until the spices are fragrant.

Add the diced tomatoes and their juice, chicken broth, butternut squash and potato and bring to a boil. Season with kosher salt. Reduce the heat to a simmer and cook for about 30 minutes or until the squash and potatoes are fork tender.

Stir in the garbanzo beans and chopped kale and simmer for 5 minutes or until chickpeas are warmed through and the kale starts to wilt. Garnish with cilantro leaves and serve.
Notes
adapted from Bon Appetit, December 2001
Make it a great day and cook something good.
Here's looking at you 2015. Yum.
As always, thank you for reading and for supporting companies I partner with, which allows me to create more unique content and recipes for you. All opinions are always my own.  
Are you following me on Instagram, Twitter, Facebook and Pinterest? Thanks for reading and  subscribe to FoodieCrush to have each post delivered straight to your e-mail box. 
SaveSave
SaveSave