How does the cook in the family shed a few pounds while making a meal the whole family will still crave and love? In Gina Homolka's mind, it's simple. You just need to get into the kitchen and start cooking.
The challenges of weight loss has been a universal struggle that has made the popularity of Gina's blog, Skinnytaste, the success that it is since it's beginnings in 2008. And it's the same exact reason her new cookbook has soared to the tops of the best-seller lists.
As the creator of  both publishing endeavors, Gina Homolka has found the secret ingredient that resonates with her readers: she solves cooking conundrums for dieters by delivering calorie conscious, but still totally crave-worthy, lightened-up family favorite recipes that are painless to plan and create. In fact her Fettuccine Alfredo with Chicken and Broccoli clocks in at just 420 calories per serving. Say what?
Now with her first cookbook,  The Skinnytaste Cookbook, legions of devout fans are going offline and straight to the cookbook shelves to discover recipes that she calls, "light on calories, big on flavor."
This Slow Cooker Chicken Enchilada Soup is just one of the many of Gina's recipes that have been tested, tasted and high five approved and I'm sharing the recipe, plus a giveaway for a copy of The Skinnytaste Cookbook, with you today.
Let's dig in!
As a skinny teen, Gina didn't need to worry much about her weight but as happens to a lot of us, the pounds crept on after having babies and growing older. To foil those pounds and get back into her skinny jeans, Gina joined Weight Watchers. Discouraged by the lack of recipes to make for her family, she found new ways to remake and lighten her favorite recipes and started her blog, making it easy for her whole family and online readers easy to follow her lead. 
As the mother to two busy girls, she knew changing her daughters' and husband's eating styles to fit her weight loss goals would be a challenge. And this girl was up to the task.
As a former graphic designer, Gina was used to creating solutions. She fell in love with digital photo retouching while working for a photography studio and later worked with the creative director for Apple to create their store window designs. A far cry from blogging? Maybe, but it's those same aesthetics she brings to the table in her blog, photography and creativity with recipes.
There are so many things I love about this cookbook but one of the most important is that Gina worked hand in hand with registered dietician Heather Jones, RD, who evaluated the recipes for nutritional content and that aren't simply diet food or recipes that starve you of your favorites.
Gina's recipes for Baked Potato Soup, Butternut Squash Lasagna Rolls and even Double Chocolate Chip Walnut Cookies that while low in sugar but still totally craveworthy. The Skinnytaste Cookbook delivers plenty of variety, making it a partner in the kitchen that will be cooked from for many meals to come.
Full disclosure, I'm working my way down the scale as a member of Weight Watchers myself. Like Gina, I want to be able to eat the foods I love, and by doing so in moderation, I still can. Carbs, fats, veggies and all are welcome contenders in the Skinnytaste way of eating so you can bet her cookbook will be getting a workout in my kitchen.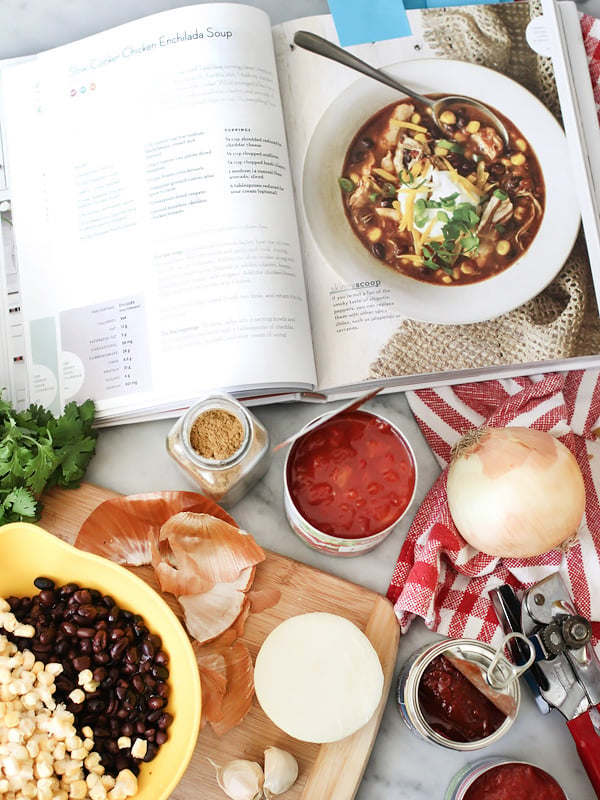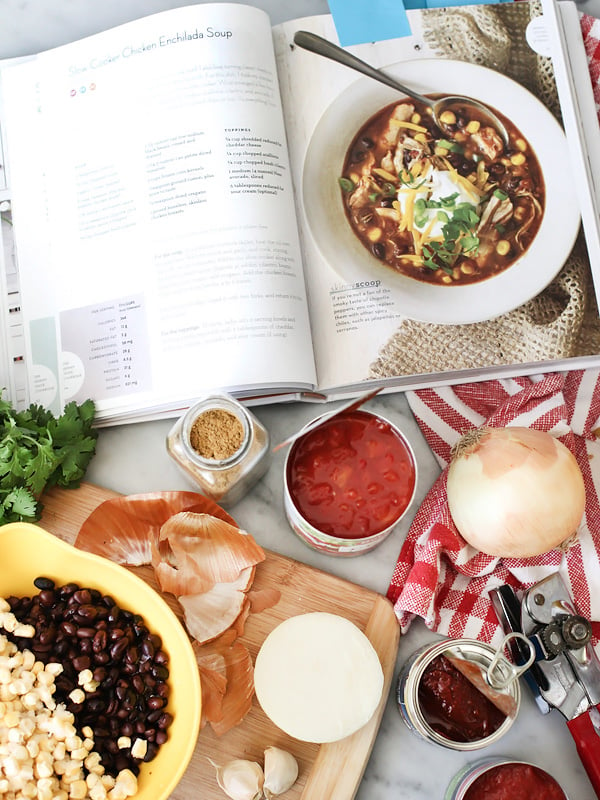 Behind the scenes with Gina of Skinnytaste
What inspired you to create a book? Have you always wanted to be a cookbook author?
I joked years ago about writing a cookbook back when I first started blogging, but never actually dreamed this would one day become a reality. Years later I was constantly getting emails, tweets and comments daily from Skinnytaste fans asking for a cookbook, so this was really something I did for them.
What was your favorite part about the book, and your favorite part about the process?
My favorite part about the book was seeing first hand how my recipes have helped people lose weight. My aunt, who is also a baker, did my recipe testing for the book. Daily she would eat lunch with me and I would send her home with dinner since there was so much food in my house. In the year we worked on the book together, she went from a size 14 to a size 4!
My favorite part about the process was the cookbook shoot with Penny De Los Santos. I've always admired her, and as a creative person and someone who dabbles in food photography I was so inspired to be working with her and her team; Simon Andrews the food stylist and Kaitlyn Du Ross the prop stylist.
What did you discover about yourself while writing it?
Writing a cookbook is a lot more work then it seems, and time management was essential to create recipes for both my blog and the book to meet my deadline. I had to get very organized, which is not my strength, but I created a system and discovered I'm a lot more organized than I give myself credit for.
From Gina's Instagram account, on the Before I Die Wall in Asheville, NC.
"My friend @sandycoughlinre took this photo of me last month in Asheville, NC. For fun I wrote NYTimes Best Seller. Well, this week I'm officially a NYTimes best seller!!! Thank you for making my wishes come true!!!"
And now, my list of 10 Q's with Gina of Skinnytaste
1. Describe your blog in 3 words:
Figure-friendly, family-friendly and helpful
2. If you could be one food blogger other than yourself, who would you be?
Jessica from How Sweet It Is (adore her!)  *See my interview with Jessica here – Heidi 
3. Which 3 blogs do you follow/are obsessed with/can't live a day without?
I wish I had time to read blogs daily, but these 3 are my top 3:
Design Sponge
Reluctant Entertainer
Tartelette
4. What is the one kitchen tool you could never give up?
My spiralizer – I'm obsessed! (See Gina's recipes here.)
5. What dish are you obsessed with mastering that you just can't get quite right?
Pie crust!
6. What did you have for dinner last night?
Grilled steaks with Sauteed Shredded Pancetta Brussels Sprouts and a salad.
Gina's daughter shows off her mom's handiwork with the special Target edition of Skinnytaste
7. What's one secret talent outside of the kitchen nobody knows about you:
I used to love to sketching – as a kid I was always drawing. I haven't picked up a pencil in years so I am pretty rusty, but I don't think you ever really forget how.
8. You're happiest when cooking/eating:
A big pot of Colombian Chicken Soup (Sancocho) It's a meal in a bowl with chicken on the bone, yucca, potatoes, cilantro and served with rice and avocado on the side.
9. For someone starting a lower calorie diet plan by cooking at home, what is your best advice to achieve success?
Plan your meals ahead for the week, make a shopping list and stock your pantry with fruit, healthy snacks and everything you need to set you up for a week of success. Also, if time is an issue, your slow cooker is your best friend – it does all the work for you while your away. Lastly, I like to make my own portioned "frozen meals" on weekends when I have more time to use throughout the month. Soups, stews, and chili all freeze well, and are easy to reheat for lunch and dinner when they are frozen in individual freezer friendly containers.
10. The one secret ingredient to your success is:
Listening to my Skinnytaste fans. I love their opinions and always try my best to answer all their comments and emails.
Thank you Gina! I'm thrilled to share your book and be a part of the Skinnytaste-lover fan club!
Win a Copy of The Skinnytaste Cookbook
Whether you're counting calories or just thinking about adding more nutritious home cooked meals to your weekly repertoire, The Skinnytaste Cookbook is a must have on your cookbook list and now you can have one of your own.
Just fill in the info in the widget below with one or more entries to be entered to win your own copy of The Skinnytaste Cookbook.  
Slow Cooker Chicken Enchilada Soup
This recipe is a shining example of the approachable recipes with a healthy twist you'll find in the cookbook. In fact this slow cooker soup was so family friendly my daughter ate it for 3 straight meals—at her request!
Chipotle peppers give the soup it's kick, and while some may anticipate a thicker broth when perusing the recipe, its definitely thinner than what you'd find on traditional enchiladas. It's skinny-fied!
The slow-cooked chicken came out perfectly tender and super easy to shred. I forgot to put the avocado on the bowls in the photos, but rest assured, it tastes delish when added.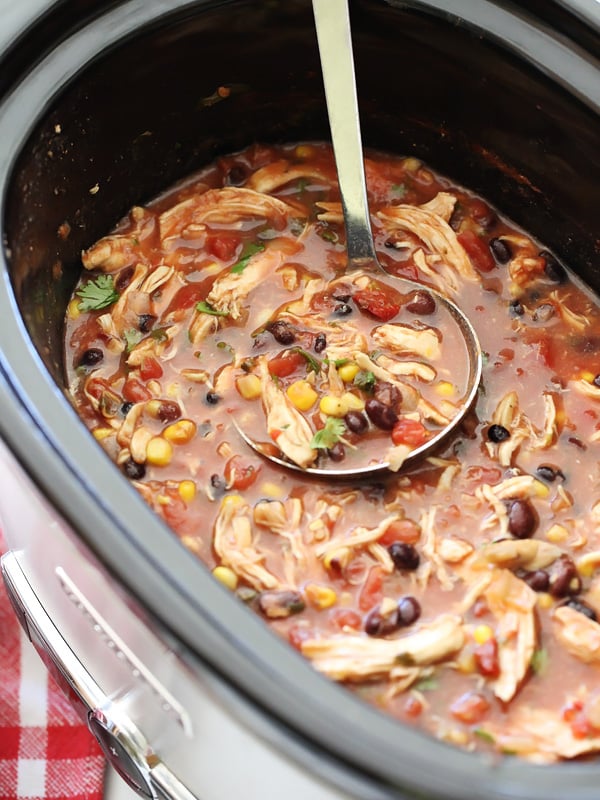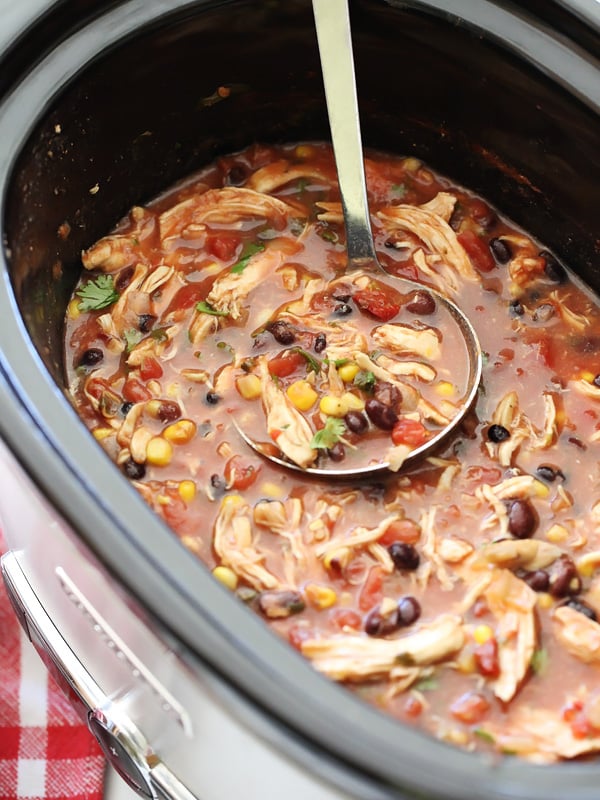 Print
Slow Cooker Chicken Enchilada Soup
Ingredients
For the soup
2

teaspoons

extra virgin olive oil

½

cup

chopped onion

3

garlic cloves

, minced

3

cups

low-sodium chicken broth

1

8-ounce can tomato sauce

1 to 2

teaspoons

chipotle chile in adobo sauce

, chopped

¼

cup

chopped fresh cilantro

1

15-ounce can low-sodium black beans, rinsed and drained

1

14.5-ounce can petite diced tomatoes

2

cups

frozen corn kernels

1

teaspoon

ground cumin

, plus more to taste

½

teaspoon

dried oregano

1

pound

boneless

, skinless chicken breast
Toppings
¾

cup

shredded reduced-fat cheddar cheese

¼

cup

chopped scallions

¼

cup

chopped fresh cilantro

1

medium

, 4-ounces avocado (optional)

6

tablespoons

reduced-fat sour cream

, optional
Instructions
For the soup
In a medium nonstick sillet, heat the oil over medium heat. Add the onion and garlic and cook, stirring until soft, about 3 minutes. Add to the slow-cooker along with the broth, tomato sauce, chipotle in adobo, cilantro, beans, tomatoes, corn, cumin, and oregano. Add the chicken breasts. Cover and cook on low for 4 to 6 hours.

Remove the chicken, shred it with two forks, and return it to the slow cooker.
For the toppings
To serve, ladle into serving bowls and dividing evenly. Top with cheddar cheese, scallions, cilantro, avocado, and sour cream (if using).
Notes
reprinted with permission by Gina Homolka, The Skinnytaste Cookbook
Find more of Gina on Instagram, Pinterest, Facebook and Twitter.
If you try this recipe, please let me know! Leave a comment below, or take a photo and tag it on Instagram or Twitter with #foodiecrush!
Portraits: Penny De Los Santos
As always, thank you for reading and supporting companies I partner with, which allows me to create more unique content and recipes for you. As always, all opinions are my own.  Affiliate links my be used in this post.
Are you following me on Instagram, Twitter, Facebook and Pinterest? Thanks for reading and  subscribe to FoodieCrush to have each post delivered straight to your e-mail box.