Before I talk about today's recipe, I want to send my heartfelt thoughts to those that were affected by the bombing yesterday at the Boston Marathon finish line. Thankfully my friend, and many of yours, Dara of Cookin' Canuck and her family—in Boston to cheer on her husband Steve who crossed the finish line just 3 minutes before the bombing—have let us all know via Twitter that they are fine even with the blast happening just one block and three minutes away from them.
Timing. It's a tenuous thing.
My thoughts and prayers go out to all of the families and participants, volunteers and emergency care workers who were affected, especially those that could not walk away. Special prayers to the family of the 8 year old who was killed in this manic event. That hits way too close to home. I cannot imagine.
Why did this happen? Why do any of these deranged plots happen? What are people thinking? I just can't wrap my head around why anyone, ANYONE, thinks this is a good way to prove a point, gain notoriety or to simply create chaos through terror.
The only way I know how to address this is to love my loves and look for beauty and unselfishness in this unstable world. I hope you can too.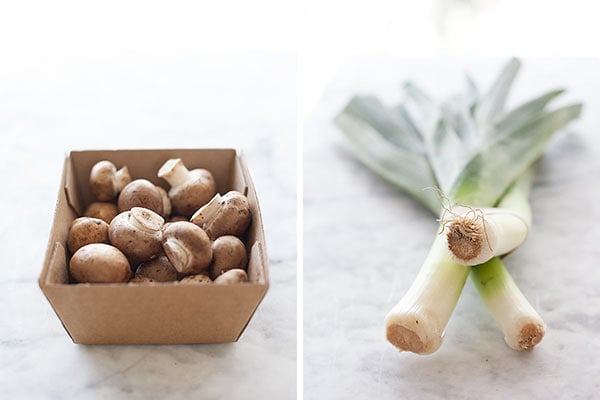 I'm very much a creature of habit. Or more likely a creature of cravings. When it comes to going out to eat I can rarely motivate myself to deviate from my standard favorites, especially when it comes to any sort of ethnic food. Mexican food: I always gravitate to the Chile Rellenos. Sushi: I must have Spicy Tuna anything.
When it comes to Italian, its rarely a question of what to order once the waiter rolls around: Gnocchi please. The sad thing is, at most Italian eateries gnocchi isn't always standard fare. That's why Sea Salt in Salt Lake City is one of my favorite spots to eat, since they have at least 5 different gnocchi recipes on the menu.
While Gnocchi alla Norma is my favorite and will make the blog sometime in the future, I'm working on spreading my wings and rallying through the rest of the menu at Sea Salt. Yep, I'm going wild around here. At least in the gnocchi department.
How it has taken me this long to get these potato pillows on the blog is beyond me.
This gnocchi isn't your typical gnocchi. It's big, fluffy and cheesy. I thought of calling it a gnudi but since it does indeed showcase classic baked potato put through a ricer rather than being made mostly of ricotta cheese, it's still a gnocchi in my book. 
Some recipe tips:
1. Bake your potatoes and bake them good. The first time I made this I was a little impatient and didn't bake my potatoes long enough. Pushing hardened little nuggets of rock hard potatoes through a ricer or a food mill takes the strength of a bodybuilder, but it doesn't have to. Mine did, and I ended up throwing them all away and starting over. Make sure yours are nice and fluffy to create a light as a pillow potato bite.
2. Ricers are nicer. Another time I made this I had the bright idea to give the food processor a try, to let the machine be the muscle. Don't do it. Instead pump your biceps and rice away, to create a light and fluffy potato shred instead of a hashbrown.
3. Creamy is dreamy but light is just right. I've lightened up this creamy version by using half and half cooked down and reduced to thicken rather than the full cream version I use in my Meyer Lemon Fettuccine—you know, with swimsuit weather approaching and all. If you're finding this sauce to be a little limp for your taste, add a pat or two of butter, or make with full cream, or you could always add more parmesan cheese to thicken the sauce to your preference.
4. Veg out. This should go without saying, but do experiment with what's in your larder when it comes to adding and switching up the veggies. There are too many wonderful combinations out there to discover.
Print
Spring Vegetable Gnocchi
Ingredients
For the Gnocchi
1 ½

pounds

baking potatoes

, (2 large Idaho russets)

1 ½

teaspoons

kosher salt

½

teaspoon

fresh grated nutmeg

2

egg yolks

, beaten

¾

cup

all-purpose flour

, plus more for dusting

1

cup

grated Parmesan cheese
For the Sauce
1

tablespoon

olive oil

1

leek

, white parts only, thinly sliced

6

ounces

baby brown mushrooms

, quartered

3

cloves

garlic

, minced

2

cups

half and half

1

pound

skinny asparagus

, trimmed and cut in 1-inch lengths

¾

cup

petite green peas

1

teaspoon

lemon zest

¼

cup

basil

, thinly sliced

Kosher salt and freshly ground black pepper
Instructions
Preheat the oven to 400°F. Scrub the potatoes and poke all over with a fork then place on a baking sheet lined with foil and bake for about 1 hour and 15 minutes or until potatoes are fork tender. Slice the potatoes in half lengthwise until cool enough to handle.

Scoop out the potato flesh with a spoon and press the flesh through a

ricer.

Measure 3 cups of potatoes into a pile onto a work surface. Sprinkle the potatoes with kosher salt, nutmeg and drizzle the egg yolks. Dust with ½ cup flour. Using a bench scraper, gently fold the flour into the potatoes and egg yolks.

Dust the dough with the remaining ¼ cup flour and the parmesan cheese. Lift, fold and press with the scraper until most of the flour and cheese is mixed in. Press the dough into a ball. Scrape the work surface clean with the bench scraper and then dust with more four.

Fold and knead the dough with your hands on the work surface for two turns.

Layer a baking sheet with parchment paper and sprinkle with flour. Quarter the dough and then roll ¼ of the of the dough into a ¾ inch wide rope. Cut into 1-inch pieces with the bench scraper and place on the baking sheet. Repeat with the remaining dough. Place the dough in the refrigerator until ready to cook.

Meanwhile, heat olive oil in a large skillet over medium high heat. Add leeks and mushrooms and cook for 4 minutes, stirring occasionally. Add garlic and cook for 1 minute then add half and half and cook for 5 minutes or until sauce has reduced by half. Turn heat to low and mix in parmesan cheese, peas, lemon zest and season with kosher salt and freshly ground pepper. Cook for an additional minute or until cheese is melted and peas are heated through.

Bring a

large stockpot

of water to a boil. Salt the water for flavor. Cook the gnocchi in the gently boiling water just until they float to the surface, about 1 ½ minutes. Using a slotted spoon, transfer the gnocchi to the skillet with the sauce. Add the asparagus to the hot water, cook for 3 minutes then transfer to gnocchi with slotted spoon, add the basil and gently fold to coat. Season to taste with more salt and pepper and garnish with additional parmesan cheese and basil if desired.
Nutrition
Calories:
618
kcal
|
Carbohydrates:
69
g
|
Protein:
26
g
|
Fat:
28
g
|
Saturated Fat:
15
g
|
Polyunsaturated Fat:
2
g
|
Monounsaturated Fat:
10
g
|
Cholesterol:
164
mg
|
Sodium:
1328
mg
|
Potassium:
1474
mg
|
Fiber:
7
g
|
Sugar:
7
g
|
Vitamin A:
2292
IU
|
Vitamin C:
32
mg
|
Calcium:
505
mg
|
Iron:
7
mg
Thanks for reading and please keep in touch by subscribing to FoodieCrush and follow me on Twitter, Facebook, Pinterest. This site includes affiliate shopping links of which I receive a small percentage of sales to allow me to create new and special content like this for my readers, so thank you for your support. All opinions are my own.