Who loves a decadently-decorated, ready to dive into cheese board? Apparently everyone. These days you can barely skim through your Instagram feed without seeing one and liking, liking, liking. So what happens when you take baked chicken wings and draft them as the standard board's starting player? THIS!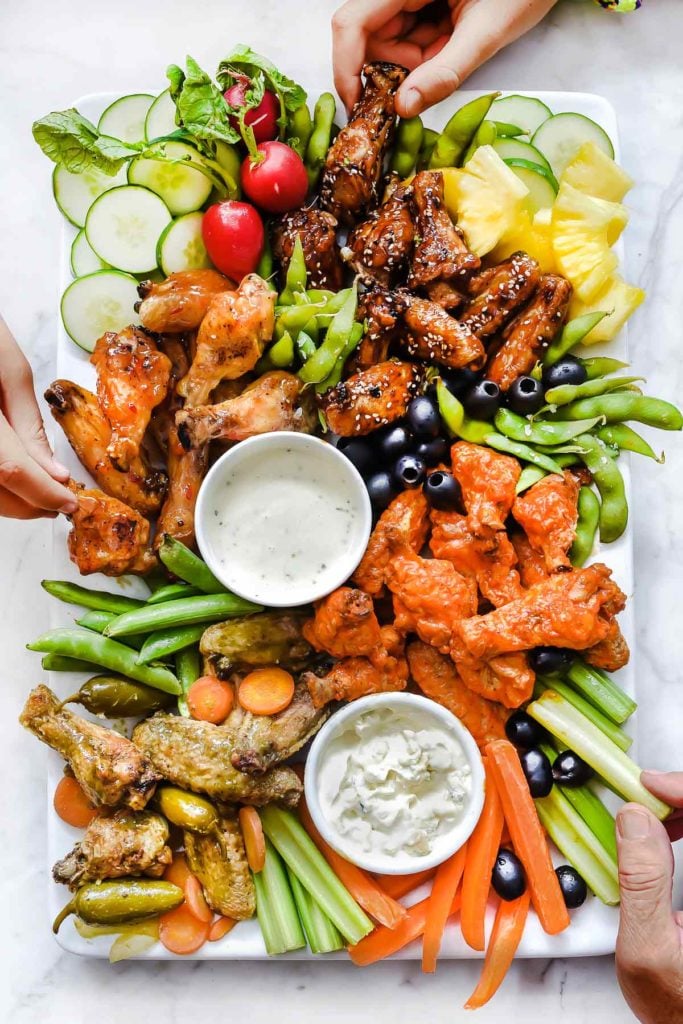 This recipe is brought to you by Kroger
Crispy Oven Baked Chicken Wings
Today we're taking the concept of everyone's favorite cheese board and putting it into game-day chicken wing overdrive that starts with a crispy baked chicken wings recipe that's then dressed in four different sauces and teamed up with all the dippers for a chicken wing platter that's sure to score.
We all know the game-day tailgate drill:
Decide on a menu that's easy-ish to transport.
Hustle to the grocery store to get the shopping done.
Start cooking. Realize you forgot something.
Head back to the store.
Look at the clock and wipe the sweat from your brow.
Finish cooking. Pack up the food. Freak out that everyone else isn't ready to leave yet (because they're waiting for you. Doh.).
Swing back by the store for ice for the cooler.
Hope that nothing spills in the car on the way over.
Unpack. Set up. Wish you'd remembered the paper towels to clean up the car.
Really, really wish for that beer but the chip dish needs a refill first.
Wait! Whhhhaaat?
The game's about to start and we already have go to our seats? But we haven't even gotten started yet!
guys. Guys. GUYS! Game day feasting doesn't have to go down that way. It's why I have a new favorite way to enjoy my tailgate festivities, and it all starts at home.
Introducing the game-day homegate party, where it's easy to prep for, and do I dare say actually become an enjoyable event to cheer, jeer, drink your beer all in the comfort of your own home. Or better yet, at a friends (and leave the clean-up for them to do later!)
With Kroger's new ClickList online ordering, grocery shopping for game day greats and homegates or tailgates has seriously never been easier.
All it takes is a few clicks on your computer or smart phone to place your order and schedule a pick up.
I gotta be honest here. I was perfectly fine with my packaged goods orders being shopped by someone else, but I seriously had my doubts when I heard someone other than me would be picking out my veggies, meats and fish.
But now…believe me…I'm in the store just about every day and I've seen the care (and questioned the ClickList employees extensively) that these ClickList shoppers take in going through the entire bunch to find the almost-ripe avocado, choosing a perfectly marbled ribeye, and doing everything they can so the juicy Asian pear doesn't get bruised in the shopping transfer. And yes, I'm the stalker who's talking to the shoppers and checking their experiences too.
It's just one reason why ClickList makes for a perfect game-day homegate party planning solution, because:
You can hang at home instead of hitting the store.
You can dress in your team colors and easily be ready for the game.
You can turn on the TV, set the DVR, and lazily prep for the game while watching reruns of Real Housewives of one or another county instead of worrying about our impending guests.
Then make a few clicks. Click. Click. More clicks (dont' forget the sweet treats!)
And order all of the groceries you need for your #gamedaygreats party (including the ice!) and have your friends pick up everything you need on their way over to your house (or theirs!) to cook and feast together. (And if you're in the area, you can have it delivered to your door. Coming soon nationwide!)
No game day sweat, right?!
I teamed up with Maria of Two Peas and Their Pod and we gathered our Utah Utes-obsessed-fanned families to get our tailgate on with me making a savory chicken wing board while she chose to create a sweet and salty board. Perfect complements to an easy homegate game day.
Check out the video of how we did it below 👇🏼 👇🏼 👇🏼 👇🏼 👇🏼
What's in These Baked Chicken Wings?
To make a game day chicken wing plate totally simple and easy to prepare, bake off this simple baled chicken wing recipe and then toss with different flavored sauces paired with noshes and bites that complement the flavor profiles of each of the wing combinations.
For the oven baked chicken wings themselves, you'll need:
Chicken wings
Olive oil
Kosher salt
Black pepper
Your wing sauce of choice (keep scrolling for my recipes!)
How to Bake Chicken Wings
Baking chicken wings in the oven couldn't be simpler! To get these chicken wings crisped and still juicy, drizzle them with a light touch of olive oil and then season with kosher salt and freshly ground black pepper. Yep that's all there is to it.
Layering the wings on a baking/cooling rack over a baking sheet lined with foil allows the oven heat to circulate and cook the wings evenly and crisply and makes clean up a snap. Try to use a baking rack larger than your baking sheet to ensure adequate air circulation for baking.
Can I Prep Baked Chicken Wings in Advance?
Yep! These wings can be baked through ahead of time then refrigerated until ready to eat. Pop back into a 400°F oven for 15-20 minutes to heat through, then toss with sauce of your choice below.
My Go-To Chicken Wing Sauce Recipes
Now that you know how to bake chicken wings, let's dive into the good stuff: the wing sauces. Because no crispy oven baked chicken wing is complete without a generous dousing of wing sauce.
Here are four of my favorite wing sauce recipes at the moment:
Thai-Inspired Chile Garlic Baked Chicken Wings
The recipe for this baked wing recipe is as simple as baking the wings then tossing in a bowl and drizzling with a sweet Thai-inspired chile wing sauce. I used the Private Selection brand and it was spot on for sweet and spice. It's a one and done proposition.
To round out the Asian flavors for this board, these are the sides I surrounded them with:
Kosher salted Private Selection edamame in their pods
Fresh spicy radishes
Fresh snap peas
Slices of crisp crunchy cucumber
Simple Truth Ranch dressing for a cooled off dipping
Classic Frank's RedHot® Buffalo Chicken Wings
A newly minted classic chicken wing board platter wouldn't be complete without a smattering of the wing of all chicken wings: Buffalo Wings. Thanks to its spicy vinegar tang, there's no reason to ever replace using Frank's RedHot Sauce as the base for this chicken wing sauce.
To make buffalo chicken wing sauce, simply combine:
To this section of the plate, add:
Sesame Hoisin Chicken Wings
A newly minted, classic chicken wing board platter wouldn't be the same without an Asian twist.
To make, coat with a sauce that's simply whisked together and made from:
4 tablespoons of hoison sauce
2 teaspoons of sesame sauce
2 teaspoons of rice wine vinegar for tang
Sesame seeds for sprinkling
Keep the Asian section of the platter flowing by plating the wings with:
salted edamame pods
fresh cut pineapple
black olives
and more cucumbers
Mexican Jalapeño Tomatillo Baked Chicken Wings
Adding a spicy bite to this platter rounds out the ethnic flavor field.
Making the chicken wing sauce couldn't be easier.
Serve with:
pickled jalapeños and carrots
and dip into Ranch dressing for a cooling bite.
And there you have it. Four chicken wing recipes thanks to a base of one. That's how you get your game day on.
More Easy Game Day Appetizers to Make
If you make this recipe, please let me know! Bookmark this recipe and leave a comment below, or take a photo and tag me on Instagram with #foodiecrusheats.
Print
Crispy Baked Chicken Wings
Healthier crispy baked chicken wings are dressed in four different sauces and teamed up with all the dips for a chicken wing platter that's sure to score.
Ingredients
2-3

pounds

of chicken wings

Olive oil

Kosher salt and freshly ground black pepper

Sauce of choice

, (see ideas in blog post above)
Instructions
Preheat the oven to 400°F.

Line a rimmed baking sheet with foil and top with a baking rack (preferably one that hangs over the rims).

Trim the chicken by separating the drummette from the flat wingette and discard the tips.

Toss the chicken in a large bowl with a generous drizzle of olive oil then place the chicken wings on the baking sheet and sprinkle with the kosher salt and freshly ground black pepper.

Bake for 40-50 minutes or until golden and crispy. Toss with your favorite sauce (see ideas and recipes in post above).
Notes
To ensure a crispy wing, choose a baking rack just larger than your baking sheet so the heat circulates all the way around the chicken as it cooks in the oven.
Nutrition
Calories:
44
kcal
|
Protein:
4
g
|
Fat:
3
g
|
Saturated Fat:
1
g
|
Cholesterol:
15
mg
|
Sodium:
14
mg
|
Potassium:
31
mg
|
Vitamin A:
29
IU
|
Vitamin C:
1
mg
|
Calcium:
2
mg
|
Iron:
1
mg
Even More Easy Appetizers, Just Because
We send good emails. Subscribe to FoodieCrush and have each post plus exclusive content only for our subscribers delivered straight to your e-mail box.
Follow me on Instagram, Facebook, Pinterest and Twitter for more FoodieCrush inspiration.
This post is in partnership with Kroger. As always, thank you for reading and supporting companies I partner with, which allows me to create more unique content and recipes for you. There may be affiliate links in this post of which I receive a small commission. All opinions are always my own.