These tips for setting up your own DIY mimosa bar make it easy for the hostess to relax as guests help themselves at your weekend brunch, wedding, bridal shower, or other reason to celebrate.
Unlike cocktail party martinis or game-day beer busts, mimosa brunches aren't intended to get anyone hammered or be the stepping stone to the dance floor and get the party started. Instead, they're for those of us who appreciate a barely buzzed, lazy day, bubbly champagne sipper.
I recently hosted my niece's bridal shower and like any good hostess, my first goal of the party was to keep things easy on myself. I set up a DIY bagel brunch bar with a few salads and desserts so the guests could help themselves.
For drinks, I thought abut setting up another on of my famous DIY Bloody Mary Bars, but feeling the need for something more refined, I made a DIY mimosa bar with all the makings for the perfect mimosa recipe instead.
Stocked with plenty of chilled and bubbly sparkling wine, fresh juices, and fun fruits to add to the champagne flutes, a DIY mimosa bar for baby showers, Mother's Day, Easter, or just about any excuse for a holiday is just the right recipe for adding a little fizz to the day's festivity.
How to Set Up a Mimosa Bar
Whether they're confident behind the bar or not, offering a do-it-yourself mimosa bar won't intimidate any of your guests because mimosas themselves are so easy to make. Here's what you need to know to set up yours.
Where to set up the mimosa bar. Because your guests will be helping themselves, designate a table, bar cart, or area of the countertop where guests can easily move around to access the mimosa ingredients with enough space to set down their glass, and mix. I set up my drink stations in a different area than the food to avoid a crowded cluster.
How to keep your bubbles chilled. Mimosas are best served without ice (who would want to dilute them?) so you'll want to be sure your champagne is kept cold. Use a wine bucket and keep it replenished, or use a beverage tub like the clear one in the pic above that I picked up on last summer's grocery store clearance rack.
How to serve the juice. Plan to have enough pitchers or carafes for the number of different juices you plan to offer. The carafes don't need to be an exact match, but your presentation will look more put together if they're in one or two of the same styles (glass, ceramic). I like using glass so guests can easily see what they're pouring and for a pop of color to the table.
Here are a few of my favorite carafes for serving juice or drinks:
Pull out the flutes. This bar is meant to be festive so absolutely dig into the back of the closet for those champagne flutes you've used twice in your adult life. Or, if you don't have a set to show off, these plastic champagne flutes will totally do the trick. Avoid the plastic flutes that come in two pieces to attach the base—they never stay on.
Plan on having one glass per person, plus a few extra on hand for guests whose accidentally were drank by someone else by mistake. #raisinghand
TIP: Separate your champagne flutes from the rest of the items table by placing on a tray. This helps corral them and also adds a little visual interest.
Small bowls are the hostess's best friends. I collect small bowls like these not just for separating my ingredients while cooking, but exactly for entertaining opps like this. Have enough bowls that are similar in size for each additional ingredient your guests can add to their drinks. And don't forget small serving spoons, forks, or toothpicks for stabbing.
Mimosa Bar Ingredients
There are a few simple basics to offer when making mimosas, but feel free to go off script if you have ideas of your own.
What is the best champagne to use for mimosas? While champagne is one of my favorite drinks of all time, don't waste the expensive French stuff on mimosas. Go with a dry or semi-dry sparkling wine or sparkling wine from California, Oregon or Washingtion, a Spanish Cava, or Italian Prosecco instead. The dryer wine balances out the sweetness of the juices making mimosas more drinkable. If you really want to flaunt it and impress with champagne, choose a dry Brut.
How many glasses of mimosas per bottle. For every 750 ml bottle of sparkling wine, plan on getting 6-8 mimosas. For a party of 20 people where each guest will likely have two to three drinks, plan on 8 bottles of sparkling wine.
Offer a variety of juices for mimosas. While mimosas are traditionally made with orange juice, a mimosa bar is the time to go off script and mix and match for new, fun, flavors.
Set out place cards or label your juice decanters so guests know which is which.
Here's a few juice ideas for mimosas to consider:
orange juice (have 2x the amount of orange juice on hand than the other juices)
peach nectar or pureé
mango juice
cranberry juice cocktail
watermelon juice
pomegranate juice
pineapple juice
strawberry purée
Add the add-ins. Adding a few berries to the mimosas adds another reason to cheers. Fill small bowls or ramekins with these ideas for guests to drop into their drinks:
pomegranate seeds
raspberries
blueberries
strawberries
blackberries
fresh herbs like mint, basil, rosemary sprigs
orange slices
pineapple wedges
kiwi rounds
For even more details on this boozy beverage, see my recipe for how to make the perfect mimosa.
If you make this recipe, please let me know! Leave a comment below or take a photo and tag me on Instagram with #foodiecrusheats.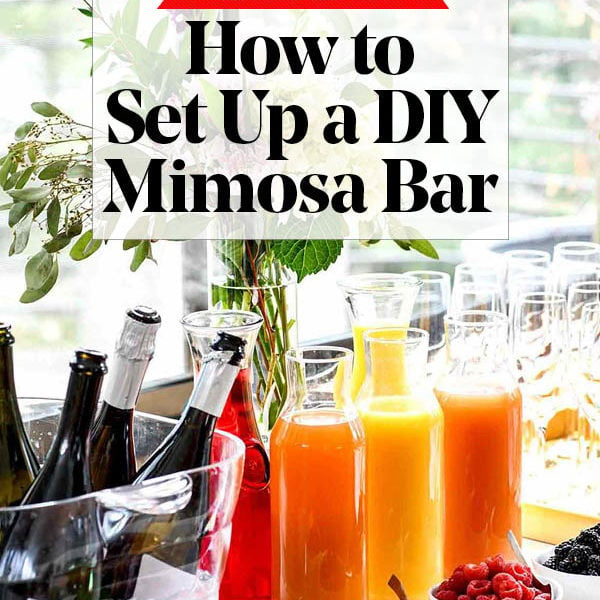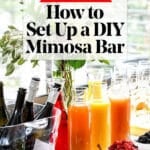 Print
How to Set Up a DIY Mimosa Bar
Set up your mimosa bar in an area away from the food so there's less congestion or waiting in line.
Ingredients
1

750 ml

bottle of sparkling wine, Cava or Prosecco

(makes about 8 mimosas)

variety of juices such as orange juice, pomegranate juice, peach nectar, mango juice, etc.

fresh fruits like raspberries, blackberries, blueberries, strawberries, pomegranate seeds

fresh herbs like mint, basil, rosemary sprigs
Instructions
Chill the sparkling wine for at least 3 hours before serving. Set out in a beverage tub filled with ice.

Arrange juices and fresh fruits on the table along with champagne flutes.

Add 1 part juice to 2 parts sparkling wine to flute. Garnish with fruit or herbs as desired. Refill as needed :). Cheers!
More Champagne Drinks to Say Cheers To
See more of my brunch recipes here. What's your favorite way to celebrate brunch? Leave your idea in the comments below.
Craving more life balance, less stress, and better health? Check out my Nourished Planner, the daily planner to help create simplicity and under-schedule your life.
We send good emails. Subscribe to FoodieCrush and have each post plus exclusive content only for our subscribers delivered straight to your e-mail box.
Follow me on Instagram, Facebook, Pinterest and Twitter for more FoodieCrush inspiration.
As always, thank you for reading and supporting companies I partner with, which allows me to create more unique content and recipes for you. There are affiliate links in this post of which I receive a small commission. All opinions are always my own.