You might have a secret desire to be Suzy homemaker. Or to be known as the Martha Stewart of your neighborhood. Or strive to be just like whoever that overachiever is on Pinterest who makes, creates and cooks every. single. thing. from scratch.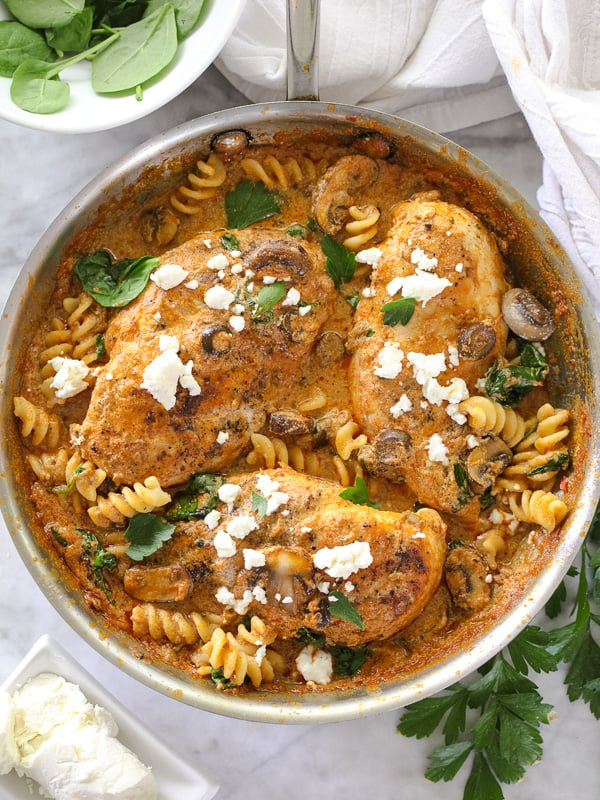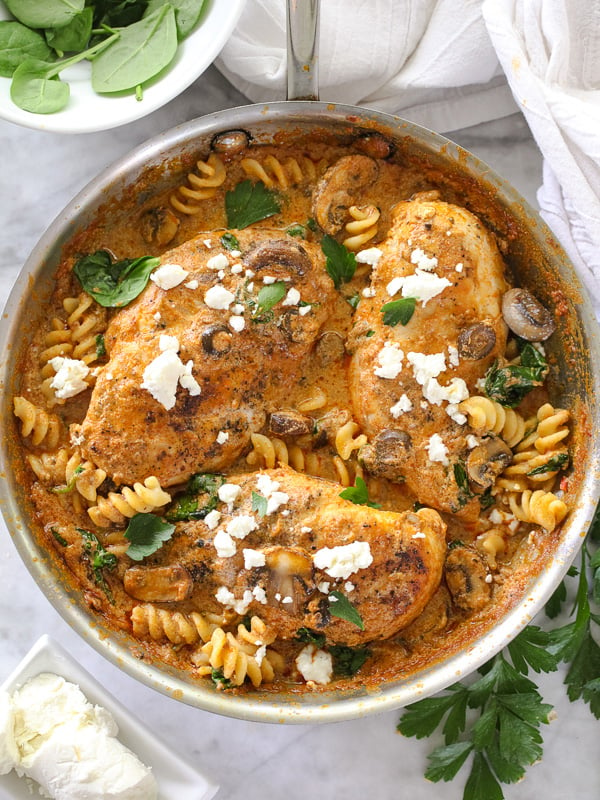 I'm here to tell you that it's okay to let those dreams die.
It's okay to take a short cut here and there.
You don't have to do it all, every. single. time. Especially when it comes to weeknights in the kitchen when all you're craving is some simple, easy comfort food.
Hey! Let's jump on the short cut, one-pan-dinner train together.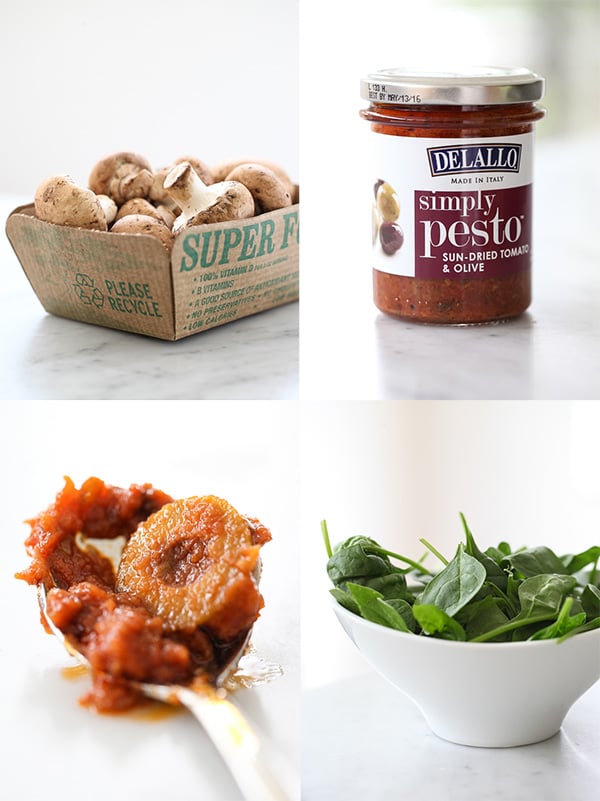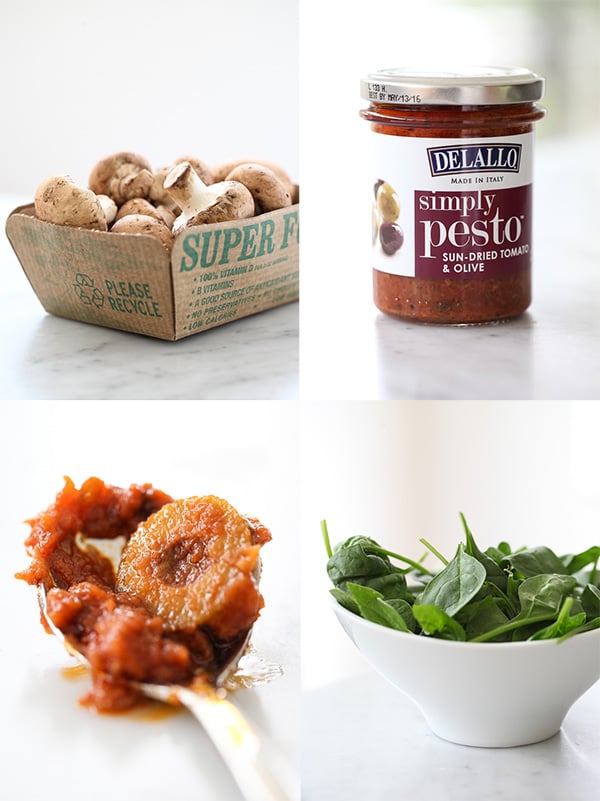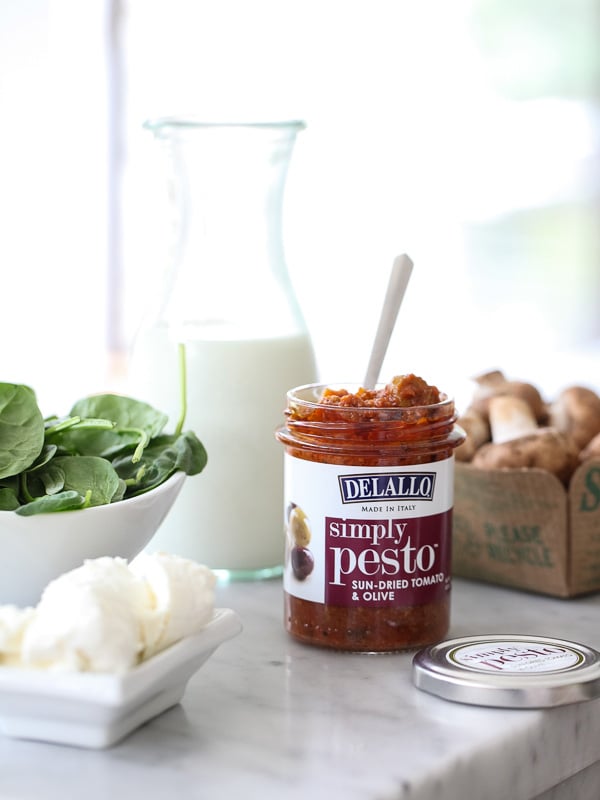 There are the times when only fresh will do. That's when I make homemade pesto. And then there are times when certain measures must be taken to maintain sanity in the household. That's when I'm more than happy to use a flip of the wrist and dig into a jar of pesto straight from my pantry.
I love a good, herbaceous basil pesto, but I do like to change things up and my man just gave me good reason to do so stat.
After way too many to count years together, the other day my husband announced that he simply isn't a fan of sun-dried tomatoes. What? How could he have hidden this from me all these years? I can only imagine the reason he made the statement is due to the fact he was eating a garden ripe tomato.
DeLallo's Simply Pesto Sun-Dried Tomato with Olive is the perfect antidote and peace keeper in the kitchen. It's a mix of sun-dried tomatoes and olives in a smooth and somewhat spicy bite that totally jives with my husband's tastebuds. And with a dose of half and half, it makes a killer creamy sauce for a one-pan chicken dinner.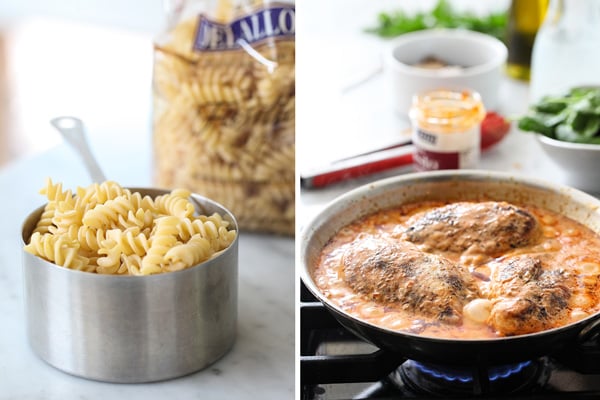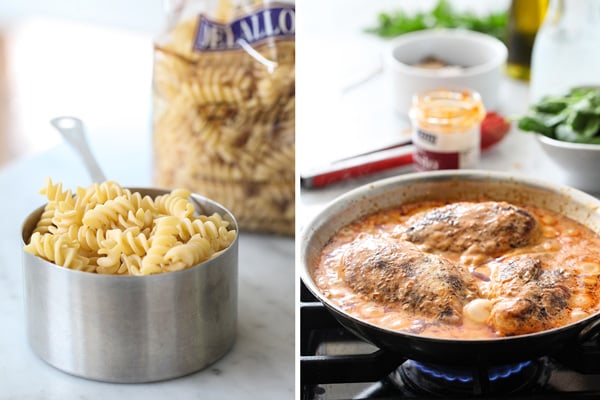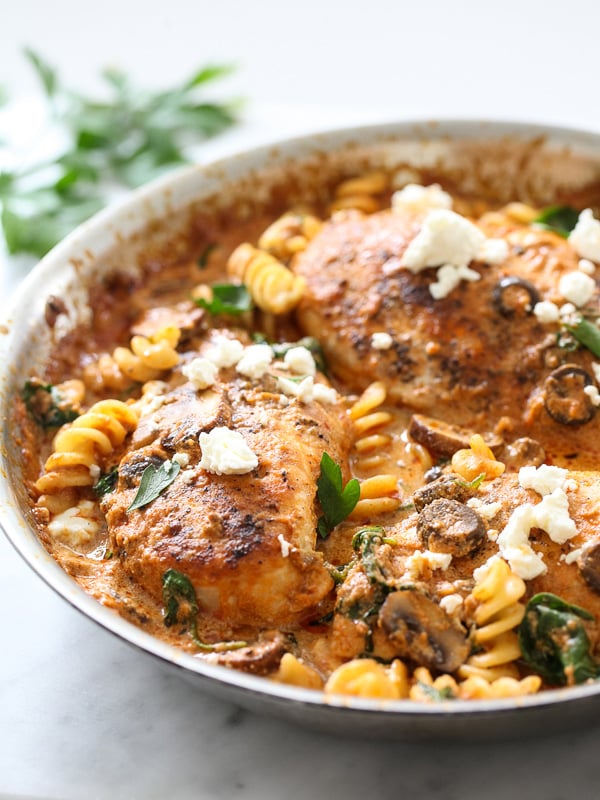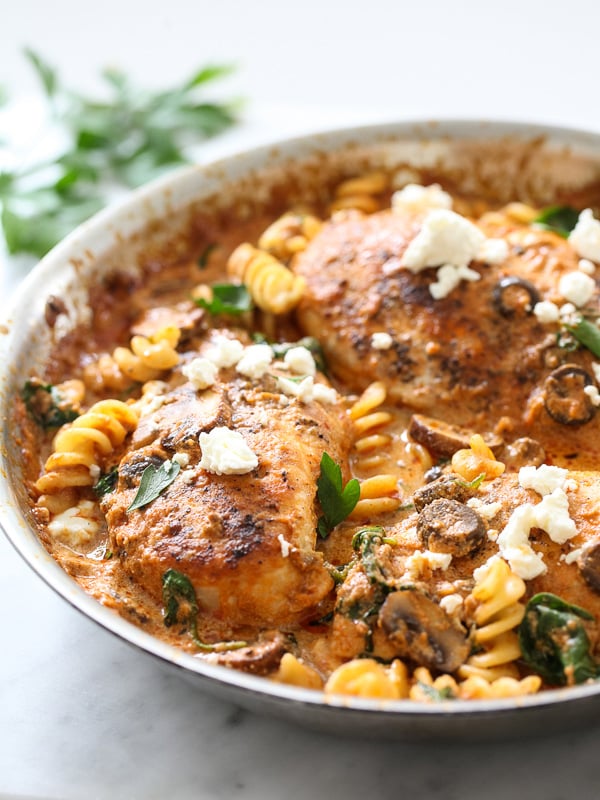 About the recipe:
Whether it's chicken, meat or pasta, for some reason I always think I need to add garlic and onion to a sauce. No need here thanks to the wonderworld of DeLallo's Simply Pesto. It has plenty of flavor for the whole dish. I did add a pinch or two of kosher salt to bring out the flavors just a bit more.
I added slices of baby bella mushrooms and fresh spinach to up the vegetable ante and work in a few more healthy gold stars in our diet. If you don't have them on hand, no big deal. The dish would be just as creamy and delicious. Or, consider adding in red bell pepper or zucchini instead.
I gave this creamy dish just a bit more creamy flavor with a sprinkling of tangy goat cheese. Salty parmesan or asiago would be fine substitutions.
After mixing the half and half and the pesto together , don't be alarmed if it looks to be separating. The sauce will come together as it cooks down and also as it cools upon serving.
I added the cooked fusilli pasta to pan to coat the pasta, but if you prefer, serve the plain pasta on the side of the plate and top with the chicken breast and sauce.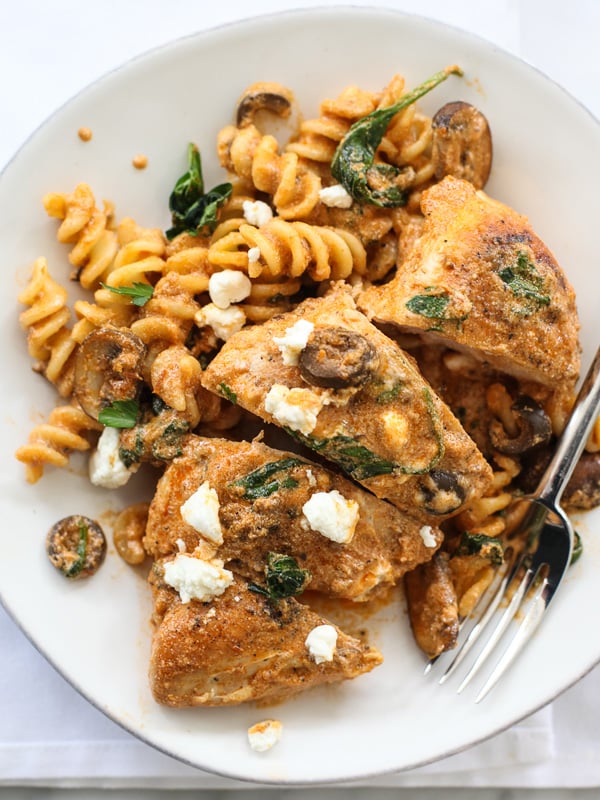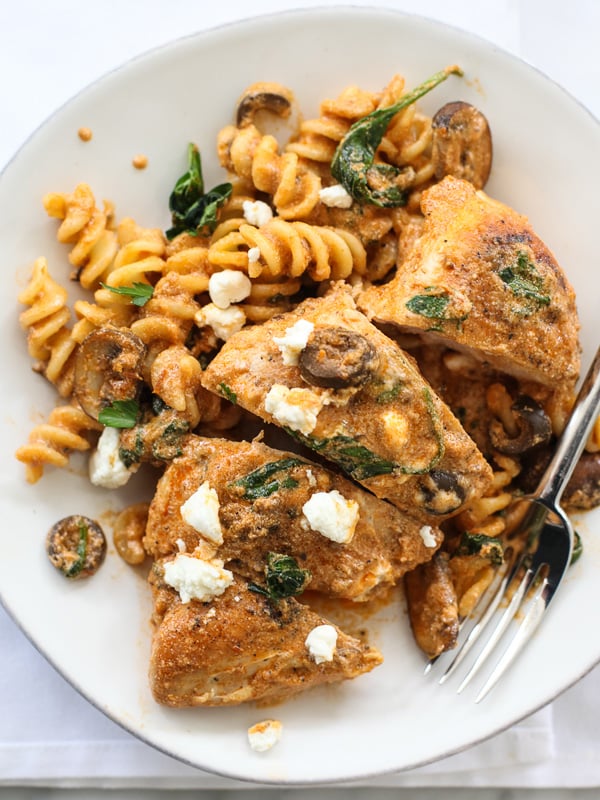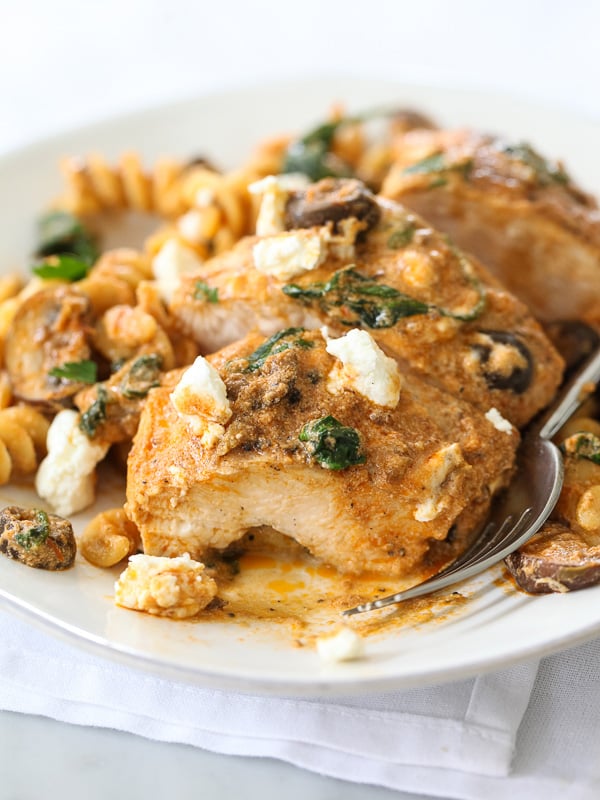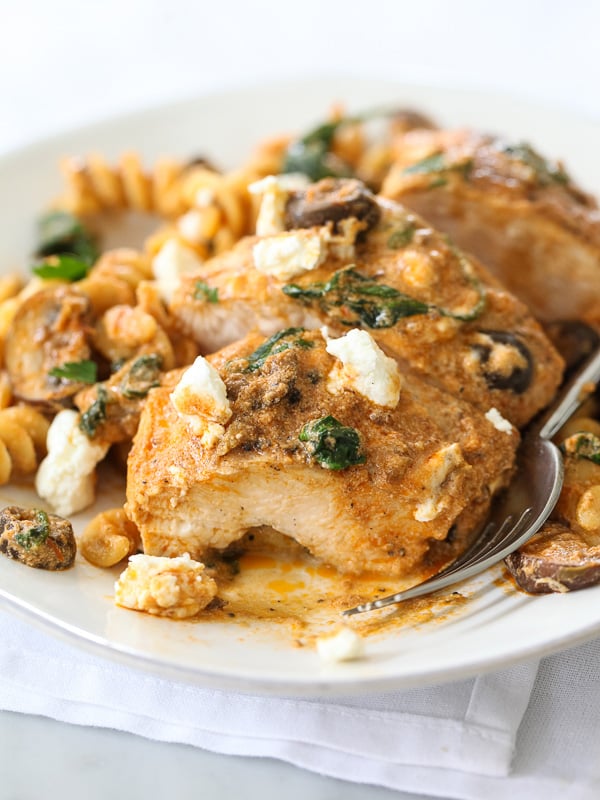 Print
One-Pan Chicken with Creamy Sun-Dried Tomato Pesto Sauce
Ingredients
2

cups

dried fusilli pasta

3-4

skinless

boneless chicken breasts (1 ¾ to 2 pounds)

kosher salt and freshly ground black pepper

10

baby bella or cremini mushrooms

cleaned, stemmed and sliced

2

tablespoons

extra virgin olive oil

1

tablespoon

butter

1 ⅓

cup

half and half

1

jar DeLallo Simply Pesto Sun-Dried Tomato with Olive

6.35 ounces

2

cups

fresh baby spinach leaves

¼

cup

crumbled goat cheese

1-2 ounces

Italian flat leaf parsley for garnish
Instructions
Cook pasta according to package directions, drain and set aside.

In a large skillet heat 1 tablespoon of the oil and 1 tablespoon of the butter over medium heat. Add the mushrooms and cook for 3-4 minutes, stirring once or twice then transfer to a bowl.

Meanwhile, season chicken with kosher salt and freshly ground black pepper. Heat the remaining tablespoon of oil to the pan and add the chicken. Cook for about 12-15 minutes or until no longer pink (165 degrees F), turning once. Remove the chicken from the skillet and transfer to a plate.

Add the half and half to the skillet and whisk in the

DeLallo Simply Pesto Sun-Dried Tomato with Olive

. Season with kosher salt to taste and cook for 2 to 3 minutes then return the mushrooms and chicken to the sauce and mix to coat. Cook for 3 to 5 minutes or until sauce has reduced slightly. Mix in the spinach. If desired add the cooked pasta to the pan and stir to coat or serve the chicken and sauce over the plain pasta. Garnish with crumbles of goat cheese and parsley.
This post is sponsored by DeLallo Foods. As always, thank you for reading and supporting companies I partner with, which allows me to create more unique content and recipes for you. This post contains affiliate links. As always, all opinions are my own.  
Are you following me on Instagram, Twitter, Facebook and Pinterest? Thanks for reading and  subscribe to FoodieCrush to have each post delivered straight to your e-mail box.