Nobody's going to give you the side-eye if you buy a bag from the grocery store, but homemade croutons are so quick and easy to make, they're totally worth making from scratch instead.
Easiest Salad Croutons
Homemade garlic croutons. They're the crunchy toppers I crave for my fave tomato basil soup, and are an essential part of every classic Caesar salad. And let's face it, what kid doesn't pick out all of the croutons from their dinner salad before they even touch the greens? Okay, and a whole bunch of adults too.
Grocery store or salad bar croutons can be dry, hard nuggets that could nearly break a tooth with each bite. But this homemade crouton recipe makes soft on the inside, crisp on the outside flavor crunches with each cube of bread bit bites.
Making croutons at home is super easy to do and takes only about 15 minutes to bake a batch. Baking them in the oven is the easiest way to cook them, but I'm sharing how to make them on the stovetop as well.
Add your own favorite seasonings and spices—garlic and herb is my favorite—and you'll find yourself making these bread bites all of the time, too.

The Best Bread for Croutons
The idea for making homemade croutons usually hits when you find that loaf of leftover sourdough or French bread you don't want to go to waste. Croutons to the rescue.
Croutons are basically rebaked chunks of bread that have been flavored with oil or butter and seasoned with herbs, dry cheeses, or spices.
A sturdy, hearty load of bread makes the best croutons. The airy crumb allows air to circulate and keeps the insides soft with a crunchy crisped crust that adds texture to any dish or salad.
But, don't feel totally limited if you have other kinds of bread you'd like to try. Ciabatta, pugliese, country french rolls, or and any good quality bakery. Croutons can be made with gluten-free bread, white sandwich bread, and even leftover hot dog buns can make a decent crouton in a pinch.
Ingredients for Homemade Croutons
Croutons are chunks of bread flavored and seasoned with herbs or spices that are rebaked in the oven or sautéed on the stove.
You can totally customize flavors and seasonings, but here are the basics you'll need:
high quality bread, like sourdough or French bread
olive oil (or butter if you prefer)
garlic
parsley or other herbs
kosher salt and freshly ground black pepper
How to Make Croutons in the Oven
The big flavor for salad croutons comes from the oil or butter you toss them with. I like tossing the bread crumbs in oil that's been steeped with sliced cloves of garlic that are discarded before adding the oil to the bread crumbs. It's the same technique I use in my caprese pasta salad with garlic marinated tomatoes.
Toss the bread crumbs in a bowl with the oil before baking, and toss again with the herbs and seasonings in the same bowl after baking to pick up any loose bits of flavor. Like popcorn, season the bread crumbs while they're hot so it sticks.
Scatter the bread crumbs on a baking sheet so there's space between for the air to circulate and crisp the bread as they cook in the oven.
The trick to making the bread crumbs tender inside and crusty out isn't to broil them high and fast, but to bake them lower and slower—375°F for just 10 minutes or until they're golden, flipping them mid way through cooking, or more if you'd like. Keep an eye on them as they cook so they turn golden, not brown or burnt.
How to Make Croutons on the Stove
To make homemade croutons on the stovetop, toss the bread cubes into the pan with the garlic infused oil after the garlic slivers are removed. Heat the cubes over medium high heat and cook, tossing every few minutes, until golden brown, about 10 minutes. Add back to the bowl and toss with seasonings.
Seasonings for More Flavor
Making croutons from scratch gives you the chance to play with the flavorings, and make them just the way you like them. Start with the base recipe then mix and match other ingredients and make them your own.
Flavor ideas to add if you like:
Parmesan cheese

Dried herbs like oregano, rosemary, thyme, marjoram, sage, or Italian seasoning

Chile powder or cumin

Garlic salt or garlic powder
Nutritional yeast for a vegan nutty cheese flavor
Lemon zest
How to Store Homemade Croutons
Store your salad croutons in an airtight container for up to 2 weeks, or freeze for up to 2 months. To use, bake the frozen croutons on a baking sheet at 300°F until thawed and crisp.
Should I Use Fresh or Dried Herbs?
Either will work! Dried herbs can be tossed with the bread cubes before they're popped into the oven, whereas fresh herbs should be tossed with the croutons after they've been baked.
Tips for Making Homemade Croutons
When heating the garlic in the oil to flavor it, keep an eye on the garlic so it doesn't burn. Burnt garlic tastes extremely bitter and will drastically alter the flavor of your croutons.
Be sure to toss the bread cubes with the oil before baking them. You want the oil to be evenly distributed and every bread cubes to have a light coating of oil.
Remember to flip the croutons mid-way through baking to ensure they brown even on all sides.
Meals and Dishes Croutons Go With
If you make this recipe, please let me know! Bookmark this recipe and leave a comment below, or take a photo and tag me on Instagram with #foodiecrusheats.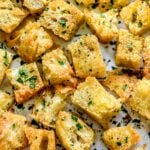 Print
How to Make Homemade Croutons
Use a sturdy white bread like sourdough or an Italian pugliese and add your own favorite seasonings, herbs or spices—garlic and herb is my favorite—and you'll find yourself making these bread bites all of the time, too.
Ingredients
4

cups

bread cubes

cut into ¾ inch squares from a sturdy bread like sourdough

½

cup

extra virgin olive oil

3

garlic cloves

thinly sliced

2

tablespoons

Italian parsley

minced

½

teaspoon

kosher salt

½

teaspoon

freshly ground black pepper
Instructions
Preheat the oven to 375° F.

Place the bread cubes in a large bowl and set aside. Heat the olive oil and garlic in a small saucepan over medium heat until the garlic begins to turn golden and becomes fragrant, about 4-5 minutes. Be careful the garlic doesn't burn or it will taste bitter. Strain or pick the garlic cloves out of the oil and discard or save for another use.

Drizzle the oil over the bread cubes and toss to coat. Scatter onto a rimmed baking sheet and bake for 10 minutes or until the bread cubes are golden, flipping the cubes occasionally. Remove from the oven and add back to the bowl. Toss with the parsley and salt and pepper and set aside to cool. Store in an airtight container for up to 2 weeks.
Notes
Store in an airtight container for up to 2 weeks, or freeze for up to 2 months. To use, bake the frozen croutons on a baking sheet at 300°F until thawed and crisp.
Nutrition
Calories:
197
kcal
|
Carbohydrates:
14
g
|
Protein:
3
g
|
Fat:
14
g
|
Saturated Fat:
2
g
|
Sodium:
292
mg
|
Potassium:
61
mg
|
Fiber:
1
g
|
Sugar:
2
g
|
Vitamin A:
84
IU
|
Vitamin C:
2
mg
|
Calcium:
42
mg
|
Iron:
1
mg
More Homemade Salad Fixings You'll Love
We send good emails. Subscribe to FoodieCrush and have each post plus exclusive content only for our subscribers delivered straight to your e-mail box.
Follow me on Instagram, Facebook, Pinterest and Twitter for more FoodieCrush inspiration.
As always, thank you for reading and supporting companies I partner with, which allows me to create more unique content and recipes for you. There may be affiliate links in this post of which I receive a small commission. All opinions are always my own.