Your slow cooker does all the hard work for you in this pork green chili recipe. Hatch green chiles are the star of this soup, but jalapeños can be used if needed!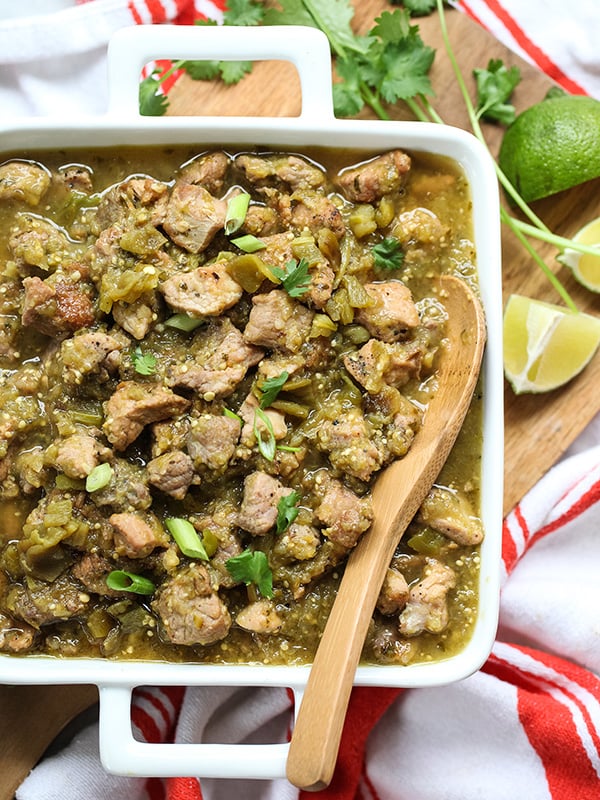 Searching for Hatch Green Chile Recipes
Here is the thing about eating seasonal: You eat it while it's fresh and you eat it 'til it's gone.
I've pretty much been living this mantra all week long thanks to a batch of Hatch chiles I was gifted that resulted in an unofficial Hatch chile week in my kitchen, on my dinner table, and here on the bloggity blog.
I was gifted these pretty little peppers by my friend Amanda, who brought them to me from New Mexico where Hatch chiles are authentically grown. Because it's hard to get them fresh and locally here in Utah, I was thrilled! What a great hostess gift for a heat seeking foodie, don't you think?
With so many options of how to put these chiles to work, I took to my Facebook page and asked you what recipes you wanted to see. Along with the favorites chile-topped cheeseburgers, chile rellenos, and enchiladas, here's what you had to say:
Lisa said: "Green chile stew. I use the recipe from the Santa Fe school of cooking. Delish!" (I'm freezing some chiles so I can make Amanda's version of this in the slow cooker this winter after a chilly ski day.)
Heather asked for: "Salsa verde!" Check that! Get my recipe for Hatch Chile Salsa Verde here. (P.S. You'll need it for this recipe, too!)
Faye requested: "Hatch Chili and Chorizo Frittata." I'm putting it on a to-make list.
Desiree commented: "I made a Hatch chile pull-apart bread," and doesn't it look good!
Christopher may have been the most adventuresome of the group and a dyed in the wool Hatch chile lover. He said: "I roasted 25lb. I use them in eggs, smoothies, ice cream, hot and sour soup, stews, rice and bean burritos. I go through about a 1lb every week." 

The man likes it spicy.
In then end, I had some great ideas to work with. But my husband ended up trumping them all with his request for a homemade Chile Verde, aka pork green chili.
Creating This Pork Green Chili Recipe
Chile verde is one of those recipes that for some reason has escaped me because I haven't been able to figure out the secret to make it taste like my favorite restaurant-style staple. I've searched my recipe books, perused the archives and more archives of my hoarding of food magazines and yes, did some serious research online.
I also asked my brother-in-law—who is somewhat famous in the family for his green chili recipe—what his secret is. "Lots of salsa, and other green stuff like green enchilada sauce." Whew. He didn't say he used cream of chicken soup.
While researching online, I discovered plenty of similar renditions of what to use as my main ingredients. Green enchilada sauce. Jarred salsa verde. A variety of spices. And even chicken thickened with corn starch. Hmmph. Let's give it a spin.
My initial test in creating this pork green chili recipe was a fail. I wanted to make this recipe one that's a true, one-pot-slow-cooker-meal. One that doesn't dirty a bunch of other pans. That cooks in one step.
But to develop the flavors into the thick mix my husband loves to top his tortillas, my throw it all in a pot attitude didn't pan out. Literally. My onions were too hard. The sauce too soupy. And even though I browned my pork (that I cut too big) in a light coating of flour and sizzled it up in a pan, I was missing the simple, pork-infused flavor we were seeking.
More research ensued. More testing that still wasn't quite right. So I went to the source.
I went to the little homestyle Mexican restaurant we buy our chile verde for our Chile Verde Huevos Rancheros.
I bought a side of their chile verde to taste test. Man, that stuff is good! Then I asked. Sometimes you just have to ask.
Her recipe is simple. No herbs, no broth and absolutely (she emphatically said NO!) no corn starch for thickening. It all starts in the oven with a roast of fresh tomatillos, chiles, onions and garlic.
I had already roasted my Hatch chiles (find out how I roast chiles here) and so I got started on her salsa verde recipe that is the base to this recipe that I shared here.
What's in This Pork Green Chili?
For all the effort I put into perfecting this chili verde recipe, it wound up being a straightforward recipe with just 10 ingredients (yes, 10!). To make this flavorful and deceptively simple green chili recipe, you'll need:
Tomatillos
Yellow onion
Garlic
Hatch chiles
Fresh cilantro
Pork sirloin roast
Olive oil
Butter
Kosher salt
Pepper
How to Make Pork Green Chili
First, you'll need to roast the onion, garlic, and tomatillos until they just start to brown. Carefully transfer the roasted veggies to a blender and pulse until smooth. Add the cilantro leaves and kosher salt and pulse a few more times until mixed.
Then cut the pork into small bites, season it generously with kosher salt and pepper, and brown it in a pan. By using both olive oil and butter, I was able to raise the temperature to sear the pork rather than steam it (the combo results in a higher burn point). Note that I also cooked the pork in two batches so not to crowd the pan.
Then, the pork and salsa verde goes into a slow cooker and cooks for a few hours until the pork is tender and its juices infuse the sauce with exactly the flavor we were looking for.
What? No chicken broth? No liquidy salsa? NOPE! One of the rules of cooking anything in the slow cooker is that the juice you add will most likely be the same at the beginning of the cooking time as it will at the end.
There's no place for the liquid to evaporate since it's covered the whole time. That's why there's no need for extra liquid in this recipe.
Can I Make This on the Stovetop?
Yes, but you'd want to add about a cup of chicken stock to the chili verde and add more throughout the cooking process as needed. Use a heavy bottomed saucepan and keep the lid on the entire time this chili is simmering on your stovetop.
Can I Freeze Pork Green Chili?
Yes, let it cool completely before freezing it in freezer-safe containers or bags. If you freeze this chili verde in medium-sized mason jars, you can reheat them one at a time any time you need an individual serving of soup.
Tips for Making Pork Green Chili
Adjust the amount of hatch chiles in the sauce according to your own heat index. My chiles were pretty spicy this time around, but that may not be the case next time.
And if you don't have fresh Hatch chiles, roast 1 or 2 jalapeños with the tomatillos, onion and garlic, then blend together. And at the end of the dish, if you're craving more heat, simply add a few more chopped roasted chiles to kick it up.
Also note that you need to buy tomatillos for this recipe and NOT green tomatoes. They look similar, but they have very different flavors and textures.
More Hearty Chili Recipes to Make
If you make this recipe, please let me know! Leave a comment below or take a photo and tag me on Instagram or Twitter with #foodiecrusheats.
Print
Slow Cooker Pork Green Chili
Your slow cooker does all the hard work for you in this pork green chili recipe. Hatch green chiles are the star of this soup, but jalapeños can be used too!
Ingredients
2

pounds

tomatillos

husked and rinsed

1

medium yellow onion

peeled and quartered

4

cloves

garlic

peeled and smashed

2-4

roasted hatch chiles

or one fresh jalapeño, stemmed

1/3

cup

loosely packed cilantro leaves

1

teaspoon

kosher salt

2

pounds

pork sirloin roast

2

tablespoons

olive oil

1

tablespoon

butter

kosher salt and freshly ground black pepper
Instructions
Preheat the oven to 450 degrees F.

Spray a baking sheet with cooking spray and place the tomatillos, quartered onion and garlic cloves on the baking tray. If using a jalapeño, add it to the baking tray with the other vegetables.

Roast the vegetables for 20 minutes flipping the vegetables at the 10 minute mark. The tomatillos should be lightly charred and the onion beginning to brown.

Transfer the roasted vegetables and roasted Hatch chiles (or jalapeño) and any remaining juice on the baking sheet to a food processor or blender. Blend until almost smooth. Add the cilantro leaves and kosher salt and pulse a few more times until mixed. Set aside or place in the refrigerator until .

Cut the pork roast into 1/2-inch by 1-inch pieces of pork. Season well with kosher salt and freshly ground black pepper.

Place a large skillet over medium high heat and add 1 tablespoon olive oil and the butter. Transfer half of the pork to the skillet and cook for about 4 minutes on each side, turning once or twice until the pork is browned on all sides. Transfer to a slow cooker and repeat with remaining pork.

Add all of the cooked pork and any bits and juice to the slow cooker. Pour all of the salsa verde on the pork and cover with lid. Set slow cooker to high and cook for 4-5 hours or low for 8-10 hours.

Serve warm with tortillas or use as sauce for enchiladas.
Notes
If you're looking to add more heat, add extra chopped chiles as a garnish.
Nutrition
Calories:
177
kcal
|
Carbohydrates:
8
g
|
Protein:
22
g
|
Fat:
6
g
|
Saturated Fat:
2
g
|
Cholesterol:
59
mg
|
Sodium:
290
mg
|
Potassium:
668
mg
|
Fiber:
2
g
|
Sugar:
5
g
|
Vitamin A:
262
IU
|
Vitamin C:
31
mg
|
Calcium:
18
mg
|
Iron:
1
mg
More Slow Cooker Soup Recipes You'll Love
We send good emails. Subscribe to FoodieCrush and have each post plus exclusive content only for our subscribers delivered straight to your e-mail box.
Craving more life balance, less stress, and better health? Check out my Nourished Planner, the daily planner to help create simplicity and under-schedule your life.
Follow me on Instagram, Facebook, Pinterest and Twitter for more FoodieCrush inspiration.
As always, thank you for reading and supporting companies I partner with, which allows me to create more unique content and recipes for you. There may be affiliate links in this post of which I receive a small commission. All opinions are always my own.