Today's style of healthy eating is all about eating the rainbow and there's no easier way to do it than by meal prepping ingredients that when combined together create nutritious meals made in half the time.
This easy orange marinated chicken with sesame flavored broccoli rice (yes, broccoli as rice!) will totally bowl you over. Get it? Ugh. Now why did I have to go and do that???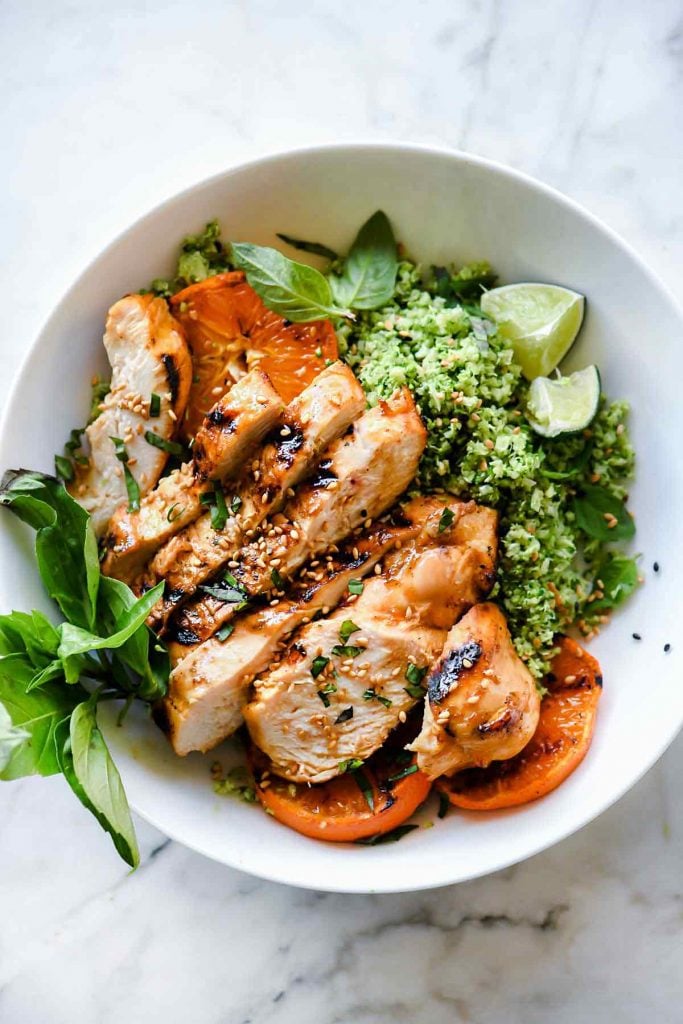 Getting a weeknight dinner on the table isn't really about mastering fancy cooking techniques or having all the best equipment to get things done. It's more like a game of Tetris (my favorite!), where you plug in the holes (how much time you have, what's in the fridge, how many will actually be showing up) with the shapes that fit.
And that's where planning "what's for dinnnnnnnerrrr?" more like a game instead of a call of duty can totally come in handy. Because even when it comes to cooking, strategy is always the ticket to winning.
That's why easy meal prep is the strategic key that fits into just about every eating plan for any day of the week (lunches too). Some think they don't have the time to set aside to meal prep, because why would you do things twice? Here's why. BECAUSE IT SAVES FRIGGING TIME PEOPLE! Getting a few things chopped, mixed, and even cooked ahead of time will totally save in the long run.
If you haven't tried meal prep yet, this easy orange chicken superfood bowl recipe should totally be your gateway drug to join the rest of us in our winning, cooking ways.
This orange chicken and broccoli rice (not white rice, silly, BROCCOLI RICE!) meal-ina-a-bowl recipe comes from the new cookbook Nourishing Superfood Bowls: 75 Healthy and Delicious Gluten Free Meals to Fuel Your Day from my fellow food loving recipe maker and AASDN-certified nutrition specialist Lindsay Cotter, the creator of the gluten-free cooking blog Cotter Crunch where she shares always healthy, gluten-free and mostly paleo recipes.
Lindsay's cookbook features 75 gluten-free and allergy-free recipes from smoothie bowls like the Mint Almond Matcha Smoothie Bowl to plant-powered bowls and bowls meant to be shared by the whole family. Hello Baja Fish Taco Bowl!
Leafing through the book to choose a recipe to share, I knew anything with chicken would be popular with my clan, but the easy way to meal prep it is what was popular with me.

Meal prep tip #1: This simple marinade can be made and mixed with the chicken the day before, then baked or grilled when you're ready to eat.
Add fresh orange slices to tamari (certified gluten-free if you're going for it) or soy sauce for that umami, salted flavor, to a blender to mix well and serve as a marinade and a dressing, both.
Meal prep tip # 2: Grill or bake the chicken ahead of time, and dinner is ready when you are.
Add the oranges to the grill or oven and roast for even more sweetness.
Meal prep tip #3: Make the broccoli rice, stick it in the fridge, and add a healthy, vegetarian, gluten free alternative to rice or pasta to this pasta bowl at your service.
While you could try and chop the broccoli to this fine consistency, whizzing in a food processor until fine, to me, is the way to go.
I added a whole tablespoon more sesame oil to the broccoli for flavor than Lindsay's original recipe, so add to meet your own tastebuds, like so many other recipes out there!
Meal prep tip #4: Assemble the ingredients in a bowl and drizzle with extra orange marinade and toss with fresh herbs because that's what makes it all so good.
If you make this recipe, please let me know! Bookmark this recipe and leave a comment below, or take a photo and tag me on Instagram with #foodiecrusheats.
Print
Kickin' Orange Chicken and Broccoli Rice Bowls
Using gluten-free tamari will make this orange marinade gluten-free and paleo friendly. But, you can always use regular soy sauce or Braggs liquid aminos for the same salty flavor if gluten isn't a concern. And grilling orange slices adds an extra sweetness and caramelization to the finished dish.
Ingredients
For the Orange Marinade

½

cup

peeled mandarin orange slices

, plus more for garnishing or topping

2

tablespoons

chili garlic sauce or Sriracha

1

tablespoon

lime juice

3

tablespoons

orange marmalade

½

teaspoon

kosher salt

¼

teaspoon

freshly ground black pepper

2

cloves

garlic

, pressed or minced

⅓

chopped red onion or shallot

, plus more for garnishing

3

tablespoons

rice wine vinegar

¼

cup

avocado oil or olive oil

3

tablespoons

tamari or soy sauce

1

pound

boneless

, skinless chicken breasts

For the Broccoli Rice

1

pound

broccoli florets

, blended or blitzed fine in the food processor

1-3

tablespoons

sesame oil to taste

2

tablespoons

toasted sesame seeds

Toppings

Fresh or grilled mandarin orange slices

Crushed red chili flakes

Fresh basil or cilantro

Tamari or soy sauce
Instructions
To make the marinade, blend the orange slices, chili sauce, lime juice, orange marmalade, salt, pepper, garlic, onion, and rice wine vinegar in a blender or food processor until mixed well. Add the olive oil and tamari or soy sauce and blend again until creamy.

Place the chicken breasts in a large bowl or gallon freezer bag and pour over the marinade jsut to cover, reserving ½ cup or more for using as a dressing for the bowls. Refrigerate the chicken for 20 minutes or overnight.

Preheat the oven to 425°F or the grill to high heat. If baking, bake the chicken for 20-25 minutes and set the oven to broil for the last minute or two of baking.

If grilling, place the chicken breasts on the hot grill. Cover and cook for 10 minutes then flip the chicken and cook for 5 minutes. Turn off one side of the grill and move the chicken to the other side and cook for 10 more minutes or until the breasts have an internal temperature of 165 degrees. The length of cooking time will depend on the thickness of the breasts. Remove from the grill and allow to rest for 5 minutes before slicing.

To make the broccoli rice, steam the blitzed broccoli in a microwave-safe bowl with sesame oil for 45 seconds. Toss and taste before adding more sesame oil to taste. Top with the sesame seeds and season with salt and pepper to taste.

To serve, divide the broccoli rice among the bowls, then add the chicken, fresh or grilled orange slices and garnish with lime, red chili flakes, and fresh cilantro or basil. Drizzle with the reserved sauce and eat up.
Check out more of Lindsay's recipes on her recipe blog Cotter Crunch and buy her cookbook here.
As always, thank you for reading and supporting companies I partner with, which allows me to create more unique content and recipes for you. All opinions are always my own.
Thanks for reading and subscribe to FoodieCrush to have each post delivered straight to your e-mail box.
Follow me on Instagram, Facebook, Pinterest and Twitter for more FoodieCrush inspiration.