This post is sponsored by Tabasco. Thanks for supporting companies I believe in, which allows me to create more unique content and recipes for you.
Spicy? Yes. Tasty? For sure. Trendy? Absolutely, since 2013 is the year of the meatball. So let's talk about Tabasco Chicken Meatballs in a Spicy Tomato and Apricot Sauce.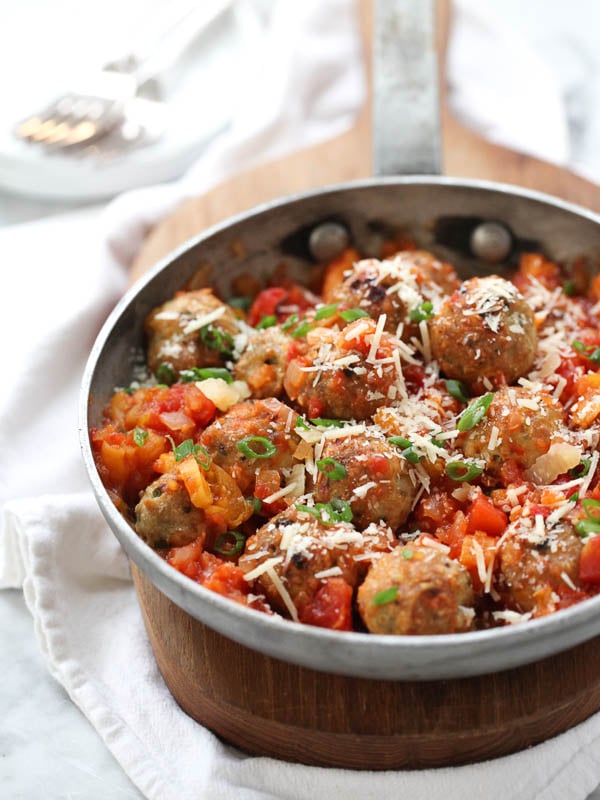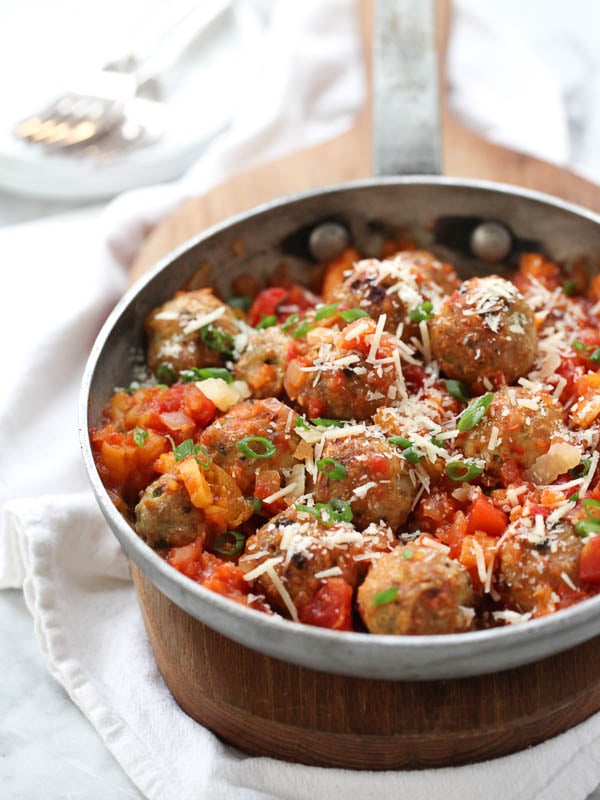 We're on recipe number two of the Tabasco 10 Ingredient Challenge, where I've been tasked with making 5 recipes using just 10 ingredients. Obviously Tabasco is at the top of the list, with the rest of the challenge ingredients listed here.
My first recipe was Tabasco Brined Chicken Drumsticks. An appetizer, a main meal, kind of whatever you want to make of it.
My second and third recipes are for eating in little bites, with a taste here and a taste there. And that makes kicked up meatballs with a spicy sauce the perfect meal for a nosher like me.
Creating a recipe for meatballs using simple and basic ingredients as the girth of this recipe was my starting point. Quality ingredients are always my secret to a great dish so the best Parmesan cheese you can buy acts as the binder, with green onion and Tabasco lending the flavor building blocks.
I chose to make these more bite size than behemoth size, so each bite is a one pop shop. If you like your meatballs on a grander scale, go big and add a few more minutes to the bake.
I like to use ground chicken thighs, they just have more flavor, and have a lesser chance of drying out. We're eating meatballs here, not hockey pucks.
Meatballs + tomato sauce is in match making territory like Beyonce + her booty shake. So coming up with a recipe to fit the tomato sauce bill was a natural idea since tomatoes are front and center as a challenge ingredient. But the typical marinara or Italian style topper wouldn't be on this menu since garlic and spices are out of bounds.
Which led me to the idea of tossing in some apricots with the tomatoes and onions for a little something sweet, cooking down the dried fruit to a buttery sweetness that compliments the spicy Tabasco kick.
A little bite here and a little bite there? Sorry, this time the pan's all mine.
Print
Spicy Tomato and Apricot Sauce
Ingredients
1

tablespoon

olive oil

1

medium white onion

finely diced

32

ounce

can diced tomatoes

1

cup

dried apricots

chopped

1

tablespoon

Tabasco Original Red Sauce

1

cup

water

1 ½

teaspoon

kosher salt

or to taste

Parmesan chees
Instructions
Heat the olive oil in a Dutch oven over medium-high heat and cook the onion for about 2 minutes, stirring occasionally. Add the tomatoes with juice, apricots, Tabasco, water and kosher salt and bring to a boil. Reduce to medium-low and simmer for 15 minutes. Add more water if the sauce becomes too thick.

Stir in the baked Tabasco Chicken Meatballs and simmer for another 3 minutes. Garnish with Parmesan cheese and serve warm or at room temperatur
Thank you for supporting me and my partners which allows me to create new and special content for my readers. As always, all opinions are my own. 
Are you following me on Instagram, Twitter, Facebook and Pinterest? Thanks for reading and  subscribe to FoodieCrush to have each post delivered straight to your e-mail box.