This post is sponsored by Tabasco. Thanks for supporting companies I believe in, which allows me to create more unique content and recipes for you.
Sometimes when choices are limited, it's amazingly freeing. It allows us to zero in on the basics. And when your job is to create recipes nearly every day, it gives some oomph to create something you'd never dreamed of, like these Tabasco Brined Spicy Drumsticks.
Most of the time when I'm working on coming up with new recipes I'll work within a theme, or a seasonal idea, but I always have full reign of what to toss into a recipe to please the palate. This time around, Tabasco set my limits like a Las Vegas pit boss when the gambling just gets too good.
I'm a seriously spice loving girl, and so's my man. There isn't much we don't eat without dousing some sort of heat on it. Okay, blueberry muffins might get a pass.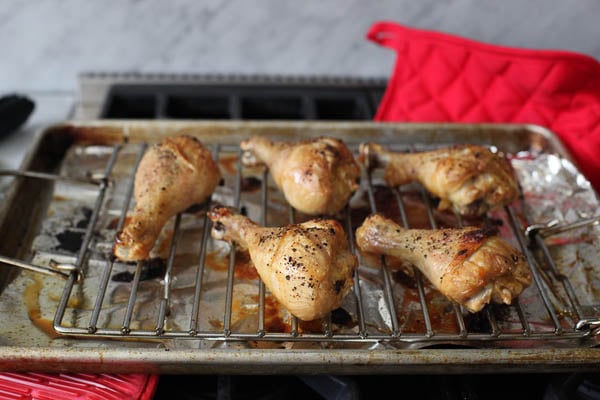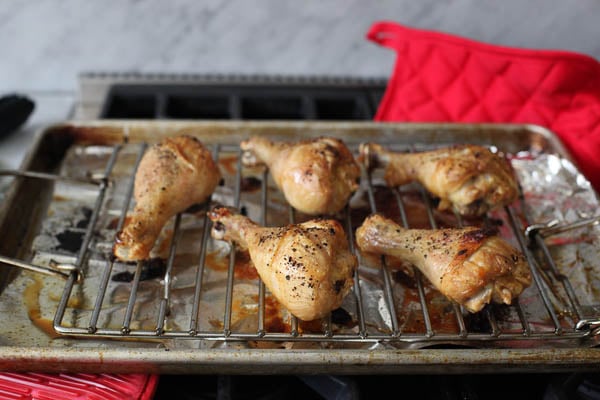 When the tastemakers at Tabasco invited me to participate in their food blogger 10-ingredient challenge, I asked my man if he'd be up to helping me because this time around, the ingredient list was serious. Seriously challenging.
Using the 10-ingredient shopping list developed by Tabasco, 10 bloggers were faced to make 5 recipes in 5 days. The ingredients could be used in any combination, as long as Tabasco Original Red Sauce was used in each recipe.
Just 10 categories of ingredients. No garlic. No spices. But oil, salt and pepper did make the list. Thank you baby Jesus.
Simplicity. That had to be the key.
Over the next week or so I'll be rolling out 5 recipes that all feature Tabasco Original Red Sauce, and I'm telling you, I think you might be surprised at what I/we came up with. I must admit, I kind of was.
Round one and we're starting off with Tabasco Brined Spicy Drumsticks.
This one is all G Dawg. He came up with the bright-eyed and bushy tailed idea of a Tabasco brine and I'm telling you, it totally worked!
No added fat, no deep frying and no heavy sauces. Just a great, even heat that won't ever make you feel guilty about eating more than one. Game day, potlucks, midnight snacks. I may have snuck a bite or two straight from the fridge. Don't judge.
You could totally do this with chicken wings like my Honey Sriracha Chicken Wings, we just like drumsticks because they're easier to eat with more meat in each bite, like in our Blackened Chicken Buffalo Drumsticks. Plus they're cheap.
I crumbled big chunks of tart blue cheese over the warm wings so it became a creamy, melty, salted accent for that classic chicken wing taste. Do yourself a favor though, and use a fresh chunk of blue cheese instead of the dry crumbles in those little plastic containers sold in the deli. You'll totally notice the difference, in a very good way.
Print
Tabasco Brined Spicy Drumsticks
Ingredients
1

gallon

water

½

cup

kosher salt

4

tablespoons

Tabasco Original Red Sauce

plus 10 shakes

10-12

chicken drumsticks

1 ½

tablespoons

canola oil

1

cup

blue cheese crumbles

1

green onion

chopped for garnish

kosher salt and freshly ground black pepper
Instructions
Mix the water, kosher salt and the 4 tablespoons of Tabasco in a large bowl or stockpot fitted with a lid. Add the drumsticks and brine in the refrigerator overnight or up to 8 hours.

Preheat the oven to 400 degrees F.

Take the drumsticks out of the brine and rinse in cold water and pat dry. Line the bottom of a baking sheet with foil and top with a baking rack. Spray the rack with cooking spray then place the drumsticks on the rack. Mix the canola oil with 10 shakes of Tabasco and baste the drumsticks then season with freshly ground black pepper. Cook for 25 minutes, then raise the temperature to 500 degrees F and cook for an additional 10-13 minutes or until golden browned and internal temperature is 185 degrees.

Remove from the oven and garnish with freshly crumbled blue cheese and chopped green onion. Serve with more tabasco if desired.
Be sure to check out the other bloggers participating in the challenge. Because admit it, who can't use a little kick in their day?
All Day I Dream About Food
Eat Good 4 Life
Handle the Heat
Healthy Delicious
How To: Simplify
Macheesmo
Modern Day Moms
Shockingly Delicious
Table For Two
What's Gaby Cooking
Thank you for supporting me and my partners which allows me to create new and special content for my readers. As always, all opinions are my own. 
Are you following me on Instagram, Twitter, Facebook and Pinterest? Thanks for reading and  subscribe to FoodieCrush to have each post delivered straight to your e-mail box.