You may be a mom. Maybe you're not. But I'm guessing you had a mom, right? I'm a mom. And what's generally known about moms is that we have to be prepared for unexpected situations.
From simply carrying extra tissues and 'gently" reminding to wipe noses, to anticipating and quickly reacting to cars in front of us that abruptly put on their brakes, we throw our protective arm across the chest of our unsuspecting passenger (do you really think it would work?) ensuring our cubs will be protected from foe.
My mom was, and still is, the queen of both of these situations. Just yesterday she reminded me to get my flu shot and update my passport. That's why I love her. She's my mom.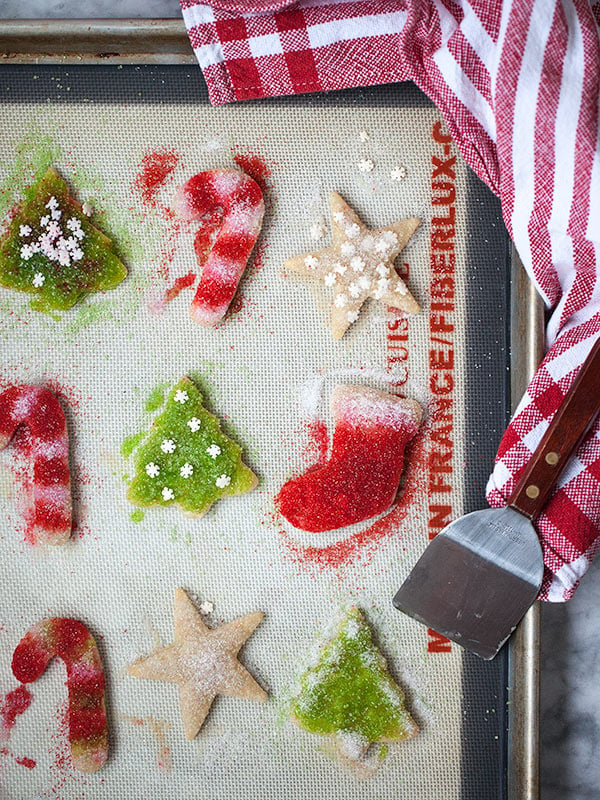 But there are some situations we can't always prepared for. Those sneak attacks our kids purposely disclose at the tipping hour just to keep us on our toes. To let us know we're not as all-knowing or as on-top-of-our-game as we think we are.
It usually comes down to our child who comes home and says, "Mom, I need to take this and that and such and such to school. Tomorrow." And it's 9 o'clock at night. And I'm not in the mood to take care of this situation. And neither is dad. Nor is the dog. Yep, it happens. And yep, we deal.
Between traveling, finishing up the holiday issue of FoodieCrush (I know! Next week!) and working with several of my amazing clients, I've been in and out at home and we haven't had our weekly grocery shopping date. Bless my husband's heart.
So when Smudge came home and let me know she had been assigned to take cookies to school, and we were out of flour AND eggs (what happened to the weekend Costco run? Ugh.) I was in no mood to traipse to the store to buy the stash, let alone spend my night baking cookies. Not that I don't have some amazing cookie recipes, it was that I simply had no time.
But I did have refrigerator pie dough. And decorative sugar in several holiday colors. And a few tablespoons of butter. And what I discovered to be my secret ingredient: almond extract.
So we decided to conquered this surprise situation, took a shortcut and made Pie Dough Sugar Cookies. They aren't perfect, but they aren't supposed to be. All that matters is we had fun baking them and they passed the Smudge taste test. Hot out of the oven she poured herself a glass of milk, stole away to her cardboard refrigerator fort replete with her One Direction fanzines and ate three cookies as she skillfully shooed the dogs away.
And the best part is she declared our cookies delicious, and no one was the wiser.
Print
Shortcut Pie Dough Sugar Cookies
Ingredients
1

roll refrigerator pie dough

1

tablespoon

melted butter

¾

teaspoon

almond extract

decorative sugars
Instructions
Preheat oven to 350 degrees F. Line a

baking sheet

with parchment paper or a

Silpat baking mat

. Roll pie dough into a ball and roll out to ¼ thickness. Cut dough with cookie cutters and place on the prepared baking sheet. Add almond extract to melted butter and brush dough with butter.

Top generously with decorative sugars and bake for 10-12 minutes or until golden. Remove from oven and cool for 10 minutes.
Make sure to subscribe to FoodieCrush for sneak peeks and the first reveal of the Holiday issue. Follow me on Twitter, Facebook, Pinterest and Instagram too.