These easy, wonderfully chewy oatmeal cranberry cookies are loaded with chunks of macadamia nuts, white chocolate chips and dried cranberries in an oatmeal batter good enough for breakfast too.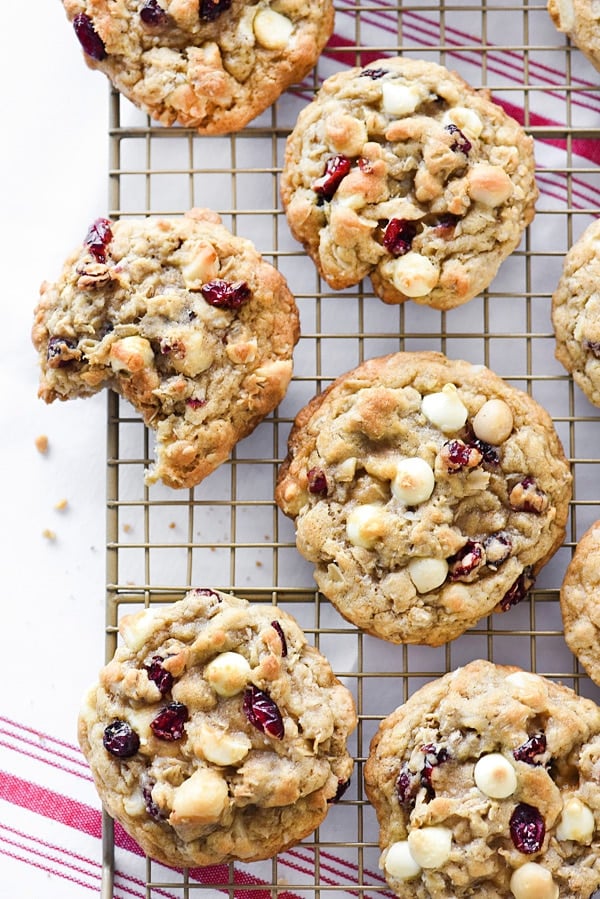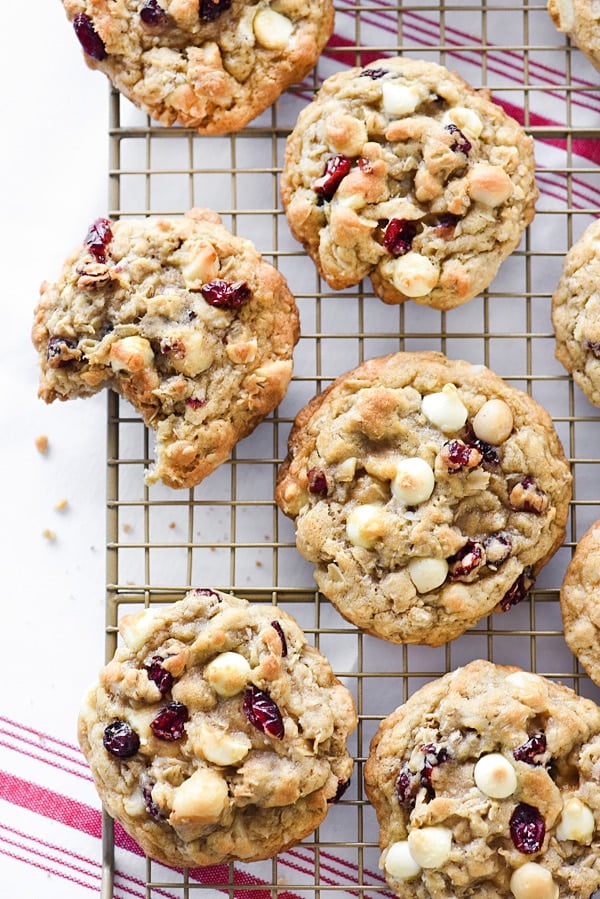 Oatmeal Cranberry Cookies Recipe
See these cookies? They are chock-full. Chock-full of all kinds of flavors and goodness that go together like peas in a pod. But they're much sweeter—and most everyone says much better—than peas. Obviously.
But they're missing one thing for too many people.
They're missing a giant glass of cold milk for some kids not as fortunate as mine to dip these still-warm-from-the-oven oatmeal cranberry cookies into before setting a glass next to Santa's plate to wash them down and then wipe from his frosty mustache.
But that doesn't have to be the case, because I'm doing something about that fact, and you can too.
Two years ago I wanted to share an opportunity with my daughter to show her how fortunate we are to have what we work so hard for, and the opportunity to give to others who aren't so lucky during the holiday season.
That's why I volunteered with the Utah/Nevada Dairy Council and Smith's Food and Drug to create a one-day donation event we named Santa's Milk Drive. The day resulted in over 200 gallons of milk donated to the Utah Food Bank and everyone was thrilled with the results.
But we were just getting started.
Did you know milk is the LEAST DONATED grocery store item across the nation??
That's why our local Santa's Milk Drive and the national Great American Milk Drive are so important, and why we are back at it again.
This year we held Santa's Milk Drive at our neighborhood Smith's Marketplace, with my daughter and her tween friends (even my husband too!) taking to the the aisles in cow suits and Santa hats asking customers to donate just one gallon of milk to the Utah Food Bank, with Smith's generously offering to match every gallon donation one to one.
I'm so proud to say we urged the sale of 276 gallons of milk in just 3 hours!
Apparently my strategy of smiling tweens in cow hats (and outfits!) is very convincing and works almost every time :).
With Smith's matching offer, that donation bloomed into 55o gallons of milk going to our local food pantries and shelters.
In addition, Smiths's has generously committed to donating $5000 worth of milk to the Utah Food Bank that will be distributed over the next few months and into 2017.
But there's no reason to leave it up to the big guys to be the only ones to make a difference. We didn't and neither should you.
Here's the simple way you can help, too.
Contribute to Santa's Milk Drive by donating one gallon of milk (the most under donated store-bought item across the nation) as part of the Great American Milk Drive benefitting Feeding America.
Simply visit milklife.com/givekroger, enter your zip code, purchase one gallon of milk (really, that's all!) and that gallon of milk will be delivered to your own local food bank, keeping the charity where it's needed most: in your own community.
It's really that simple. Just one gallon of milk is all we're asking for to make a difference in someone's holiday, and all the way into next year.
And now, how about these cranberry white chocolate chip cookies!
What's in These Oatmeal Cranberry Cookies?
These cookies are so good as a sweet afternoon treat, but because they're loaded with oatmeal, heart healthy fats from macadamia nuts, and phytonutrients and Vitamin C from sweetened cranberries, these are seriously just about as tasty and good for a great start at breakfast, too.
For this cookie, I wanted a sweeter cran taste so I used Craisins. If you're more of a tart taste lover, use regular dried cranberries.
I find the oatmeal, cranberries, and macadamia nuts in the health food aisle of my local Smiths Marketplace. You know, watching the pocketbook so I can share more milk!
And of course, white chocolate chips. Dark chocolate has its health benefits too, so I'm going to be giving the white version credit this time around as well.
How to Make Oatmeal Cranberry Cookies
First, I cream melted butter with the sugar, eggs, and one extra yolk to create a chewier textured cookie. Then, I dissolve a little baking soda in some hot water and stir it into the butter mixture along with the vanilla extract.
Flour and salt are sifted into the mixing bowl, followed by the good stuff — oats, dried cranberries, white chocolate chips, and chopped macadamia nuts.
The cranberry white chocolate chip macadamia nut cookie dough is shaped into balls and baked until golden around the edges. If you have the patience, let these oatmeal cranberry macadamia nut cookies cool completely before dunking them into a tall glass of milk.
Can I Use Instant Oats?
No, old-fashioned oats (aka rolled oats) are a must in these oatmeal cranberry cookies. Instant oats are much finer in texture and can sometimes dry out cookies. 
Can I Use Different Chocolate Chips?
I'm sure you could! Dark chocolate chips or chunks would pair nicely with the flavors in these oatmeal cranberry cookies as well.
Can I Freeze Oatmeal Cranberry Cookies?
Yes, let the macadamia nut cookies cool completely before sealing them inside a freezer bag. You can reheat the frozen cookies in the microwave for a quick snack or set them on the counter to thaw.
Can I Freeze Oatmeal Cranberry Cookie Dough?
Yes, just make sure to roll the cookie dough into balls before freezing it. You can bake the cookie dough from frozen, although you'll likely need to add a couple minutes to the bake time.
Tips for Making Oatmeal Cranberry Cookies
I've found there are two ways you can make these cookies, depending on whether you prefer a thicker, fatter cookie or a thinner, smoother version. If you're one who likes a big craggy chunk like most of the shots here, refrigerate the dough before rolling these babies into balls. But why?
Refrigerated cookie dough produces a cookie with a chewy bite, more flavor and because the fats are chilled, they spread less. Cookie dough that isn't refrigerated produces a cookie that's softer in texture and more doughy.
So if you're into cookies with a chewier bite, even a 30-minute rest in the refrigerator will enhance your cookie's appearance, and taste.
To make award-winning looking cookies, use a cookie scoop to form the balls then gently roll into rounder, more uniform sized balls and place on the baking sheet. Then, add a few nuts, chocolate chips or cranberries to the tops of the cookies to really show off what's so delicious on the inside.
More Cookie Recipes Perfect for Dunking in Milk
If you make this recipe, please let me know! Leave a comment below or take a photo and tag me on Instagram with #foodiecrusheats.
Print
White Chocolate Macadamia Oatmeal Cranberry Cookies
These easy, wonderfully chewy oatmeal cranberry cookies are loaded with chunks of macadamia nuts, white chocolate chips and dried cranberries in an oatmeal batter good enough for breakfast too.
Ingredients
2

cups

unsalted butter

1 ½

cups

brown sugar

1

cup

granulated sugar

3

eggs

1

egg yolk

3

tablespoons

hot water

2

teaspoons

baking soda

1

tablespoon

pure vanilla extract

4

cups

all purpose flour

2

teaspoons

kosher salt

3

cups

old-fashioned oats

1-11.5

ounce

package white chocolate chips

1 ½

cups

chopped macadamia nuts

1 ½

cups

cranberry-raisins
Instructions
Melt the butter and allow to cool slightly. Cream the butter and sugars in the bowl of a stand mixer set to medium-high until creamy, light and fluffy, about 3 to 4 minutes.

Add the eggs and egg yolk one at a time, mixing well in between additions.

In a ramekin or small bowl dissolve the baking soda in the hot water and add to the creamed mix with the vanilla.

Sift the flour and salt together. Add half of the flour mix to the batter and mix then add the other half and mix.

Reduce the mixer speed to low and add the oats, white chocolate chips, macadamia nuts and cranberries and mix until just combined.

For chunkier textured cookies, cover and refrigerate for 30 minutes up to 3 days.

Preheat the oven to 375 degrees F if using unrefrigerated dough and 350 degrees F if using refrigerated.

Line 2 baking sheets with parchment paper and use a cookie scoop to form balls and gently roll in the palms of your hand then place onto the cookie sheet about 2 inches apart from each other.

Bake one sheet of cookies at a time for 10 minutes or until just golden. Remove from oven and let cool on the cookie sheet for 3-4 minutes then move to a wire cooling rack until completely cooled.
Nutrition
Calories:
291
kcal
|
Carbohydrates:
35
g
|
Protein:
3
g
|
Fat:
16
g
|
Saturated Fat:
8
g
|
Cholesterol:
46
mg
|
Sodium:
201
mg
|
Potassium:
84
mg
|
Fiber:
2
g
|
Sugar:
19
g
|
Vitamin A:
342
IU
|
Vitamin C:
1
mg
|
Calcium:
26
mg
|
Iron:
1
mg
More Dessert Recipes You'll Love
And remember to please consider donating just 1 gallon of milk this season to help those less fortunate enjoy their cookies and milk too. Happy holidays!
Craving more life balance, less stress, and better health? Check out my Nourished Planner, the daily planner to help create simplicity and under-schedule your life.
We send good emails. Subscribe to FoodieCrush and have each post plus exclusive content only for our subscribers delivered straight to your e-mail box.
Follow me on Instagram, Facebook, Pinterest and Twitter for more FoodieCrush inspiration.
This is NOT sponsored content but a volunteer drive by all involved. As always, thank you for reading and supporting companies I partner with, which allows me to create more unique content and recipes for you. There may be affiliate links in this post of which I receive a small commission. All opinions are always my own.