These flourless peanut butter cookies are rolled in cinnamon-sugar just before being baked for an extra pop of flavor. Bonus: they're also gluten-free!
Flourless Peanut Butter Cookies Recipe
If you're a blogger, chances are you've received a comment—or many comments—on your blog posts by Averie Sunshine of Averie Cooks. If you're a baker, you've probably discovered one of her many sweet treats in online searches or through many of her super popular Pinterest-favorited recipes.
Prolific, dedicated, and one of the hardest working bloggers who makes her blog her business, Averie of Averie Cooks creates recipes that put the sweet in "sweet tooth" like this cinnamon sugar flourless peanut butter cookie recipe that she's letting me share at the end of this post, baked from her new cookbook Peanut Butter Comfort.
When her blogging journey began in 2009, Averie originally authored the blog Love Veggies and Yoga, aligning her lifestyle as a vegetarian and avid yoga enthusiast. There she shared yoga poses that went far beyond the Downward Dog, (Half Bound Lotus Standing Forward Bend, anyone?) and stretches most humans envision only at a sidewalk pretzel cart. Or maybe that's just me.
As a vegetarian, she also featured healthy foods she herself ate everyday, green foods and whole grains which gained her a happy and devout following and recipes that still reside in her archives today.
But she soon faced a dilemma, or more candidly, she became bored with her recipe creations and their wholesomeness. That's when she started including desserts and baking recipes on her blog, and soon rediscovered the passion that motivated her to start blogging in the first place.
Since changing her blog name to Averie Cooks, there has been no looking back.
Averie's attention to trends—like creating decadent desserts that hop on the popular coconut oil bandwagon with her Fluffy Vegan Coconut Oil Banana Muffins—is a talent you'll see in every blog post Averie concocts, inspiring home cooks far and wide.
Or creating sweet treats from crazy new flavor combinations like Lofthouse-Style Soft Peanut Butter Chip Sugar Cookies with Peanut Butter Frosting. Now THAT is a tasty mouthful.
And with just one jaw-dropping glance at the photo below, it's no wonder Averie's Softbatch Cream Cheese Chocolate Chip Cookies was Pinned over 75,000 times in just 3 months.
With a dogged work ethic of cooking, baking, photography and posting 5 or more times per week in addition to consistently supporting the blogging community by visiting countless other blogs, Averie has now gone from blog to book with the release of her first cookbook, Peanut Butter Comfort, with over 100 over-the-top peanut butter recipes.
Over-the-top recipes, yes indeed. Peanut Butter Comfort has them in droves. Peanut Butter Cocoa Krispies S'mores Bars, Nutella and Peanut Butter Marbled Brownies, and Peanut Butter Cup Peanut Butter Banana Bread are just a sampling of her drool-inspiring recipes.
Want savory? Check out her recipe for Spicy Peanut Butter and Jelly Sweet Potato Fries. Radically genius.
Let's get down to business with the creator of all of this radness and learn a bit more about what makes Averie cook. Thank you, Averie, for being a favorite foodie crush.
10 Q's for Averie of Averie Cooks
1. Describe your blog in 3 words: 
Desserts, sweets, baking.
2. If you could be one food blogger other than yourself, who would you be? 
Do Ina Garten or Alton Brown count as food bloggers?
3. Which 3 blogs do you follow/are obsessed with/can't live a day without? 
This is such a hard question because I read a ton of blogs. Over 200 in my Vienna (if you're on a Mac and still haven't found your perfect Google Reader replacement, I love Vienna, but I digress). I have a core group of about 15 or 20 that I read daily. My amazing friend Sally of Sally's Baking Addiction and I have really similar tastes in food, I love reading my friend Marla's blog when I need less sugar and want to be inspired photographically, and I always tune into what Jessica of How Sweet It Is made.
4. What is the one kitchen tool you could never give up?
A big, sharp knife.
5. What dish are you obsessed with mastering that you just can't get quite right?
I'm definitely not obsessed with it, but I am horrible at cooking eggplant. Not that this matters in life, but I can't get it right. Rubbery, an oil-sponge, just never turns out for me. I am also not the world's greatest piping bag person or cake decorator. I could use some cake decorating classes.

6. What did you have for dinner last night?
A big salad with edamame, cucumbers, and the best little sweet cherry tomatoes; popcorn with coconut oil, nutritional yeast, and stevia; a Vegan Chocolate Chip Pumpkin Muffin, washed down with a couple glasses of champagne.
7. What's one secret talent outside of the kitchen nobody knows about you?
It's not necessarily secret because in the earlier days of my blog I talked a lot about it, but I'm a certified yoga teacher (not currently teaching) and have been since 2001. I have had a daily yoga practice for over 13 years and while I could literally stand on my head and blow bubbles, it's so much more than how many times I can wrap my ankle around my head. Yoga grounds me and centers me and I could not imagine my life without it.
8. You're happiest when cooking/eating:
Peanut butter anything! Preferably paired with chocolate, caramel, or something drippy, gooey, and very under-baked.
9. In the earlier incarnation of your blog, you featured mainly healthy lifestyle tips and recipes. Now your blog showcases amazingly delicious sweet treats nobody can resist! Why did you make the change and how does living healthy influence your sweet treat creations?
To be blunt, no one really cares about kale salads after the first 37 that are posted. I was running out of ways to make 'healthy food' have a wow factor, and was frankly getting bored myself. And if I was bored with my food, I'm sure my readers were, too. I naturally like to bake and just started posting desserts and my blog felt fun again to me, and I ran with it from there.
While I am mindful that the things I make aren't always the healthiest, I view them as dessert and a special treat. Everything in moderation. Make it, have a piece or two, and donate the rest if it's particularly gluttonous. And then there are other recipes that are much healthier and many are vegan or gluten-free.
After years of living as vegan and gluten-free (I'm not currently either), it comes fairly naturally to me to cook this way or give people easy substitutions to make a recipe vegan or gluten-free or adapt it to fit into their lifestyle. But healthy recipes aren't really my blog's focus; making food with a wow factor that tastes amazing is. Sometimes they turn out to be pretty healthy, sometimes not so much.
10. The one secret ingredient to your success is:
There's no secret here: Hard work. I outwork just about everyone I know. I routinely put in 20 hour days. I do my best work from midnight to 5am when the rest of the world is sleeping. No interruptions, and I can power out cookbook edits, blog posts, photo editing, and get things baked and ready to go for a photo shoot when daylight breaks. It won't always be this way, but for now, it is. And when I'm 90 I'll look back on this time and be grateful that I had a full life.
Making These Chewy Peanut Butter Cookies
After looking through Peanut Butter Comfort, I had the hardest time choosing just one recipe to make and share with you.
As a kid, I was never a big fan of peanut butter, but as an adult, I find myself craving a good old PB&J at least once a week. On toast. That's just how I roll.
So needless to say, peanut butter cookies have never been a craving of mine. Wishful thinking never did create that animal attraction I have to chocolate, coconut, and fudge.
But these flourless cookies are something altogether different than any I ever had before. Chewy. Moist. And beyond decadent. Which makes me a PB convert. As an adult of course.
Bonus: Flourless = gluten-free. More chewy peanut butter cookies for the masses.
What's in These Flourless Peanut Butter Cookies?
I know peanut butter cookies with no flour seems like an oxymoron, but trust me, this recipe works. Here's what goes into these addicting flourless peanut butter cookies:
Creamy peanut butter
Granulated sugar
Light brown sugar
Egg
Vanilla extract
Baking soda
Cinnamon
How to Make Flourless Peanut Butter Cookies
These gluten-free peanut butter cookies couldn't be any easier. Seriously. All you do is cream together the PB, sugars, egg, vanilla, and baking soda, then pop the mixing bowl into the fridge for an hour.
Roll the chilled cookie dough into balls, and roll them in cinnamon sugar before baking.
Really, that's all it takes to make flourless peanut butter cookies. Averie, you're a genius!
Can I Use Natural Peanut Butter?
No, you should use a creamy peanut butter from a brand like Jif or Skippy. Natural peanut butter is much oilier and can make for a crumbly cookie dough.
Do I Have to Chill the Cookie Dough?
Absolutely. If you don't chill the flourless peanut butter cookie dough, your cookies will spread like crazy in the oven.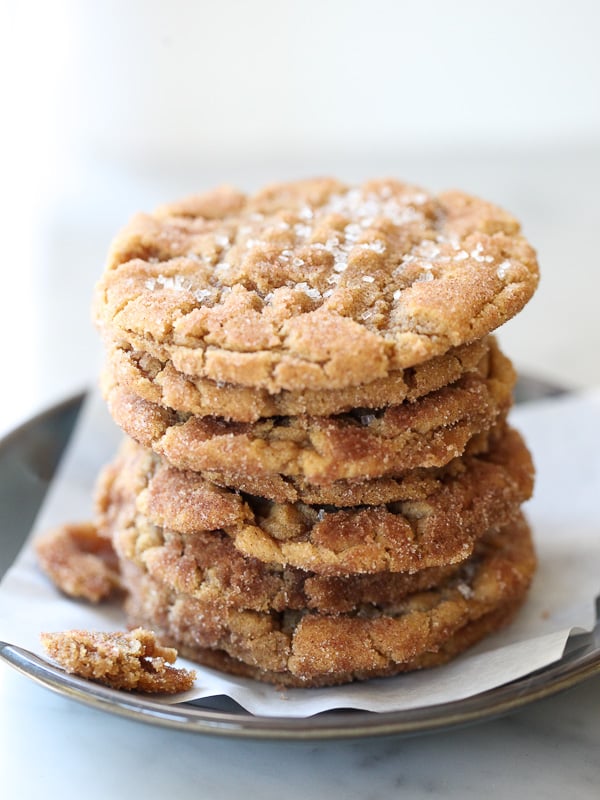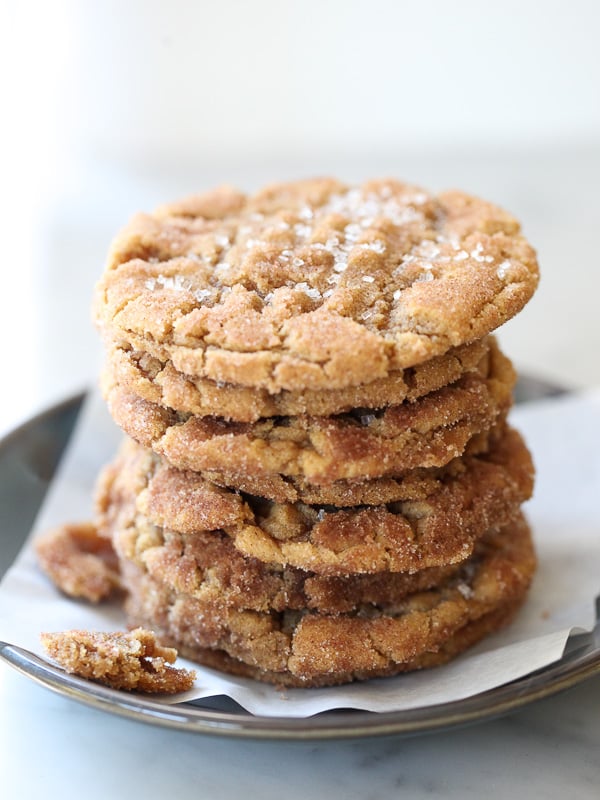 Tips for Making Flourless Peanut Butter Cookies
When rolling the cookie dough in cinnamon sugar, Averie recommends doing a double coating to create a thicker layer of cinnamon sugar. This gives the gluten-free peanut butter cookies more texture and lots of cinnamon flavor.
Averie also recommends baking these chewy peanut butter cookies just until the edges are set. The tops may look a little glossy and underdone, but they'll firm up as they cool.
These flourless peanut butter cookies freeze well. Let them cool completely, then seal them inside a freezer bag to enjoy later.
More Easy Cookie Recipes You'll Love
If you make this recipe, please let me know! Leave a comment below or take a photo and tag me on Instagram or Twitter with #foodiecrusheats.
Print
Cinnamon Sugar Flourless Peanut Butter Cookies
These flourless peanut butter cookies are rolled in cinnamon-sugar just before being baked for an extra pop of flavor. Bonus: they're also gluten-free!
Ingredients
1

cup

creamy peanut butter

¾

cup

granulated sugar

¼

cup

light brown sugar

packed

1

large egg

½

teaspoon

vanilla extract

½

teaspoon

baking soda

¼

cup

granulated sugar

for rolling

1 ½

teaspoons

cinnamon

for rolling
Instructions
Add the first six ingredients to a stand up mixer on medium-high speed and beat for 1 to 2 minutes with a paddle attachment. Scrape down the sides of the bowl and then beat for 1 minute more or just until smooth and ingredients are combined.

Place mixing bowl in the refrigerator for 1 hour, allowing to rest and chill.

Preheat the oven to 350 degrees F.

Combine the ¼ cup granulated sugar and cinnamon in a small bowl and stir to combine. Set aside.

Using a small cookie scoop, form balls and dredge each one through the cinnamon-sugar mixture. Dredge the balls through the mixture twice to create a thicker cinnamon-sugar coating will produce cookies with more texture and more intense cinnamon sugar flavor.

Place balls onto a Silpat-lined baking sheet, about 2 inches apart. Flatten the mounts slightly with the tines of a fork, creating a crisscross pattern.

Bake for 8 to 9 minutes. The bottoms will have set, but the tops may look under-done but they will set up as they cool. Allow cookies to cool on the baking sheets for at least 10 minutes or until they've firmed up.
Notes
Store cookies in an airtight container at room temperature for up to 1 week.
Reprinted with permission from Averie Sunshine
Nutrition
Calories:
143
kcal
|
Carbohydrates:
17
g
|
Protein:
4
g
|
Fat:
7
g
|
Saturated Fat:
2
g
|
Cholesterol:
9
mg
|
Sodium:
101
mg
|
Potassium:
100
mg
|
Fiber:
1
g
|
Sugar:
15
g
|
Vitamin A:
13
IU
|
Calcium:
12
mg
|
Iron:
1
mg
More Drool-Worthy Baked Goods
Craving more life balance, less stress, and better health? Check out my Nourished Planner, the daily planner to help create simplicity and under-schedule your life.
We send good emails. Subscribe to FoodieCrush and have each post plus exclusive content only for our subscribers delivered straight to your e-mail box.
Follow me on Instagram, Facebook, Pinterest and Twitter for more FoodieCrush inspiration.
As always, thank you for reading and supporting companies I partner with, which allows me to create more unique content and recipes for you. There may be affiliate links in this post of which I receive a small commission. All opinions are always my own.