Thanks to a simple soy sauce, orange, and garlic-spiked marinade, this easy flank steak recipe can be ready to grill in 30 minutes, or left in the fridge over night for a deeper flavor that's topped with a fresh, garlicky chimichurri sauce with an Asian spin.
It's Wednesday night at 5:00 p.m., and while you'd much prefer to be cheers-ing friends at happy hour and announcing, "It's 5:00 somewhere!", instead, you're face-palming your forehead and exclaiming, "Oh crap! I forgot to get dinner started!"
Yep, this is the picture of the food blogger (me) and any other meal-maker with the best of intentions to make meal planning goals stick (you?), who has lost track of time and been foiled by the ticking clock.
Are you feeling it too?
Luckily, having a few simple, time-saving recipes like this quick-to-marinate, Asian-flavored grilled steak recipe in our back pockets can always be dinner-prep's saving grace. 
I've been making one version or another of this Asian-flavored marinated flank steak for years. In fact, it's likely one of the first recipes my man and I ever cooked together, proving that it's a recipe that's perfect for beginning cooks to jump right into.
ABOUT THE RECIPE
When you're looking for a marinated steak with flavor, but time is of the essence, a flank steak is always a great choice in meats. Flank steaks are a leaner, thinner cut than most other beef cuts so the marinade infuses quickly and the steak itself needs only minutes to cook.
Because it's so lean, flank steak is best cooked to medium rare, because a longer cooking time will make the meat tough. If flank steak is too pricey, consider trying similar but not as lean cuts such as:
Flap steak

Hangar steak

Skirt steak
This marinade couldn't be easier to prepare because chopping is kept to a minimum thanks to a more smash and rough chop situation.
Both the ginger and garlic require a super simple rough chop or just a simple smash to release their herbed flavors to meld with the infusion of citrus thanks to a combination of both the fresh orange juice and zest. Add those ingredients to a gallon freezer bag with the rest of the ingredients and the meat and you're on your way.
Thanks to the citrus in the marinade that helps speed things along, the meat can be sufficiently marinaded in 30-45 minutes at room temperature, but if you want your steak to absorb a deeper Asian flavor tang, meal-prep your meat the night before and let it sit in the refrigerator overnight.
What makes this recipe extra special is the fresh herb and garlic Asian-style chimichurri sauce that gives the smoky, grilled streak a bright flavor explosion with every bite.
Classic chimichurri is typically made for Argentinian-style grilled cuts of meat. But, inspired by the bounty of fresh herbs in my garden (my basil and mint are going NUTS this year), I gave my chimichurri an Asian twist. I may never make it without the herby sauce again, because at our house, it's all about the thin cuts getting drizzled and dipped.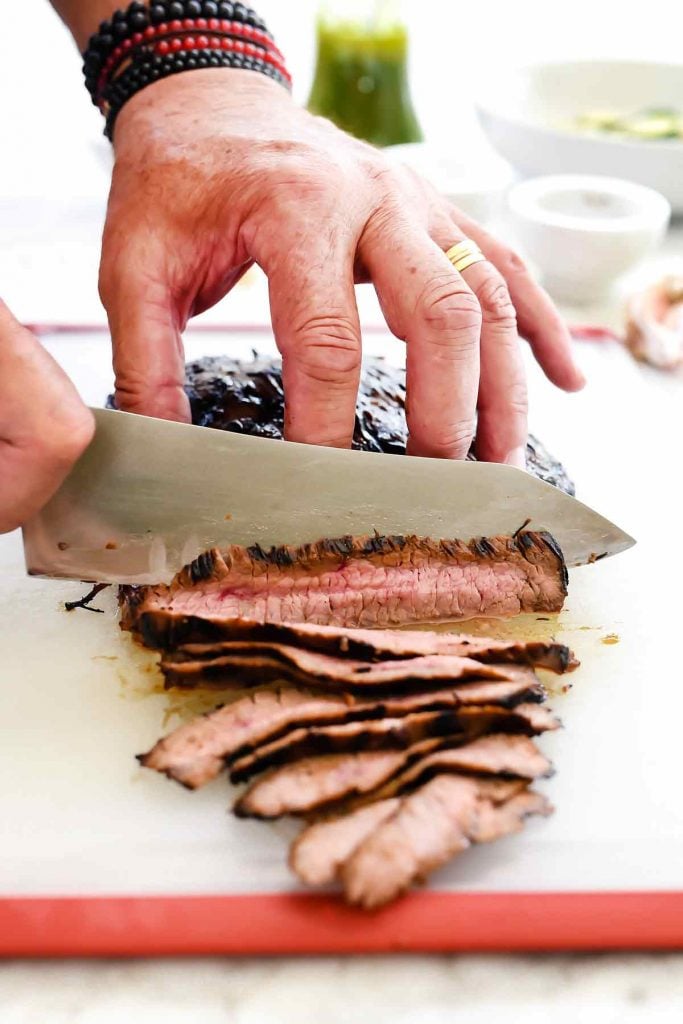 If you make this recipe, please let me know! Bookmark this recipe and leave a comment below, or take a photo and tag me on Instagram with #foodiecrusheats.
Print
Marinated Flank Steak with Asian Chimichurri Sauce
The Asian marinade and Asian chimichurri use many of the same ingredients, so to make the most efficient use of your chopping time, make the two recipes at the same time, as described in the recipe below.
Ingredients
3

oranges

, divided

10

cloves

garlic

, smashed with a knife and peeled, then divided

2-

inch

knob of ginger

, skin removed

1

cup

plus 2 tablespoons canola oil

, divided

¼

cup

soy sauce

¼

cup

light brown sugar

1 2-3

pound

flank steak

1

cup

fresh basil leaves

1

cup

fresh cilantro leaves

½

cup

fresh mint leaves

¼

cup

rice wine vinegar

1

teaspoon

sesame oil
Instructions
Zest all of the oranges to make approximately 4 tablespoons of zest. Add 2 tablespoons of the zest to a gallon freezer bag and 2 tablespoons to the bowl of a food processor for the chimichurri sauce. Squeeze the juice from 2 of the oranges into the gallon freezer bag and save the other orange for another use. Set 1 cup of the canola oil aside for the chimichurri to add later, and add the remaining 2 tablespoons of the canola oil to the freezer bag with 5 of the peeled garlic cloves roughly chopped or smashed. Add the other peeled and smashed garlic cloves to the food processor. Roughly chop the peeled and smashed ginger and add half to the marinade and half to the food processor along with the fresh herbs, rice wine vinegar, and sesame oil. To finish the chimichurri sauce, pulse the herb mixture while drizzling in the 1 cup of canola oil. Refrigerate until ready to use.

To finish off the marinade, add the soy sauce and brown sugar to the gallon bag, seal the bag and massage the marinade together, add the steak, seal, and marinade at room temperature for 30 minutes or refrigerate up to 24 hours.

Preheat the grill to high. Pull the steak from the marinade and allow to rest at room temperature for 30 minutes if refrigerated. Place the steak on the hot grill ad baste with the remaining marinade, cooking for for 5-7 minutes on each side for medium rare, or until steaks come to 125 degrees F. Transfer to a plate or cutting board and rest for 10 minutes.

Going against the grain, cut the flank steak into thin slices and dress with the chimichurri sauce and serve.
Simple Side Dish Recipe Ideas to Serve with Asian Flank Steak
There's nothing better than a simple side to make the meal and here's a list of faves. Choose just one, or make a few for even more flavorful bites.
Easy 5-Minute Parmesan Zucchini
The Best Buttery Potatoes with Parsley
Sauteed Spinach with Toasted Sesame Seeds
Sweet and Sour Asian Pickled Cucumbers
Ginger and Turmeric Aromatic Rice
As always, thank you for reading and for supporting companies I partner with, which allows me to create more unique content and recipes for you. All opinions are always my own.  
Are you following me on Instagram, Twitter, Facebook and Pinterest? 
Thanks for reading and subscribe to FoodieCrush to have each post delivered straight to your e-mail box.