This vegetarian pizza loads up on Mediterranean flavors with artichokes, roasted red peppers, and green olives with arugula on a homemade crust topped with pesto and mozzarella cheese.
This recipe is brought to you by DeLallo Foods
I find that any time I can harvest ingredients from my pantry for a quick dinner it's a good, good, good thing. Don't call me a hoarder, but you can say I'm a pro at having plenty of back-ups "just in case" there's a time of need. This vegetarian Mediterranean pizza is one delicious way to put a dent in my stockpile.
Even though the main ingredients are jarred or canned—artichoke hearts, roasted red peppers, and mellow green olives—this pizza tastes fresh and lively topped with sprigs of lightly dressed arugula. The soft and supple homemade pizza dough is made from DeLallo's pizza kit so that all you need to add to it is water then give it a quick 30 minute rise. It makes enough dough for two pizzas, so save the extra dough for yet another back-up :), or double the amount of ingredients and make two pizza pies.
What's On This Mediterranean Pizza
What's terrific about the toppings on this homemade pizza is that everything is always stocked in my pantry and fridge, making it a quick-to-make dinner solution.
Here's what's on this Mediterranean pizza:
How to Make Pizza Dough at Home
The best pizza pies start with a good pizza dough. I've followed this from-scratch pizza dough for years, but since discovering the ease of DeLallo's Italian Pizza Dough Kit, that homemade dough recipe is often put on hiatus.
DeLallo's pizza kit contains Italian OO flour and pre-measured yeast so all you need to add is water, mix it with a fork, then give it a few quick kneads and it's time to roll. Add a drizzle of olive oil to the mix to soften the dough even more and a drizzle of honey for sweetness.
The dough should be very shaggy and loose in the bowl before turning it out onto the counter and kneading it to become a soft ball.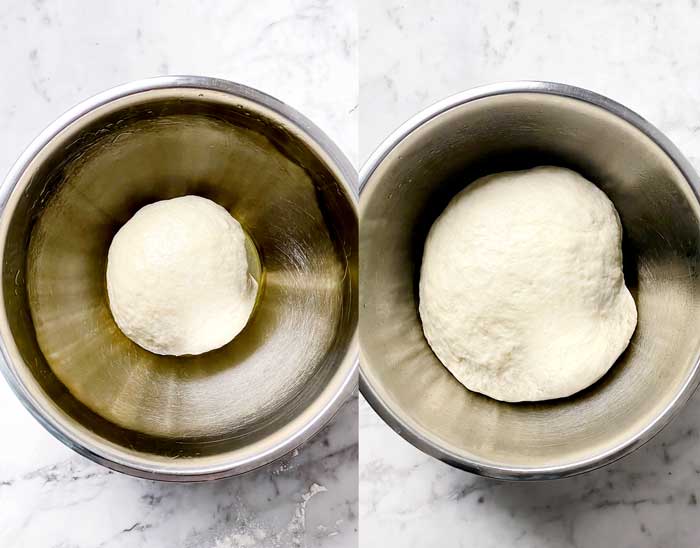 Bring On the Rise
Cover the bowl with plastic wrap for a quicker rise. After a quick knead, place the rounded dough ball in a lightly greased bowl covered with plastic wrap for a quick 30-minute rise. The wrap holds the heat created by the yeast and keeps the dough supple.
TIP: Place the dough in a heat-proof bowl and set it on the stove's burner for 15 seconds to warm the dough and jump-start the rise. Or, set the oven to 250°F for 1 minute then turn the oven off. Place the covered bowl in the warmed oven to rise.
Make the dough ahead of time. You can make this dough right before baking it or refrigerate it for up to 3 days. Bring it to room temperature before shaping into a pizza pie.
Prep the Toppings
Drain the jarred Mediterranean ingredients well so the pizza doesn't get soggy. And for even bits of deliciousness, chop them in similar sizes to get more than one flavor in each bite.
Make Mediterranean ingredient swaps with ingredients like:
Use pitted kalamata or black lives instead of green
Top with canned or fresh mushrooms
Use fresh red or green peppers instead of roasted red
Try topping with salty capers
Add pinenuts for crunch
Sprinkle with fresh torn basil or snips of rosemary
Get Crusty With It
Form the crust into a circle with your fingertips, stretching it gently into the shape you're looking for. If your dough is feeling resistant and snaps back while shaping, rest it for few minutes for the gluten to relax, then start shaping it again.
If you prefer a thicker crust, shape it, top it, then let it sit at room temp for a few minutes before baking for more rise time.
Top It
Go pesto for a lighter bite and built-in flavor. Instead of pizza sauce for the pizza's base, I really like using the garlic and basil infused flavor of pesto instead. Drizzle the dough with a little olive oil then spread the pesto on top.
Layer the mozzarella but don't go overboard. Next, a layer of melted mozz under the toppings acts like the glue to hold them in place. Naturaly I add a few more sprinkles over the toppings for good measure. Just like everyone else, I love a good pizza cheese pull but for this pizza, go easy on the cheese for a healthier bite.
Bake that Pie
For the crispest crust bake the pizza on a preheated pizza stone. While not essential, oven-baked pizza is best baked on a hot pizza stone that radiates heat through the crust. Use a pizza peel to move the uncooked pizza to the oven and your pro status goes up another notch. If you don't have either, bake on a heavy duty baking sheet dusted with cornmeal so the crust doesn't stick.
Add fresh arugula then spice it up. After baking, toss arugula leaves with a few drops of olive oil and Parmesan cheese, and add to the top of the pie with red pepper flakes, dried oregano, and flaky salt. It's the finishing touch that really makes a difference.
If you make this recipe, please let me know! Leave a ⭐️⭐️⭐️⭐️⭐️ rating on this recipe below and leave a comment, take a photo and tag me on Instagram with #foodiecrusheats.
Print
Mediterranean Pizza
This vegetarian pizza loads up on Mediterranean flavors with artichokes, roasted red peppers, and green olives on a homemade crust topped with pesto and mozzarella cheese.
Instructions
Prepare the pizza dough according to the kit directions. Add a drizzle of olive oil and honey if desired. Knead the dough for 2-3 minutes then place in a lightly oiled bowl, cover with plastic wrap, and place in a spot away from drafts to rise until at least doubled in size, about 30 minutes to 1 hour. The dough can be refrigerated for up to 3 days where it will slowly rise.

Preheat the pizza stone (if using) in the oven at 450°F. Bring the dough to room temperature then shape on a pizza peel or baking sheet. Spread the pesto over the dough leaving a ½ inch border for the crust. Sprinkle with 1 ½ cups of the mozzarella then top with the artichoke hearts, roasted bell pepper, olives, and sliced onions. Finish with the rest of the mozzarella, the minced garlic, and 1-2 tablespoons of the Parmesan cheese.

Bake the pizza for 10-12 minutes or until the crust is golden and the cheese is melted and bubbling. Remove the pizza and sprinkle with red chile flakes, flaky salt, and dried oregano. Toss the arugula with the remaining tablespoon of olive oil, season with kosher salt and freshly ground black pepper and Parmesan cheese then slice and serve.
Nutrition
Calories:
598
kcal
|
Carbohydrates:
56
g
|
Protein:
24
g
|
Fat:
31
g
|
Saturated Fat:
11
g
|
Polyunsaturated Fat:
2
g
|
Monounsaturated Fat:
12
g
|
Cholesterol:
50
mg
|
Sodium:
2345
mg
|
Potassium:
122
mg
|
Fiber:
4
g
|
Sugar:
9
g
|
Vitamin A:
939
IU
|
Vitamin C:
13
mg
|
Calcium:
398
mg
|
Iron:
3
mg
More Pizza Recipes to Try
We send good emails. Subscribe to FoodieCrush and have each post plus exclusive content only for our subscribers delivered straight to your e-mail box.
Follow me on Instagram, Facebook, Pinterest, and Twitter for more FoodieCrush inspiration.
This recipe is sponsored by DeLallo Foods. As always, thank you for reading and supporting companies I partner with, which allows me to create more unique content and recipes for you. There may be affiliate links in this post of which I receive a small commission. All opinions are always my own.