These individual DIY pizzas are perfect for entertaining. Fry the dough before melting some cheese, then have your guests add their favorite toppings.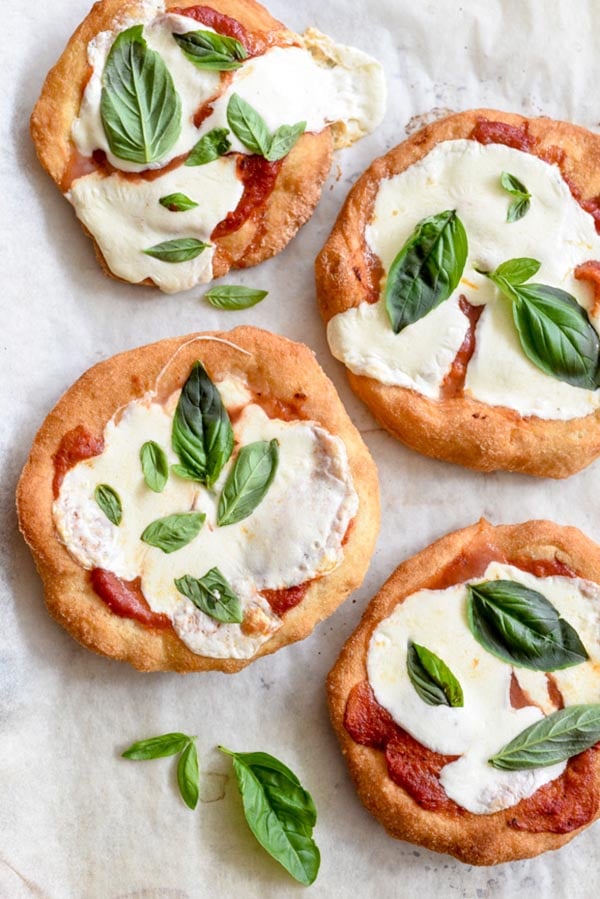 This is the part where you look at the recipe title and question, "Fried pizza? Why would I need to fry pizza?" You're right. Nobody HAS to fry pizza. I mean, there are lots of foods that are just as good baked instead of fried. Chicken. Doughnuts. Onion rings and french fries. But when you think about it, I mean really speak truth that stems from your taste buds instead of your brain cells, you'll probably admit that the fried version is the lip-smackingly favored version.
And guess what? Pizza is no different.
I hadn't really ever thought about fried pizza until my recent trip to Pittsburgh to visit DeLallo Foods and their Italian Marketplace (read more about my trip here.)
One of the meals that stole the show was one of the simplest. Little pillowy pizzas called Pizza Fritta, or fried pizza to you and me.
Simple is Good
Making homemade pizza crust really isn't very hard, but using the DeLallo pizza dough kit makes it that much easier. Our hosts at DeLallo said these types of kits are sold all over Italy but I don't think they're that common here in the States. Until now.
Fritta Pizza starts and ends with an Italian crust that's been fried to a light caramel color, giving the dough an incredible flavor you don't get from just the oven.
This pizza dough kit uses real Italian 00 flour, a high protein flour that produces a true Neopolitan style crust that's soft and supple. Simply add water to the kit's flour and yeast packets, stir, and then knead for 3 minutes. Set it aside to let it rise and in about 30 minutes, you're ready for frying.
I made these pizzas for a Saturday night college football party (Utah is ranked #2!) and then saw the DeLallo pizza dough kits the next day in my local Kroger store (Smith's for you locals.)
The thing I LOVE about these pizzas is you can prepare everything ahead of time, including frying the dough.
Fry Baby
Because I didn't refrigerated my dough, it was really easy to work with and shape into discs. I separated my dough into eight sections but if you want to make a little smaller discs, cut the dough into 10 or even 12 sections. The fried dough we had at DeLallo were smaller than the ones I created here so if you're thinking of serving this as an appetizer or first course, go smaller.
Because this dough is so manageable, you can simply use your fingers to stretch the dough by poking the dough into a circle. The edges will likely be thicker, and that's okay. That's what creates the edge or crust.
I fried my dough in extra virgin olive oil at 375 degrees F. I used my meat thermometer to test the heat but a candy thermometer will work too. They only take a few minutes on each side to cook, then transfer to a baking sheet with a rack on top to drain or cool.
I followed the lead of my hosts at DeLallo and fried the dough a few hours before my guests arrived and then set it aside until we were ready to dress. I put them in charge of making their own personal pies.
That in itself makes entertaining a whole lot easier.
Then, top the dough with a simple pizza sauce or crushed tomatoes and some mozzarella cheese, and bake just long enough to melt the cheese.
Next, put your guests to work and let then decorate with additional toppings if they'd like.
There are plenty of flavor combinations to discover. Here are a few to get you started:
Sliced fresh tomatoes, fresh torn basil and flaky sea salt
Artichoke hearts with sausage, basil and parmesan
Caramelized onion with herbs, sun dried tomatoes or sautéed mushrooms
Sautéed swiss chard with red pepper flakes, olives and feta cheese
Prosciutto with strawberries or sliced pears, arugula and a balsamic drizzle (like this one!)
If you make this recipe, please let me know! Leave a comment below or take a photo and tag me on Instagram with #foodiecrusheats.
Print
How to Make Fried Pizza ala Pizza Fritta
Perfect for entertaining, fry the pizza crust a few hours before topping and baking to melt the cheese then have your guests add their favorite toppings or keep it simple with cheese and basil.
Ingredients
1

17.6-ounce DeLallo Italian Pizza Dough Kit

1 ¼

cups

lukewarm water

Olive Oil

for frying

Pizza sauce or crushed tomatoes

Mozzarella cheese

burrata or ricotta cheese

Torn basil leaves

Crushed red pepper and flaky sea salt

Pizza toppings of your choice
Instructions
Combine the kit ingredients (flour and yeast packet) in a large mixing bowl with 1 ¼ cups lukewarm water. Stir with a fork until combined.

Knead the dough by hand for about 3 minutes, or until dough is soft and smooth. Transfer the dough ball to a lightly oiled bowl. Lightly toss the dough in the oil and cover with plastic wrap. Set the bowl in a warm spot and let rise until doubled, about 30-45 minutes. Use immediately or refrigerate for up to 3 days.

Divide the dough into 8-10 equal portions Flatten into rounds by poking the balls with your fingers to create a circular disc, gently stretching with your fingers. If the dough has been refrigerated and is snapping back into shape instead of stretching, allow the dough to rest and come to room temperature before trying agian.

To fry the dough, pour enough oil into a deep sided frying pan to reach a depth of 2 inches. Heat the oil over medium-high heat until a thermometer reads 375 degrees F. Once oil is hot, fry the dough until they are golden brown on both sides, about 3-4 minutes on each side. Fry in batches. Transfer the discs with tongs to a baking sheet lined with paper towels or topped with a cooling rack.

When ready to bake, preheat the oven to 400 degrees F.

Spread a dollop of pizza sauce or crushed tomatoes onto each disc. Top with cheese and bake for about 5 minutes or until cheese has melted. Sprinkle with crushed red pepper flakes and flaky sea salt. Add additional toppings if desired.
Food for Thought
What do you think would make a great fried pizza topping?
Thanks for stopping by. Have a great day and cook something good!
This post is sponsored by DeLallo Foods. As always, thank you for reading and for supporting companies I partner with, which allows me to create more unique content and recipes for you. All opinions are always my own.
Are you following me on Instagram, Twitter, Facebook and Pinterest?
Thanks for reading and subscribe to FoodieCrush to have each post delivered straight to your e-mail box.