Small, sweet clams are cooked in a butter, garlic, white wine and cream to create the best sauce for sourdough bread dipping.
I was a waitress for years. My first waitressing job was when I was 15 years old at my best friend's family restaurant, Sandy's Fine Foods in Ogden, UT. They made the most amazing homemade pies. I learned a lot from that job, and it was my first foray into realizing I could make more than just a standard hourly wage.
Making tips on top of an hourly wage got me hooked on waiting tables.
Waitressing was also my side job through college. My mad money. I was lucky that my parents had planned ahead and saved for my college fund so I didn't have to.
After college graduation, I worked two waitressing jobs to save money to go to Europe with my best friend. That was the summer my eu de parfum was the scent of grease and fried fish with the subtle scent of maple syrup while working at Salt Lake City's premier seafood restaurant of it's time, the Market Street Grill for breakfast and lunch, and then heading up  Emigration Canyon to the historic Ruth's Diner to work the dinner shift.
It was hard work. With long days and late nights and then right back up at the crack of dawn to choose which men's tie I'd wear with my blue button down oxford that still smelled like last night's halibut feast.
Working two jobs, all day every day for some people is the norm. I know not everyone has the opportunity to work just to save for a trip. Or for a shoe shopping habit or their ski pass. Or even to put themselves through college. Instead they're working two and three jobs to pay for simply living their life.
I didn't end up going to Europe that summer. I kept waitressing for another year or so before I moved into my you-better-use-that-college-degree-for-something career.
Sure, college set me up for that career, but waitressing and the relationships I formed while I was ladling clam chowder and keeping orders straight in my head taught me just as much as the school of life, if not more.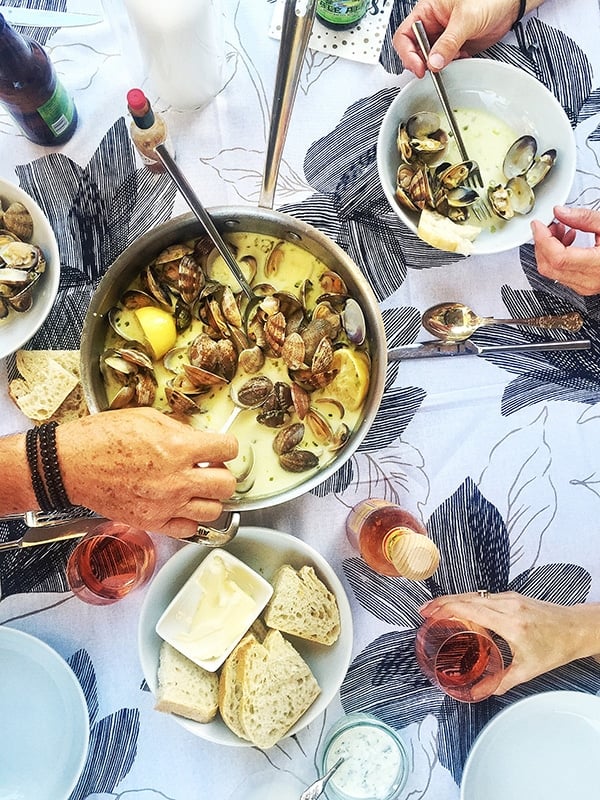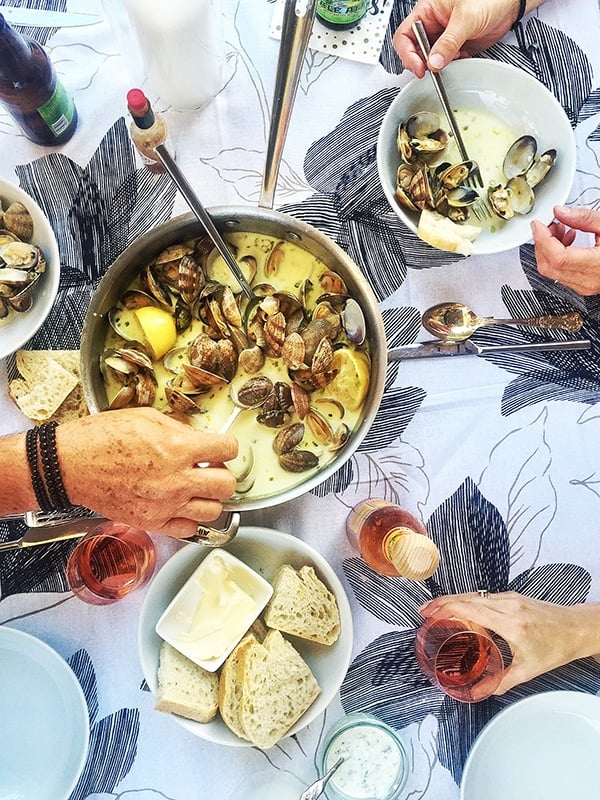 Waiting on tables made me appreciate people, those we serve and those that serve us. It gave me the fortitude to do the hard work that goes into reaching goals and making achievements. It made me who I am today. And for that, I will always be grateful.
Two byproducts of my time at Market Street Grill are: 1) I met my husband, and 2) We adopted several of their recipes that have now become our own. Our renditions of their famous clam chowder and their stuffed pasilla peppers will always be faves at our house.
But these Steamed Clams…oh, these clams.
About the recipe
At the restaurant this dish was made with cockles, a smaller, soft shelled clam that tastes a bit sweeter than traditional clams. When we lived in Venice Beach, CA, coming across cockles was a lot easier than it is here in Utah. So when we do discover them, we snatch them up as fast as we can and that is what is for dinner tonight.
An important part of making clams or cockles is to be sure to pick through for any half open clams before cooking, and to rinse them thoroughly. Clams are bottom dwellers, living rooted in sand and they get their nourishment from sucking in itty bitties of water and sand along with it. Thus, they have a tendency to be sandy or gritty if not rinsed well. To rinse, place your clams in a bowl of cold water for about 30 minutes. During that time, the clams will siphon in the fresh water and spit out the sand.
If you can't find true cockles, look for the smallest clams you can find for the most tender bite, such as littlenecks.
The broth for these clams is my absolute, don't you dare get in my dipping space, favorite part. And everyone else's too. Crusty slices of real sourdough bread are as essential to this dish as the clams themselves, because the broth is truly that good.
To start, garlic and green onion are sautéed in butter and then the clams are added in to release their juices as they cook. But it's the addition of wine and chicken broth (or water and bouillon) that creates the perfect base for this broth.
The final step is to remove the clams and broth from the heat and gently fold in a final pat of butter, plus half and half or cream. Adding the cream OFF the heat ensures the cream will not break or separate.
If you're looking for more of a dinner idea, adding fettuccine or linguine with a shaving of Parmesan cheese would be a delicious idea.
If you make this recipe, please let me know! Leave a comment below or take a photo and tag me on Instagram with #foodiecrusheats.
Print
How to Make the Best Steamed Clams
Small, sweet clams are cooked in a garlicky white wine and cream sauce to create the best sauce for sourdough bread dipping.
Ingredients
3

tablespoons

butter

divided

1/4

cup

minced garlic

1/4

cup

chopped green onion

2

pounds

small clams or cockles

1 1/2

cups

white wine

2

chicken bouillon cubes with 1 1/2 cups water or 1 1/2 cups chicken broth

juice of 1/2 lemon

1/2

cup

cream or half and half

Chopped parsley for garnish
Instructions
In a large sauté pan over medium heat, melt 2 tablespoons of butter. Add the garlic and green onion and cook for 3-5 minutes or until softened, stirring occasionally. Add the cockles and cook for another 5 minutes. Add the white wine and bouillon cubes with water or the chicken broth. Bring to a boil then reduce to a rolling simmer and cook until the clams open up, stirring occasionally. Remove from the heat and stir in the lemon juice. Add the remaining tablespoon of butter and the cream and stir. Garnish with parsley and serve immediately. Serve with sourdough bread.
All Clammed Up
Clams don't get much respect, except from those who absolutely adore and admire them. Here are a few more recipes for those of us that do.
Negra Modela Steamed Clams with Chorizo and Shaved Fennel-Herb Salad
Inspired by a dinner with Chef Chris Costentino, these spicy clams are topped with a bright bite of salad.
Get the recipe | A Beautiful Plate
Clams with Tomatoes, Basil and Blue Cheese
Clams paired with tomatoes and a whole new world of cheese. A divine inspriation!
Get the recipe | Coley Cooks
Littleneck Clams with Lemon, Thyme and Parmesan
These clams are cooked then lightly dressed and tossed under the broiler for a quick bronzing of deliciousness.
Get the recipe | The Rhubarbians
Quick and Easy Linguine with Clams
The secret to this 30 minute linguine is to use both fresh and canned clams for the ultimate clam flavor.
Get the recipe | Vodka and Biscuits
New England Fried Clams
Simple and subtle, these fried clams are a classic.
Get the recipe | Just Me and the Clams
As always, thank you for reading and for supporting companies I partner with, which allows me to create more unique content and recipes for you. All opinions are always my own.  
Are you following me on Instagram, Twitter, Facebook and Pinterest? 
Thanks for reading and subscribe to FoodieCrush to have each post delivered straight to your e-mail box.