The journey that led me to this simple Goat Cheese Stuffed Fig, Melon and Prosciutto Salad was just the ticket to a little mental time out.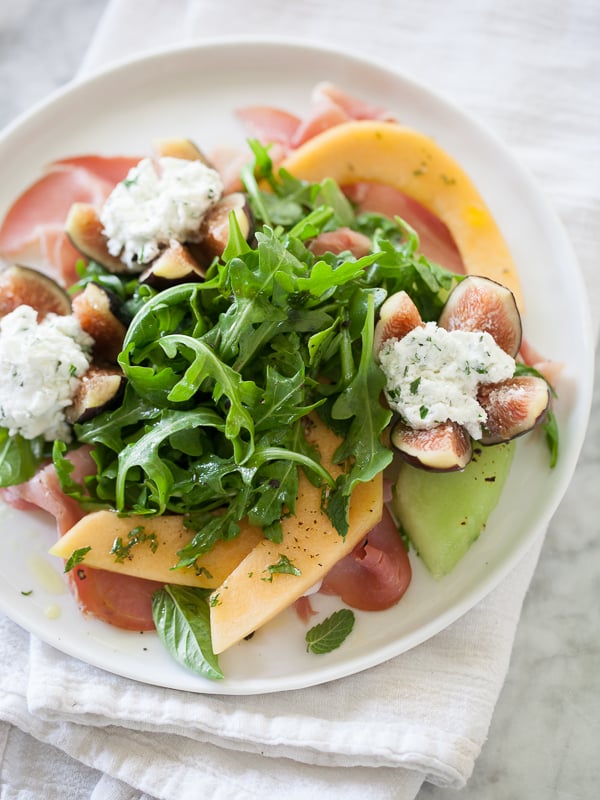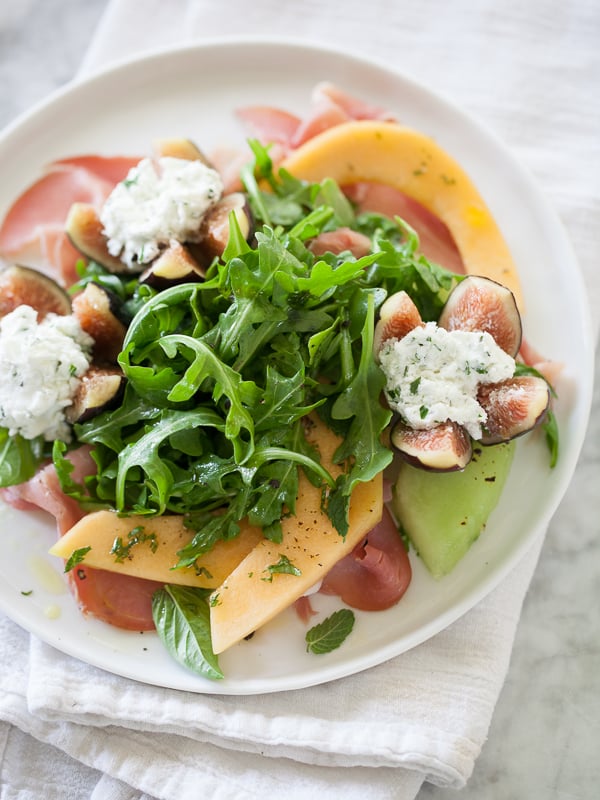 Yesterday morning I drove up the canyon toward my photo shoot destination. The radio signal weaved in and out as it typically does, making the radio music that served as unacknowledged background filler a total distraction to the much louder brain noise churning through my head as I catalogued my mind's daily to-do list.
I realized I hadn't been hearing the tunes at all when the crackle was nearly as annoying as the same 23 songs I hear whenever Smudge and I are in the car together.
Our musical conversations tend to go something like this, "Mom, can you put it on 6?" and we listen to Taylor Swift belt out the blues about some bad-boy boyfriend she can't seem to hold onto. "Mom, can you change it to 5?" and we hear Bruno Mars in his big-brimmed hat cry about being locked out of the pearly gates.
Heaven forbid One Direction or the Cups song comes on for the 9,374th time this month. Total freak-out ensues. And I must admit, I totally egg it on.
But yesterday I needed a break. A break from the chatter, a break from the radio and a break from the noise that was inside my head. So I turned off the tunes, or lack thereof, and practiced a little car meditation. As my engine wound up as it climbed the hill to the summit, I worked on my mind winding down.
Did I succeed? Maybe. Maybe not. I still have that jumbled mess of to-do items tangled inside of my head, but at least I arrived at my shoot with a calm demeanor, if only for the day.
I was working on some shots for Deer Valley Resort, one of Utah's—and the world's—premier ski destinations. People don't just come here for the snow and terrain, they come for the above the bar service and incredible food.
Yesterday was no exception with only the scenery just barely outdoing the comfort food fare at Deer Valley's ski/hike/bike-in restaurant, Royal Street Café, where I photographed dishes like Dungeness Crab Towers, Wild Salmon Fish and Chips and Asian Grilled Chicken Salads. While my DSLR camera was hard at work, my iPhone and Instagram picked up the slack for these documented snaps.
When Chef Chris Gibson sat next to the set to assemble the freshly made bao buns stuffed with Korean Bulgogi, I went to my happy place. Who wouldn't with a photo studio looking like this and food like that?
But no matter how amazing the client's food I'm photographing looks, smells and obviously tastes, the picture taker and the crew don't eat their foodie subjects. Even if they are the freshest spring rolls loaded with my favorite shrimpy crustacean. Well, I might try an errant garlic and parmesan shoestring fry here or there, but certainly nobody could hold that against me.
So when lunch rolled around we'd had plenty of opportunity to preview our dining choices, and the Bulgogi with a big old Diet Coke was looking might fine by then.
And then BAM! All bets were off when we eyed the special of the day listings, and right up top was a salad with creamy goat cheese stuffed figs, melons and prosciutto all topped upon the bitterness of arugula in a Muscat and honey vinaigrette.
My mind flip-flopped like a too-eager-to-please politician during an election year.
We all ordered the salad and let the photo shoot food subjects languish on platters upon the set with hardly a second look back.
Chef Chris GIbson was kind enough to send me home with a dozen fresh and perfectly ripe figs and the promise to e-mail me the recipe so I could share it with you.
While I made some adaptations to his recipe for the sake of time and what ingredients I had on hand (noted in the recipe at the end of the post) I thought you'd like his original rendition that I've listed below.
I totally agree with his vinaigrette prep philosophy: Taste and adapt as you go peeps.
From Chef Chris Gibson:
It's important when working with vinegars like this that everything be done to taste.  The acidity of any particular vinegar will vary greatly.  Here are the ratios we use in the restaurant but these are really exceptional vinegars, the Slide Ridge Honey Wine Vinegar in particular, that are mellowed and less acidic than cheaper ones, 
Honey Muscat Vinaigrette
3 parts Muscat
1 part Slide Ridge Honey Wine Vinegar
1 part 7-year, bourbon cask-aged sherry vinegar
honey to sweeten
salt
chopped basil and mint
Combine the muscat and the vinegar in a mixing bowl and add the honey a tablespoon at a time until the sweetness takes the edge off the vinegar, (see gastrique).  Now add a few pinches of salt a little at a time until the gastrique tastes balanced.  Then add the chopped herbs and allow to sit for thirty minutes to infuse.
While the combo of melon and prosciutto is a classic food pairing in Italy, the addition of the sweet figs stuffed with savory herb-enhanced goat cheese puts it into a category of its own. The flavor of the stuffed figs hold up decadently and are perfectly suited as an easy appetizer. A drizzle of aged balsamic would put it through the roof.
When flavoring the goat cheese choose any savory herb you like or have on hand. I used fresh rosemary and parsley from the garden. Chef Chris thought sage would be an amazing choice too. Be sure the goat cheese is served at room temperature for the best creamy flavors.
What changes did I make to the recipe? Since I didn't have Muscat on hand—a sweet and flowery dessert wine—or an aged sherry vinegar, I subbed in a fruity extra virgin olive oil sweetened with the Slide Ridge Honey Wine Vinegar plus a douse of more honey to taste. While the depth may not have been quite as pronounced, it was still stunningly good.
So good in fact, I ate this salad again for dinner. This time in radio silence.
Print
Goat Cheese Stuffed Fig, Melon and Prosciutto Salad
Ingredients
5.5

ounces

goat cheese

at room temperature

2

tablespoons

minced fresh savory herbs like thyme

rosemary, parsley or chives

6-8

fresh figs

4

cups

baby arugula

sliced melons

or chunks if you prefer

6-8

slices

aged prosciutto

fresh herbs for garnish
For the Honey Vinaigrette
2

tablespoons

extra virgin olive oil

1

tablespoon

Slide Ridge Honey Wine Vinegar

2

teaspoons

honey

or more to taste

salt

chopped basil and mint
Instructions
Mix the minced herbs into the goat cheese. Remove the stem from the figs and then slice halfway down the fruit into quarters, but don't slice all the way through. Spoon about a tablespoon of the goat cheese into each of the figs and set aside..

Meanwhile, dress the arugula with the vinaigrette and place half of it on a plate with half of the thin slices or chunks of melon and 3-4 slices of prosciutto. Season with kosher salt and freshly cracked black pepper and fresh herbs if desired. Add 3-4 figs, drizzle with more vinaigrette or a great aged balsamic vinegar and serve. Repeat with remaining ingredients to serve a friend.
For the dressing
Combine the extra virgin olive oil and the white balsamic vinegar in a mixing bowl. Add more honey to taste until the sweetness takes the edge off the vinegar. Add a few pinches of salt a little at a time until the vinaigrette tastes balanced. Add the chopped herbs and allow to sit for thirty minutes to infuse.
I was not compensated for this post, but as always, thank you for supporting my partners which allows me to create new and special content for my readers. This post includes affiliate links. All opinions are my own. 
Are you following me on Instagram, Twitter, Facebook and Pinterest? Thanks for reading and please keep in touch by subscribing to FoodieCrush.