Rice Krispie treats get jazzed up with creamy peanut butter, a layer of smooth dark chocolate, and a sprinkling of flaky salt, for the ultimate marriage of chocolate and peanut butter!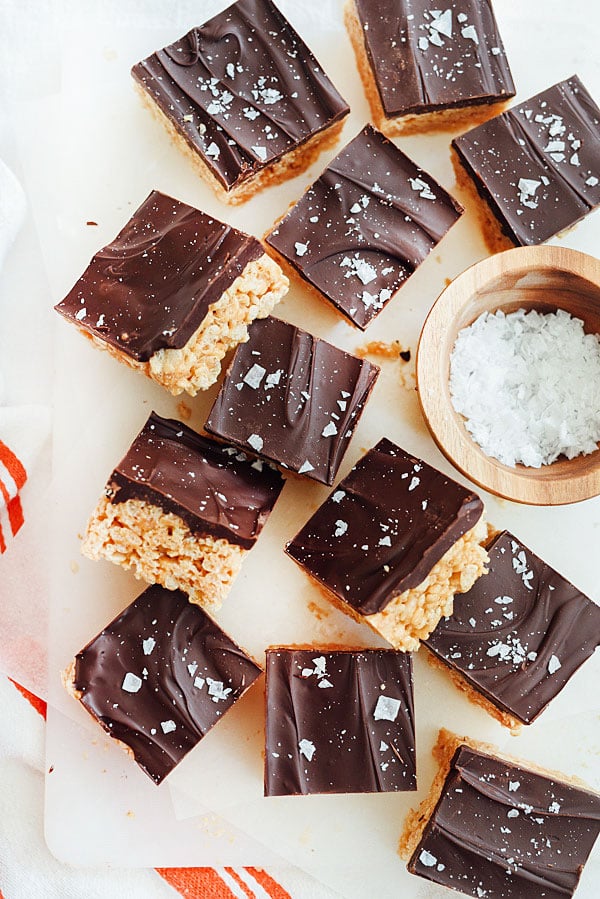 My family has a favorite quote from The New Yorker cartoonist Roz Chast. It's become our mantra for how to lead life.
"One day your hair dryer is working just fine. The next day it's sending out sparks to beat the band."
Basically, things are going just swell. Swimmingly even. And then in the blink of an eye…everything changes.
That's what happened to the food blogging community when we learned this past week of the passing of a much respected member, Chocolate Chocolate and More's Joan Hayes.
In celebration of her life, and somehow symbolically coinciding with National Chocolate Day, food bloggers are joining together to toast Joan and her influence the only way we can. With recipes from near, far, and everywhere in between. With recipes featuring chocolate. It's what Joan's wishes would have been and what we're here to fulfill.
I never had the opportunity to meet Joan in person, but SO MANY bloggers did. 2.5 million Facebook followers did, too. (So if you haven't, you should follow her too.)
However I did know her online (because that's what us bloggers do) and benefitted tremendously from her giving nature and knowledge. It's simply amazing how one's circle of friends can expand to the virtual world once you've become ingratiated in it.
I think Joan's death has especially hit home because of her age. Joan was just 49 years old. So close to me. Sadly she left three children and a family she treasured. I can't imagine.
She died in her sleep from a massive heart attack after complaining of an upset stomach. It's one of the hidden signs we should all keep a more watchful eye on. The symptoms are so mundane. Why would you? Because you should.
Keep Joan's Legacy Alive
To keep Joan's legacy alive, please consider visiting Chocolate Chocolate and More to discover amazing baking recipes, and more.
Her blog will continue. Bloggers have committed to creating new recipes to share on her blog and unlike traditional professions, Joan's passion and hard, Hard, HARD work will continue (with your clicks) to generate revenue for her children as long as this crazy thing called blogging and the internet keep on trucking.
Sadly I didn't get the chance to feature Joan in one of my blogger Q&A's. But thankfully, Lisa's interview shared in just this past August 2015, Joan divulges her future hopes and desires.
Lisa: Where do you see you and your blog 5 years from now?
Joan: My site will still be sharing great recipes for sweets. Baking isn't something you can just give up. I'll have more travel posts but always connecting with the food. I'll publish a cookbook with my favorite chocolate recipes, of course it'll be a best seller!
Joan, here's to your hopes and dreams living on. Your recipes will inspire others forever more.
About the Recipe
This is a basic rice krispie treat amped up to monster peanut buttery chocolate proportions. I used creamy peanut butter but you could use chunky if you like the bite, and of course, peanut chunks on top of the melted chocolate wouldn't hurt much at all.
Depending on how thick you like your krispie treats, you can make this is in a 9 X 13 dish, or if you like them thick like me, a 9 X 9 or 8 X 8 baking pan will make them thick and rich and question whether you can fit them in your wide open mouth at all.
Using a small ramekin, I packed my krispies down so they were compact and thick. If you prefer your krispie treats a little looser, chewy, and easy on the bicuspids, simply use your fingers to pat down and pack.
I used semi-sweet chocolate melted in the microwave to top these treats. Feel free to use milk chocolate, dark chocolate or even white chocolate if you like.
Depending on the holiday, you can certainly tailor the toppers of this chocolate laced dessert to fit the occasion. Use candy corn, Christmas sprinkles or Valentine's hearts to personalize these chocolate loving treats.
If you make this recipe, please let me know! Leave a comment below or take a photo and tag me on Instagram with #foodiecrusheats.
Print
Salted Chocolate Peanut Butter Krispie Treats
This super easy no-bake recipe makes peanut butter and chocolate a puffed-rice-krispie dessert sensation.
Ingredients
2

tablespoons

butter

5

tablespoons

smooth peanut butter

10

ounces

plus 1 cup marshmallows

5

cups

puffed rice krispie cereal

1 12-

ounce

bag semi-sweet chocolate chips

Super flaky salt falkes
Instructions
Prepare a 9 X9 or 9 X 13 inch baking dish with non-stick cooking spray topped with layers of parchment paper that hang over the sides.

Pour the krispie cereal into a large bowl for mixing.

Melt the butter in a large, high sided fry pan or sauce pan over low heat and stir in the peanut butter until combined. Add the marshmallows and stir until they've melted into the peanut butter mixture. Remove from the heat and pour over the krispie cereal. Grease your hands with butter or non-stick spray and mix the krispie mix with a spoon and/or your hands until totally incorporated. Press into the baking dish until it's flat. If you like a compact krispie treat, use a flat bottomed bowl to press the mixture tight. If you like it looser, keep it loose with your fingers. Set aside to cool.

Pour the chocolate chips into a glass dish and microwave for 30 seconds then stir. Repeat 3 to 4 times, stirring after each time you heat until the chocolate has melted and is smooth.

Spread the layer of melted chocolate over the top of the cooled krispies. Sprinkle with flaky salt or other seasonal toppings. Cool or chill until firm. Slice slice into bars. Go crazy with chocolate.

Chocolate, Chocolate and More…Peanut Butter
In the theme of my addition of peanut butter to chocolate, I searched Joan's site for the same combo and discovered a bounty of PB & C goodness. Here are a few that stood out to me, and will surely stand the test of time.
Dark Chocolate Butterfinger Cupcakes
Food for Thought
Please consider visiting Joan's blog, Chocolate, Chocolate and More and making a donation for the future of her three daughters. Thank you!
As always, thank you for reading and for supporting companies I partner with, which allows me to create more unique content and recipes for you. All opinions are always my own.  
Are you following me on Instagram, Twitter, Facebook and Pinterest? 
Thanks for reading and subscribe to FoodieCrush to have each post delivered straight to your e-mail box.