There's nothing in the world that can bring a smile to one's face like seeing a new mama gaze wonderously at her newborn baby. The cliché is true, each and every one of those nuggets of time are mini miracles.
And today we have a little celebrating to do: TA-DA! We're welcoming a new baby that one of our favorite bloggers will soon be smiling sweetly upon. Thanks to Maria, Marla, Gaby and Brian for hosting a virtual baby shower for Lisa of the popular food blog With Style and Grace.
I first discovered Lisa's blog when Maria introduced the two of us at the Evo Conference. We shared a gondola to the top of the mountain with a few other bloggers where there was plenty of chit chat and note comparing as bloggers will often do.
But what struck me about Lisa was the arsenal of treats she carried in a little knapsack with her. Here she was, this little bitty thing nibbling her way through a sack full of goodies that should the gondola cab decide to go down could have kept us all perfectly satiated for several days or at least until the search dogs found caught our scent.
But her 'treat bag' was far more than treats, they were gluten-free snacks meant to supplement any menu obstacles or blood sugar highs and lows. They were all very healthy snacks, hence why she remained itty bitty rather than large Marge. It was really the first time I'd been around someone so dedicated to the gluten-free lifestyle, and I was impressed.
Shortly thereafter I asked her to contribute to my first issue of FoodieCrush magazine and straight from the get-go she was all for it with no hesitation in contributing newly developed recipes, photography and entertaining tips to a start-up project with no track record. It was after that when I learned more about the trials and tribulations that demanded her to abolish gluten from her diet and the resulting success allowing her to live her life to the fullest once again thanks in large part to being conscientious about what she puts in her mouth.
The girl is nothing if not driven in sharing her passion for health and the results that come from it. At 7 months pregnant and still enduring morning/afternoon and evening sickness as well as a move to a new city and the loss of a loved one, Lisa started her charge to create an e-book highlighting her recipes, photography and her immitable gluten-free entertaining style. And this is where once again we became reacquainted.
Over the past few months, Lisa and I have gotten to know one another better after she asked me to consult and create her gluten-free entertaining e-book set to launch very soon. And we can't wait to share it with you. Yes, she's pretty much birthing two babies and I'm thrilled to cheers her on both.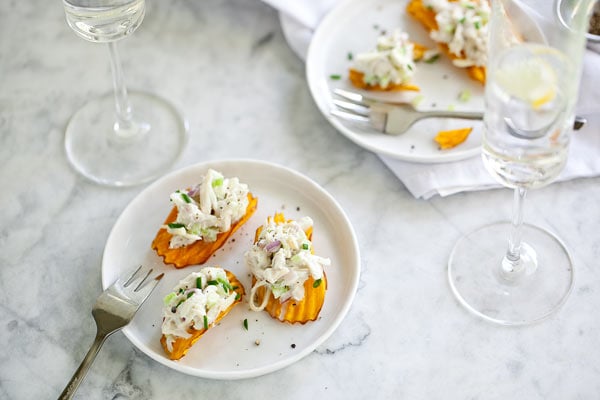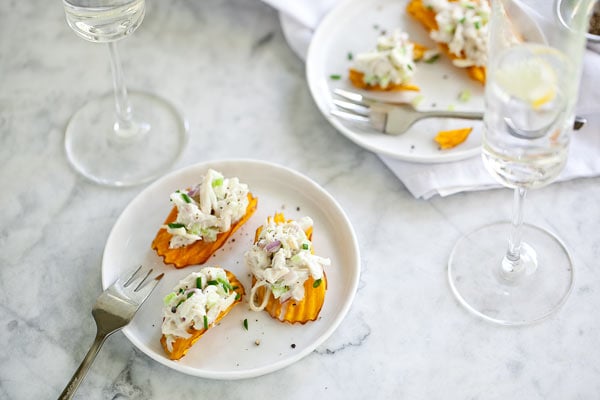 For Lisa's virtual baby shower I knew I had to prepare a little gluten-free snack as an ode to the day I first met her. I think she did have chips that day, but I could be wrong. Maybe I was just craving them? A quick search of her site didn't result in any shellfish recipes so I'm not sure if Lisa is a fan of the clawed bottom breeders.
This crab salad pairs creamy lump crab with celery and onion for a bit of crunch but the real flavor comes from the addition of dried thyme mixed with mellow crémé fraiche.
A few notes about this recipe:
1. If you can't find crémé fraiche at your local market, go ahead and use a half and half mix of sour cream with mayo as an alternative.
2. Because this recipe is pretty light on the sauce invest in the best crab you can find to showcase it's best crabby flavor. Stay away from the aluminum can variety or imitation K-rab which on one hand can either be too fishy or on the other rubbery and flavorless. Most grocers now carry the real stuff in vacuum sealed packs in the butcher/seafood department and it is so worth the investment.
3. If you don't have dried thyme on hand, substitute chopped Italian parsley or fresh mint.
4. These are best eaten within 15 minutes or so of preparation to avoid a sogged out chip. If you need more staying power, consider serving on a crostini or bagel chip. And if you can't find sweet potato chips, a ridged ruffled chip will work great too.
So who else is coming to the party? Check out these other food bloggers sites for more delicious baby shower eats to honor the new baby with grace.