This master cannellini beans recipe is the nutritious and inexpensive way to transform dried, shelf-stable white beans into the centerpiece of your healthy meal prep and batch cooking goals.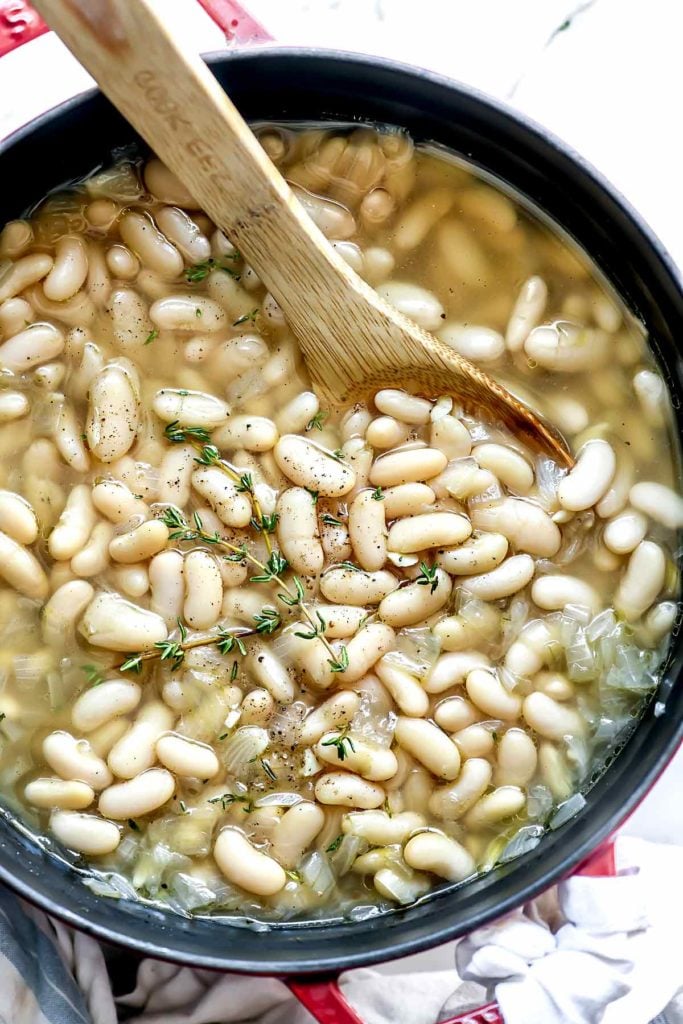 One of the most efficient, inexpensive, and healthy ways to get your foodie bang for your buck is to eat more beans. As noted in the heralded Blue Zones philosophy, eating more beans is a fundamental key to living longer and the cornerstone of the diet of those who live over 100 years. Beans! Who knew they held such power?! Only centuries of plant-based eaters from around the world, that's who.
Opening a can of beans is one of the easiest ways to get more plant-based, healthy protein in your diet. But cooking beans from scratch might be the tastiest, eaten by the spoonfuls on their own, added to salads like this Tuscan white bean and tuna salad, or bringing comfort home with this creamy bean and sausage soup.
Starting with an overnight soak of the beans then a hands-off slow simmer on the stove, this cooking formula is easy. Cooking with dried beans allows you to choose the texture you like most—beans with a bit of bite or beans that can be smashed and mashed—and how to flavor them—keeping them vegetarian, or not (did I hear someone say "bacon"?)—makes home cooked beans a simple comfort food favorite.
Cooking beans from scratch may seem like an easy step to skip, but once you try this method, you'll find yourself passing over the can opener and reaching for a bag of dried beans instead.
What Are Cannellini Beans?
Originally grown in Argentina, Cannellini beans are a popular variety in Italy that holds its shape making it a good bean to use in soups, stews, and salads. Mild and nutty with a meaty but tender and creamy texture, cannellini beans are sometimes called the white kidney bean due to their kidney shape.
I bought these Zursan Idaho heirloom beans at my neighborhood Italian market, Caputo's in Salt Lake City. Order them online here or here.
Are Cannellini Beans the Same as White Beans?
Because there are only slight differences in their size and flavor, cannellini and other white bean varieties can be used interchangeably, and the cooking method is the same.
What's In This Master Cannellini Beans Recipe
This master recipe for cooking Italian cannellini beans works for just about any type of bean, so feel free to substitute Great Northern, flageolets, garbanzo, or pinto beans.
1 pound dried white cannellini beans (or other dried white beans)
⅓ cup olive oil
1 yellow onion
4-5 garlic cloves
1 cup chicken stock (use vegetarian stock if preferred)
Enough water to cover the beans by 2 inches
Kosher salt and freshly ground black pepper
Why You Should Always Use Fresh Dried Beans
Regardless of how you cook them or what you cook them with, the only thing that may hinder your cooked bean success is using old beans.
Choose beans from a store that has regular turnover and avoid hoarding beans (that's me!) and then never cook them. If you have beans in your pantry, soak them, then cook them and cook them now.
Soak Dried Beans Before Cooking
Some cooks always soak their beans, some don't bother. For me, soaking the beans overnight ensures I always end up with a great pot of just-how-I-like-them cooked beans. Soaking the the beans first rehydrates the beans to ensure they cook evenly and quicker. Some believe soaking the beans before cooking relieves the beans of the sugars and breaks down the fiber that causes gas, bloating, and farting. Toots to that!
How to soak beans:
Place the beans in a large bowl or pot.
Pick out and shriveled or discolored beans and discard.
Cover with 3 inches of cold water.
Set on the counter uncovered for 8-24 hours. There's no need to refrigerate beans as they soak.
Discard soaking water and rinse beans throughly in cold water.
TIP: Freeze ahead. Presoaked beans can be drained and frozen in a freezer safe ziplock bag.
How to Cook Cannellini Beans
Sauté onion and garlic cloves in olive oil. Softening the onion and garlic in olive oil adds a richness to the cooking stock. The oil helps the beans become creamy as they cook. If preferred, cook a quartered onion in the cooking liquid rather than chopped to still get the flavor but make it easier to fish out of the beans once done cooking.
Add 2 inches cooking water plus 1 cup chicken stock to the beans. Cover the beans with water and chicken stock to be absorbed as the beans cook. Adding too much water will dilute the flavor of the stock. Use vegetable stock if keeping this dish vegetarian.
Simmer, but do not boil the beans continuously while cooking. Trying to rush the cooking process by boiling dried beans rather than cooking at a slow simmer will cause the beans to split and fall apart. Skim the cooking water with a small strainer as needed.
Add Flavor to Your Cooking Beans
Cook in water or add chicken broth or vegetable stock. Adding a stock to the broth infuses the beans with flavor and readies the bean broth to slurp and eat straight from the pot.
Add herbs or a bouquet garni. If you don't mind remnants of the herbs mingling with the beans when done cooking, dunk the stalks directly in the water. If you prefer a cleaner bean, make a simple bouquet garni and add it to the cooking water to flavor instead.
Savory herbs to add to your beans:
thyme
marjoram
rosemary
oregano
bay leaves
peppercorns
parsley
celery tops
Season with kosher salt as you go. Add kosher salt to the beans as they cook for the beans to slowly absorb the flavor.
More Bean Broth Flavor Enhancers
Sauté chopped bacon or pancetta with the onions and garlic
Instead of yellow onion, try shallots or red onion
Sprinkle in red pepper flakes for a bit of heat
Toss the rind of a Parmesan cheese wedge into the simmering beans to flavor and thicken the broth
Add a dash of soy sauce or amino acids for another layer of umami
Or, simmer smashed anchovy paste with the stock
Diced tomato or tomato paste
How to Store Cooked Beans
Cool and store the beans in their cooking broth for up to 1 week in the refrigerator. Drain if desired. Storing them in their broth means they stay tender on the inside but firm on the outside and don't dry out.
What to Make With Cannellini Beans
Spoon cannellini beans on garlic rubbed toasted sourdough bread
If you make this recipe, please let me know! Leave a ⭐️⭐️⭐️⭐️⭐️ rating on this recipe below and leave a comment, take a photo and tag me on Instagram with #foodiecrusheats.
Print
How to Make THE BEST Cannellini Beans
This master cannellini beans recipe is the nutritious and inexpensive way to transform dried, shelf-stable white beans into the centerpiece of your healthy meal prep and batch cooking goals.
Ingredients
⅓

cup

extra-virgin olive oil

½

yellow onion

, chopped

4

cloves

garlic

, peeled and smashed

1

pound

dried cannellini beans

, rinsed, picked over, and soaked in water by 2 inches for 8 hours up to 24 hours

4-6

cups

water

1

cup

chicken stock

1

bouquet garni

, or bay leaf and sprigs of thyme, parsley, rosemary, or marjoram

1

tablespoon

kosher salt
Instructions
In a large, heavy bottom pot, heat the olive oil over medium heat. Add the onion and garlic and cook for 5 minutes, stirring occasionally, until the garlic is fragrant and the onions soften. Add the cannellini beans with their water and the chicken stock. Add more water to cover the beans by 3 inches. Add the bouquet garni or herbs on their stems with the kosher salt. Bring to a boil. Skim off the foam and discard. Reduce the heat to medium low and cook at a gentle simmer for about 2 hours. Add more water if needed to keep the beans submerged.

Once the beans are cooked to your desired tenderness, remove them from the heat and discard the boquet garni (or herb stems). Taste for seasoning and add more salt if needed. Serve immediately or at room temperature, and refrigerate the leftover beans in their cooking liquid for up to 1 week.
Notes
For faster cooking time and a more tender bite, allow at least 8 hours ahead of cooking to soak the beans first. 
If preferred, remove the onion after cooking by using a quartered onion instead of chopped. 
Nutrition
Calories:
289
kcal
|
Carbohydrates:
37
g
|
Protein:
14
g
|
Fat:
10
g
|
Saturated Fat:
1
g
|
Cholesterol:
1
mg
|
Sodium:
932
mg
|
Potassium:
1092
mg
|
Fiber:
9
g
|
Sugar:
2
g
|
Vitamin A:
141
IU
|
Vitamin C:
2
mg
|
Calcium:
179
mg
|
Iron:
8
mg
More Bean Recipe Ideas
We send good emails. Subscribe to FoodieCrush and have each post plus exclusive content only for our subscribers delivered straight to your e-mail box.
Follow me on Instagram, Facebook, Pinterest and Twitter for more FoodieCrush inspiration.
As always, thank you for reading and supporting companies I partner with, which allows me to create more unique content and recipes for you. There may be affiliate links in this post of which I receive a small commission. All opinions are always my own.